Dr Andy Palmer: 'India is a cornerstone of the strategy in terms of scale, sourcing, and manufacturing.'
Switch Mobility's Vice-Chairman  and CEO on its drive to be a leading global electric CV player with the greenest quotient.
Full-electric 9.4-metre bus (32-37 seats) can cover 200–300km in a day with an opportunity charging for 45 minutes to 1 hour.
12-metre sibling (40-45 seats) can cover 200–300km in a day. The modular buses can be fitted with an exact number of battery packs to suit needs.
The 23kW-powered electric version of Bada Dost LCV can do up to 150km on a single charge (non-AC) with 1,300kg payload and GVW of 3490kg.
The eDost SCV has a 150km range with 1,000kg and GVW of 2,620kg. Switch Mobility will tap India's strong sourcing base and low cost, high quality manufacturing to be globally competitive.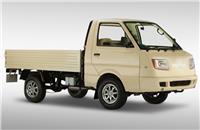 Dr Andy Palmer, Vice-Chairman and CEO of Switch Mobility, Ashok Leyland's electric vehicle arm, speaks on the company's drive to be a leading global electric CV player with the greenest quotient.
What is the broad gameplan, under the new scheme of things?
We came to a conclusion that basically we will pull these two units (EV parts of Ashok Leyland and Optare) together make one company called Switch, and that we would make a subsidiary of that company which would also take care of mobility as a service (MaaS). This is very important, particularly in India where India is really leading the charge in this type of pay per kilometre. But it will go, I am pretty certain, everywhere. I am sure it will become a normal go-to-market all over the world. That's what we've been doing and also looking at the business and the opportunities, we are pretty convinced that it's a significant opportunity here, both in the bus market and in the light commercial vehicle market.
Full-electric 9.4-metre bus (32-37 seats) and 12-metre sibling (40-45 seats) can cover 200–300km in a day with an opportunity charging for 45 minutes to 1 hour.
If you look around, all the data and consultants will tell you that this so-called last one-kilometre is the fastest growing part of the total automotive sector. Since we've been around for a while and got the cuts and bruises, and all of the damages of having launched all these vehicles, we're already selling our third-generation (electric) bus. We have learnt how to engineer, manufacture, and the go to market for these vehicles. And as you know, light commercial vehicles, in particular, are a strength of Ashok Leyland right now, and electrifying them is an obvious next step.
Synthetic fuel is also seen by some as a potential game-changer after EVs. Is that also an idea Switch Mobility could actively work on?
We are concentrating on EVs because EVs is almost certainly the appropriate solution for urban buses and for vans and that last one mile. I think the majority of the car industry will go electric. However, there are scenarios where electric doesn't make sense. Heavy trucks for example, aeroplanes and helicopters. And, like my old life of supercars where perhaps theatre and sound are still important. That may also be an area where you have to get to net zero but you might not want to do it with electric.
For heavy trucks, hot hydrogen, where you burn hydrogen in an internal combustion engine, is a very interesting solution because you are utilising the existing sunk capital. E-fuel is the only way of really solving air transportation, so you're going to get the demand for that. I have, for long, been a proponent of seeing Formula 1 move towards synthetic fuel. We will see when that happens but that's a way of basically improving the global understanding of what net zero is — it's not simply zero tailpipe. It's zero throughout the production system.
There could be multiple options offering that, not necessarily only one.
There needs to be. We engineers and scientists work better under competition where we're being challenged. You need those challenges. If you simply settle on one technology, you get complacency and the speed slows down. If you've got different solutions being thrown around, it all speeds up. it's the so-called classical Moore's Law.
In the context of Switch Mobility, because we think that EV is the appropriate technology we are going flat out in terms of making sure we have the best technology in our vehicles. Most commercial vehicles tend to go down the route of the cheapest possible battery. They use a chemistry called LFP, which is basically phosphate iron. It's a great battery but it's not very energy dense, and consequently the batteries have to be very big. We, on the other hand, don't subscribe to that model. Our vehicles, like anything in the EV world, have to be as light as possible because EVs don't like weight. Our structure is very much lightweight and our battery needs to be lightweight too.
What scope do you see for hydrogen fuel cell technology in the CV industry?
As I said, hydrogen can be really divided into two basic categories — cold hydrogen and hot hydrogen. I am a great proponent of hot hydrogen. Cold hydrogen or fuel cell hydrogen is a very important fuel of the future in many respects. It can be used in so many other ways, not least in the production of electricity but it can be used in so many ways. The priority really isn't using it necessarily to fuel vehicles. When you do come to fuelling vehicles in a car or in a bus, I think fuel cell is nonsense honestly — it's too expensive.
In many respects, hydrogen anyway isn't carbon-free. There's no point in moving to a clean fuel if you just transferring the problem. You need a dramatic reduction in the cost of hydrogen. At the same time, you need to be investing in producing clean hydrogen. So it's really important that we don't get conned by the fuel, gas and oil industries to somehow rather moving to something clean that isn't necessarily that clean.
Second point is that, by far, the most efficient way of driving a vehicle is a battery rather than any type of combustion and certainly a battery electric vehicle is much more efficient than a fuel cell vehicle. Where battery lets itself down a little is as you move towards the heavier vehicles. Medium duty and heavy duty trucks, inter-city coaches, air travel, supercars, this is where I would expect e-fuel and hot hydrogen perhaps to win. But there still is a possibility that you could go EV, and you've seen some announcements from some of the big boys in heavy duty goods that still think that EV could make it. And then you'll see others where you'll see a very mixed message around fuel cells. Many companies have basically cancelled their fuel cell programs but some believe that it could be interesting. I have been working on fuel cells for over 15 years. I haven't found a good solution yet.
The global electric bus market size is projected to reach around 700,000 by 2027. If you look at the same time span, what's the kind of growth Switch would target for?
We have a global ambition. It's not simply looking at the UK or India. Of course, it is a really interesting market. A key stone in that strategy is India and manufacturing in India. But we also we have interest in other places in the world. We already started to have contracts with other places in the world. So, perhaps with the exception of China, which is saturated right now in the electric bus area, our intention is basically the rest of the world.
Would you have assembly / manufacturing operations outside of the UK and India?
Where it makes sense locally, we would consider doing that as a CKD operation. I know very well that you can make very high-quality cars in India at the lowest cost. I do think that cornerstone in India, both from a scale perspective and also from a purchasing and manufacturing perspective, is really important. That's a
huge advantage over some of our start-up competitors.
When do you plan to leverage the advantage and have the first Switch EV in India?
It's expected soon. You can expect us to start taking orders and delivering Switch-badged vehicles in the very near future.
What are the three key pillars that all Switch vehicles would be built on, and released into the market? And, beyond buses and LCVs, are there other form factors that you are contemplating to have in Switch Mobility's portfolio in the mid- to long-term?
I think with the way the EVs are transformed and the look of the vehicle, there will naturally be form factor transformation. But very strictly, we're in that B2B market of urban buses and vans. I am going to take the liberty and say actually there are four pillars of any given Switch vehicle. Number one is that we're proven. We've already been around this for five years. Number 2 is our world-class technologies particularly in the area of lightweight battery chemistry and digital. One of the benefits of having a strong footprint in India is that we have access to a lot of data scientists and we already take a lot of data for our vehicles so step two is the world-class technology that we bring. Step 3 is related to that technology. The intelligence on-board and off-board the vehicle and again the ability to use all of that data — all of 26 million miles. The data that's coming to us live everyday. And then lastly is net zero. All of that and do no damage to Mother Earth.
RELATED ARTICLES