Arvin Baalu: 'Harman will be one of the first companies to introduce the 5G network to the automotive market.'
Harman International's vice-president, Digital Cockpit platform Group speaks on the gains emanating from working with Samsung, speedy digitalisation of the car cockpit, bringing computing platforms meant for premium cars down to mass-market entry models, introducing innovative and bold display technology and enabling immersive user experience.
Harman International's vice-president, Digital Cockpit platform Group speaks on the gains emanating from working with Samsung, speedy digitalisation of the car cockpit, bringing computing platforms meant for premium cars down to mass-market entry models, introducing innovative and bold display technology and enabling immersive user experience.
What is your understanding of the evolving in-car infotainment market from the India perspective? What is Harman doing to stay in line with the rapidly evolving technologies?
There is usually no fundamental difference in the way we approach and offer technology, whether to an Indian OEM like Tata Motors or a global OEM. I think we are all kind of solving the same problem.
If you think from a user perspective, our minds and experiences outside the car are completely digitalised. We now have virtual assistance following us. Whether you are an Alexa user, Siri user or Cortana, we are surrounded and we are obviously having a very rich digital experience in our homes or offices. What is happening is that this digital experience does not translate that well in terms of user experience or I can say complete digitalisation of the cockpit is not there yet when you enter your car.
So Harman and Samsung are trying to focus on it. Let's think about what does the digital experience look like and how do we address this in the automotive segment in a cost-effective manner. For Harman, one of the key focus areas is to enable the digitalisation of the cockpit and provide an immersive user experience.
Our focus is on the end-to-end approach. We are focussing first on the platform, and building a scalable platform that can integrate with multiple domains on to the consolidated cockpit platform. Here, you know the benefits are average in cost because we are getting a dedicated electronic control unit that may be powering an instrument cluster, a head-up display or infotainment.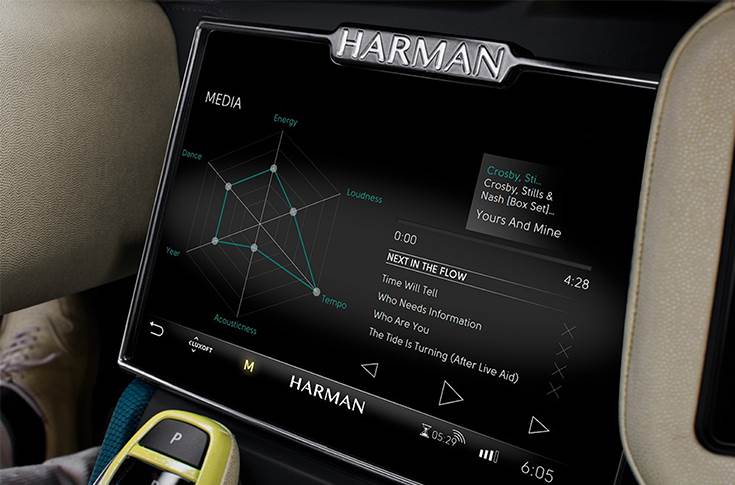 Harman's futuristic car dashboard underlines its focus area of rapidly digitalising the cockpit.
Now thanks to Moore's law, the next-generation processors have much more computing horsepower. You can do a lot more on the next-generation computing platform. This means you can bundle the cluster – head-up display, ADAS, infotainment – all in one unified computing platform.
What Harman is doing is not just focusing on this computing platform from the point of view of the premium segment (in cars), but is also introducing this to the mass market entry segment(s). This is where we are getting a lot of traction with the Indian OEMs. They concentrate on how they transform their cockpit from the analog world to the digital world.
So, we are able to consolidate several areas such as moving from analog clusters to digital clusters, thereby creating a richer infotainment experience, introducing newer technologies like head-up display, autonomous systems and others.
The other key thing we are trying to focus is to not just look at the technology element; we are also trying to focus on creating an end-to-end experience (for the users). Here, at Harman-Samsung, the unique thing is that we have products on the embedded side, dashboard, the parts that go into the car, and we are also focussing on the cloud side.
To really create the rich ecosystem of practices that can augment the experience after the person buys the car. So, Harman is focussing on the cloud side as well.
Working with Samsung, we will be one of the first companies to introduce the 5G network to the automotive market. We are the first ones to launch it last year and we also won a major European award. Currently, 5G appears frail in India, but will soon catch up. So, the cloud, the gateway to the cloud, the complete platform done in a scalable approach addressing the mass market – all this was unveiled at the CES 2018.
Coming to the opportunities in the global automotive industry, what are the core focus areas under Samsung's buyout of Harman?
I will cover three elements what Harman-Samsung are trying to focus on. One is the consolidated computing platform, the cloud side of things and then enabling of our services to be rendered from our Ignite cloud solutions to the car, the gateway to the cloud, introducing 5G and then the unique products for India leveraging the current infrastructure, both the aftermarket as well as the OEM side.
The other aspect is introducing very innovative and bold display technology. In this case, the value proposition of Harman-Samsung is quite strong. Samsung is the world's No. 1 display manufacturer, and we are tapping into that knowledge pool as well as the advanced technology, and bringing that technology into automotive.
This year, we unveiled several new display technologies. One is QLED (Quantum dot Light-Emitting Diode) for television. Working with Samsung, we introduced the QLED auto display at CES 2018. This is a very progressive technology that gets close to the OLED performance but at a fraction of the cost.
Harman-Samsung showcased the Digital Cockpit at CES2018. It weaves together a driver's entire connected lifestyle across IoT. Through a multi-display layout that leverages Harman's Ignite Platform, the in-car user experience can be personalised for the driver and passenger via services such as virtual personal assistants, portable profiles and augmented reality. This also allows for the Android OS to be integrated on four displays.
Now, most OEMs may not necessarily take our vision about our next-generation UX and UI displays, but it definitely helps position the platform in the right way and also the value proposition of what a consolidated cockpit controller can bring to the end customer.
What are the factors that are fueling this convergence of consumer electronics with the auto industry globally?
This convergence of the two different industries has been happening over the last five to six years. I think the primary reason for this is the customers' expectations. They want to blend their digital life outside the car and bring that experience – in a safe way – into the car. That has forced the industry to think of 'How do I connect my automotive world to the non-automotive world?'.
To give you a simple example, there is an announcement of a Harman Kardon and others unveiling connected or smart speakers that you can directly talk to, order things and use for other applications. Now, think about how do we provide a similar experience in the car? And how do we disambiguate from Alexa, Siri, Watson, Cortana and users and feel the same way.
So, the best way to showcase Harman's latest innovation from interfering with multiple voice-enabled systems, naturally came to CES 2018 using our Cloud backend solutions, for example Ignite. I can pre-select my voice station, and once I've pre-selected I need not change to 'Hey Alexa' or 'Hi Siri', or 'Hi Bixby' for Samsung. So, once I fix my voice station, then I can make the use of network saying 'Hi Alexa' or 'Hi Bixby'. Just a simple example of consumer technology and how that experience comes to the car.
Samsung is already known for deploying several modules under Internet of Things (IoT), artificial intelligence (AI), mixed reality on a range of consumer electronic products including home appliances, mobile phones, games and others. How are these futuristic technologies being used for automotive applications such as the futuristic cockpit platforms?
I spoke about how we are using Samsung's display technology for car cockpit applications. The second area, as I explained, is the Harman and Samsung 5G IT Telematics and network access devices and everything from Samsung, given their mobile phone expertise, they really understand miniaturisation (of products and technologies).
On the front of cloud, Harman has its own technology called Ignite. We are working with Samsung to augment Ignite to bring it in some of the elements of the ecosystem that Samsung has. We are bridging the Samsung ecosystem to other ecosystems to really connect the two bars for the end users. Thus, I could technically connect to my home while driving my car. For example, while driving I can give a voice command asking for what food do I have in my fridge at home. Connecting me via Harman Ignite, the command could go to the Samsung cloud and I can instantly see what is in my fridge! I can see that on my screen in my car as well (via digital cockpit).
Tata Motors' Tiago hatchback, one of the top-selling models for the company, uses a Harman infotainment system.
This is very simple but is powered by a lot of technology blocks that enables this user experience. On the other hand, while driving my car I can give a voice command asking for turning on the Samsung vacuum cleaner in the house. Using Samsung IoT, this can be done.
So via the Samsung-Harman alliance, we are bringing this immense value proposition for our end customers and the OEMs.
Also tying in all of this is the AI backend. We are also collaborating here very closely to augment the amount of data we collect and really create an intelligent side of this.
To put this simply, I could ask my car to say when do I need the next oil change. The technology would use the AI to profile the way I am driving – that is if I am an aggressive driver or a passive driver, the actual contextual experience varies, you might need to change it in 3,000km or maybe 10,000km. Here again, we are working with Samsung and analysing the data and applying that data and the AI algorithms to benefit the end user. In this case, when do I need to get my car's oil changed, when do I need to get the brake pads changed. In this case, we are working with the Samsung Bixby team to integrate this.
What about the firewall features enabling foolproof safety thereby preventing these systems from being hacked? With increasing application of common platforms, we now stare at an all-new set of challenges on safety and privacy.
When we start consolidating safety-critical domains with non-safety critical domains, let's say an instrument cluster and the infotainment system, the key thing is to have that separation so that the cluster will always function no matter what happens on the infotainment side.
So using virtualisation technology, which Harman has in-house, we can effectively isolate the infotainment (system inside the car) from the (instrument) cluster. So, no matter what happens on the infotainment (in case if it is hacked), it does not impact the instrument cluster and vice-versa.
Any other safety specific algorithm that's running, be it a driver-equipped algorithm, hud or clusters, those are all conditioned in a virtualised domain that is functionally safe.
Harman says its new Digital Cockpit platform is a scalable and cost-effective solution that integrates the operation and functionality of the instrument cluster and centre stack infotainment system to deliver a more seamless user experience.
Coming to security, we are heavily focussing on beefing up our security approach whether it is a standard Linux-based infotainment system or an Android-based infotainment system, we have multiple layers of security that we have within our systems. That's one of the reasons why we acquired TowerSec Automotive Cyber Security about two years ago. For now, we are integrating the trademark Harman Shield (system on automotive cybersecurity) into a platform to really offer different layers of protection such as hardware layers, software layers, access layers. We really think about different layers of protection just to ensure there is no hack into the infotainment system and so that hackers cannot do anything with the car.
In summary, all of our profit platforms focus on functional safety as well as different levels of security that we apply.
(This interview was first published in the June 1, 2018 issue of Autocar Professional)
RELATED ARTICLES