'Over the last two seasons, we helped the Prima racing truck reduce its weight by 800kg.'
Samir Yajnik, president - sales and COO, Asia Pacific, Tata Technologies speaks on the Tata Prima's weight loss therapy, working on dual-fuel systems and electric vehicles with Chinese and American OEMs.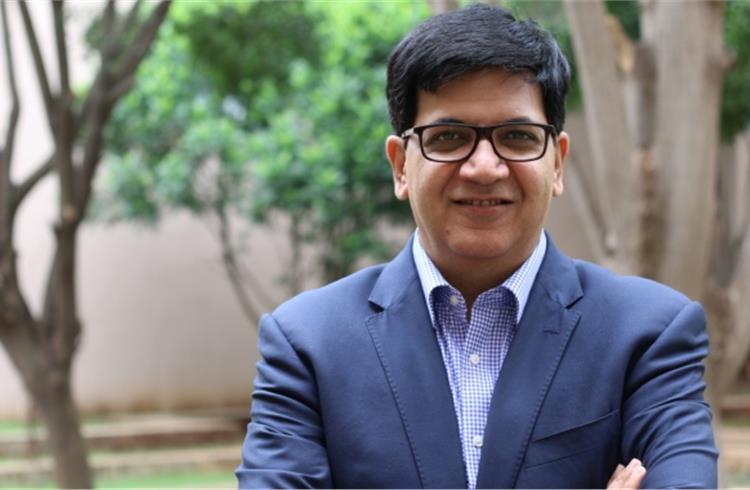 Tata Technologies has been actively engaged in Tata Motors' Prima truck racing programme. Samir Yajnik, president - sales and COO, Asia Pacific, speaks to Shobha Mathur on the Tata Prima's weight loss therapy, working on dual-fuel systems and electric vehicles with Chinese and American OEMs.
Tata Technologies has been part of the engineering development programme for the Tata Prima trucks. What were the design highlights for the 2016 edition?
We are Tata Motors' design and engineering partner, both for its passenger and commercial vehicles, as also its IT partner for product development as well as the process of managing its dealer management system. This year too, we have further helped Tata Motors shave weight off the Prima racing truck. We helped reduce the centre of gravity or driveability of vehicles as well as the manoeuvrability that improves when you reduce the centre of gravity. We have taken weight out of the suspension by putting aluminium water tanks and fuel tanks and added safety features. Our engineers are continuously working with the company. Over the last two seasons, we have reduced 800kg from the Prima truck.
What went into reducing the weight of the trucks?
When you are looking at different types of suspension, you have the ability to take off or apply a different type of suspension. We have also modified certain structural elements of safety to reduce weight. Basically it has revolved around safety, suspension and undercarriage and the two fuel and water tanks.
How much application of plastics went towards cutting weight?
We have not used any plastic trim part as such even in the fenders, but going forward there is the ability to further reduce either using mixed materials, or looking at additional aluminium components or looking at the entire chassis but this time not much plastics have been used in the structural parts.
What modifications need to be addressed next?
The strategy would be decided pretty much by Tata Motors, whether it wants to address weight in a substantial way or does it want to look at improving fuel efficiency. It is then that we get involved as their engineering partner. In fact this year we changed the way we work with Tata Motors from being a pure staffing play. We have signed a new i-sourcing agreement with Tata Motors that is essentially reorganising our engineering team such that we are responsible for more and more work packages on a continuous basis. This leads to more efficient usage of engineering. Using the i-sourcing business model in the commercial vehicle business side of engineering, Tata Motors will drive strategy and we will drive execution.
How many engineers worked on reducing the weight in the Tata Prima trucks and over what time period?
The total size of our engineering team that is in the i-sourcing contract is in excess of 1,200. There are more than 1,500 engineers but specialised engineers work on the vehicle. We have been part of the Prima since the concept of the vehicle, in detailed engineering and beyond, and then in making improvements. We have been part of the early product development cycle as well as the evolution of the racing trucks.
What speeds can the racing Primas achieve and how do they compare with their global counterparts?
The Prima racers have touched 140-143kph. The racing Prima was to go only 10 percent more from 100 to 110kph but it has been optimised to touch 142kph with a 370hp engine. Racing standards will necessitate that we put a larger capacity engine and then run it even faster, otherwise at this level we will not be internationally competitive.
The strategy whether it needs to race beyond 140-150kph will be driven by Tata Motors but we will help with the integration of the higher-horsepower Cummins to meet BS-VI certification. We will be getting involved with the entire integration of the engine into the truck to enable it to run faster.
How challenging is the programme to ensure that all vehicle engines be BS-VI emission compliant by 2020?
In order to be BS-VI compliant, a whole raft of things has to change. We have to work with Tata Motors and its engine supplier Cummins to make it happen.
On the safety front, can you detail the new features that have gone into the new Prima racing trucks?
We have added a lot of structural elements in the cabin so that the driver is completely safe. We have added structural elements to the tail and to the side so that when two trucks touch each other, they don't collide. We have also changed the wheel of the tyre so that it gets safer. We have added braking waterjet nozzles to increase efficiency. Overall, a lot of work has gone around the truck to make it safer and more efficient.
Are airbags needed in these Prima racing trucks?
We have a six-bell restraint system but have not productionised it with airbags. We have experimented with airbags in the engineering lab but the restraint system itself and the way the driver is strapped on makes it safer.
We have reduced the clutter and the seating system in the driving space that has made it better, the roll-cage cabin has become safer as also many ingress and egress parameters have been made a lot safer. There is much more that can be done to make the driver completely safe, so this is not the end of the road. Things like adding multiple airbags, the ones that we have experimented on utility vehicles, but all that is not productionised yet.
As far as the transmission is concerned, we have not changed the gearbox or the way energy is transmitted. These are roadworthy trucks that have been modified to some extent to make them more raceworthy.
Can any of these modifications be incorporated in regular Primas?
It is very much possible. These features are all customer driven and there will be customer demand to add many of the features used in the Prima trucks for the commercial market. You will see a lot of changes coming in this space because truckers are now demanding it rather than accepting a feature added by Tata Motors.
How do Prima trucks compare with those in the European and American markets?
There are two sides to the question: one is that you can always argue that Indian roads and Indian conditions and Indian performance requirements are such that you don't need the sophistication of the trucks that run in global markets. Having said that, I don't think that is true anymore as technology is driving people to rethink what type of trucks they want and roads are also going to get better.
As Tata Technologies gets involved in hybridisation work and lightweight materials, the work that we have done for the Discovery Sport has led us to understand the concept of 'rightweighting'. This means we don't necessarily want to reduce weight for the heck of it but exactly how much weight to reduce and where which will lead to performance improvement characteristics.
We have been involved with a lot of dual-fuel systems or alternative propulsion systems. For example, in a project with a truck company in the US, we have got involved in changing their pure diesel engine into diesel plus natural gas. I see that trend emerging in India as well over time.
We have even got involved with electric vehicles with a lot of Chinese and Californian OEMs and through that experience we are trying to bring that technology. We have built something called the electric mobility vehicle to the hybrid vehicle and we want to bring hybrids and EV knowledge that we are gaining into India as well. So I see EV buses, maybe even hybrid trucks, trending in the Indian market. Having applied this the world over, we will be able to be the partners of choice for hybridisation or electrification.
Does this mean we are likely to see hybrids and electric trucks racing around the Buddh circuit?
Unlikely but I am not one to guess. The strategy is very much determined by Tata Motors. The trends in the commercial vehicle and passenger vehicle markets are going to be in that direction but I am not sure whether Prima racing trucks will get electrified. But never say never. . .
RELATED ARTICLES