'Mega cities open up an opportunity for luxury vehicles rather than being a threat.'
Dr Wolfgang Ziebart, director, Group Engineering, Jaguar Land Rover, speaks to Sumantra B Barooah about the opportunities mega cities provide and the growing penetration of electronics in conventional cars and EVs.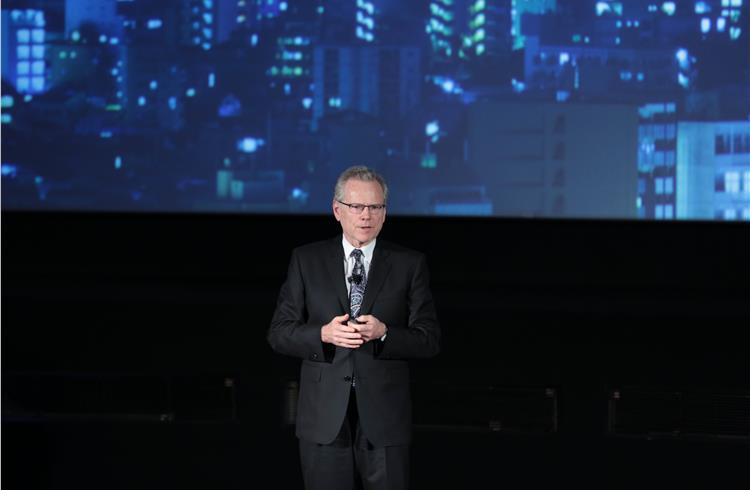 Dr Wolfgang Ziebart, director, Group Engineering, Jaguar Land Rover, speaks to Sumantra B Barooah about the opportunities mega cities provide and the growing penetration of electronics in conventional cars and EVs.
You say that current times are the most exciting as well as the most challenging for automobile engineers. What are the two main reasons why you think this is the most exciting time for automobiles in India?
Actually it's the opportunities that technology is offering, and I'm talking mainly about electronics which are driving 80 percent of all innovations in the car.
The computing power and the ability of sensors, and also actuators, are increasing so much so that now functionalities become available which five years ago were completely out of reach. These advanced systems will completely change the whole landscape of safety devices.
Thus far, it was about airbags. Now, it is more about assessing the situation around you – where are the cars, where are they moving to, and from this deriving a picture of how hazardous a situation is and then act accordingly. A prime example is intelligent braking, which more or less avoids most of the accidents caused just by the driver being distracted for a second or so. At one second, at a normal speed, the vehicle has already done 20-30 metres. And this is only one direction – the car ahead of you. What happens when cars come from here and there? There is so much potential in progressing here, which requires significant computing power. For instance, the stereo camera which first evaluates the picture then recognises a car, that's not that easy.
You basically get two million pixels of different grey or colour values and you have to make something useful out of that. This needs huge computing power – recognising or a person is not that easy – which is now available at reasonable prices. We can now consider this to be brought into the car and it is an area where we will really have a breakthrough in the next decade.
You've said that the electric vehicle industry is growing but you've also said that it is not going to replace the IC engine anytime soon. At Jaguar Land Rover, how is the transition happening? You have the Land Rover Defender electric concept. How is the work on such concepts going towards their production versions?
I think we will, for normal cars, just continue as we do as this market will definitely continue. There will not be a replacement of traditional cars but they will probably move into hybrids, especially in the area where we are.
So electric motors plus combustion engines will be, five years from now, very much the standard of drivetrain in a luxury vehicle.
When it comes to pure electric cars, I see a market developing more or less separated from the current existing market, mainly addressing these special purpose vehicles, for instance, daily commute. The wealthy can afford several cars and an electric car could be one of them for daily commute. For instance, they can drive from the central lane in the United States – you don't have to get stuck in traffic, you just pass along. You get preferred parking space or in London, you can drive into the city and so on. These benefits will make that more attractive. Nevertheless, I think this is more about the wealthy people as the car will still be expensive, just due to the battery size and cost.
As you said, with technology enhancements, vehicles are getting more and more complex. This could also lead to snags sometimes. How are you ensuring that these things are taken care of?
It is very important that you do not look at the electronics systems in a car just from the perspective of functions – say something that requires a new controller, new sensors and new wiring. If you do this, you are dead.
In the past, new functions mainly penetrated the way I just described; you brought in a new function and the necessary new components. In the future, new functionalities will mainly come in not through added hardware but through using existing controllers and existing data, sensors and activators and combining them properly. For instance, navigation data currently is used for route guidance. But it would be very useful also for stability control to know about where the road ahead of you is going to – are you approaching a corner at too high a speed? Such information would be very useful for the stability control system to know as this could do some preventive action ahead. Currently, it is not done that way.
The important thing for electronic control systems in the future will be a very fast backbone for data transmission so that every controller has access to every data and then derive his actions accordingly. This will completely change the electronic systems structure and then you will have a lot of features which are software only. You assume you have the data available from here and there, and then you can create a new function out of that – just the software. This is the way to go and for us it is now very important to set up our electronic structure accordingly.
You said that there are 24 mega cities with 20 million-plus population today, which could double by 2025. Ten of them can be expected in Asia. Is that issue a concern for JLR as well? How do you plan your product development programmes keeping in mind the emergence of mega cities?
I think these mega cities will open up an opportunity for luxury vehicles, rather than being a threat. You see that in Tokyo. There, you are usually always stuck in traffic; so people are looking for a quiet place which is really more or less giving them a different environment, a different world to live in rather than seeing the ugly outside. Some even have a karaoke device inside! Many homes in Japan have very limited space. So the car for them is actually the best place to be and will continue to be so. We see this trend very favourable for luxury vehicles.
RELATED ARTICLES