'I foresee close to 30 percent of our global R&D coming from India in the near future.'
Patrick Koller, CEO of the Faurecia Group, on how India will play a prominent role in extending the Group's technological capabilities and readying itself to take on incoming disruptions including autonomous and connected cars.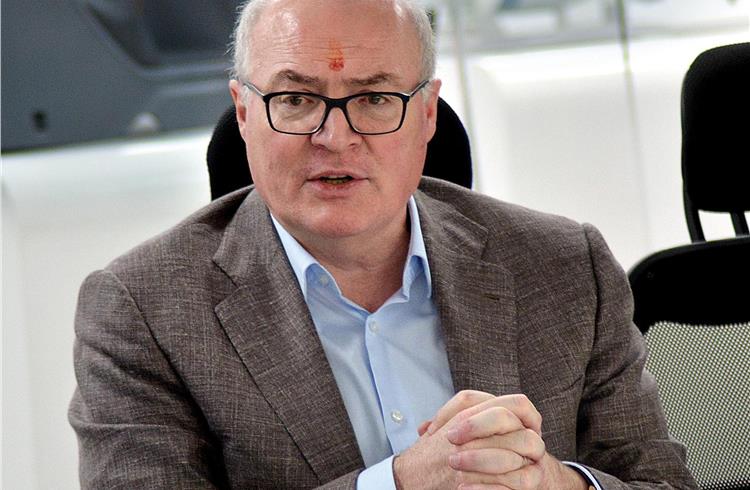 Patrick Koller, CEO of the 21-billion euro Faurecia Group, speaks to Autocar Professional's Amit Panday on how India will play a prominent role in extending the Group's technological capabilities and readying itself to take on incoming disruptions including autonomous and connected cars.
How do you perceive the auto industry and emerging opportunities in India?
India is a growing economy with new upcoming reforms. In terms of business, we see that our historical customers are developing their businesses in India. We want to follow that carefully. For a long time, India was a low-level market, which meant low level of content for our products (in vehicles). This market, therefore, was not really interesting as we were in a difficult position to compete against the local players. But with more technology, regulations, more content (per car), this market is growing and is becoming increasingly interesting for us.
Now that we have an R&D footprint here, new technology developments are taking place. We want to develop a new portfolio of products for connected and autonomous cars. What this means is products in terms of interiors of passenger cars of this nature in the future. We believe that we can find a lot of competencies in India in the software and electronics fields to support our technology development programs.
Our other intention is to grow significantly here (Pune), especially in our R&D capabilities. It is important for us to improve our global competitiveness. We are looking at trebling our current manpower of around 650 skilled officials in Pune.
Our headcount is around 1,800 people including all manufacturing sites in India. So if you take into the account our plan to grow our R&D headcount, then by 2020 Faurecia in India would have a total headcount of close to 5,000 people, including R&D headcount in Bangalore. (Faurecia's R&D centre in Pune is involved in development programs under the seating and interior verticals. Its second R&D unit is in Bangalore, which works on clean mobility vertical – emissions, exhaust technologies. The R&D unit in Bangalore has 400 engineers.)
Of the three business divisions for Faurecia's global business, which one is the largest? And is the pattern of revenue contribution similar to the Indian operations?
From a sales point of view, emission controls and seating are very close to each other. In terms of product sales, the biggest one for us is seating, followed by interiors and then emission controls.
In terms of overall revenues, how are these three business divisions placed globally?
The seating division currently contributes around 6 billion euros, the interior division contributes around 5 billion euros and emission controls does close to 3.5 billion, all on product sales.
Substantial investments in building capabilities on the front of connected and autonomous cars globally are underway. Will this trend drive Faurecia's interior division the most
as compared to the other two verticals?
When you take the concept of an autonomous car, we are not directly linked in terms of developing and manufacturing devices that make a car autonomous. However, the question here is if you have an autonomous car, what do you do in the interior of the passenger car? If you don't need to drive, then you will have to spend your time doing something else. It can be productive, it can also be relaxing. But it will have an impact on the architecture, and in any case, it will have to be connected.
So will it be correct to say that the interiors vertical will undergo the biggest transition in the coming future as compared to the other two divisions?
When you look at the automotive industry, the biggest disruptions today are electrification, changes on the powertrain, connectivity and autonomous driving. These are the three significant disruptions we will have to face in the coming years.
Among the upcoming reforms, the government has decided to implement BS VI emission norms in India by 2020. Do you see this as a lucrative opportunity for Faurecia's emission controls vertical?
In order to clean up the environment, the world is implementing stricter emission norms across several countries. Whenever any country decides to implement tighter emission regulations, it's good for us because we have the technology and also because it adds to the overall content to the systems (in the cars) that we are selling.
One market that is extremely interesting for us is the commercial vehicle market as India is one of the biggest in the world. We are very much prepared with Cummins; as you may know, we have a partnership with them globally to address these new requests linked to the (emission) regulations.
Cummins, I believe, has a very significant share in the diesel engine market in India. So as soon as the regulations will oblige to change the technology, we will be present and will follow with Cummins in these markets.
Is the company looking at venturing into new products and new product lines catering to new opportunities arising from new trends and technologies globally?
We do not disclose anything in terms of strategy as long as it is aligned with what we want to do. However, what I can tell is our first priority is to add technology to our existing business groups.
There is a lot of room to increase the value in these fields because we are lucky enough to be a part of these disruptions that I just spoke about. If we make the right choices, we might have a significant growth potential in the coming years.
Can you provide a specific example on that front?
For example, the surfaces you have in the interior of the car. These surfaces will have to become smart. What does this mean? It means that you have to combine decoration with functionalities. You will have to integrate displays, for example. So you will have this first layer, which will be the decoration layer. You will have the second layer, which will be the technical interface layer. The third layer, accordingly, would be the display and electronics with software flow linked to it. That will be one area.
While you will have many more new functions inside the car, you will also have to combine them and make them easy to access for the users. To do that you will also have to make the cabin predictive. So, you will have to recognise who is the user, what is he/she likes / dislikes, and his/her habits inside the car. So, you will have to adapt the offer (features) to his/her tailor-made needs. And whatever I just mentioned are the fields where we want to grow.
So there will be a lot of effort from Faurecia globally to acquire capabilities on the front of electronics and software, and India is likely to play an important role in this?
In the automotive industry, electronics are becoming a commodity because you do not produce electronics anymore. That is an enabler. So it's a commodity, which is a must-have. What is more important is software, artificial intelligence, algorithms – these are making the difference.
Yes, this is where I see a significant advantage of this country considering the deployment you have in these services. This is why I am here – for two things – understand how to grow this place (Pune centre and India business) and understand this market. I will be visiting my suppliers and partners in Europe and US to understand what kind of capabilities we can develop.
How many vehicle development programs are currently running at Faurecia globally?
Globally, we have about 600 vehicle programs running inside Faurecia. The average development time today is 30-36 months, from award to start of production. We keep the program involved until what we call as gate four, which is six months after SOP just to make sure that everything is working as planned, and then we let manufacturing to take over.
In India, we have five customers and each of them is having a few programs running with us for the domestic market.
On the global front, when I say we have 600 vehicle programs, you need to understand that we also split each of these vehicle programs into sub-programs. For example, when you do seats as a program, you do foam and covers as two separate sub-programs. The seat frame is also a separate sub-program here.
Ford's EcoSport and Renault's Kwid are examples of vehicles built on a platform common for several global markets. How important are such projects in terms of business? Is Faurecia looking at such examples where it can co-develop vehicles along with OEMs for several markets?
In my point of view, the Renault Kwid is a nice car. However, such a passenger car is not important for European markets. The Kwid is, on the other hand, a car for emerging markets. Renault is the only company I know which is able to do something like that.
We are doing business and if there is zero content in the car, then it is not an interesting project in our perspective. This is also true for the expensive sportscars, which have a lot of content but the volumes are very low.
I believe that it might be a niche, which is interesting, but surely we have to understand the solutions. We need to make the right benchmark analysis of all of that.
The other thing is that in India you have companies, which are very competitive, but are not following our constraints. This is why I said that we cannot compete against these companies. When you look at safety, for example, what are our constraints in terms of quality and equipment and our investments immediately put us out of the market. As long as this will be the case, we have more to look at technology and new incoming regulations for things to improve.
How do you assess the quality standards followed by Indian passenger carmakers?
I am not a specialist on the Indian market and the consumer behaviour here. However, what I can tell you is when I compare India with China, the challenge there was to be able to follow the growth of the market. In order to do so, the OEMs (western and Japanese) could not develop the vehicles locally. They developed the cars in their domestic markets and they asked their suppliers to follow them. They were just focused on producing them and were adding new capacities. So this educated the Chinese with a certain level of quality and they are (now) used to that.
If you look at the roads in China, you will see nice cars and recent cars. Now when we go back to the Chinese OEMs, their level of requests stay very high, and it forces the Chinese OEMs to improve very quickly, which is what they are doing. They have developed good SUVs.
I think, and I might be wrong, the Indian consumer is not educated for this at the moment.
He/she is not used to this, also because the infrastructure remained very poor. To own premium cars did not make much sense.
However, this is changing as the infrastructure is improving, the quality of cars on the road will improve, and the quality requests of the consumers will increase. This will take some time. This is my perception and I am not predicting what the Indian consumers will do in the future.
What is Faurecia's current growth rate in the context of its Indian operations, and what is the roadmap for 2020?
What I will tell you is that we have been very selective in the way we looked at the growth in India, especially for the reasons that I mentioned to you. We are not interested in low-content-cars.
We are noticing that our traditional customers are building up their capacities and their volumes in India, and we are following them. So we will soon have nine production plants in India but we are careful to ensure we have the right profitability in India, which is the case we have currently. (Faurecia currently has seven production plants in India.)
In terms of the significance of the business (in India), we are expecting to do, in a few years, between 200-300 million euros of sales for a company (by 2020-2025), which at that point in time will be around 25 billion euros. So you can calculate that the percentage is very low.
For us India is a market we are following with care, it's a big market with a large population. But it is not for our type of product offerings and mature enough yet. It will come to those levels and this is why we have to be here and this is why we have to develop our presence and to be ready when it will be most appropriate.
On the other side, we very much believe in the capabilities of India, especially for the future. This is why we want to invest here. I can very well imagine that in the times to come we may have almost one-third of our overall development force to be located in India.
So all-in-all, I see 1-2 percent of our sales here but close to 30 percent of our R&D in India in the near future.
The last production facility was set up in Sanand, Gujarat, which was Faurecia's seventh plant in India. What timeline will the company follow in setting up the two upcoming plants?
We are looking at setting up the two additional production units by 2018, which is when we will have nine units in India.
RELATED ARTICLES