Transporting Christmas trees by Unimog
The company Martin Riedel KG delivers Christmas trees all over southern Bavaria by Unimog.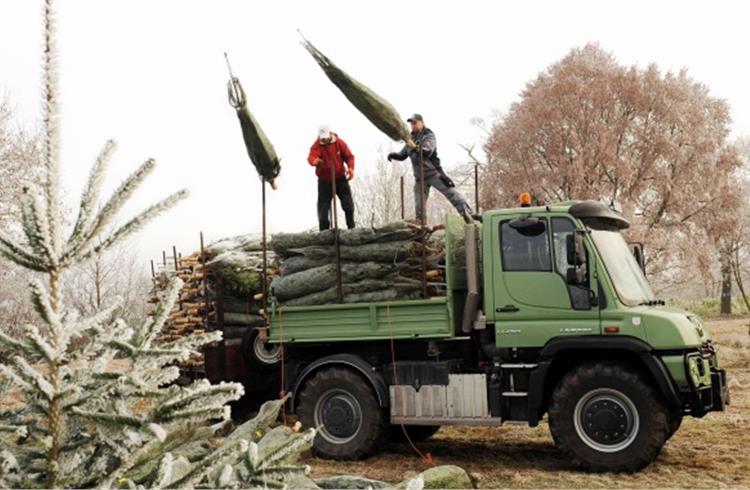 Transporting Christmas trees by Unimog
Transporting Christmas trees by Unimog
Transporting Christmas trees by Unimog
If it wasn't for Alois Endl and his Unimog vehicles, many families in Bavaria, Germany would not have a tree this Christmas.
Every day in the run-up to Christmas the stalwart forester sets off in the early hours of the morning in his 300 hp U 430 Unimog to deliver freshly felled Nordmann firs to the various Christmas tree sales points set up by the Türkenfeld-based company Martin Riedl KG across the whole of southern Bavaria. Alois Endl's green Unimog U 430 is the youngest of a fleet of nine Unimog vehicles, but the pair have already covered almost 15 000 km together just since February 2016.
400 Christmas trees at one go
At about 7 o'clock each evening, as the figures for sales of Christmas trees at the various points are reported back, work begins to load up the Unimog and its trailer at the company's site in Windorf, near Passau. The fresh stock of 400 trees is supplied to the sales locations around Regensburg, in Barbing, Pentling and Lappersdorf.
For these locations, more than 100 km away, Hendel loads four pallets, each carrying 100 Christmas trees of between 1.50m and 2.60m in length, onto the load platform of his Unimog and its trailer. Loading takes no time at all, thanks to a forklift truck; the unloading at the other end is down to muscle power.
Tree deliveries right up until 24 December
"Long distances and motorway journeys are no problem at all either with the Unimog. With its quiet-running six-cylinder diesel engine and comfortable cab, the Unimog makes for relaxed driving and keeps up easily with the flow of traffic. And because my U 430 is registered as an agricultural tractor unit, I don't need to pay the motorway toll either", grins Alois Endl.
The 50-year-old has been part of the team for a good 20 years now, and has never regretted a day spent driving his Unimog. By lunchtime all the Christmas trees have been distributed and it's time to get back to base to get the trees for the next day ready. This particular job won't end until 24 December, by which time all families in southern Bavaria should have their Christmas trees.
Christmas Narratives:
- ZF 'Last Mile' future study: When robots deliver Christmas presents
- All for a good Claus: Land Rover builds compact Christmas cabin for Santa
RELATED ARTICLES