NATRAX: Testbed of automotive tech
An ultra-modern centre developed under the National Automotive Testing R&D Infrastructure Project (NATRiP) with 14 test tracks and two laboratories designed to thoroughly test passenger vehicles, commercial vehicles and also two- and three-wheelers.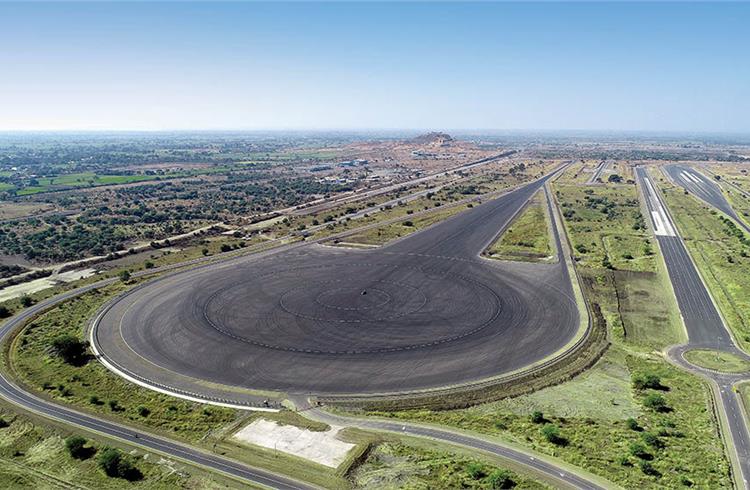 As the Indian auto industry looks to make vehicles safer and more advanced, find out how the National Automotive Test Tracks facility at Pithampur, near Indore, with 14 test tracks and two laboratories, will help Indian automobiles stand abreast with global automobiles.
As vehicle testing norms turn more stringent in the Indian automotive industry, vehicle manufacturers are increasingly testing their new models across various parameters before they are launched. While ARAI in Pune and iCAT in Manesar have well-equipped testing facilities, the need for a world-class automotive proving ground in India has been critical. Now, the National Automotive Test Tracks (NATRAX-Indore), set up on a 4,140-acre site, enables comprehensive testing and evaluation of all types of automobiles.
Located at Pithampur, near Indore, Madhya Pradesh, NATRAX claims to be the best among all vehicle testing facilities not only in India but also Asia. It is an ultra-modern centre developed under the National Automotive Testing R&D Infrastructure Project (NATRiP). The facility includes 14 test tracks and two laboratories designed to thoroughly test passenger vehicles, commercial vehicles and also two- and three-wheelers.
Braking track tests the brake force of a vehicle on four unlike surfaces offering different frictions.
Though some automakers like Maruti Suzuki and Ashok Leyland have developed their own facilities to test their vehicles, N Karuppaiah, additional director and site head, NATRiP, affirmed that NATRAX has much wider magnitude and variety to offer. He added that this facility will help reduce both cost and the time that automakers spend on product development. An elaborate facility like this will also encourage automakers to design and develop products specifically for Indian and other Asian markets and have a positive impact on the localisation levels of cars sold in India. Here's a closer look at what's on offer at India's biggest vehicle testing facility.
High-speed track: This 11.3km-long, four-lane oval structure track, which has a radius of 1,000 metres, will be the most extreme test track. Still, under development, it is expected to get new vehicles running on it before the end of this year. It will help test a vehicle's road stability at its top speed, which can range up to 375kph, more than enough for high-performance sports cars currently sold in India.
Made with different gradient surfaces, test hills monitor the gradeability and electronics of a vehicle.
Dynamic platform: This is a 1.5km straight stretch attached to a 300-metre circular disc at one end that will put to test a vehicle's cornering dynamics. The testing includes an accelerate-to-target test where a vehicle goes flat-out to the target and the top speed to the target is noted; steering pulse, where steering movement and angle are noted while taking the disc is also measured. What's also recorded is brake pulse, which measures the brake force applied while approaching the disc, and the hold of the steering and throttle which essentially records the amalgamation of acceleration and the angle of steering movement while taking the roundabout.
Braking track: This track has four different surfaces – ceramic tiles, basalt tiles, polished concrete and asphalt surface. All four provide different frictional forces onto which a vehicle's brake bite is tested on differed frictional levels.
Fatigue track: This 2km stretch is divided into three lanes made of eight torture tests comprising potholes, washboards, twist-track, cobblestones, herringbones, splash board, resonance track and low severity and high severity pave tracks. It is essentially used to test the ageing of a vehicle's components; the wear and tear of the parts are monitored when the vehicle goes over different gradients.
Test hills: As the name suggests, this is hilly terrain located near the test tracks. Seven dissimilar gradients, ranging from six percent to 30 percent, comprise the hill tracks that examine the gradeability of the vehicle on all surfaces and different steep angles. Traction Control and Electronic Stability Control of the off-roader come into play here.
Handling track: In addition to the J-Turn test in the Dynamic Platform, the handling track is designed to test a vehicle's stability during lane change departures, rapid steering inputs on a 270deg turn and its straight-line stability. It essentially examines a vehicle's high-speed manoeuvrability.
Comprising different torture sections, the fatigue track tests the wear of a vehicle's components.
Comfort track: This 800m stretch is made of different surfaces – smooth paved surface, rough asphalt, standard asphalt and washboard – of one metre each and are paved at several intervals. Further, it has additional elongated tracks of four metres each which include rough concrete, bridge joints, and big step cleats. The track will put to test the vibration and harshness of the vehicle when it rovers over these surfaces where the mainstay will be the comfort levels.
Handling track for two- and three-wheelers: This is a dedicated 1.5km-long track for two- and three-wheelers. It combines curves and straights to test two-wheeler and three-wheeler chassis stability and tyres at bends on the track.
Gravel and off-road track: This track replicates real-world, off-road conditions where off-road vehicles are put to test to assert how strong they stand on challenging surfaces.
Wet skid pad: The track comprises a circular disc made of low-friction basalt tiles which test the cornering dynamics of the vehicle on surfaces that does not render enough friction.
The handling track comprises several turns and corners to test the handling dynamics of vehicles.
Sustainability track: This is another track made on the hills beside the NATRAX facility. It is made from eight percent gradient material to test the cooling of the engine and the brake retarders on high-friction surfaces.
Noise track: This track can measure drive-by noise levels of a vehicle's engine, wind travel and tyre rumble when the vehicle plies on the road.
General track: A feeder road by the side of the main approach track.
Approach road: It replicates the shoulder road by the side of the main road. The vehicle will be tested on this road to measure low-speed, straight drive.
The wet skid disc, made from basalt tiles, tests the cornering dynamics of vehicles on low friction.
Laboratories: In addition to the test tracks, the NATRAX facility also has two well-equipped, specialised labs to digitally measure powertrain performance and other mechanical aspects of the vehicle. Alongside the lab area is a garage for the automakers to prepare their vehicles for the testing.
Powertrain lab: This lab is equipped with a chassis dynamometer and an emission analyser to test the chassis dynamics and emission levels of a vehicle at different speeds and rev range.
Vehicle dynamic lab: The lab helps test the suspension parameters, steering movements and compression of elastomer objects – bush, body stabiliser and other polymer objects – at varying load levels.
The noise track is designed to test the drive-by- noise of a vehicle's engine and mechanicals.
A proving ground like NATRAX will be a boon to the Indian auto industry, which can now conduct a variety of tests within the country itself, thereby reducing both costs and testing time. In the mission towards increased safety on Indian roads, a facility like this will go a long way in making vehicles across segments safer and more advanced.
(This article was first published in the 1 March 2018 issue of Autocar Professional)
RELATED ARTICLES