Electric two-wheelers to be movers & shakers
Electric two-wheelers are gathering a lot of hype and this is all because of the interest shown by some of the major players of the industry.
Hero MotoCorp's Pawan Munjal: "We intend to enhance our participation in EVs internally as well as partner with Ather Energy."
The TVS Creon electric scootere has a 3kW battery pack and a 8kW motor. Top speed:115kph.
Anand Mahindra, chairman of the Mahindra Group, seen at the company's two-wheeler R&D facility in Pune.
Tork Motorcycles claims the T6X has a top speed of 100kph and the battery is good for 80,000-100,000km.
Ather Energy's innovation-laden S340 has filed for 15 patents. To be launched this year.
New TVS Creon has a 3kW battery pack and 8kW motor; has an 80km range and 115kph max speed.
Anand Mahindra, chairman of the Mahindra Group, seen at the company's two-wheeler R&D facility in Pune. The under-development electric scooter is seen in the foreground
Ather Energy has filed 15 patent applications for the innovation-laden S340.
Twenty Two Motors has launched the AI-enabled, cloud-connected Flow e-scooter at Rs 74,740.
Twenty Two Motors' Flow hi-tech electric scooter has been launched at Rs 74,740.
Hero Electric revealed a new lot of electric scooters at the Auto Expo 2018.
Hero Electric expanded its e-scooter range with new launches at Auto Expo 2018.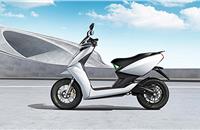 Just as in China, the world's largest electric vehicle market, motorcycles and scooters could help drive the shift to mass-scale electro-mobility in India. Affordable products and convenient, expansive charging infrastructure will convince buyers to plug into green motoring.
Compared to the gaggle of electric cars and buses being announced by various automakers in India, the scenario in the electric two-wheeler world appears to be a lot more promising. Plenty of start-up-driven innovation, biggies like Hero MotoCorp and TVS Motor Co acquiring stakes in EV start-ups and the propensity of angel investors to test the EV waters first with battery-powered two-wheelers is what is making this vehicle segment a very exciting one. And, of course, there's the charge from the central government and the recommendations by its think-tank, NITI Aayog.

Giving his perspective on Hero MotoCorp's strategic investment in Ather Energy, the start-up's CEO and co-founder Tarun Mehta had commented, "The funding is a strong validation of our product roadmap and technology capability, endorsed by one of the biggest global automotive players. We believe smart connected electric vehicles are the future and India will be an important global player in it. Our vision is to fast forward to that future and this investment will help us leapfrog several years of automotive experience."
All of India Auto Inc and the EV world took notice when in October 2016, Hero MotoCorp, which has heavily invested in setting up its world-class R&D facility near Jaipur, invested Rs 205 crore in Bangalore-based smart electric scooter start-up Ather Energy for a 26-30 percent stake.
Hero MotoCorp's Pawan Munjal: "We intend to enhance our participation in EVs internally as well as partner with Ather Energy."
"Ather is the best start-up in the two-wheeler EV space and we firmly believe that they are on the way to become one of the leaders in India, potentially even globally. They bring together a vision with high aspiration, ability to progress rapidly and the humility to learn and improve continually. We are excited to be a strategic investor and see this as an important step in building the necessary eco-system needed to support commercialisation of EVs in the country," Munjal had said in October 2017.
Stating his outlook on the need to adopt eco-friendly two-wheelers, Pawan Munjal, chairman, MD and CEO of Hero MotoCorp had said, "Adoption of environment-friendly fuel is a priority for Hero, as is propagating sustainable manufacturing through green facilities. One of our strategic priorities, therefore, is to engage with the external ecosystem, including start-ups in adjacent areas. Hero MotoCorp intends to enhance its participation in the electric vehicle space by pursuing its internal EV program in addition to partnering with Ather."
Ather Energy's Tarun Mehta: "We believe smart connected EVs are the future and India will be an important global player."
Hero MotoCorp has been following a two-pronged strategy in developing the electric two-wheelers – investments in Ather Energy and development of EV capabilities internally. The company already has a long-established presence through Hero Electric, arguably the oldest player in the electric two-wheeler segment which continues to be the biggest with a portfolio of 10 high- and low-speed models on offer.
Ather Energy, which first revealed the S340 electric smart scooter in early 2016, displayed a much-improved version at the Global Entrepreneurship Summit 2017 in Hyderabad last November.
Hero Electric, which has the largest stable of e-scooters, launched the Flash, powered by a lead-acid battery, in February 2017. Seen here are CEO Sohinder Singh Gill (left) and Navin Munjal. Later in February 2018, at the Auto Expo, the company revealed a range of new electric scooters (pictured below).
Ather Energy has filed 15 patent applications for the innovation-laden S340. The touchscreen dashboard will offer round-the-clock connectivity integrating cloud-based data to help personalise the consumer ride experience. Features like user profile-based sign in, onboard navigation, pre-configured drive modes like sport and economy will help offer a personalised experience to the rider
The company says that the scooter's integration with the S340 Mobile App will keep the rider connected with the vehicle, to configure ride and profile preferences and sync navigation routes remotely. It says that as more vehicles go in-field, aggregate rider and vehicle data will help in customised vehicle updates that will be delivered automatically over the air.
TVS Motor Company, India's third largest two-wheeler player, has lined up a hybrid and a pure-electric scooter for commercial launch. Chairman Venu Srinivasan recently said, "Our electric vehicles will also come by February-March 2018. We will be using our own battery management system (BMS). But we will be buying individual cells from international suppliers but the battery itself, which includes connecting them and making the BMS, will be done internally."
At Auto Expo 2018, TVS showcased an exciting electric scooter concept. The Creon e-scooter features a 12kW electric motor powered by three lithium-ion batteries which lend it an impressive performance. TVS claims the Creon can go from 0 to 60kph in 5.1sec – that's quick by scooter standards – and boasts a range of 80km.
The Creon also offers a rapid charging option, which facilitates 80 percent charge in just 60 minutes. The batteries have been designed to ensure high charge per volume and the motor is laid out in a compact manner as well.
TVS has also placed an emphasis on connectivity and has equipped the Creon with a range of tech developed in collaboration with Intel. It gets a TFT screen which displays the speedometer, battery charge, battery health status, tachometer, trip meter and odometer. The Creon is app-enabled and also offers Cloud connectivity, three riding modes, regenerative braking, park assist, GPS, geofencing and safety/anti-theft features. In addition, it gets a smartphone charger and an underseat storage that can accommodate a full-face helmet.
Built on an aluminium perimeter frame and featuring diamond cut alloy wheels with chunky TVS Remora tyres, the Creon definitely aims to offer an exciting dynamics package. It features front and rear disc brakes, along with a single-channel ABS and that's rather comprehensive for a concept.
TVS' intent to grow in the EV space is evident from the fact that in December the company picked up a 14.78 percent stake in Ultraviolette Automotive, a Bangalore-based electric two-wheeler and energy infrastructure start-up.
TVS Motor buys stake in EV start-up Ultraviolette auto
Giving his outlook on TVS Motor's future readiness, Srinivasan had said, "You will have to commit investments in multiple technologies. You cannot say only hydrogen will come, only fuel cells will come. It will be a combination of ethanol, of hydrogen, of fuel cells."
Ultraviolette Automotive has been testing prototype e-bikes.
Bajaj Auto is another major two-wheeler player which has commenced development of electric vehicles. Autocar Professional, which was the first media publication to break news about the company's plans of foraying into the EV space with battery-powered three-wheelers, has learnt that it is also developing EV competencies for future electric two-wheelers.
Tork Motorcycles plans to launch the T6X electric sportsbike in 2018. The bike develops a claimed 27Nm of torque and has a range of 100km in a single charge. Top speed limited to 100kph and the battery is good for 80,000-100,000km.
Yet another Pune-based start-up, Tork Motorcycles plans to launch an electric motorcycle in the domestic market soon. The T6X is powered by a 6KW lithium-ion battery instead of a conventional internal combustion engine. The bike manages an impressive 27Nm of torque and a range of 100km in a single charge.Top speed is limited to 100kph at present and the battery is good for 80,000-100,000km, the company claims. The bike's battery can reach 80 percent capacity with just one hour of charging and gets fully charged in two hours.
Also read: Bharat Forge takes 45 percent stake in Tork Motorcycles
in 2016, the Hemalatha Annamalai-led Ampere Vehicles too got funding from Infosys co-founder and former CEO Kris Gopalakrishnan; Venk Krishnan, CEO, NuWare; Vineet Agarwal, managing director, Transport Corporation of India, and others. Also backed by Tata Sons chairman emeritus Ratan Tata, Ampere Vehicles is known to have sold more than 20,000 electric vehicles thus far.
Anand Mahindra, chairman of the Mahindra Group, seen at the company's two-wheeler R&D facility in Pune. The under-development electric scooter is seen in the foreground. Image: Courtesy Anand Mahindra/Twitter
Mahindra & Mahindra (M&M)'s two-wheeler division is also learnt to be working on electrification of existing models along with other concurrent projects. A clue came from Anand Mahindra, chairman, Mahindra Group, who visited his company's Pune-based two-wheeler R&D facility on September 15, when he tweeted, "A peek at the electric variant under development."
Sources, who are aware of the ongoing electric vehicle project at Mahindra Two-Wheelers, have disclosed to this publication that the team of engineers at the company is working on electrification of an existing scooter, understood be on the Gusto model's platform. It can be recalled that the Gusto scooter models (110cc and 125cc) were the most successful when compared to the market acceptance of other scooters (Duro and Rodeo) manufactured and retailed by Mahindra Two Wheelers.
M&M is not a novice at the EV game. Not only does it have a first-mover advantage in electric cars but it also has a US-based venture called GenZe that is involved in the manufacture and sale of electric two-wheelers.
Although many industry experts feel that electric two-wheelers will see the first signs of mass-scale penetration in urban pockets, Hemalatha of Ampere Vehicles, who has worked with individuals at the root level by empowering them with low-cost transportation and commuting solutions, observes, "Rural customers are no different than urban customers. In fact, rural customers are more flexible and willing to adopt newer means of commuting such as the electric two-wheelers. The mindset is fast-changing in the rural markets."
Gurgaon-based Twenty Two Motors has unveiled the Flow electric scooter. The Flow was subsequently launched at Auto Expo 2018.
"It's a myth that the electric two-wheelers are not as efficient and cannot carry loads. We are witnessing increasing requirements on the front of last-mile connectivity in rural areas. Even the models powered by the lead-acid batteries are good enough for those applications. I see that it's only the mindset that limits people to buy the EVs currently. However, this will change as soon as we are able to start manufacturing lithium-ion batteries in India. The chemistry is fast evolving on the same," she told Autocar Professional recently.
Okinawa Autotech launched its second e-scooter, the Praise priced at about Rs 60,000 (ex-showroom Delhi).
Among other new entrants into the EV space is Gurgaon-based Twenty Two Motors and Okinawa Autotech. While Twenty Two Motors has recently unveiled its maiden electric scooter named Flow, Okinawa has already launched two electric scooters – Ridge and Praise in the Rs 43,000-Rs 60,000 (ex-showroom, Delhi) price range.
The battery pack has been designed in-house by an eight-member R&D team. The Flow was launched at the Auto Expo in February 2018.
Okinawa Autotech, a recent entrant in e-two-wheelers, claims to have sold more than 5,000 units of the Ridge
Sum of all parts
Meanwhile, on the components side, suppliers seem to be awaiting further clarity on the EV roadmap from the government.
Speaking on the sidelines of the ACMA third ACT Summit recently in Pune, Nirmal K Minda, president, ACMA and director, Minda Industries, clarified, "We are awaiting more clarity from the government on the roadmap for electric mobility. We have to make substantial investments in developing competencies for electric vehicles. Currently, our investments are channelised in the direction of preparing for the BS VI emission norms. SIAM, ACMA and the government authorities have to come together to make the roadmap. Electric vehicles are going to happen." He agrees that the two-wheeler segment would be the first to embrace the vehicle electrification drive.
The Automotive Research Association of India, which inaugurated its centre of excellence for e-mobility on the sidelines of iTEC India 2017 in Pune, is working to draft regulations and benchmarks for the electric vehicle segment.
2018 is expected to be a watershed year for electric two-wheeler market, which will see many new models joining the fleet on road. Now, it's up to riders across the country to bite the green two-wheeler bullet. It could be surmised that riders in traffic-gridlocked metro cities could be the first to vote for electric two-wheelers, more so for short runs as urban runabouts.
(This article was published in the December 15, 2017 - Anniversary issue of Autocar Professional)
RELATED ARTICLES