Winning shot: Why India's Auto Inc. bets on IPL
What is the automotive industry aiming to convey with its varied partnerships with the Indian Premier League?
Hero MotoCorp's electric 2W brand Vida is now the official electric mobility partner of Lucknow Super Giants team.
Cricketer Virat Kohli got an electric scooter for his performance during Royal Challengers Bangalore vs Mumbai Indians game.
Tata Motors is in its sixth year of partnership with IPL and for the 2023 season, the automaker has got its Tiago EV selected as the official car.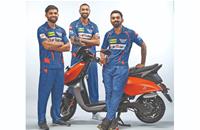 The Indian Premier League (IPL) 2023 is not only one of the biggest cricketing events in India but also a veritable battlefield for brands. The T20 tournament sees a lot of fanfare, as city-based franchisee teams vigorously compete against each other for the prize and fan adulation.
It is expected to reach over 200 plus million viewers this year, says brand strategy firm Expereal and automotive companies are racing to get to the finish line, as they look to get a piece of the advertising space that IPL has to offer. Big brands like Tata Motors, Mahindra & Mahindra are among companies who are positioning the IPL to smartly segway into a conversation about the future of mobility in particular – that is electric vehicles.
Tata Motors is in its sixth year of partnership with the IPL, and Mahindra & Mahindra had announced a partnership with Royal Challengers Bangalore, Delhi Capitals, Mumbai Indians and Rajasthan Royals. VIDA, the mobility brand of Hero MotoCorp, has partnered with Lucknow Super Giants to become their official electric mobility partner.
There are also relatively new entrants such as Ather and Greaves Electric Mobility's Ampere, both of which are espousing the cause of the electric vehicle in some way or another.
Vivek Srivatsa, Head of Marketing, Sales, and Service Strategy, Tata Passenger Electric Mobility, believes that "the reality of electric vehicles is now in the present". Stating that since Tata Motors has been the pioneer of the electrification of the automotive category for the last three years, very strongly pursuing customer adoption, this association with IPL sends a big message to customers, saying that EV is really a big business now.
Throw in the advertising numbers and the reach that IPL garners, and it's not hard to understand why the worlds of cricket and automobiles make a perfect match. Avik Chattopadhyay, Co-founder of brand strategy firm Expereal, helps to put this in perspective. "Tatas are spending Rs 335 crore for the title sponsorship every year for 2022 and 2023."
The typical media revenues for the Board of Control for Cricket in India (BCCI) are in the region of Rs 9,500 crore every year for at least the next five years," he states. Tiago.ev is the official partner for this year's edition of the Tata Indian Premier League.
Explaining why a brand would opt for IPL, versus other modes and whether it can be cost-effective, Chattopadhyay states that if a brand wants to narrow-cast its communication, IPL is way too expensive. "If one wants to amplify its message to one and all and build awareness and association with the general viewer, then no other platform allows you to reach out to a 200+ million viewership, across the country, across socio-economic strata, for almost a month. If that is the brand's objective, then nothing is more cost-effective than the IPL," he says.
"This is the first time that any EV product is a part of any large media association. It shows that EVs are here, right today, and you will see in the future that EVs will become more and more mainstream extremely rapidly, and there will come a time when the entire auto industry's growth is going to be led by EVs," Srivatsa said, adding that currently, 12 percent of their total passenger vehicles sales come from EVs.
The Tatas had launched the Nexon in 2018, and then moved to the Harrier, Altroz, and the Safari. "Last year we had the Punch, and this year for the first time, we have an EV. IPL has given us tremendous visibility and built awareness of each of these brands, and it's grown in strength also, over the last six years," Srivatsa adds.
Electric vehicles are fast catching up in India, with 9,99,949 electric vehicles being sold in CY22, which represents a 210 percent year-on-year increase on 2021's 3,22,871 units. Of this, two-wheelers command 62 percent of the country's electric vehicle market share.
This could be why IPL has also seen new entrants such as Greaves Electric Mobility's Ampere, which has joined hands with Royal Challengers Bangalore as its official electric vehicle partner, and Hero MotoCorp's new electric two-wheeler brand VIDA partnering with Lucknow SuperGiants.
Besides educating the masses in high-visibility events like IPL, there's a clear-cut direction in the way the messages are positioned in these fast-moving time slots. Dr Swadesh Srivastava, Head – Emerging Mobility Business Unit (EMBU), Hero MotoCorp, said that in line with their brand promise of building a "Worry-free EV ecosystem", they were ensuring that the customers' transition to electric vehicles was smooth and hassle-free.
Colonel Vinod Bisht, CEO, RPSG Sports, which owns the Lucknow SuperGiants team, stated that their ideology was aligned with Hero MotoCorp's electric scooter VIDA's mission of creating a better world for the future. "With sustainability at its core, our partnership will surely create large-scale impact both on and off the field," he added.
Sanjay Behl, Executive Director and CEO, Greaves Electric Mobility stated that "collaboration with cricket helps us to connect with our customers at large, while we continue to democratise smart and sustainable mobility solutions, through our range of electric two-wheelers for the masses." Behl added that brands need to focus on the value proposition that they bring for the end consumers, to distinguish themselves, in this era of 'sustainable consumers' who place a premium on brands that care about the environment. "This is the first time that we have collaborated with an IPL team, the Royal Challengers Bangalore, as our values and purpose for sustainability are perfectly aligned. RCB is the world's first Carbon Positive Cricket Franchise, with year-round sustainability initiatives in waste management, and recycling and our goal of promoting sustainability aligns well, he added.
Integrated approach to EVs
EV brands are looking beyond just being associated with IPL. They are aware of the challenges when it comes to working on ways to increase people's awareness about electric vehicles. As a result, the focus has shifted from just grabbing eyeballs to doing purposeful marketing that goes beyond the traditional brand recall. For instance, Tata Tiago aims to bust EV myths. "There are many misconceptions and myths around EVs and IPL gives us a very good platform to break these myths and give the customer a kind of confidence and education (almost), telling them the truth about EVs," says Srivatsa.
Companies are also leveraging the IPL's reach to tap into a wider demographic base and tell them about electric vehicles. Pranesh Urs, Head Marketing, Ather Energy said that as they expand their retail footprint in the form of Ather Space Experience Centres throughout the country, their partnership with IPL franchise Gujarat Titans as the Principal Sponsor helps build brand awareness and salience amongst prospects across India. "IPL also attracts a broad set of demographics, from Metros to Tier II and Tier III cities, allowing us to penetrate deeper into markets and put EVs in the consideration set," he adds. Srivatsa adds that they can deep dive into very different kinds of geographies and demographics, thanks to the presence that the IPL has, and this helps them communicate the facts about EV mobility.
Eventually, it is a jostle for occupying the top place in consumers' minds, and Tata with its bandwidth has been able to do that. Chattopadhyay explains that in 2023, the only auto brand on television is Tata, due to its title sponsorship, and they are pushing the Tiago EV on television and on the ground.
This feature was first published in Autocar Professional's April 15, 2023 issue.
RELATED ARTICLES