What the world's tech moguls drive
Their technology increasingly rules and runs the modern world, but what do they all drive?
They are the captains of modern industry. The founders of social networks and technology companies. These technology titans have built up multi-crore fortunes founding and building global tech empires. These are the cars they drive - and as you will see some have better taste in motors than others:
Sample pictures shown except where noted.
Bill Gates – Porsche 959


The Microsoft co-founder's first-ever car was a used Porsche 911 he bought when Microsoft was starting in the mid-1970s, and was caught speeding in it. He's been an avid Porsche collector since and he's owned a host of models over the years, including a 930 Turbo. Perhaps his most well-known Porsche purchase is his 959, which he was initially unable to import into the US due to it not having passed regulations.
His efforts helped change the rules to allow rare and historically significant cars to be imported for 'show and display purposes' as long as they didn't do more than 2500 miles annually, a rule that stands to this day. Among his other models is a Tesla Model X EV, and he can be seen driving a Mercedes-Benz S-Class in the new Netflix series Inside Bill's Brain: Decoding Bill Gates.
Jack Dorsey – BMW M3


Dorsey is the billionaire co-founder of Twitter but didn't buy his first car until 2011 at the age of 35. He chose well, buying an E92 BMW M3, the last of the great V8 BMWs. But the New Yorker admits that he doesn't drive that much, preferring to use public transport instead.

Sergey Brin – Tesla Model X




Sergey Brin, the co-founder of Google, was worth £40bn at the last count, according to Forbes. He's good friends with Elon Musk, which might explain his fondness for his products. He drives a Tesla Model X and a Tesla Roadster, and at one time a power cable could be seen hanging out of a Google office window being used to charge the Roadster.
Presumably the Google car park has more suitable recharging arrangements nowadays. Brin and fellow Googler Larry Page were early investors in Tesla.

Larry Page – Tesla Roadster




Larry Page is the other co-founder of Google and shares a similar taste in cars with his colleague, Brin. He too has a Tesla Roadster, as well as a Toyota Prius and a Zero FX dirt bike, a Californian-built, all-electric bike with a 46hp motor and a 85mph top speed.

Mark Zuckerberg – Honda Fit


At the last count the Facebook founder was worth £56 billion (Rs 489,440 crore) but he's still managed to keep his taste in cars modest. He's been pictured driving a Honda Fit (Jazz in Europe), a Volkswagen Golf GTi Mk7 and Acura TSX around Silicon Valley. He has said he likes the Acura as it's "safe, comfortable and not ostentatious". However, if internet rumours are to be believed, he also bought a Pagani Huayra in 2014.

Larry Ellison – Lexus LFA




The Oracle software company founder has good taste in cars. He owned a McLaren F1, which he sold for £2.9 million (Rs 25 crore) at a Pebble Beach auction in 2010. A huge aficionado of Japan and Japanese culture, these days he can be seen in a Lexus LFA, probably the finest sports car to ever come out of that country, as well as a Lexus 600h L hybrid limousine.
Steve Ballmer – Ford Fusion Hybrid




Ballmer is the larger-than-life former CEO of Microsoft. His father worked for most of his life for Ford in Detroit, and his son has had a huge love for the Blue Oval ever since. He once told an event at Microsoft that he used to own cars from Aston Martin and Land Rover, but his loyalty was so great he sold them after Ford sold those companies.
He's owned a Ford Fusion Hybrid for several years and spearheaded a deal with Ford to embed Microsoft's Sync connectivity tech in new Fords. He has also owned a Lincoln Continental.
Jack Ma – Roewe RX-5


Jack Ma, worth £28.6 billion (Rs 249,964 crore), is the retired founder of the Alibaba, the broad equivalent of Amazon in China. In 2016 Alibabi partnered with SAIC to create the Roewe RX5, a mid-market SUV available with internal combustion and electric powertrains. Ma drives an RX5 but he's also got a Maybach 62S and a BMW 760Li and, we guess, a chauffeur.

Michael Dell – Porsche Carrera GT


Michael Dell is the founder of PC giant Dell and is, according to Forbes, the 25th richest person in the world in 2019. Like many tech entrepreneurs featured here he's a car fan and his collection includes a Porsche Carrera GT, a Porsche Boxster and a Hummer H2.

Jeff Bezos – Honda Accord




By most measures, Amazon.com founder Bezos is the world's richest man. He doesn't appear to splurge on cars, though. Little is known about his car collection but according to the 2013 book The Everything Store, despite his wealth Bezos drove around in a humble Honda Accord.
Before that he owned a Chevrolet Blazer. He's not exactly slumming it, though: he also owns a Gulfstream G650ER, a $75 million (Rs 531 crore) long-range private jet.

Dustin Moskovitz – Volkswagen Golf R32


Moskovitz was one of the original founders of Facebook and left in 2008 to form project management app Asana, considerable ventures that have seen his fortune rise to £9 billion (Rs 78,660 crore). It's believed his vehicles include a relatively down-to-earth Volkswagen Golf R32.

Elon Musk – Lotus Esprit (submarine)


Since he heads Tesla, It's of little surprise that Elon Musk's daily drive is a Tesla Model S P100D. He's also got a Model X and Model 3 and famously launched his own Tesla Roadster into space. But the car fanatic also owns a Ford Model T, a Jaguar E-Type Roadster and the submersible Lotus Esprit from the James Bond film The Spy Who Loved Me (pictured), which he bought at auction in 2013 for nearly $1 million (Rs 7 crore).
In the past Musk has owned a Porsche 911, a McLaren F1 (in which he crashed), an Audi Q7 and a Hamann BMW M5.

Jony Ive – Bentley Mulsanne


Briton Sir Jonathan "Jony" Ive is the chief designer behind most of Apple's biggest hits, but he originally wanted to be a car designer. The former Apple design boss has a fondness for British cars, having owned a number of Crewe and Gaydon's finest over the years.
His vehicles have included an Aston Martin DB9 (in which he crashed a month into ownership), an Aston Martin Vanquish, the Bentleys Brooklands and Mulsanne, and an Austin Healey Frogeye Sprite. His family runabout is a Land Rover Discovery and, breaking from his own convention, he's had an orange original Fiat 500, too.

Evan Spiegel – Ferrari F12




The Snapchat founder's net worth is estimated to be £3.1 billion (Rs 27,094 crore) and, in 2015, he celebrated another round of funding in his startup by buying himself a Ferrari F12berlinetta. He once wrote that "cars bring me sheer joy". From an early age he's been interested in cars, convincing his parents to lease him a powerful BMW 550i when he was still a teenager.

Tim Cook – BMW 5 Series (F10)


Tim Cook is the current CEO of Apple, taking over after the death of Steve Jobs in 2011. Noted for his modesty, Cook drives a discrete F10-series BMW 528i, despite a £12.6 million (Rs 110 crore) pay packet in 2018. He's also been pictured in a Porsche Boxster.

Sean Parker – Audi S5


Entrepreneur Sean Parker was co-founder of file-sharing site Napster and, at the age of 24, had become Facebook's first president. He divides his time between New York and San Francisco, and an Audi S5 and a Tesla Model S.

Steve Jobs – Mercedes SL55 AMG


Steve Jobs, the visionary Apple CEO who died in 2011, leased a new car every six months, realising that California law meant he could escape having to display a licence plate if he didn't keep them too long. It's not known exactly why he disliked licence plates, though this loophole was eventually closed in 2019.
Formally a fan and collector of Porsches, in later years Jobs deeply favored the design and engineering of Mercedes-Benz; cars he owned included an SL55 AMG, as pictured here near Apple's HQ in California in 2010.

Phil Schiller – Porsche 911 GT3 RS


Schiller is the head of marketing at Apple - and a massive car nut. Take a look at his Twitter page and you'll he's a bit of a Porsche geek, with a picture of a 718 GTR and a Porsche 356 SL Gmünd Coupe as his bio.
He drives a 911 GT3 RS and has a Porsche 550A tucked away. He also owns a McLaren F1, Ford GT40, Jaguar D-Type, Lamborghini Miura and Aston Martin DB4 GT.

John McAfee – Bentley Azure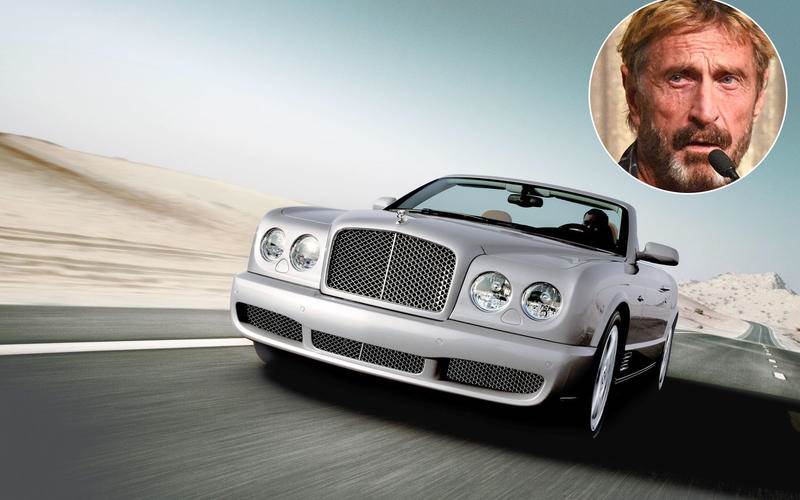 McAfee founded the antivrus software company that bears his name, though he's no longer involved with it. Today he's something of an evangelist for cryptocurrency, and suitably enough used it to purchase a Bentley Azure using Bitcoin in 2018.

Carlos Slim – Bentley Continental Flying Spur


Carlos Slim Helú is Mexico's richest man and a tech entrepreneur among many other interests. He also owns Escudería Telmex, a Mexican racing team that develops the next generation of racing talent. One of his proteges is Racing Point F1 driver Sergio Perez. Slim has a fleet of luxury limousines at his disposal, including a Bentley Continental Flying Spur and a Maybach.
RELATED ARTICLES