'We must work as one team with the best practices' : Roland Bouchara
The new CEO and MD of Stellantis India, Roland Bouchara is categorical that there needs to be greater synergies between the Citroen and Jeep teams across functions.
In his new role as CEO and Managing Director of Stellantis India, Roland Bouchara is keen on putting the building blocks in place first.
The new global entity created early this year is the result of a merger between Groupe PSA and Fiat Chrysler Automobiles (FCA) both of which have a presence in India. The former is a more recent entrant with its Citroen brand while FCA has been around much longer, first in its avatar as Fiat dating back to the 1950s and now as FCA following the buyout of Chrysler a decade ago.
Bouchara was spearheading Citroen's India outing and now as head of the merged Stellantis entity, will also be navigating the roadmap for the more established Jeep brand. It is now a little over six months since he took charge and he admits that it is now a "larger and wider responsibility covering Jeep and Citroen along with the three factories".
FCA's plant in Ranjangaon, near Pune, has a manufacturing capacity of 160,000 vehicles, 350,000 engines and 300,000 transmissions per annum.
As he puts it, "It is a new challenge and new excitement." The three factories Bouchara refers to are FCA's in Ranjangaon near Pune (a manufacturing joint venture with Tata Motors), avtec and also the French brand's powertrain unit at Hosur in Tamil Nadu (PSA Avtec Powertrain, the joint venture between PSA and the CK Birla Group).
"It's not too often that in your life you have the challenge to launch a new brand. Citroen is very well known but not in India and it is not every day that you have the chance to launch an international brand in a big country like India which is almost a continent," says Bouchara.
The Jeep brand, in contrast, is more familiar with "huge awareness" which means that the foundation is already in place and it is important to keep the momentum in place. From the CEO's point of view, the big task ahead is to make sure that "everyone (within Stellantis) is now going to work in the same way".
Strategising a new growth vision
This, therefore, means implementation of a "new governance, vision, direction and a new way of working". The idea behind this is to improve efficiencies for better processes as well as greater internal synergies to help Stellantis India grow stronger. Since the time he got into the driver's seat, Bouchara has been focusing on "building the best organisation and synergies" in terms of pooling in strengths.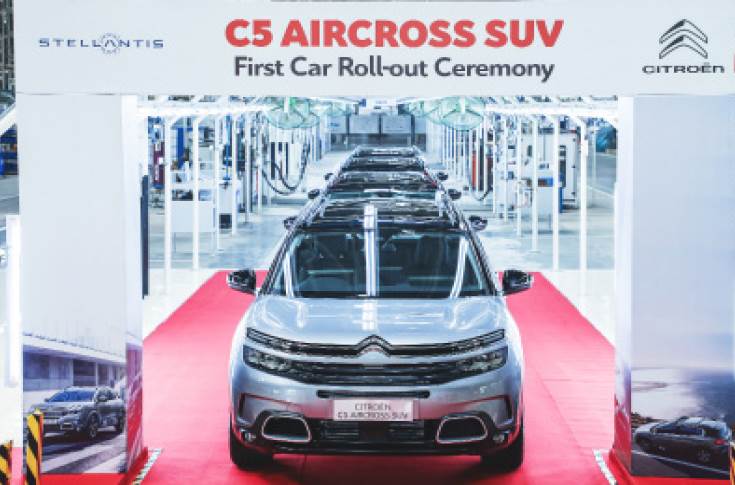 On January 28 Citroen India began production of the C5 Aircross from its manufacturing facility in Tamil Nadu acquired from the CK Birla Group.
"We have great competencies on both sides (Jeep and Citroen) and this is a big benefit for the company. Everyday, we are discovering new things and my top priority is to make sure that we work as one team with the best practices," he says.
This, he emphasises for good measure, has been the "main task and the top priority for 2021" where the key is to make sure that everyone is "going towards" the same goalpost. Admittedly, it is not going to be an easy task since life is just about coming back to some semblance of normalcy in the aftermath of Covid-19 and the ferocious second wave.
"We have had to face a lot of headwinds with the pandemic," says Bouchara, while briefly dwelling upon the hardships that families have faced. "Without people, we cannot move on and the top task is to protect our manpower at the factories. This is much more important before anything else," he adds.
The next task is to ensure that "our efficiencies are ready to restart" post Covid. He is hopeful that there will not be a resurgence like a third wave while encouraging employees to get vaccinated. To that extent, 2021 has not been an easy one even while Stellantis has seen the launch of the new Jeep Compass and Citroen C5 Aircross which was "more about launching the brand".
As Bouchara elaborates, the C5 is a premium car and the flagship brand to demonstrate the "knowhow and value" of Citroen. The feedback from the market has been encouraging enough to convince the leadership team that customers like what they have bought.
While the C5 Aircross will not set the sales charts on fire since numbers are bound to l be limited, Bouchara is betting big on the C3 which will be launched next year. "It is an amazing proposition and we are confident. It is the first car from the new C-Cubed programme," he says. Beyond the C3, the idea is to launch one model every year and, as he insists, "we will keep our promise".
While the C3 will be the big thing from the Citroen stable, 2022 will also see the new Jeep SUV (tipped to be the seven-seater Meridian) which is "going to be something" for customers in India. It will demonstrate that there is a "different alternative" in the big cars category while embracing Jeep's values when it comes to driving and "having adventure in a sophisticated car".
The Stellantis CEO believes that Jeep is a durable brand and "everyone knows it with a strong feeling". To that extent, the sky's the limit for Jeep and its "potential can be realised with more products" going forward. Yet, he admits that there is a lot of work to be done especially when there is enough and more on the Stellantis plate in India.
Gunning for high localisation
Beyond the three plants, there are R&D facilities of Citroen and FCA which now come under the new umbrella. "We are at the beginning of the merger and working on the next phase which means building something for the new era," he explains.
For now, Hosur is producing the MB 6 gearbox where large numbers are already being exported to Europe. The factory is "very efficient" from a global perspective for the product and this is key to being competitive in India. After all, it boils down to striking the optimal balance between quality and costs and it is here that Citroen has reasons to be pleased with the way Hosur is growing in its role.
"To be successful in India, you need to have a high rate of localisation at over 90 percent," says Bouchara while pointing out that there are not so many OEMs which are profitable in this country. The ones which are in the black have "successfully developed an ecosystem" with high levels of localisation. "It is what we have done for Citroen at Hosur and Tiruvallur. We are operating at a comfortable capacity and high levels of efficiency," he says.
Capacity at the car plant can be ramped up as part of the blueprint Citroen has drawn up for India. "Right now, we are taking one thing at a time and have already planned the next move in this scalable strategy. We started with a frugal approach and have been right all along leading to the C3," says Bouchara.
Thus far, this has been working well for Citroen since Hosur is "so good in terms of competitiveness in exports" while Tiruvallur will have the ideal ecosystem for suppliers — "we will achieve high localisation with the best quality for India".
With R&D and engineering capabilities also in place (both PSA and FCA have establishments in Chennai), Bouchara believes that compared to other OEMs, Stellantis has a bigger advantage with this kind of ecosystem. "It will hold us in good stead for a competitive approach in terms of profitability," he says.
Likewise, there is a "great advantage" at the FCA plant in Ranjangaon since it has a "sharing arrangement" in manufacturing with Tata Motors. As numbers increase here, there will be further economies of scale — which is good news for the Stellantis bottomline — and better efficiencies.


According to Bouchara, India will play a big role for Stellantis and this is already evident at Hosur where localisation has helped boost profitability. It is the unrelenting focus on boosting local content which is paramount to be successful in India. Additionally, bringing something new to the market along with a focus on strong lifecycle management will only help the cause.
"It is very important you plan these aspects: localisation in order to be competitive as well as something NEW and not anything recycled. Bringing a recycled product is a recipe for failure." emphasises Bouchara. He cites the example of Citroen's C-Cubed programme which was planned exclusively for India and will roll out cars keeping customers in this part of the world in mind. Exports will also be part of the business model and India could help bolster the Citroen brand in ASEAN and Latin America.
There is clearly a lot of work ahead at Stellantis India in bringing teams together, making sure that competencies are optimised and then exploring the possibility of joint platforms for Jeep and Citroen. Will Ranjangaon play a bigger role for Stellantis in this aspect?
These are early days yet and Bouchara makes it clear that "we are taking one thing at a time and not digesting too fast". By the end of the day, "we will see what is feasible while preparing for the future for which we need to be very good now".
In a nutshell, fixing the present is important to make the future a reality. "My job is to make Stellantis India profitable…and to do this, we will use all resources in the best way possible to make our position robust," he says.
He also admits that the coming years are not going to be so easy for the automobile industry since there are big challenges ahead like CO2 regulations, inputs costs and the semiconductor shortage crisis which may even last into 2022. Additionally, there is the present issue of Covid which is still continuing with no indication if the third wave will wreak as much havoc as the second did.
"My objective as CEO is to make sure that our business model is going to be solid in order to face new challenges. To do so, we need to have the lowest breakeven point possible and absorb difficulties (shocks)," says Bouchara.
The other top priority is to make sure that brand Jeep retains its attractiveness and reinforces its position. The Citroen brand, on the other hand, is "still to be developed and we need to increase its awareness". It will take time but "we have a great advantage with the ecosystem" with one product planned every year.
"Profitability is important despite the challenges ahead and we need to generate a robust organisation and high efficiencies," says the Stellantis India chief. He is confident that the new products planned will meet the needs of India's car buyers. "We need to have something fresh in this market regularly and be vibrant enough to reach out to this young population," he adds.
This is precisely why new offerings like the C3, scheduled to debut in 2022, have been conceptualised to offer something new both on the product and retail experience. "We are moving into a visual world and people want to buy something which is personal and reflects what they are. The C3 is associated with these traits," says Bouchara.
It will also be interesting to see if the retail side will see Jeep and Citroen outlets next to each other in select locations where it makes little sense to invest in separate dealerships. This may just have a positive rub-off on Citroen in particular which is still in the process of spreading its brand across the Indian terrain.
It is a strategy that Nissan and Datsun had attempted in the past and something which Skoda and Volkswagen may be open to going forward since there is really no threat to individual brand dilution. The problem arises only when the partners retail their models in a common outlet and the outcome could be disastrous as Tata Motors and Fiat realized when they embarked upon this joint selling model.
Will Stellantis also contemplate on reviving the Fiat brand for India? For now, Bouchara and his team have their hands full with Jeep and Citroen which means they are not going to be distracted with a third brand even if it still has the highest recall value in India. In a way, that sums up the tragedy of Fiat which had its share of successes like the Uno and Palio but just could not last the course.
On the subject of brands, Bouchara says there has been no decision on the Ambassador brand which Citroen bought out from the CK Birla Group. The vintage car is no longer being produced but it will be interesting to see if Stellantis will use it in any future line-up for Citroen. Given its focus on India's young buyers, the Ambassador may not quite be in sync right now but as the saying goes old's gold — there could well be a surprise or two in the near future.
This feature was first published in Autocar Professional's October 15 issue.
RELATED ARTICLES