Voith Industrial Services shows the way ahead with its reusable crates
The company aims to replace the paper-made cartons used in the automotive component logistics industry with custom-designed, reusable crates made from high-density plastics.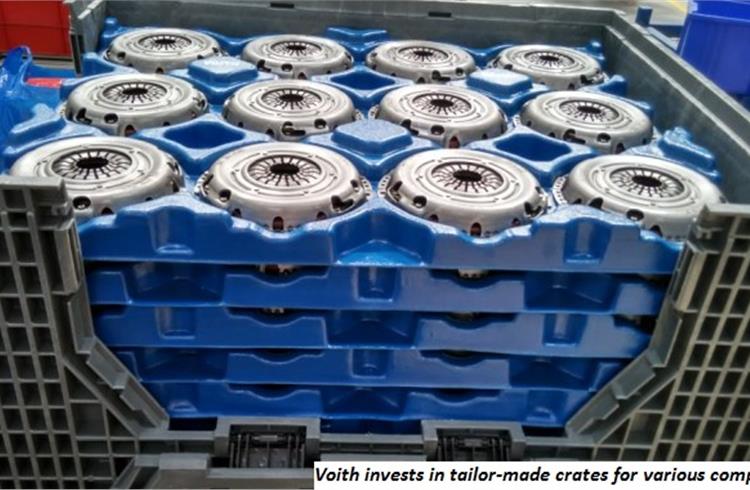 Voith Industrial Services shows the way ahead with its reusable crates
Voith Industrial Services shows the way ahead with its reusable crates
Voith Industrial Services shows the way ahead with its reusable crates
Voith Industrial Services, India, the six-year-old local arm of the German giant Voith's industrial services vertical, is eyeing potential opportunities in the automotive component logistics industry by replacing paper-made cartons with specially designed, flexible and reusable packaging crates made from high-density plastics (HDP).
While automotive logistics is the backbone of the factory-to-factory parts supply chain, the packaging and transportation process often sees transit- accumulating losses. To add to that, widespread usage of paper-made cartons and their handling in warehouses is not an environment-friendly practice.
Speaking to Autocar Professional in this context, Sudhir Gurtoo, managing director, Voith Industrial Services, India, says: "Simply put, usage of cartons means as much cutting down of trees. Secondly, in carton handling during the transit, loss in the range of 1 to 2 percent of the overall consignment is reported. The specifically designed, reusable HDP crates cover up for all such disadvantages."
A large number of automotive suppliers use corrugated boxes, which are primarily made of paper, cardboard, foam, wood or even polythene materials, for packaging purposes. "A major disadvantage of such boxes is their durability. These boxes are often not able to withstand harsh indoor and outdoor conditions while the parts are being shipped from one location to the other, leading to component damages in many cases," he adds.
Recalling one such incident, Gurtoo, a veteran who has served the automotive industry for more than three decades, says, "A German Tier 1 supplier was shipping its products (radiators) to Chennai to an OEM. The company was using huge cardboard boxes for packaging. It had a big warehouse for storing and handling such cartons, which produces husk particles that are bad for breathing and health. We came up with specially designed containers made of HDP or specialised steel. These can be folded, are collapsible and can absorb shocks as well during transit. Earlier, the company was reporting two percent damages during transit, which is now reduced to zero. These crates are efficient in terms of providing protection."
Reusable HDP crating offers a number of benefits as against cardboard boxes. These mainly involve an eco-friendly way of mass- scale packaging, reduction in product damages, multiple handling and scrap and waste, as also easy packing and unpacking, and better utilisation of storage space.
According to the company, it has packed and transported several automotive components including radiators, automotive lamps, wiring harness and clutch plates from the manufacturing units of Tier 1 suppliers to their OEM customers.
The solution starts with identification of most suitable containers or crates or bins suiting the requirement of specific components or the parts that are to be shipped. The selection of a particular type of crate depends on various factors like the product range, sizes and the reliability of the product.
"Typically, the wire mesh containers or HDP foldable containers are used along with customised trays or separators (also called liners) to ensure proper and maximised nesting. The added advantage to a customer typically comes from reduction in transit or storage damages, reduction in storage space and multiple handling and manpower. We work on ownership basis, which means that we take complete responsibility of the goods that are to be packed and transported. The suppliers are charged for only what they move as against the conventional practice," adds the senior company official.
Voith invests in getting tailor-made crates produced for different types of components to ensure maximum safety impact. "The costs here go a little above the cardboard cost, which is one big challenge. However, a number of progressive automotive OEMs are pushing for reusable HDP crates for all the incoming inventory into their production or warehouse units," Gurtoo remarks.
The company, which began operating in this vertical three years ago, continues to have a passive approach. According to Gurtoo, it is more important to diligently cater to each customer and every individual consignment with the necessary requirements rather than bagging multiple deals at one time. The company takes at least two months to specifically design the HDP containers before it begins its process of packaging the automotive components before transit.
"For this vertical, we are looking at cautious growth. However, I do see a lot of potential to grow over the next three to five years," Gurtoo signs off.
RELATED ARTICLES