Verlicchi Hema Auto to make bike frames
The big news last fortnight came from the motorcycle industry. It was the announcement of a new joint venture between Hema Engineering Industries Ltd (HEIL) and the Verlicchi Group of Italy.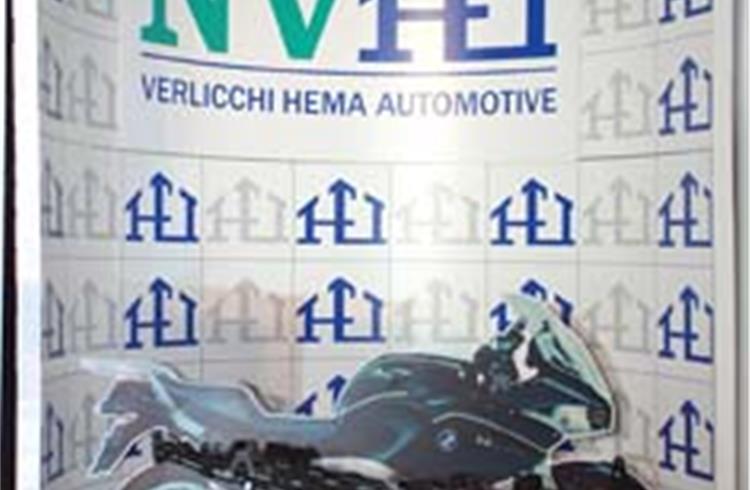 The Gurgaon-based manufacturer of two-wheeler forks, rear forks and exhaust systems has signed a joint venture pact with the Italian automotive components manufacturer to make motorcycle frames and other parts. Verlicchi Hema Automotive Company, the new 50:50 JV, will set up its first manufacturing facility at Hosur, near Bangalore, to make frames, fuel tanks and exhaust systems for two-wheelers and also supply components to Verlicchi's clients in Asia. With this project, the Italian firm also makes its foray in Asia. HEIL, which already supplies exhaust systems, swingarms, main and side stands, handlebars and side guards to leading two-wheeler manufacturers like Hero Honda, TVS Motor Company, Yamaha and Royal Enfield, is also a supplier to Tier 1 component makers such as Tenneco, Denso and Munjal Showa. Chandresh Jajoo, managing director, HEIL, said: "The two-wheeler frames market has significant potential in India and our JV will be able to tap this segment. Verlicchi is one of the global leaders in this product category. The frame constitutes around five percent of a bike's cost and we aim to tap this part of the motorcycle components market." Alessandro Verlicchi, managing director of the Verlicchi Group, added: "The JV is part of our strategy to enlarge our footprint across the world. Through this JV, we have been given a great start in India and we believe that both companies are well positioned to manage and integrate systems, deliver international quality products and develop a brand image that can create value among two-wheeler companies. We have three manufacturing facilities in Spain, Italy and the US, and renowned clients such as BMW, Harley-Davidson, Ducati and Honda." Elaborating as to why HEIL chose to partner with the Italian company, Jajoo said: "We have well over two decades of experience in the auto components industry and have worked with almost all major OEMs in India. Although we manufacture swingarms, exhaust systems, side stands, main stands and handlebars, we have not dealt with complete frames and had been scouting for a JV partner to cater to two-wheeler frames. We found Verlicchi to be a suitable partner and decided to go in for an alliance." Indian market beckons When queried as to why Verlicchi has been a late entrant into the Indian market, Alessandro said, "We are the leading manufacturer of two-wheeler frames in Europe and we were mainly concentrating on the European market. It is only recently that we decided to look at other markets. We also realised that India is a huge market for two-wheelers and it is still growing at an amazing pace. This alliance had definitely helped us to understand the Indian market. I am sure that we will make a big impact in India too with the alliance, like we have done in other markets." Alessandro added that the JV would introduce frames, exhaust systems, swingarms and fuel tanks to the Indian market. "We have vast experience in two-wheeler products. We have a long association with global players in the two-wheeler segment such as Aprilia, Ducati, Honda, MV Agusta, Buell, Yamaha and Harley-Davidson and I am confident that we will be able to replicate the experience for the benefit of the Indian market, with our alliance with the Hema Group." Verlicchi Hema Automotive Company is already engaged in advanced discussions with some major OEMS in the Indian market, although company officials declined to reveal their names. Clearly, both companies have pooled their strengths for the project. For Verlicchi, India seems a far better bet than Europe at the present moment. Turnkey engineering HEIL has 11 business units across the country. The Group has three units (Sabo Hema Automotive) in Gurgaon, two units including Maxop Engineering in Manesar, one in Nalagarh, a design centre at Pune, one unit each at Dharuhera and Haridwar, and Eurotherm Hema Radiators India at Bawal. The Hema Group has also made a foray into Engineering Services Organisation (ESO) and a Design Centre in Pune to offer specific and turnkey engineering solutions in the area of product and process engineering to cater to the increasing needs of domestic and global clients, most of them in the automotive segment. Leveraging its design, analytical and manufacturing capabilities, HEIL can provide support in the following areas — detail design from concepts, design and modification of existing products, feasibility studies, packaging and interference study, GD&T and tolerance stack-up, design verification and optimisation by CAE, parts and assembly drawings for manufacturing, manufacturing of prototype, product validation by physical testing, and manufacture and supply of sheet metal and tubular components. In the safety products range, the company manufactures swingarms, handlebars, sari guards, shock absorbers and environmental products such as exhaust systems. Its USP is advanced surface treatment which is at par with international standards along with manufacturing of safety products. "Due to the economic slowdown, our margins were under pressure. But our R&D efforts have helped us meet margins, helping us to grow further," Jajoo added. In the two-wheeler segment in India, the company has a 70 per cent market share in swingarms and 80 per cent in handlebars. It plans to launch new products such as seat mechanisms and aluminium frames in the near future. Commenting on the status of new ventures such as the design centre at Pune, the Haridwar facility for Hero Honda, Jajoo said, "We have an Engineering Services Organisation (ESO) in Pune, to offer specific and turnkey engineering solutions in product and process engineering to cater to the ever-increasing needs of our domestic and global clients. Our Nalagarh plant is in line with the partnership we have with TVS." "TVS Motor Company's initial investment in its plant is around Rs 120 crore with a production capacity of 400,000 motorcycles a year, which can easily be scaled up to 600,000 vehicles a year. Our existing plant would thus help us in retaining our top slot in the OEM segment. The Nalagarh facility would scale up operations in tandem with TVS Motor's expansion. The Haridwar unit has been set up to cater to Hero Honda's expansion." Leadership in surface treatment The company claims it enjoys market leadership in the surface treatment segment,having put in place a state-of-the art infrastructure in surface treatment such as electroplating (nickel, chrome and zinc), liquid painting, powder coating and HR painting for both automotive and non-automotive products. The Group follows quality management systems and has certifications such as TS: 16949, ISO: 14001, ISO: 17025 and OHSAS: 18001. In terms of the workforce, HEIL has around 2,300 highly skilled employees working in several of its units spread across the country. The Group's current turnover is Rs 450 crore. "We have projected a turnover of Rs 550 crore by 2010 and Rs1,250 crore by 2015," Jajoo concludes. Quite a task but once the Verlicchi Hema Automotive Company project gets going, expect a lot more motorcycles in India to be using frames and other related parts from the new joint venture.
RELATED ARTICLES