Venu Srinivasan is Autocar Professional's Man of the Year 2021
Times may be tough but TVS Motor Co's dynamic chairman, Venu Srinivasan, has had a remarkably successful year. And for this he wins Autocar Professional's premier end-of-year accolade.
2021 saw TVS Motor Co ink a slew of global marketing tie-ups, record strong domestic market sales and exports, re-energise Norton Motorcycles and also extend the alliance with BMW Motorrad for EVs. And Chairman Venu Srinivasan has overseen it all.
Times may be tough but TVS Motor Co's dynamic chairman, Venu Srinivasan, has had a remarkably successful year. And for this he wins Autocar Professional's premier end-of-year accolade.
The surgically clean shopfloors at all TVS Motor plants offer a clue to the high level of TQM in practice.
TVS's electric journey, which kicked off with the iQube, is set to get a new charge with a Rs 1,200 crore investment in Tamil Nadu for design, development and manufacture of new products and capacity expansion in EVs.
Joint Managing Director Sudarshan Venu, along with a competent leadership team, is all set to take TVS Motor Company into the new frontier.
Venu Srinivasan has been the architect in rebuilding TVS Motor Company to the position it is in today. Over the decades, he has had to cope with a host of challenges but every setback only made him more determined. The efforts have paid off as TVS Motor has now emerged a force to reckon with not only in the volume game but in scripting an aggressive vision for electric mobility. Srinivasan has also drafted a succession plan which will see the company hold its own in a challenging global environment. The Chairman of TVS Motor Company is Autocar Professional's Man Of The Year.
Venu Srinivasan has probably seen it all over the four decades-plus he has been associated with TVS Motor Company. The highs and lows, the anxious and heady moments, taking a deep breath when things were not quite working to plan and, today, feeling an enormous sense of satisfaction for having created a strong edifice that is firing on all cylinders.
This has been a good year for the company with a slew of global marketing tie-ups, exports growing from strength to strength, drawing up plans for Norton Motorcycles which it had acquired last year and extending the alliance with BMW Motorrad for development of electric two-wheelers
As Chairman, Srinivasan is pleased that his son and Joint Managing Director, Sudarshan Venu, along with a competent leadership team is now all set to take TVS Motor Company into the new frontier. He has also got in place a succession plan where Ralf Speth, former CEO of Jaguar Land Rover, has joined the Board of Directors and will take over as Chairman in January 2023.
The solid base that TVS Motor operates on today is thanks to the never-say-die attitude of Srinivasan even though there were lots of difficult moments along the way. Yet, the show had to go on even while it needed tremendous patience and resilience to put the house in order especially when the headwinds got fierce.
Ask him how he still managed to keep calm doing these times and Srinivasan smiles good-naturedly. "From the outside, it always looks calm and composed. But when you are going through a war in difficult times, what is going on in the warrior's mind is the ability to internalise that stress and put out an outward calm demeanour so that others do not panic," he says.
The truth, however, is that within the mind "it is a boiling pot inside your head and you are taking all the stress, internalising it, synthesising it, analyzing it and then coming out with actions". The bigger task on hand is to rally the troops around and take the challenge head-on.
Electric movement
Srinivasan is clearly excited about the way TVS Motor Company is going about with its plans for the future especially in electric. In his view, electrification is the "most important" challenge and opportunity facing the Indian and global automotive industry. "I think electrification is going to redefine the automotive industry to the same degree that the internal combustion engine replaced the horse carriage," says the TVS Motor chief.
It is going to be no less a revolution this time around going from petrol engines to electric vehicles (EVs). He also makes it clear that it is not the electric motor and battery that is the revolution but the whole software while citing the example of Tesla that has demonstrated the power (of software). During this ongoing chip shortage, when everybody has a chip provided by different suppliers running different controllers, Tesla has managed with a fraction of the number of chips.
This is because the company takes standard chips and puts its own thing into it with the result that it has not "suffered from chip shortage to the same degree". The underlying message therefore is this — it is imperative for automakers to get control of the chips in the software and the control systems in their vehicles. That is why Tesla built everything on its own, be it the technology and even its seats.
"So I think this is a complete revolution of not only the source of energy that is used but also the way the car is designed. And today if you look at the new internal combustion (IC) engine vehicles, they have all these features without having an electric battery and motor. Therefore there are two parts of the revolution. One is software and one is hardware, but both together completely changed the game," elaborates Srinivasan.
TVS's electric journey, which kicked off with the iQube, is set to get a new charge with a Rs 1,200 crore investment in Tamil Nadu for design, development and manufacture of new products and capacity expansion in EVs.
Is it all over for the IC engine in that case? He does not quite take such a strong view since there are a "lot of people" still betting both on methanol and hydrogen, which can still work in an IC engine. The fact also remains that there are still issues with lithium and cobalt that go into the battery which means hydrogen burnt in the engine can still confer all the benefits.
There are other experts who speak of hydrogen being converted to electric that can also solve problems. "So I think the revolution is taking place either through a fuel cell or battery and IC engines will slowly disappear," says Srinivasan. Further, the number of moving parts in an IC engine is "so many" compared to just a motor with one moving part almost.
Electric is also critical from the viewpoint of sustainability especially in these turbulent times when beyond the pandemic, climate change is wreaking havoc. "God knows what could happen when the tundra melts . . . what kind of bugs that have been frozen for 20,000 years are going to get released. I do not think Covid is the last of the horsemen of the apocalypse galloping, there will be more," cautions Srinivasan.
The surgically clean shopfloors at all TVS Motor plants offer a clue to the high level of TQM in practice.
Sustainability warrior
With flooding, fires, droughts and landslides happening with alarming regularity, people can still debate "till the cows come home" whether it is anthropomorphic or man-made. The TVS Motor chief pulls no punches in his assessment.
"Man has contributed. If you look at the carbon dioxide in the air since the first industrial revolution, the second and now . . . how can you say that man has not contributed? Clearly we have and I think more things will come," he says. It is this reality that prompts Srinivasan to drive home the point that the overarching priority cannot any longer just be volumes but sustainability.
As he puts it, the next generation will have to "pay the price for the past" of 300 years of industrialisation, particularly during the last 20th century — where the amount of destruction of the environment, pollution, the carbon "that we have created in the last 100 years will have to be paid for".
Srinivasan also makes it clear that it is not as if he believes in limits to growth but "what I am saying is either you go for limits to growth or you change the way you grow". The only way out is to grow sustainably and it has to be a completely new process.
"Man has been very, very innovative and inventive as a species but we have also destroyed a lot. For sheer survival, we need to change the basis of growth."
"The amount of plastics that we are using every day, it is frightening how plastics have exploded in the world," he says. Neither can so much carbon be emitted into the atmosphere which means the time has come to scout for cleaner energy sources.
"Man has been very, very innovative and inventive as a species but we have also destroyed a lot. For sheer survival, we need to change the basis of growth," explains Srinivasan while dwelling upon the level of mining and digging for oil that is constantly happening and clearly not sustainable.
"All that has to be revisited. So the next 20 years will be one where you grow but with more limited resources," he says. Going electric is only one part of the exercise since there are other issues to ponder over. For instance, how is the bike produced and how is it recycled after use?
"I do not know how many million tonnes of plastic are floating in a huge pool in the northern Pacific Ocean. And because of that we are seeing the biggest die off of species in history in the last 50 years. So there is a crisis there," he says. And when these species die, the food chain could be affected consequently.
"I do not think you can stop growth but either you will stop growth or redefine the way you grow in terms of the energy that you consume and the materials that you consume," adds Srinivasan. Hence, going forward the norms could perhaps be building a bike or car with 70 percent recycled parts. Tyres, similarly, can be reconverted too as also oil or other substances that can be reused. Right now, most tyres are probably discarded and the ones running on the road are creating "fine dusts of rubber floating around today".
How would he like to see the TVS Motor Company of tomorrow? The reply is almost immediate — as a "global personal mobility" company. "I think electric bikes and small delivery vehicles but really we would like to be a huge personal mobility company contributing to sustainable clean/green mobility of the world. And I do believe that these electric bikes are going to be the huge new future for us," says Srinivasan.
Past forward
It is only natural that the interview goes into rewind mode when he began his career under "difficult circumstances" over four decades ago. He had just come back from the US after his master's and was working as a project engineer in the moped division of Sundaram Clayton. Soon after, his father, TS Srinivasan, passed away when he was just a little over 26.
"And the consequence was that you had to take over in a relatively small family business at that time," reminisces the TVS Motor chief. There was only a building and everything was at the project stage with the machinery still to come in. According to him, the fact that this has since grown to the sprawling business of today is thanks to "the seed" which he inherited and then nurtured.
He is all praise for his father's ability to "see so far ahead" and talk about a capacity for 60,000 mopeds at a time when the whole moped market in India was 40,000 units. When the first design was presented to him for a factory of 60,000 units, his father's first reaction was: 'No, no, what is this design? Take it away! When this plant is built, it must be capable of expanding to a quarter-million units.' And he said, 'I see the day when everyone in India will be on a two-wheeler'.
As Srinivasan says, "So it is that dream . . . the seed that contained the dream is the most important inheritance that I had. And fortunately for me, with very good people and God's grace, we were able to grow it steadily from what was a small business to today what is a large Indian motorcycle business."
It is precisely why when people say 'Venu built this business', the truth remains that "it is a dream of the seed that was given that made that huge difference". The going was not so smooth in later years with their own share of challenges. "For anyone who has built a business of scale and quality, it has always been fraught with pitfalls, climbing mountains, trudging the valleys and crossing the desert to reach one's goal," he says.
And, of course, in business there is no such thing as a goal — as one goes towards it, the horizon recedes and a new goal emerges. "So it is actually going from goal to goal to goal rather than one goal."


TVS Motor's two-wheeler journey began with the humble moped, moved on to the Suzuki JV-born Samurai and accelerated with the fully in-house-developed Victor, which rolled out in 2002 and laid the foundation for the company.

Within two years of starting the moped business, came the joint venture with Suzuki which started off well till the four-stroke revolution came along and suddenly the business completely went away on fuel efficiency through the four strokes.
As it happened for many, many years, Suzuki did not have a fuel-efficient small engine based on four-stroke and it was quite a challenge to reconfigure the bike for better fuel efficiency. In its "own small way", the Indian partner made some significant changes which saw the flow of air improving by almost 30 percent.
"On top of that we said we cannot, as a two-stroke, only bet on fuel efficiency because we will never be as efficient as a four-stroke," continues Srinivasan. This was theoretically not possible and the focus shifted to powerful bikes like the Shogun. "Shogun, I think, ended up defining TVS at that point and we created a new bike called Samurai. So we went away from ruggedness and roughness which we were known for to reliability and ease of use," he says.
Samurai was the 'No Problem' bike and on top of the moped success, these two motorcycles were the best piece of news for TVS. The Scooty was also an important part of the revival story and today if TVS has "enormous acceptance in the scooter market", it is because almost every scooter it has launched has been a success.
In 2001, the company felt that it had to establish its own future because it could not export bikes freely. After all, it was Suzuki's product and limited the joint venture's ability to export. TVS meanwhile designed its own bike and the time had come for the partners to call it quits since the JV had run its course.
"Along the way in motorcycles, we did have problems with Victor and Centra quality because we were still mastering four-strokes on our own. From there till today we have been leading number one JD Power ratings on all our bikes. But it did cost us that between 2004 and 2010, we did not have a successful commuter four-stroke motorcycle," says Srinivasan.
Despite this, the company was keen to build a brand which stood above the rest and that paved the way for Apache. TVS has not looked back since and its Chairman believes that it was Apache which built the TVS motorcycle brand after Victor.
"After Victor faded, we did not have great success until Apache came and today if you ask anybody they will tell you that Apache is really what TVS stands for. So, we have our scooter business on one side and Apache on the other. I think these two effectively rebuilt TVS from 2007 when we were at a low point in our motorcycle business to 2020 where we are back," says Srinivasan.
He believes that this was a result of tremendous focus on quality and processes where the company pulled out all the stops to put its house in order again. Along the way, there were many people who contributed to the revival story which marked it a triumph of "huge team effort".
As Srinivasan says, "In this success story there are many, many people who had a very important role to play." There was Lord Bhattacharyya from Warwick who helped the company build its technical competence, Prof Tsuda who was the "guru and philosopher" and Prof Washio who pushed for technical excellence in quality and processes.
"So it was a journey where I was very fortunate to have mentors, advisors and colleagues. It is the grace of God that there was always somebody there and that such people came into my life at critical junctures with good advice and mentorship," acknowledges Srinivasan.
​Within just 18 months of acquiring the iconic Norton Motorcycles, TVS has overseen the creation of its world-class facility in Solihull, West Midlands, UK.

Norton Motorcycles and the global footprint
Back to the present where TVS Motor bought out Norton last year and has some big plans going forward. "What we have bought is largely a brand and we have got an engine which had to be completely re-engineered over the last year. That is why there is such a delay — to build a new factory and get a new team," says Srinivasan.

According to him, when TVS increases its global footprint, it will be known as the company that makes Norton bikes and "over time that will happen". For now, these are early says yet as production is just starting with the 1200cc followed by other bikes/models, over the next three years and "come out successfully" to make a full range of Norton bikes. "There is a lot of work to be done but I am sure we will do it well, and when we do it well, I think in five years' time TVS will be looked at differently globally," says Srinivasan.
Whilst on the subject of global, the growth in exports has also been more than welcome even though the company had started very late. "Our exports started only around 2007 because we launched Victor, had problems with it and had to correct it, so went through some internal turmoil on product quality," he explains.
Products then started coming in that were worthy of export beginning with Apache and the basic entry level Star City-based bikes. Today, TVS Motor has slowly started reaching almost close to $1 billion in exports where an important part of the story is its three-wheelers.
Of the 15,000 units sold totally, 13,500 are shipped overseas. "A combination of two- and three-wheelers was another very important development in our export story," says Srinivasan.
(Photography: Aditya Bedre)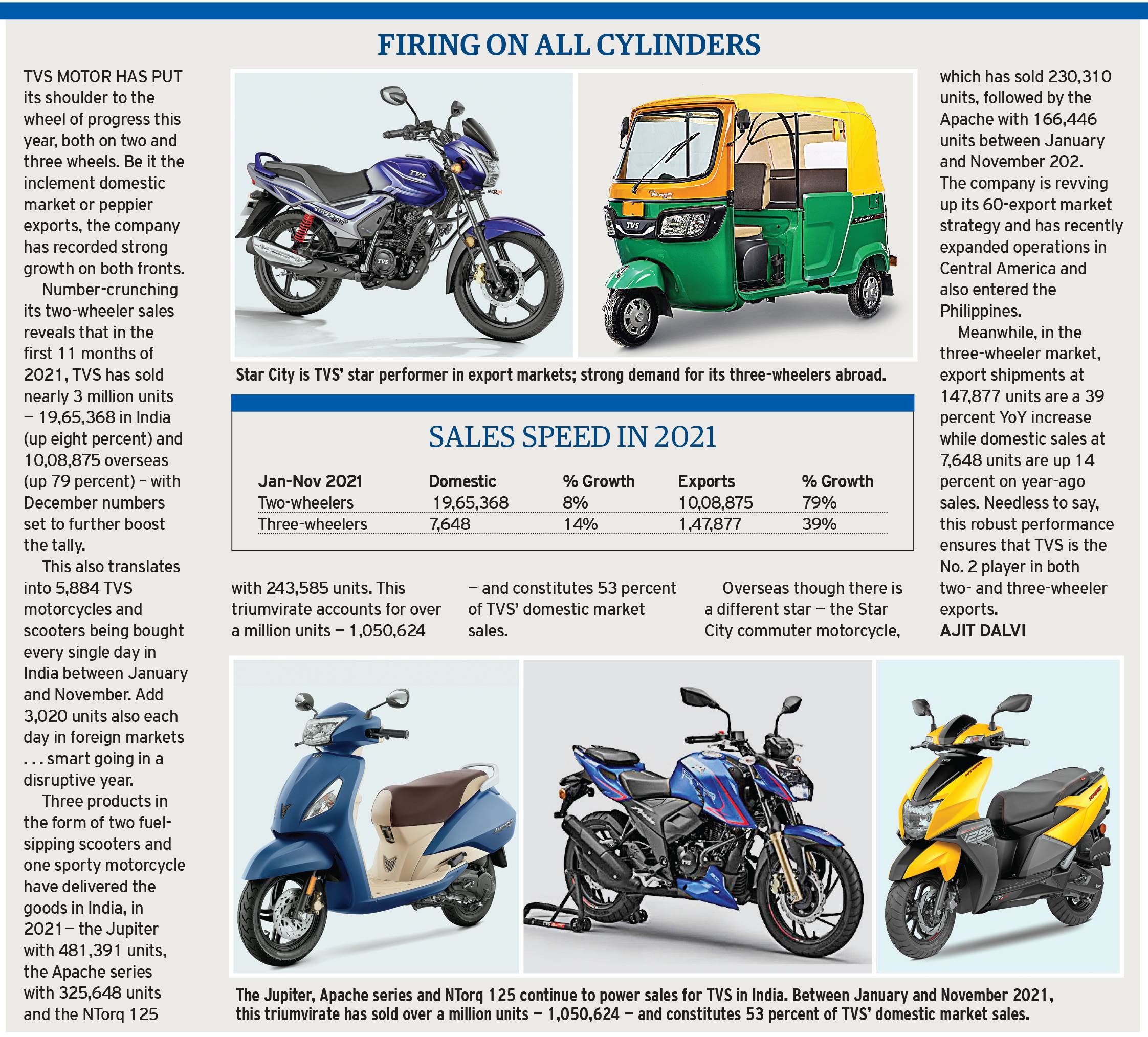 RELATED ARTICLES