VECV revs up to drive home its first-mover advantage in BS VI era
VE Commercial Vehicles, which began manufacturing and exporting Euro 6 base engines to Volvo Group in 2013, not surprisingly, is bullish on BS VI.
In a market plagued by a domestic slowdown and innovation overload, the company plans to stay invested in the latest technologies even as it believes CV industry recovery will happen in the next two to three years.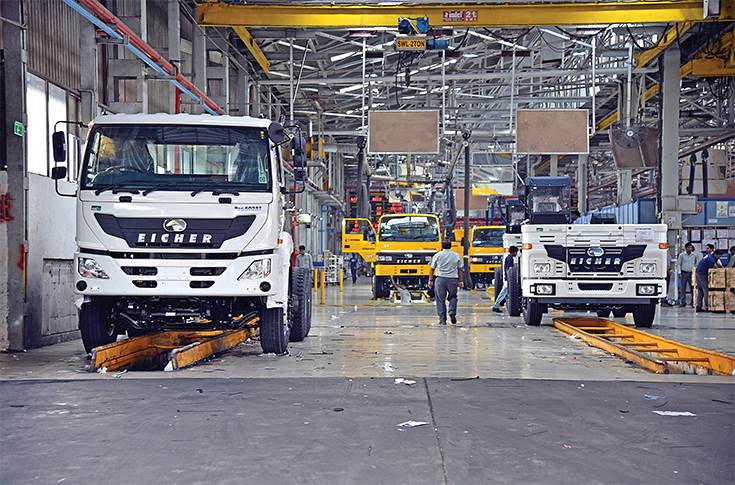 With its stated goal of sale of 100,000 vehicles per annum, VECV is targeting 15 percent annual volumes from international business by 2020.
Familiarity breeds content. Chennai-based VE Commercial Vehicles (VECV), the JV between Eicher Motors and Volvo Trucks, has been one of the earliest OEMs in India to manufacture Euro 6 base engines for global markets, since 2013. While this has helped it understand the technology better, it has also given VECV a head-start over the BS VI competition, when it comes to having a supplier base, developing low-cost solutions, upgrading and benchmarking its products to be future-ready.
A truck body gets fixed to the chassis. Modern Pithampur plant has a constant update on the manufacturing lines.
The Indian CV industry, long dominated by two domestic OEMs, has seen global majors struggling to grab a foothold. Over the years, VECV has managed to establish itself as a strong player in the light and medium-duty (LMD) trucks segment.
VE Powertrain's current manufacturing capacity stands at 75,000 units, which is scalable to 100,000 with additional investments.
Now with BS VI norms, set to kick in barely three months, India Auto Inc is aggressively working towards upgrading, testing and fine-tuning its products. For VECV though, which has been manufacturing Euro 6 engines for over six years now, it is a relatively smooth ride. Speaking to Autocar Professional on the changes the company has made to its Euro 6 engines to make them compliant for BS VI, Rajinder Singh Sachdeva, Chief Operating Officer (COO), VECV, says: "The Euro 6 (engine) for Europe is at European cost. For India, we had to change most of the peripheral items to ensure that they are competitive in the Indian context. Of course, for us, the technology and support from the Volvo Group was available."
The company has its own bus and truck body manufacturing operations, which gives it better control over quality parameters.
Reiterating VECV's go-local mantra in the BS VI context, Sachdeva points out, "We have localised the contents like the fuel injection system, turbocharger, after-treatment and various other sensors and ECUs in India to be cost competitive. We have also used Indian expertise and parts as much as possible. We have reached our first target that we had envisioned at the beginning of the project. In terms of what the competition is bringing, we will be very competitive."
Think local, go global
At present, VECV is the fifth-ranked brand in the Volvo Group's global portfolio, a key milestone it has achieved over 11 years. It has been successfully manufacturing engines and trucks not just for the European market but also for the Middle East, Africa and South Asia. Exports have grown from around 2,000 units in FY2009 to 10,010 units in FY2019.
Sharp focus on product quality. The company is one of the first to use state-of-the-art robots that ensure defect-free critical parts.
The competition in the Bs IV era has been a bit challenging but with BS VI norms, the equations are set to alter. Sachdeva has an explanation: "When you see BS IV CVs, some had EGF technology and some SCR. Come BS VI, everybody has the same cost structure. Why? Because every vehicle will need the EGR (Exhaust Gas Recirculation) and SCR (Selective Catalytic Reduction). With that, you need a high-pressure fuel injection system, sensors, after-treatment, diesel oxidation catalysts (DOC), diesel particulate filter (DPF) and ammonia slip sensors among others. All those technologies are almost similar. The only way one can differentiate is opting for hot or cold EGR. But on the SCR, DPF and DOC, which are the major cost contributors, there is no difference. From that angle, the overall cost structure will be almost similar, as will be the price increase. The impact on our margins will not be anywhere worse than any competition."
Investing in technology, de-risking a cyclical slowdown
The prolonged industry slowdown in India and tepid global sales at present, in an era of new disruptive business models, has made it difficult for VECV to sustain its domestic position. But the company remains bullish on the potential it foresees from its India operations. In fact, it has till date invested over Rs 5,000 crore (estimated) and has maintained an average of Rs 400-500 crore investment per annum over the past few years.
An automated guided vehicle transports engines across the plant. VEPT is a global hub for Volvo Group's five- and eight-litre engines.
Elaborating on VECV's other areas of focus, Sachdeva says, "For us, a big focus is exports, which includes both left- and right-hand-drive markets. From the past couple of years, we have access to the ASEAN markets with the Volvo Group, as well as the South African and Middle East markets."
Export-ready engines get packed. Euro 6- compliant diesel base engines are supplied to Volvo Group plant in Venissieux, France.
The company is also scouting new markets and building on its current expertise. According to Sachdeva, "We have identified many more countries and can easily add around 15,000 to 20,000 units per annum five years from now. This is where we are going to invest. Also, the Central Pollution Control Board (CPCB) 4 norms applicable to non-automotive applications (genset and versatile engines) have also come in. Here too, we want to enhance our focus and engineering and apart from BS VI, Stage II is our focus area."
On June 10, 2019, Vinod Aggarwal, MD and CEO, VECV and Vishal Mathur, senior VP (Sales & Marketing), unveiled the new E474 and E494 BS VI engine platform, claimed to be the most fuel-efficient engines with extensive use of aluminium, plastic and composite materials, along with the new Eicher Pro 2000 BS VI range of trucks in Mumbai.
The ongoing auto industry slowdown is largely perceived to be a cyclical phenomenon globally, and VECV's strategy is to diversify and focus on its genset and the versatile engine business. According to Sachdeva, "It will definitely help us if we can hedge against any downside risk. At present, our sales average 500-600 units a month and around 6,000-7,000 units annually. Going forward, we are increasing our product range and also upgrading the engines to the new emission norms. This will definitely push up volumes. At present, this contributes around five percent to the business; in the next two years we are targeting around 8 percent."
Electrification, scrappage policy driving revenue
VECV is also plugging into electric mobility, given the demand for e-buses from various state governments. It has clocked over 160,000km in West Bengal alone, with three Eicher Skyline Pro e-buses deployed with West Bengal Housing Infrastructure Development Corporation since May 2018. They have been operating 24x7, averaging 140km a day and 98 percent uptime. The Eicher Skyline Pro e-buses are powered by KPIT's Revolo technology.
With key OEMs like Ashok Leyland, Mahindra, Tata Motors and BYD in the fray, there's strong competition for VECV. Allaying the market threat from Chinese electric major, BYD, Sachdeva says, "If you see the situation in China, as long as the government was giving subsidies to EV makers, BYD and other OEMs were doing very well there. Once the Chinese government withdrew the subsidy, the development and maturity in the Chinese market has also come down. That's why they are looking at other opportunities. It is difficult competing here in India and other places without subsidy."
The VECV plant at Pithampur has a current installed capacity of 90,000 vehicles per annum, comprising both trucks and buses.
The much-awaited vehicle scrappage policy is expected to give a fillip to sales in India and CV OEMs are looking forward to it. The policy aims to provide incentives to old vehicle owners for voluntarily getting their polluting vehicles scrapped in lieu of benefits on purchase of a new vehicle. Sachdeva says, "We hear the government is delaying the scrappage policy so that the replaced vehicles are BS VI and not BS IV from the emission perspective."
An Eicher Terra 16 HD truck. Eicher Trucks and Buses has a strong presence in the 4.9T-12T truck segment in overall LMD market.
With an arsenal of products, technology and ambitious plans, VECV is gearing up to redefine its role in India's CV market, while also walking the Made-in-India talk.
(This article was first published in the December 15, 2019 Anniversary issue of Autocar Professional)
RELATED ARTICLES