UVeye makes the vehicle inspection process an AI affair
Israeli start-up develops advanced technology for automatic external inspection and scanning of cars for damages, dents and scratches. It can help conduct full exterior inspection of cars after they roll out from production lines, during the logistics flow process and at dealerships too.
Volvo Cars is to deploy UVeye's inspection system at its global manufacturing sites, at its dealers and also in the aftermarket.
UVeye inspection can thoroughly detect anomalies in a car without human intervention, using AI and machine learning.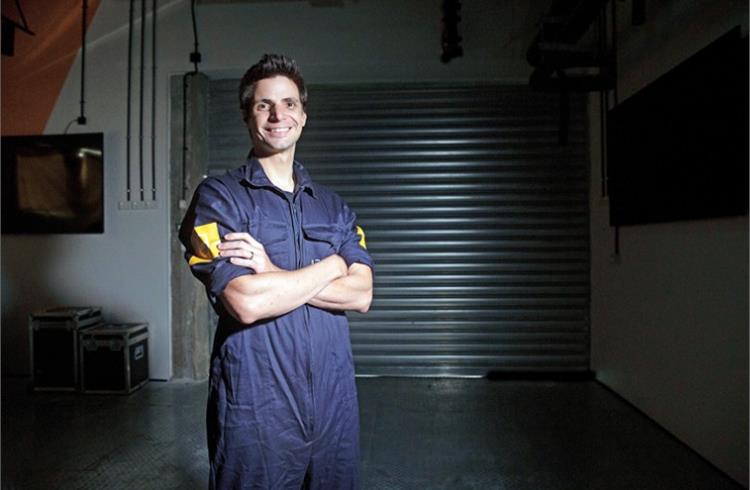 Amir Henver: "We are seeing a lot of interest for our product from local dealerships, rental companies and logistical suppliers in India."
UVeye Artemis recognises a tyre's brand and technical specs, overall condition, tyre pressure, abrasion and scratches.
UVeye Helios mobile underbody scanner uses area scanning technology and includes five high-resolution cameras.
Helios mobile underbody scanner uses area scanning tech. Within fractions of a second, five high-res cameras take several thousand pictures and send the data to the cloud for database comparison.
UVIS, an advanced security system to detect potential threats hidden in a vehicle's undercarriage, uses high-resolution cameras to produce a 3D model of undercarriage, while driving, in seconds.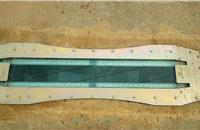 Vehicle inspection at all times is a painstaking affair, calling for immense attention to detail. And when it comes to checking several vehicles during the course of a day, there is the likelihood of human error. Now there's help at hand.
Tel Aviv-based startup called UVeye with its innovative products has sets the future standard of vehicle inspection. The company provides high-end solutions for automatic external inspection of vehicles, using advanced technologies that include proprietary hardware combined with machine learning and computer-vision algorithms.
A brainchild of Amir Hever, CEO and co-founder, and Ohad Hever, COO and co-founder, UVeye was set up in 2016 to identify issues or threats facing the automotive and security industries. Israel, of course, is known for its top-notch security expertise. Amir says, "The idea for UVeye was born after a visit to a secure facility, when I was stopped at the gate for an inspection. The guard checking our vehicle, looked inside, opened the trunk, then got down on the ground to take a look at the undercarriage. I asked him if he was confident he could actually see anything down there and whether there was indeed something there. He sheepishly admitted it was probably not the case but he was expected to go down there and check nonetheless. I felt there had to be a better way to do this. So, with my background in computer vision and deep learning, we got to work to develop our solution to this important security challenge."
Initially, the company started providing its inspection technology for secured facilities, wherein the company's products would inspect a vehicle, in a matter of a few seconds, to see if there were any explosives or hazardous materials underneath the car. "During the course of our R&D to improve our security offering, we came to the realisation that our unique ability to identify anomalies might have applications outside of the security space. Afterall, both a package of explosives or an oil leak are both anomalies of different sorts. So, if we were really sharp at catching one, then we could catch the other just as well. Our technology is based on the idea that we really understand each individual part that makes up the vehicle, so we can tell you when something is out of place and in need of further inspection. We believe that we can help to have an even wider impact by expanding our product offering to the automotive space as well," says Amir.
UVeye products for the automotive industry
At present UVeye has three specific products for the automotive industry — Artemis (a tyre inspection system), Helios (an underbody scanner available in stationary and mobile versions) and Atlas (used to inspect the top of the vehicle using a 360-degree method).
Helios mobile underbody scanner uses area scanning technology and includes five high-resolution cameras.

These three modules are currently available in the market and are all AI and deep learning-based, which can be used individually or in combination, thus automating external inspection throughout the entire lifecycle of a vehicle along the entire automotive value chain — from the delivery of parts and components to the assembly line, through checking during production, to used car inspection. At speeds of up to 30kph in the drive-through process, oil leaks, dents and scratches on the bodywork, as well as damage to tyres, brakes, chassis or exhaust can be detected automatically — down to a minimum size of one millimetre.
UVeye claims that the all-round scan of the exterior of the vehicle takes a few seconds and delivers extremely accurate and meaningful results in a very short time. The Israeli firm uses proprietary hardware and software in the form of high-resolution cameras, sensor fusion technology and AI-based image processing algorithms.
"We see UVeye having an impact on all points along the automotive lifecycle, from the in-line production out to the secondary markets for used vehicles. Our technology will play a role in helping OEMs with early detection of issues during production, fleet managers with predictive maintenance, rental agencies manage damages, and many other applications. While we are not ready to share details about accuracy levels at this point, we can say that we are significantly more capable at identifying issues as small as 2mm scratches on a vehicle in just seconds, far faster and more accurate than the human eye," says Amir.
He adds that UVeye has trained its "deep learning algorithms to understand the individual parts of a vehicle in depth. This knowledge has been derived over the course of millions of scans of a wide range of vehicles, during which the company gained a deeper understanding of what each component is supposed to look like under a variety of conditions."
Therefore, UVeye says it doesn't compare its scans to "some image based on a manufacturer's model, but from real-world experience in scanning vehicles." Considering this vehicle inspection prowess comes from a security perspective in Israel, which is famously and understandably known for its stringent security, the company's products need little advertising.
Working with OEMs, dealerships, aftermarket
Early in September 2019, the company received funding of over $31 million (Rs 222 crore) from various investors including Volvo Cars and Toyota Tsusho. In fact, Volvo Cars announced its intention to deploy UVeye's inspection system internationally at its manufacturing sites, at its dealers and in the aftermarket.
Toyota Tsusho also will introduce the UVeye system into its used car network, which will cover the entire Japanese market. The company is also working with Skoda, Daimler and other leading vehicle manufacturers. UVeye is currently conducting two feasibility studies with Daimler and will open a subsidiary in Germany this year.
Eyeing the India market
When it comes to the Indian automotive industry, many companies have not only introduced the latest global technologies and solutions in their processes but are also open to adopting future global trends. Vehicle inspection is an area where UVeye make its entry into the world's fourth largest auto market.
Commenting on the company's India plans, Amir says, "We do not currently have a physical presence in India, but we have begun efforts to ramp up sales there. So our calculus on this issue may change in the future if the facts on the ground warrant such a move."
He adds, "We know there is a big need for our solutions in the security field, where we can give a more objective and accurate solution to security officials and operators. Instead of checking vehicles with a mirror, they can use our tablets and screens for far greater detail. On the automotive front, we are receiving a lot of interest from local dealerships, rental companies, and logistical suppliers in India."
Making a business case for automobile dealers, Amir says, "For dealers, there is a clear advantage in performing scans of the vehicles that they receive from the logistics firms which are responsible for the delivery of the vehicles. If a dealer receives a shipment of vehicles, then it needs to be sure that what they are receiving is undamaged. If they do not perform a comprehensive inspection, in line with a global standard like UVeye's, then they run the risk of disputes over damages should they be discovered later. There is also a valuable use case for the used car market wherein UVeye scans can be used as a part of standard report that the buyer expects before purchasing the vehicle, gaining a clearer, objective picture of the vehicle that they are buying."
For OEMs and dealers in India, UVeye's solutions could be just what the doctor ordered for pre-delivery inspection.
Q&A: AMIR HEVER, CEO and CO-FOUNDER, UVeye


What is the level of investment a company will have to make to deploy UVeye's solutions? And what is the estimated return on investment?
The initial investment is usually related to a package of scans as we operate on an Inspection as a service model. The RoI is pretty immediate as our technology assists in increasing the company's volume of work, thereby improving productivity while also increasing the quality of inspections. We also assist in detecting faults, which can save lives and have other financial implications (like insurance company savings and more).
At present you have three systems — Artemis (tyres), Atlas (360-degree body), and Helios (underbody) — for the automotive industry. What are the future products you plan to introduce?
We are currently working to perfect these three products as a holistic platform to detect and alert on anything relevant about any vehicle. We are also developing other sensors, which will help us understand the mechanical faults inside the vehicle even more.
Are UVeye products vehicle technology agnostic (ICE, electric, hydrogen)?
We know cars, no matter what they run on.
Can you detail your plans for India? Will you look at setting up a manufacturing, R&D centre in the country?
We do not have plans to expand our footprint into India at this time but we are interested in expanding sales and forming strong partnerships with local strategic players.
As the global auto industry witnesses a slowdown, do you also see that impacting your business?
We see UVeye as having a role to play in all points along the automotive lifecycle, both in the production of vehicles but also in helping optimise the management of vehicles that are already in use in the field. For example, we are already working with a public transport company here in Israel that uses UVeye to scan its buses every day. These scans help us to identify issues that are indicative of potential damages or upcoming issues, giving them the opportunity to address them while they are still cheaper and more manageable to handle, or in a more serious scenario, put their passengers at risk while on the road.
Because we are able to automate the inspections, we can make this a far easier process for them to insert into their existing workflow, essentially saving them costs during operations.
Without getting into specific numbers, we are onboarding strategic partners from both the security field and the automotive industry while commercial deals are usually long term and vary according to the volume of scans.
UVeye has seen a lot of interest as well as investment from OEMs. How do you plan to utilise these investments?
We are now in hyper-growth mode and selling our solutions worldwide. In the security industry, we are installed in over 80 facilities like airports, seaports, hotel chains, banks, embassies, military bases and more. We are looking to scale up and install hundreds of systems in the upcoming year.
In the automotive sector, we are receiving a lot of interest from more OEMs and other players in the aftermarket space. Here too, we are looking to scale up and perfect our solutions for various use cases.
RELATED ARTICLES