How to upskill manpower and win over automakers
The Layam Group has made a successful business out of helping India's auto industry find the right talent and enable people to realise their potential. Kiran Bajad finds out what makes it tick.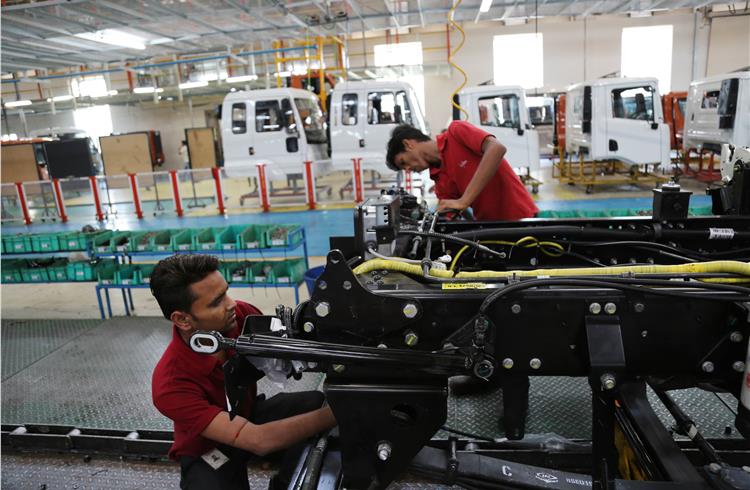 How to upskill manpower and win over automakers
How to upskill manpower and win over automakers
How to upskill manpower and win over automakers
How to upskill manpower and win over automakers
How to upskill manpower and win over automakers
How to upskill manpower and win over automakers
How to upskill manpower and win over automakers
How to upskill manpower and win over automakers
How to upskill manpower and win over automakers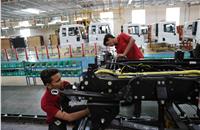 The Chennai-based Layam Group has made a successful business out of helping the Indian auto industry find the right talent and also enable people to realise their potential. Kiran Bajad finds out what makes the company tick.
The year 2020 looks to bring with it plenty of new targets for the Indian automotive industry. Even as most companies work towards their own 'Vision 2020' and industry also gears up for the ambitious leap to BS VI emission norms by April 2020, the same year is also when India is tipped to become the world's No. 3 global automotive market due to rapid growth expected across the passenger vehicle, two-wheeler and commercial vehicle segments. And keeping the automobile industry company is the well-diversified automotive component sector which is aiming to achieve US$ 200 billion revenues by 2026 including exports of around $ 70-80 billion.
The Indian automotive industry, which contributes around 7.1 percent to the national GDP, is also among the largest employers in the country. Over 19 million people are employed in the Indian automobile sector directly or indirectly. This includes manufacturing in OEM, auto components, raw material factories, automobile dealers, service centres and other enabling sectors.
The Automotive Mission Plan 2016-26, the collective vision of the government and the Indian auto industry, aims to make the sector a significant contributor to the Skill India programme and one of the largest job-creating engines in the Indian economy.
The incremental number of jobs to be created by the Indian auto industry over the next decade is a humungous 65 million!
Skills and the right talent in the domestic auto industry remain and will continue to be a challenge in the future. At present, as the industry scales new highs both in domestic and export markets, it continues to grapple with multiple challenges to acquire the right talent across the value chain starting from OEMs through to component suppliers. While over 60 percent of the 1.25 billion people in the country are in the 30-35 age bracket, the big issue is the lack of employability and skills.
SOLUTION TO A PROBLEM
Paucity of skilled manpower is what G S Ramesh, a retired HR professional with over three decades of experience, got interested in first, later on helping automakers in India meet their rising HR needs. It was at Hyundai Motor India, where Ramesh was the first Indian employee and worked for 12 years, that he foresaw the acute problem of shortage of skilled manpower and the dire need to acquire talent.
In 2007, he turned entrepreneur and set up the Layam Group, a staffing, recruitment and training company based in Chennai, to skill people across the automotive value chain. In fact, the company's mission is "to increase stakeholders' value by delivering integrated sustainable management solutions that help them achieve their goals and distinguish Layam as the performance and learning solution provider of choice."
"When we started, there were many consultants for industries but hardly anyone dedicated to the automotive sector. This is simply because people don't understand the pain facing employees at the shopfloor and plant," says Ramesh.
"The Indian automotive industry has grown rapidly in the past 15 years. The industry was not ready for the exponential growth and therefore took things for granted. During my 12-year stint in Hyundai, I carried out a very close study. Initially, there was no issue and everything was peaceful but suddenly with speedier growth there were many challenges," says Ramesh.
Staffing is a critical function of growth and many a time companies, while saving costs in manpower, invariably compromise on quality, productivity and efficiency. At present, there are millions of unskilled, semi-skilled and diploma holders who are jobless. If India is to become a strong global manufacturing hub, sustainability on the HR front is a given.
"We have built a model wherein we select students from various parts of the country and bring them into our fold. We then train them intensively and offer them an opportunity to do well in life by helping them get job opportunities as they are unable to get into big companies on their own," says Ramesh.
The Layam Group has, over the past nine years, skilled and trained over 10,000 people in the automotive industry. They range from the junior-most level through to senior management in a number of automakers including Toyota Kirloskar Motor, Ford India, GM India, Hyundai Motor India, Eicher Motors, Nissan India, Ashok Leyland, Scania, Daimler India CV, Mahindra & Mahindra, MRF and Yazaki among others.
"Big companies won't employ these youngsters straightaway due to low skills and qualifications. We offer them two years of intensive training to make them industry-ready and enable them to get hired. I can very proudly say that from 2009 to 2016, we have already helped about 10,000 people get jobs. My focus is only the automotive industry because I believe this industry needs the correct intervention," elaborates Ramesh.
TALENT ACQUISITION
The company hires people with ITI diploma and engineering degrees and trains them. Depending upon their behaviour pattern, strengths and their interests, candidates are provided with training in suitable skills. The company also gets freshers and offers them induction programs focusing on safety, culture, code of conduct, body language, communication and risks and hazards in manufacturing plants. After completion of training, these candidates are deputed for on-the-job training at company sites.
While acquiring new manpower and talent, the unstinting focus is on ethics, integrity, trust and performance. After recruiting people, the Layam Group keeps them on its payroll on a contracted basis and actively networks to help them join the automotive industry.
The company collaborates with a number of leading engineering colleges in the country, also offering feedback to ensure students are trained in specific areas to enhance their skills and employability.
WHAT INDUSTRY SAYS ABOUT LAYAM
Ashok Leyland's Pantnagar plant has been sourcing diploma holders from Layam for the last 7-8 years. Speaking to Autocar Professional, Alok Kumar Gupta, VP, Ashok Leyland Pantnagar Plant, says, "Products and their technologies are changing rapidly and it is quite challenging for any diploma holder or engineering graduate to keep pace with those changes. Like the way electronics is coming into vehicles, different legislation is coming into place and these students need that exposure. Layam provides them all the necessary skills and knowledge as to the changes that are happening within the industry."
"The diploma holder students are not from well-known colleges and are not employable when they come out of college. After Layam's training which equips them with the necessary skills, we are quite comfortable offering them jobs."
"Initially, we were quite cautious but now our partnership with the Layam Group will continue as we move ahead in a new level of manufacturing. We have sourced people for different functions like assembly, machining, press shop and weld shop on the shopfloor as also for quality and maintenance. We are currently deploying Layam diploma holders across quite a diversified work of area," sums up Gupta.
Yazaki Corporation, a leading automotive wiring harness supplier, has sourced nearly 1500 skills people from Layam Group across its plants in India in the past 5-6 years. Elaborating on the skilled staffers it has sourced from the Layam Group, P V Raju, executive director, Yazaki India, says, "We source people from many agencies, but when it comes to higher skilled people, we always engage the Layam Group as it has been providing us people with the right skills. I see our association with Layam continuing to grow in the future."
CHALLENGING START
Over the past decade, Ramesh and his 40-member team have developed a good rapport with companies. However, the journey has been anything but easy. "Initially, people did not understand the concept as it seemed new to them. They thought we were trying to push something," says Ramesh candidly.
But the team persevered, skilling students to unearth their potential, finding out the specific staffing requirements from OEMs and suppliers, and ensuring they sent them the right talent for the right job. The Layam Group also spread its wings wide, not just recruiting diploma holders for the shopfloor but also for those in the R&D, sales, purchase, HR, finance and outsourcing functions.
It was not long before the company began to receive positive feedback about the quality of the manpower it provided. Layam then moved swiftly to expand its reach across key automotive hubs. The company now has a presence in Bangalore, Pune and Gurgaon with offices and representatives in Uttarakhand and Gujarat.
Within the organisation, the company has created separate teams for talent hunting, learning, training team and staffing and has also set up an IT company to develop Apps for the auto industry in its bid to become a solutions provider with multiple offerings.
Today, it not only offers solutions for manpower needs but also a varied range of services like setting up of operations, re-arranging manpower, government licensing and statutory compliance. Besides recruitment and staffing, Layam has expanded into HR/IR consulting, training, infotech, export import and financial services.
"While talking to company management, we try to see things from the manufacturing perspective. We find out their pain areas, try to work out a solution and offer them a road map. Our focus is how to do more with less and help companies to become successful with minimal manpower with high productivity, efficiency and best quality and become partners in progress of its customers," says Ramesh.
Layam has executed some ambitious projects like training over 14,000 staffers from Bharat Petroleum across India, nearly 3,000 people from Amara Raja Batteries and 11,000 people from the Muthut Group. Besides this, trained engineers with specialised skills like AutoCAD and welding have been deployed in many firms. It has helped Chennai-based Mahindra Research Valley source drivers for its test vehicles and Pricol, which opened its new plant in Pune recently, recruited nearly 150 people.
The company is also trying to enable geographical integration with personnel from South India moving to North India and vice-versa. While this exercise has proved successful, depending upon client requirements, locals are been given preference.
After working with key players in the industry and establishing itself, Layam is now looking at greater engagement and wants to be an exclusive partner with automotive companies. The Group, which is likely to touch the Rs 100 crore turnover mark by end-2017, is targeting a three-fold jump in its business over the next 3-4 years. "To expand further, we are taking two routes – firstly, through OEMs and through Tier 1 suppliers," says Ramesh.
Layam is now looking at greater engagement with industry and is keen to be an exclusive partner with both component suppliers and OEMs. Its next goal is to set up training academies in key automotive hubs across the country. As and when that happens, it will be yet another triumph for the firm which believes in winning friends in the people it trains and influencing industry.
This feature was first published in Autocar Professional's April 15, 2017 issue
RELATED ARTICLES