The electric car plan of every US automaker
Each American automaker's electrification strategy.
Electrification is unquestionably the most important trend influencing the automotive industry in 2019.
American automakers are better known for making trucks that can move mountains, rugged SUVs and fire-breathing muscle cars than green cars that go easy on the rainforest. They're warming up to the idea that they need to make more hybrid and electric vehicles in order to remain competitive – and on the right side of regulations.
Fiat Chrysler Automobiles (FCA)
In 2019, nearly all of FCA's brands are playing catch-up when it comes to electrification. The company is pouring a substantial amount of money into its research and development department to improve its position in the coming years. Its line-up will look a lot different in the early 2020s than it does in the late 2010s.
Chrysler -- the people's EV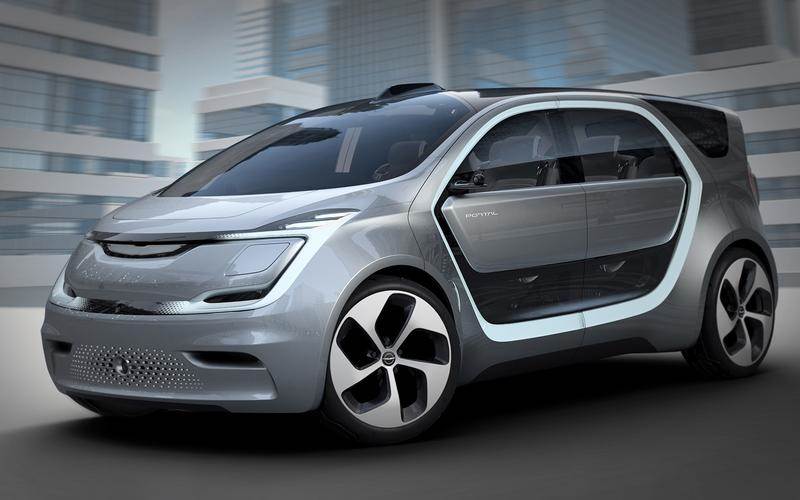 In 2019, Chrysler offers half of its line-up with a hybrid powertrain. That's an impressive figure until you take into account the fact that Chrysler only sells two cars: the 300 and the Pacifica. Though its future looks almost as opaque as Lancia's, it's working on a battery-electric minivan inspired by the Portal concept (pictured) that made its debut at the CES show in 2017.
The yet-unnamed people-mover will incorporate a high degree of autonomy, though it won't be completely driverless.
Dodge -- electrified performance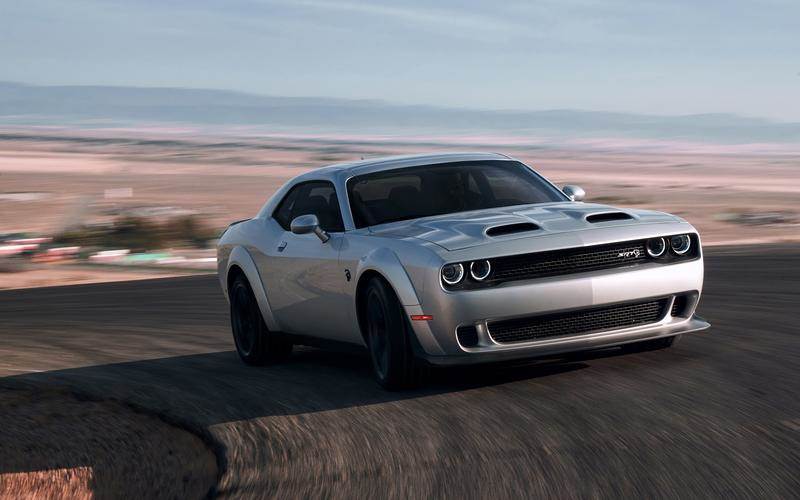 Dodge remains one of the V8 engine's most enthusiastic supporters. Its line-up includes several eight-cylinders, including a naturally-aspirated, 6.4-litre Hemi and the vaunted Hellcat engine, but it doesn't make a single electrified car. That will change in the coming years; Dodge needs to downsize the engines in its portfolio to comply with looming regulations.
Nothing is set in stone quiet yet but FCA boss Mike Manley recently told The Detroit News that the firm's next-generation muscle cars will most likely rely on electrification.
Jeep -- plug-in off-roaders
Jeep played a starring role in the five-year plan FCA presented in June 2018. Its mission is to sell as many SUVs as possible in all of the markets it manages to break into. While concrete electrification plans remain few and far between, Jeep is committed to making different options (including hybrid and plug-in hybrid powertrains) available across its entire line-up by 2021. Even the Wrangler will get a plug and a battery pack.
Ram -- green trucks
Ram's electrification plans are harder to see through than London fog. It somewhat unexpectedly proved it takes fuel efficiency seriously when it released the 2019 1500 with a mild hybrid system named eTorque offered on both V6- and V8-powered models but it hasn't announced what's next. We expect to learn new details as Ram's crosstown rivals reveal their game plan.
Ford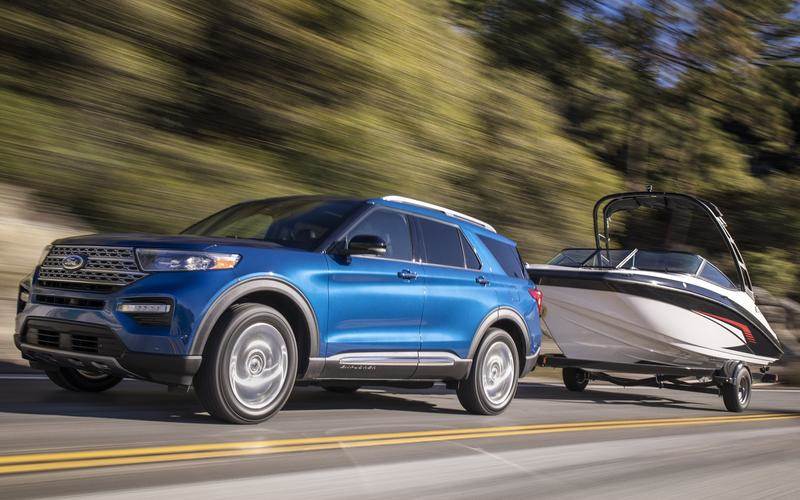 Ford Explorer Hybrid
Ford is betting big on electrification. In 2018, it announced an $11 billion (Rs 78,276 crore) investment to develop different electrified powertrains and pledged to have 40 hybrid and fully electric models in its global line-up by 2022. And, unlike many of its competitors, it has shed light on some of its future models.
Mustang-like SUV
Ford's American division began closing its sedan chapter so no one will be surprised to learn it has selected an SUV to inaugurate its next-generation electric powertrain. The company has previously hinted at a sporty-looking soft-roader with a design markedly inspired by the emblematic Mustang. Ford nearly resurrected the Mach 1 nameplate for the model but it changed its mind after gauging the scope of enthusiast's fury. Insiders now point to the Mach E name.
Early estimates peg its driving range at up to 300 miles. It's expected to make its debut before the end of 2019 and reach showrooms in time for the 2020 model year. Pricing should start under $50,000 (Rs 35 lakh).
Mustang hybrid
The Mustang has a spot in Ford's electrification strategy. Buyers will have the option of ordering the car with a hybrid powertrain starting in 2020 and patent filings shed surprising insight into what we can expect from it. If the filings are accurate, the system will consist of a V8 engine that channels its power to the rear wheels and a pair of electric motors that zap the front wheels into motion.
Get ready, purists; the first hybrid Mustang will also be the first factory-built all-wheel-drive version of the car.
F-150 hybrid – and beyond
The F-150 is another unexpected point marked on Ford's electrification roadmap. Development of the first gasoline-electric F-150 is well under way at Ford's Dearborn, Michigan, headquarters and the truck is expected to arrive in showrooms for the 2020 model year. We expect the electric side of its hybrid powertrain will share many components with the technology that will appear at about the same time in the Mustang.
Looking further ahead, Ford hasn't ruled out building an electric F-150.
Lincoln's elegant EV
Lincoln Continental
Lincoln, Ford's luxury division, plans to electrify every nameplate in its line-up by 2022. One model we're looking forward to seeing will ride on the same basic architecture as Ford's Mustang-inspired SUV. It's at the embryonic stage of development but Kumar Galhotra, Ford's North American president, promised a spacious model with an elegant design. It will make its debut after its Ford-badged sibling.
General Motors
Chevrolet raced ahead of its Detroit-based rivals when it released the Bolt (pictured) for the 2017 model year. Many assumed it was the first of several electric cars, and the company may have planned expansion at one point, but tepid sales have limited the platform's importance in the General Motors portfolio. Decision-makers are nonetheless looking ahead to round two of electrification at GM – or round three if you count the EV1.
Buick -- electrifying China first
Buick's strong reliance on the Chinese market forces it to dive headfirst into electrification. In 2019, the company is preparing to release a plug-in hybrid and a battery-electric model in China (both pictured above) but it will make American buyers wait a little longer. We know that some of the battery-powered models Buick is developing for China will reach US showrooms sooner or later but additional details remain scarce because they haven't been finalised.
Cadillac -- GM's EV leader
Cadillac's electrification offensive has experienced several false starts. The company turned the Chevrolet Volt into the ELR but discontinued the car after two model years due to appallingly low sales. It recently stopped selling the CT6 Plug-In in the US because tariffs slapped on Chinese-built cars made it expensive, uncompetitive and unprofitable. Decision-makers stress three is the charm.
Cadillac showed a sketch of an electric SUV (pictured) during the 2019 Detroit auto show. It will stand out as the first model built on General Motors' BV3 electric vehicle platform when it arrives in showrooms in 2022.
Chevrolet -- electrifying... something
Chevrolet launched General Motors' latest electric car offensive with the Bolt. The SUV-like model offers up to 238 miles of range and, unlike some of its South Korean rivals, it's available all across the United States. The Volt plug-in hybrid is preparing to retire but Chevrolet will fill the void created by its demise with additional electric cars. It hasn't released additional information about what it has in store, though.
GMC -- keeping up with rivals
GMC Sierra
GMC wants to answer "here!" when buyers seeking an electric pickup hold roll-call. The company hasn't confirmed it's developing a battery-powered, Sierra-like model but Duncan Aldred, its vice president, admitted it's a project his team is considering. And, if GMC goes electric, it's reasonable to assume Chevrolet won't be far behind.
Tesla -- trying to stay in the lead
Tesla pioneered the luxury electric car segment when it released the Model S in 2012. It still enjoys a monopoly on this increasingly popular sector but it needs to fend off competition from a growing number of rivals. To stay on top, it plans on launching additional variants of the Model 3 (including the long-promised entry-level car priced at $35,000) in 2019.
Its future products include a Model 3-sized SUV tentatively called Model Y; it's expected to make its debut in March 2019. Looking ahead, it wants to release a pickup truck and a follow-up to the original, Lotus-based Roadster. It will need to renew the Model S and the Model X sooner or later, too, especially as better-established companies like Audi, Mercedes-Benz and Porsche jump in the ring.
Rookie automakers
The list of start-up companies preparing to tussle for a slice of the electrified car segment grows on a monthly basis. The shift towards electrification creates significant opportunities for newcomers. It gives them a once-in-a-lifetime chance to beat century-old giants at their own game – if they move fast enough and if they have deep enough pockets.
Faraday Future -- on a roller coaster
Those who follow Faraday Future have to regularly remind themselves it's real life, not a Netflix series. The rollercoaster it's on has dragged it through countless lawsuits, crippling debt plus numerous production plan and leadership changes.
And, in spite of this hellish ride, it still doesn't have a car that customers can buy and drive. It's working on making the FF91 (pictured) a reality sooner or later. When it arrives, it will have the Tesla Model S and the Porsche Taycan in its crosshairs.
Rivian -- go-anywhere EVs
Rivian became the darling of outdoors-loving electric car enthusiasts when it emerged from stealth mode at the 2018 Los Angeles auto show. It captured the attention of the public and the press by outlining its plans to apply the Tesla model to the previously unoccupied off-roader segment.
If all goes according to plan, and its founders haven't underestimated the difficulty of building a car, Rivian will begin manufacturing a truck and an SUV calledR1T and R1S, respectively, in a former Mitsubishi factory located in Illinois. Both models will ride on the same architecture. Full-fat versions will boast 400 miles of range, Jeep Wrangler-like off-road prowess and performance specifications that put supercars to shame. Pricing will start at approximately $70,000 (Rs 49 lakh) and venture into six-digit territory.
The rest -- all over the map
Inventors and investors are wasting no time in taking advantage of the tailwind boosting electric car start-ups. While many challengers come from China, a handful of them were formed in the US. Arizona-born Atlis Motors has outlined plans to build an electric pickup (pictured) while Ohio-based Workhorse is preparing to ramp up production of a plug-in hybrid truck priced at about $50,000 (Rs 35 lakh). Atlis is raising money to build its first prototype while Workhorse has started testing its truck in real-world conditions.
RELATED ARTICLES