The curious case of chip crisis and potential oversupply
Phil Amsrud, senior principal automotive analyst at S&P Global Mobility points out that the situation has definitely improved, but that is not to imply that things are back to normal.
The world is perhaps past the worst of the Covid waves but the automotive supply chain remains very fragile even now, in the second half of 2022. Just a few days ago, Tata Motors issued a cautionary note highlighting the long-term fallout of the continued constraint in semiconductor supplies globally. And the Indian OEM is not alone in this. Most major carmakers have redrawn production targets.
There is evidence that the backlog of chips ordered a year ago is easing a bit. While we are not yet back to pre-pandemic supply chain responses, the first half of this year is improving over the second half of 2021, and we expect the second half of 2022 to be better than the first half of 2022. The partially assembled ECUs and cars (waiting for missing chips) are going through final manufacturing steps and lead time has stopped increasing, though lead times continue to be about 52 weeks, which is approximately 3x longer than pre-pandemic activity.
Phil Amsrud, senior principal automotive analyst at S&P Global Mobility pointed out that the situation has definitely improved, but that is not to imply that things are back to normal, though. "OEMs had had to make hard decisions based on semiconductor availability and nobody is still able to build as many cars as they would like to. Semiconductors, no doubt, continue to be a challenge."
The general consensus at the moment is that chip production is no doubt better aligned with car production now and expansion of capacity in existing fabs decided at the end of 2020 have started generating additional capacity since the fourth quarter 2021. In fact, one of the largest manufacturers, TSMC, committed to increase allocation of capacity to automotive in the second half of 2022 as demand starts slowing from other industries. Apart from that, there are many instances of semiconductor manufacturers planning to expand their footprint in and beyond Taiwan should provide some relief in the future. In addition, the recent investment by Samsung and TSMC for expansion in the US, and Ford, GM and other manufacturers are more actively engaged with the entirety of the semiconductor supply chain, though again – timing on some of these investments won't be immediate and most of these investments are in technologies applicable for future automotive requirements – and not the requirements of today.
However, Amsrud believes, "It is not fair to say that just by putting fabs out in other parts of the world, we will never see this problem happening again." He explained that as the industry starts moving away from the fabs, which process the chip (the front end) but don't address the packaging of the chip (the backend). Packaging has been another area of constraint, especially as Covid-19 caused lockdowns over the past year. "Though there have been a lot of talks about increasing semiconductor fabs, there hasn't been much discussion about their packaging. That also needs attention."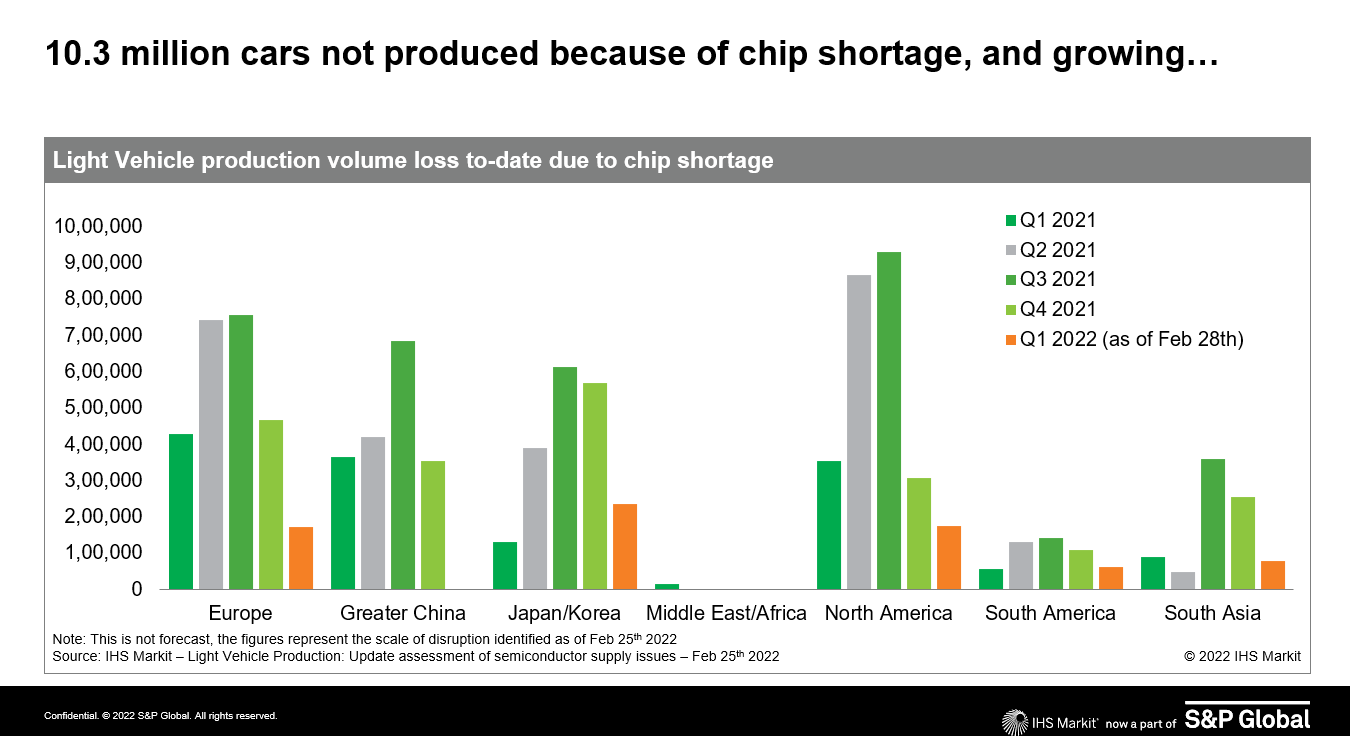 According to Amsrud it is not ideal to view semiconductors in isolation. The system is still very fragile and does not need very big triggers to bring it all down, "I think the shortage may persist this year and into next year. It is hard to predict how the near-term will pan out."
He added that capacity expansion is another key area to look into, "Surely we need a holistic view on front end and backend capacity, in order to match the demand required."
That's exactly why he thinks the leading indicator of the situation improving is decidedly the lead-time. It is already at least 3 times the normal lead time within the automotive sector. "When that starts coming down to a more normal level, it will be encouraging," he added.
Part of this holistic review needs to include having a recovery plan in place in the event something goes wrong. Elaborating on the point, Amsrud explained that the world saw numerous things happen in quick succession "In the end, supply chains should not just focus on reducing cost, but also maximising supply assurance so we are better prepared with any kind of supply shock."
The key question that may rankle us at this stage is whether the amount of new capacity investment is adequate to handle the expected demand going forward? Is there a risk of overcapacity in the near future? Amsrud calls it a "10-billion dollar question." He added that, "new fabs are profitable when they are running fully loaded with an average utilisation of 85-90 percent." The real risk is in over response to the shortages right now, putting too much capacity in place with respect to future demand, which may result in new fabs running at 70% or 60% capacity. "They are not going to be affordable at that capacity utilisation level. That's the reason you see there are so many semiconductor companies that being very cautious about their investment," he added, also highlighting how these companies are concerned about an eventual drop in demand if the investment in capacity building will actually pay off.
What's the extent of growth that is realistically expected in semiconductor usage over the next five years? According to Amsrud, we are still in a supply constrained environment, "Clearly the OEMs would like to build more cars than they are able to. We now have a race between semiconductor capacity and OEM demand" That aside, he believes that there are other factors that need to be considered as well. For example, the supply of some of the other raw materials. So, it is difficult to put a number at the current juncture. Amsrud believes he would rather "wait at least till next year, hopefully by then the dynamics will move towards a demand-driven environment compared to the supply-driven environment now."
However, he is optimistic about the situation stabilising over the longer-term and signed off on an optimistic note, "this is not the worst thing that the world has seen, and we will come out of it."
Kindly register (99+) Automotive Insights & Analysis | Groups | LinkedIn
RELATED ARTICLES