Pricol outlines tech- aggressive gameplan
Pricol outlines tech- aggressive gameplan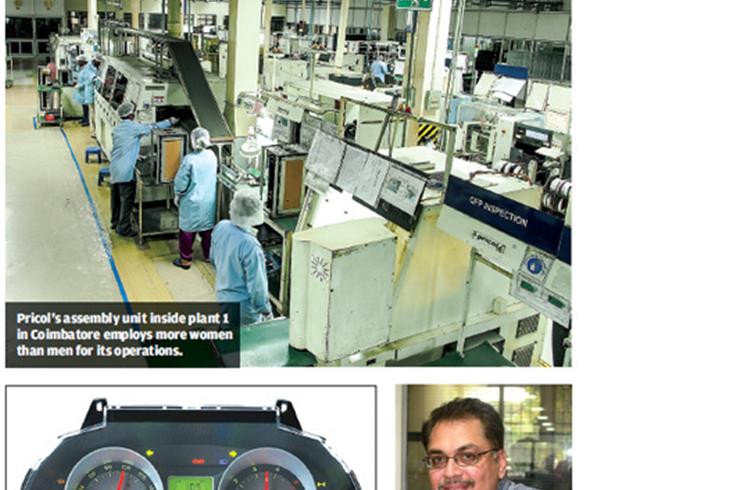 Coimbatore-based company plans to invest Rs 4 crore to enter cockpit electronics, EGR systems and also implement a staff training programme. Karthik H reports.
At a time when Indian Tier 1 vendors face some flak for not developing their own technology capability, a 41-year-old company is looking to rewrite the rhetoric. Pricol Ltd will invest a sum of Rs 3-4 crore as capex in developing skilled manpower and putting the requisite infrastructure in place to enter into cockpit electronics.
Over the next three years, Pricol will do the basic groundwork aimed at developing products in driver information systems, telematics and exhaust gas recirculation systems, including enhancing capabilities in areas where it is already present – sensors, actuators and valves.
The move is significant for a company that has largely been producing mechanical products for the last four decades. Even though recent products like the instrument cluster for the Renault Duster has enabled it to venture into the mechatronics area, fully electronic products are a completely new domain for this Coimbatore-based powerhouse. However, under the aegis of Vikram Mohan, managing director, Pricol is opening new doors. Breaking up the segments that Pricol has chosen to venture into, Prabhakar R Marur, chief technology officer, starts with the driver information system. This includes infotainment systems, interactive displays and instrument clusters, a component in which Pricol has considerable expertise. "In the tractor and off-highway vehicle segment, we're focusing on the interactive displays," he says. "Some tractors in the US and European markets have some of the most advanced interactive displays," says Marur, adding, "the visual feedback and human-machine interface is key here." With tractors having to stay static and a pivot for a number of functions, the presence of multiple actuators is also making Pricol rub its hands in glee. "For this and for infotainment systems, we need a media lab and a lot of skilled people," says Marur, adding that he will begin hiring from October.
EGR systems in the Pricol pipeline
As for powertrain products, Pricol intends to develop exhaust gas recirculation (EGR) systems. "Work has already started in this area and we'll soon procure a chassis dynamometer," says Marur. An EGR system essentially captures the nitrous oxide (NOx) emitted from the engine and recirculates a portion of the exhaust gas into the engine's cylinders. However, Marur gets cautious while talking about real estate close to the engine. "We are keeping a six-inch distance from the engine," explains Marur, "because of the temperatures." Marur is clear in saying that if they consider making products that are closer to the engine, the variation in temperatures would mean that the company will have to invest in material scientists, "which is very expensive."
Also eyeing telematics
Another area that Pricol will look to invest is telematics. The company has already done some basic work but Marur says he wants to enhance it. "Most of my off-highway customers will be using telematics," he adds. The only capability that Pricol doesn't have at present is the back-end servicing which can be outsourced," says Marur.
As a longer term pet project, Marur is eyeing exhaust management systems in general and Selective Catalytic Reduction (SCR) technology, in particular. Unlike the EGR, an SCR system reduces the potent NOx emissions into less harmful outputs like water and diatomic nitrogen. In order to manufacture SCR systems on a large-scale, Pricol would require a multitude of sensors, actuators and, more importantly, control units. "Control units are more often than not retrofitted and Tier 1 suppliers who are currently doing this are open to us," Marur says.
"We'll need temperature sensors, level sensors, lift pumps and integrated fuel pumps; it's just a matter of connecting all of this to the control units. We know how to do this, but it is to be seen if potential customers will trust that we can do this," he adds.
"For starters, we may become a Tier 2 supplier, but this is under discussion," he says. Essentially, Pricol will look to buy a system off the shelf and study it. "At a minimum, it will take three years for a prototype. So we are tying up with educational institutions to conduct the necessary research," Marur remarks.
As for enhancing its existing product portfolio, Pricol will look to beef up the types of sensors it offers. "We're now manufacturing sensors required statutorily to display the measurements in the instrument clusters. That will be only three or four. We are looking at a number which is closer to 30 different types of sensors," Marur says confidently.
The requisite funding of Rs 3-4 crore is a small amount for Pricol which reported sales of close to Rs 930 crore in 2011-12. Half of the money is expected to be spent over the next year. "I'm putting in labs for these purposes. By the end of calendar 2014, we'll have large space dedicated for labs," says Marur. He says he wants to hire a new set of people strong in the mechanicals as well as people with a mechatronics background. Marur says that he has convinced the company's board about making this one-time investment in infrastructure.
Engineering centre to be expanded
Meanwhile, Pricol's engineering centre in Manesar, which caters to customers like Maruti Suzuki India, Hero MotoCorp and JCB India is to be expanded.
The facility currently employs eight engineers and this number will go up by 30 before September 2013. "Once the full strength is set, I will give them a small project to work on, may be a speed sensor," Marur says, donning a mentor's hat. Typically, developing a sensor takes around four months' time. "By February or March next year, they should have the satisfaction that they have delivered something," he says. "After that," says Marur, "I will get them to do some packaging changes or design change projects." Marur also emphasises that the hiring of engineers will happen locally.
With everything from approvals from the board to the strategic decision making in progress, whichever way the cookie crumbles, Pricol is setting itself up for some major transformation in the coming years.
RELATED ARTICLES