Maruti, Toyota to join EV race with global SUV
The Japanese allies are working for an all new electric SUV, due for launch in 2024, in which BYD of China will play a key  part of the overall plan.
Battlelines are being redrawn in India's nascent EV market, currently dominated by Tata Motors, which has cornered an astonishing 80 percent share of the segment and stolen a march on all its rivals.
Other legacy automakers have been caught completely flat-footed by the rocketing demand for battery-powered electric cars, which has seen an astonishing growth of 300 percent. Not surprisingly, several incumbent automakers are furiously drawing up comprehensive plans behind closed doors to thwart Tata Motors' early lead in the EV race.
India's biggest automaker has been uncharacteristically late to the EV party and lost a potential early mover advantage when it shelved plans for an electrified version of the WagonR, a prototype of which was first shown way back in September 2018, at the MOVE Mobility summit, a high powered event attended by Prime Minister Narendra Modi himself. The all-electric WagonR should have been in showrooms by now, but the truth is that there was no business case for a battery-powered WagonR, which would have had to be priced around 60 percent higher than the petrol equivalent for it to be profitable. A WagonR EV upwards of Rs 10 lakh would have clearly been a non-starter.

Thus, Maruti Suzuki didn't go down the route of a quick and easy conversion of an IC engine car into an EV, a strategy that has worked brilliantly for Tata Motors with the Nexon and Tigor EVs. It's also because unlike Tata Motors, Maruti Suzuki is not in complete control of its future, one reason why it has been slow to make the transition to EVs. Maruti Suzuki, no doubt, has lost valuable EV ground but can take comfort in the fact that it's yet too early to call a winner in what is not a sprint, but a marathon for staying power. But, neither Maruti Suzuki nor its parent Suzuki have that staying power, the capacity to spend mind-boggling sums of money in cutting edge EV technology and, at the same, continue investing in IC engine models which rake in the profits to fund their future. Which is why even a fiercely independent Suzuki has had no choice but to follow a global trend of partnerships between automakers to share costs and risks in what is the most disruptive and uncertain period in the industry's history. It is for this very reason why Suzuki entered into a partnership with Toyota five years ago. This alliance has deepened after Suzuki hitched a ride on Toyota's EV wagon.

After years of resisting EVs in favour of hybrids, Toyota has finally entered the EV race. But Toyota wants to make EVs properly and that means developing a cutting edge, dedicated platform optimised to spawn world class electric cars for global markets around the world, including India.
How Toyota is quickly sewing up alliances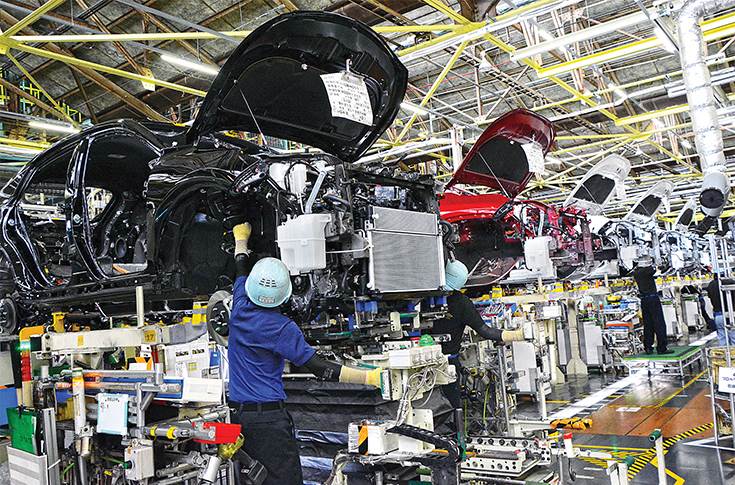 Production underway at Toyota's Takaoka assembly plant in Japan, which was built in 1966.
When Toyota and Suzuki announced three years ago that they were entering into an alliance, it sent a strong signal of a consolidation happening within the Japanese car industry. Suzuki has been phenomenally successful in India but little to show elsewhere while Toyota is the global car monarch with a minuscule market share in India.
Yet, Japan's top carmaker has got the technology arsenal which its ally doesn't. Suzuki, on the other hand, has the kind of cost-efficiencies in manufacturing which others can only envy. The pooling of competencies is what will now pave the way for the first EV in India with more to follow especially as emission legislations get stiffer worldwide.
Toyota also has a tie-up with Mazda for electrification initiatives as well as production of vehicles in North America while it will leverage subsidiary Daihatsu's strengths for the ASEAN region. The Suzuki alliance will go beyond India to other markets in Africa and Latin America.

Japanese EV Consortium


On October 12, 2016, Toyota's president Akio Toyoda and Osamu Suzuki, chairman of Suzuki Motor, first announced plans to explore collaboration in environment, safety and information technology.

In 2017, Toyota, Mazda and parts supplier Denso established a new company EV C.A. (Common Architecture) Spirit Co for the joint development of electric cars. In 2018, Daihatsu, Subaru, Suzuki and Hino joined EV C.A., making it one of the largest EV collaborations amongst manufacturers, in which Toyota holds the majority stake and wields maximum control.
True to its name, the fundamental objective of EV Common Architecture Spirit Co is to jointly develop a common, dedicated EV platform or skateboard and a parts bin of EV components that will be shared by all the companies in this coalition.

EV C.A. has already completed the development of a bespoke and very flexible skateboard that can support a wide range of vehicles from compact cars to large SUVs and even light trucks. This new platform, codenamed 40PL, is to the EV C.A. group of companies what the MEB platform is to the Volkswagen Group. The Subaru Solterra, Lexus RZ and the Toyota BZ4X are the first products to be seen on the 40PL new architecture. Each brand has given the 40PL its own name for marketing purposes. Subaru calls it eSGP and Toyota has christened it e-TNGA.
This grand alliance of Japanese automakers has huge ramifications for Maruti Suzuki because parent Suzuki Motor Corporation (SMC) has been given the responsibility of developing a family of small EVs (codenamed 27PL) on the mother 40PL platform. This includes SUVs and MPVs, which will be manufactured in Suzuki's Gujarat plant for global markets like Europe, Japan and, of course, India.

However, the 27PL series of vehicles aren't exactly small. We can confirm that Maruti Suzuki and Toyota's first EVs for India will be a midsize SUV. Unlike the badge-engineering Baleno-Glanza and Brezza-Urban Cruiser badge engineering exercises, each brand will have its own distinctive styling for this all-electric SUV. The Maruti-Suzuki version (codename: YY8) will sport a new design language that is expected to be futuristic and radically different from the mundane styling of the current IC engine range.

Toyota's BYD connection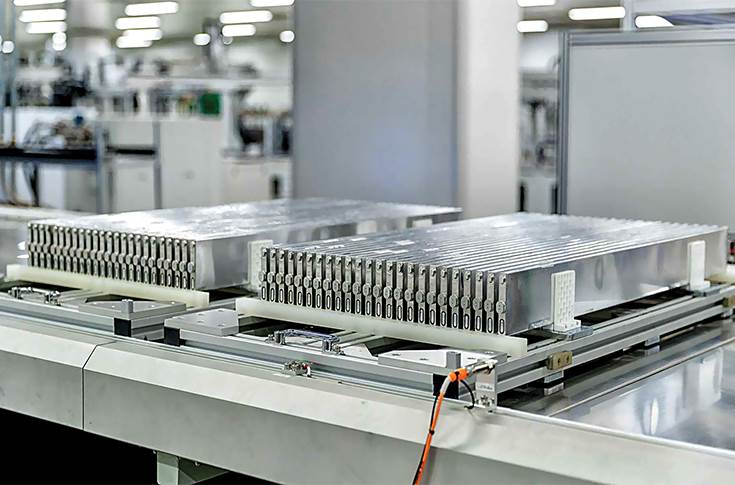 BYD's 'blade' cells pack in more power density and
are based on lithium iron phosphate chemistry.

Maruti-Suzuki and Toyota will both use BYD battery cells for their respective EVs in India. BYD's new generation 'blade' cells pack in more power density and are based on lithium iron phosphate (LFP) chemistry but are less bulky and lowers the cost of the battery pack in comparison to the prismatic, pouch or cylindrical cell shapes. It was in November 2019, when BYD and Toyota announced that they were teaming up for research and development in battery electric vehicles (BEVs). The idea was to work on designing and developing BEVs (including platform) . BYD's strengths in development and competitiveness along with Toyota's in quality and safety technology would provide the best products, said a senior official from the Chinese company. From Toyota's point of view, the partnership would see the duo become "teammates" who could put aside their rivalry and collaborate.
BYD was founded in 1995 as a battery business and has grown into a total energy solution company, manufacturing not only EVs but other products such as large-size energy storage cells. Core EV parts like batteries, motors and power electronics are among the products that BYD develops in-house.
More recently, international agency reports have indicated that Toyota will launch an all-electric small sedan in China towards the end of this year where BYD will play a big role in supplying tech. According to these reports, the EV will be unveiled as a concept car at the Beijing Auto Show, scheduled over next few months.
Neither Toyota nor BYD confirmed the development but if it is true, it will be a big step for the Japanese automaker to create an EV footprint in China. Now, with BYD set to play an important role for the Toyota-Suzuki offering in India, there could be some interesting dynamics at play.
Electric MidSize SUV


What comes as a surprise or rather a shock (pun intended!) are the dimensions of the YY8. This is not a compact, sub-4 metre WagonR kind of car many are expecting, but a 4.2 metre long SUV that's even bigger and wider than a Creta! In fact, for size, it competes more with the MG ZS EV, the largest of the current crop of mainstream EVs.

Like most 'born electric' EVs, the YY8 has a long wheelbase, 2,700mm to be precise. Modern electric platforms or skateboards come with slim, flat battery packs designed to sit within the wheelbase for optimal packaging and weight distribution. Hence, a long wheelbase is a key consideration in the development of an electric skateboard as wheelbase length has a direct correlation to the size of the battery.

The YY8 is being developed in both two-wheel-drive and all-wheel-drive configurations. The base two-wheel-drive variant is expected to get a single 138hp motor and a 48kWh battery pack, which is good for an approximate range of 400km under standard test conditions. The all-wheel-drive variant, powered by two electric motors should produce a combined 170hp and get a larger 59kWh battery pack, which boosts range to an estimated 500km in real world conditions.

It's not clear if the all-wheel-drive version of the YY8 will be offered in the domestic market or is mainly for exports. However, the Toyota derivative is likely to be launched in India with both two-wheel and all-wheel drive options. In fact, the Toyota badged version of the YY8 will have identical specifications, but external dimensions may vary as the design and styling will be completely different and along the lines of the BZ4X EV.

The interiors are likely to be revolutionary and, no doubt, both Maruti-Suzuki and Toyota will take full advantage of the packaging freedom the born electric 40PL platform offers.
With no engine compartment, transmission tunnel and centre console to worry about, the 40PL will allow designers to push the cabin to all corners of the car, which will free up a huge amount of interior space.
Designed not just for India, but as a global car, Suzuki and Toyota have big plans for exports. In fact, the YY8 and its equivalents are likely to make their global debut in Europe around October 2024, before the India launch, followed by Japan in the first half of 2025.
An annual production volume of around 1,25,000 cars for both Maruti-Suzuki and Toyota is being planned, of which 60,000 is for the Indian market, 40,000 for Europe and around 25,000 for Japan.


Such volumes give the 27PL project good economies of scale and justify a high level of localisation, which is the key to making electric cars affordable in India. The YY8 and all its derivatives will no doubt have a high level of local content, including the battery pack, which will be sourced from TDSG, a large-scale battery manufacturing joint venture between Suzuki Motor Corp., Denso Corp., and Toshiba Corp, set up in Gujarat to locally manufacture lithium-ion battery packs.

Locally sourcing the battery pack, which is singularly the most expensive component of an EV, will no doubt give a big cost advantage over rival manufacturers who at best locally assemble imported battery backs. However, there are no immediate plans for manufacturing lithium-ion cells, which will be imported from BYD — one of the world's leading battery makers in China.
Pricing, of course, is one of Maruti-Suzuki's biggest strengths and there's no doubt that the YY8 will be extremely price competitive. Sources say that the company is targeting a price in the Rs 13 lakh-15 lakh range which, given the YY8's size, specs and tech, makes every other EV including the bestselling Nexon EV look overpriced. It remains to be seen at what price the YY8 is finally launched, but what's for sure is that this model will be a game changer for Maruti Suzuki. Built on a dedicated, global EV skateboard, the YY8, with its mix of the latest tech and affordability, could be Maruti Suzuki's ticket to leapfrog in the EV race. India's number one automaker wouldn't want it any other way.

This feature was first published in Autocar Professional's February 15, 2022 issue.

RELATED ARTICLES