Mahindra Accelo keen to prove its mettle in vehicle scrappage era
Even as the government is set to announce the much-awaited vehicle scrappage policy that will help take old, polluting vehicles off the roads and in turn drive new vehicle sales, Mahindra & Mahindra is looking to drive home the first-mover advantage with its joint venture with MSTC that has set up India's first organised recycling facility at Greater Noida.
Mahindra Accelo keen to prove its mettle in vehicle scrappage era
A couple of cars get the scrappage treatment at the CERO plant in Greater Noida. Scrapping of old vehicles leads to recovery of many metals, especially steel which makes up 65-70 percent of a vehicle. Organised steel recovery will significantly reduce India's dependence on imported steel scrap.
Vehicle graveyard in Delhi. Current scrappage practices compromise safety and security. The fluids from cars are drained on the street, and practices like gas cutting result in severe health issues to workers. Also, cars aren't registered officially and owners are open to further liabilities.
Mahindra Accelo's CERO facility at Greater Noida.
Sumit Issar, MD, Mahindra Accelo: "We undertake the recycling and recycle whatever parts we can and then give the money and certificate of destruction to vehicle owners, which is very important."
Vehicle scrappage is the start of the metal-morphosis process as different parts get segragated and recycled, returning to the automotive world in a reborn and clean avatar.
The Indian automobile industry, despite being one of the youngest globally, became the world's fourth largest in 2017 and is expected to overtake Germany to take third place in the coming years. On the steel production front, India was the second largest steel producer with 106.5 million tonnes (MT) in 2018. Automotive steel alone accounts for around 12 percent of the total steel consumption in the country albeit the country's steel imports are estimated at around 6 million tonnes a year.
According to the International Organisation of Motor Vehicle Manufacturers, 95.6 million vehicles were produced in 2018. On an average, 900kg of steel is used per vehicle. The steel in a vehicle is distributed as follows:
- 34 percent is used in the body structure, panels, doors and trunk closures for high-strength and energy absorption in case of a crash
- 23 percent is in the drivetrain, consisting of cast iron for the engine block and machinable carbon steel for the wear resistant gears.
- 12 percent is in the suspension, using rolled high-strength steel strip.
- The remainder is found in the wheels, tyres, fuel tank, steering and braking systems.
This 900kg is typically for a new-generation vehicle, which used modern high-tensile steels and advanced high-strength steels which make up as much as 60 percent of today's vehicles body structures making lighter, optimised vehicle designs that enhance safety and improve fuel efficiency.
Why vehicle scrappage?
According to the International Energy Agency, the global transportation industry is a significant contributor to greenhouse gas emissions and accounts for about 24 percent of all man-made CO2 emissions. Regulators are addressing this challenge by setting progressive limits on automotive emissions, fuel economy standards or a combination of both.
Another way is vehicle scrappage, which gets rid of old, polluting vehicles on road. Adopted by a number of developed markets, a vehicle scrappage policy is usually mandated by a government to accelerate the replacement of old, polluting vehicles by new vehicles. Such a policy also enables dual gains — stimulating the domestic automobile and automotive industry and importantly, removing inefficient, polluting vehicles from the road, paving the way for greener motoring and cleaner air.
The Indian automobile industry, which is currently weathering one of the worst downturns in its history, has been urging the government to introduce a vehicle scrappage policy since several months now. Typically, a scrappage policy will also incentivise owners of old vehicles to dispose them off in a proper manner. This is what the Mahindra Group is looking to address, with Accelo.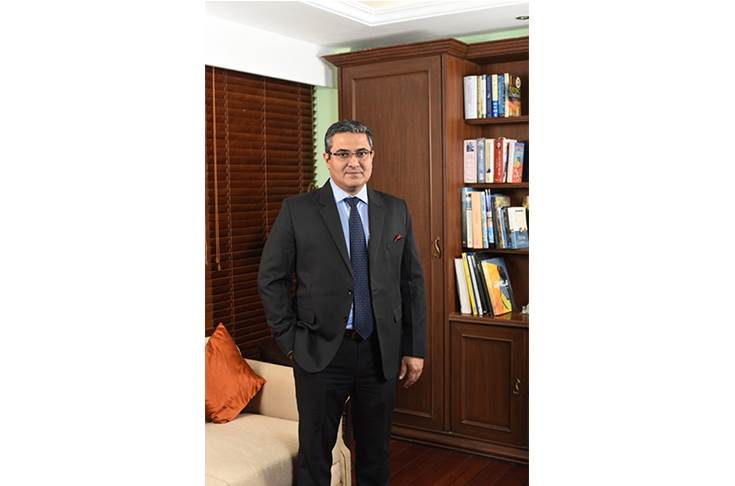 "Our journey started two-and-half years ago, when Mahindra as a Group decided to do something towards sustainability. It was in all the strategy of boardroom meetings that the idea of vehicle scrappage came up, where no one else was doing anything in India. Recycling is an area where globally every auto company or their people are engaged in. So why should India not have it?," queries Sumit Issar, managing director, Mahindra Accelo.
In December 2018, Mahindra Accelo and MSTC (a government of India enterprise under Ministry of Steel) formed a joint venture christened 'Cero', India's first authorised recycler for motor vehicles. The partners set up a recycling facility in Noida, which collects, depollutes and dismantles end-of-life vehicles. The automated plant has the capacity to recycle old trucks, buses, cars, two- and three-wheelers and consumer durables.
Betting big on sustainability
One of the most vocal supporters of vehicle scrappage has been the Indian auto industry itself. In fact, on March 17, 2019, apex industry body SIAM, in association with the Ministry of Environment, Forest and Climate Change (MoEF and CC), government of India, and ACMA, organised a conference in New Delhi to discuss and debate sustainable material management and environmentally safe disposals. All the industry stakeholders present there were of the consensus that with the country facing a severe air pollution challenge and the automotive industry being handed the task to move towards sustainable mobility solutions as a countermeasure, discarding old and polluting cars, two-wheelers and commercial vehicles remains an onerous task in the absence of any concrete law or policy in place for end-of-life-vehicles (ELVs).
It was in 2016 that the government proposed a VVMP (voluntary vehicle fleet modernisation programme) in the form of a draft policy. However, there has been no specific formulation of proper regulations as to how these decade-and-a-half-old vehicles will be scrapped. As per government estimates, over 28 million ELVs (older than March 31, 2005) across categories will be ready to be discar+ded by April 2020. This would translate into a massive opportunity for players in the organised scrappage and recycling industry.
"We are not saying that we are waiting for the policy. We are looking at how this can be a sustainable business model, without support and how we can create awareness in the ecosystem for the people around who are ready to understand that the option is available and encourage them to give their vehicles," says Issar.
According to data compiled by Mahindra Accelo, India is the second largest importer of steel scrap, importing 6 million tonnes of scrap per annum. On the other hand, recycling a tonne of steel means not only saving on imports but also cutting down sizeably on raw materials and energy required for production of new steel.
How does Mahindra Accelo work?
One of the primary reasons for any new technology, solution, product or service to be either a success or a failure depends on its ease of use, which Mahindra Accelo says it is well placed to address. "A vehicle owner has to just call our helpline number and we take care of the rest. Once a vehicle owner calls us, our people reach the place and undertake the quality checks. Once it meets the requirements, the vehicle is towed to our facility, where the vehicle is recycled (steel and other useful materials are taken out). Once the vehicle is scrapped, the vehicle owner is provided a Certificate of Destruction. Everything is seamless, the vehicle owner has nothing to worry about. After that, the process follows in terms of registration, de-registration depending on the client. Sometimes, clients want to do it themselves and sometimes they want us to do it," explains Issar.
As regards the value offered for the vehicle to be scrapped, the company says it depends on certain parameters including parts, type and vehicle condition among others. Issar says, "We undertake the recycling part and recycle whatever parts we can and then give the money and certificate of destruction, which is very important. In India, we are the first license holder with the license number 001, and are the only ones amongst the organised sector (at present) in the automotive and steel recycling both put together."
Mahindra Accelo says it has taken cues from Japan and Europe, which are said to be the global leaders in recycling. "We brought the best of machines from both the countries and our Noida facility is amongst one of the world's best plants globally. It will be equal to or better than the ones in Japan and Europe, as we have taken the best of both the worlds. In addition, it is also highly automated and we are using high levels of digitialisation," adds Issar.
Targeting 100 percent recyclability
One of the key parameters for the success of a sustainable scrappage company is its ability to recover and recycle as much as it can. Mahindra Accelo may be the first company in India but it has already reached a level where it is able to recycle content between 70 percent to 90 percent, depending on the vehicle.
Issar says when it comes to recoverability there are around three to four buckets — steel, batteries, plastics and other parts. The company says the aim is to extract as much as possible and recycle. While is not possible to recover everything at present, the long-term goal is to be able to ensure 100 percent recovery/recyclability.
"The global average is around 95 percent, which is said to be the best in the world. In some cases, we are very close to the global levels, but it also depends on a car-to-car basis, and the kind of materials OEMs use. In some advanced markets, there are certain responsibilities that OEMs have to ensure, like the kind of materials to be used that can be recycled. That concept has yet to be applied in India," says Issar.
The recovered raw materials are then supplied to companies that can make use of them, provided they meet the stringent quality and sustainability requirements set by Mahindra Accelo. Issar explains, "The steel that is recovered is not basically the end-product but shredded material. It goes back again to be made into steel; automotive steel is one of the best steels available as it is melted and remade. This helps in eliminating the raw materials that is needed to make new steel."
"The advantage of recycling for the auto industry is very clear. If recycling happens more and more, the value the customer derives of his/her old car, will help buy a new car. Today, an owner gets hardly any value of his old vehicle – he/she gets whatever amount the unorganised player / 'kabbadi-wala' offers him or her."
CERO plans expansion to 25 locations by 2023
When it comes to any industry, the first player is not only the risk taker but also the rule maker — and the one with the first-mover advantage. Being the first organised player in the nascent vehicle scrappage industry, Mahindra Accelo has its own set of challenges.
"The first challenge when you set up an industry is what all laws do you follow. Nobody had an idea in India because recycling is not considered an industry as of this date. We had to work with the government in terms of pollution norms, regulations, the process. We had to set it up from scratch, understand the business and adapt it to Indian conditions. It was a very big challenge for us. For instance, in Europe or Japan, there is a clear governmental regulation that once a vehicle is over a certain age, the vehicle needs to be scrapped. Secondly, how do you educate a customer? That constitutes another challenge for us — to make the customer understand the need to recycle old vehicles and also why recycle it with us."
"When the customer understands that, then it becomes a very strong case for us. We have got a very strong customer connect and have been able to educate them that if their vehicle goes to unauthorised/unorganised roadside shops, they won't know what happens to their vehicle. There have been cases where the cars were sold to the unorganised sector and subsequently found in other places. Thirdly, is how do you recycle the materials? There is a lot of technology involved.
To find the right partners, we had to start from scratch. We had to learn how to extract steel and other materials, whom do we give it to and how to recycle that as much as possible," elaborates Issar.
Mahindra Accelo, through its CERO facility in Noida, currently caters to the NCR region, Jaipur, Uttar Pradesh, Chandigarh, Rajasthan and adjoining areas. The next such scrappage centre will come up in Chennai and is expected to commence operations this month. Similar units are slated to come up in Bangalore, Hyderabad, Kolkata and Mumbai. "As a matter of fact, Mumbai is actually work in progress and since we are in discussions, it can happen anytime," reveals Issar.
The company says at present through its Noida facility, it has a capacity to process 25,000-30,000 vehicles per year, which can be expanded by adding more lines. In fact, the company says it will be installing a bigger shredder, which will help scale it up to 100,000 - 120,000 vehicles, which is expected to happen by next year.
A brand-new industry set to take shape in India
The automotive industry in India, which started around 1940s, has undergone a sea change and today vehicles are made in India right from concept to prototype to full manufacture. What hasn't changed is the tangible options for vehicle owners to sustainably dispose off their vehicles.
That's set to change as the government is in the final stages of rolling out the Vehicle Scrappage Policy, which will give a fillip to the organised scrappage and recycling industry. Mahindra Accelo perceives that apart from competition from unorganised players, sourcing the right technology to scrap vehicles and the high costs of investment to enter this industry, "is not simple". As is known, the unorganised scrappage markets across India work in a very rudimentary, manual manner, usually exposing workers and operators to a number of health hazards.
According to Issar, "Our expectation is that this market needs to open up and let new players come in. There cannot be only one player-driven market and we would like to see a many other companies enter this market. The advantage we have is that having already worked in this sector, we know this market very well. We know how to derive profits from it and we would be able to expand faster than anybody else. The flip side of this is that the unorganised players will have a little bit of more competition. Also, because the organised sector will grow, the country will gain immensely."
"The bottomline is that irrespective of who gains market share, the country — and the automotive industry — will gain in a very big way because they will be able to churn out more vehicles because of the availability of raw materials," says an optimistic Issar.
Cero, which is Spanish for 'zero' , accepts both old and accidented cars for recycling. As and when the scrappage policy gets the green signal from the government, this is one company which has all the credentials to be a hero.
RELATED ARTICLES