Leading a business during unprecedented challenging times
As much as the coronavirus pandemic is testing the resilience of industry, it is also a test of leadership and management practices. Here's looking how the leadership of a few companies from different segments of the auto industry is tackling the unprecedented challenge.
The Coronavirus outbreak has posed a never-before challenge to governments, businesses and economies globally. All sectors are facing a major disruption. The automotive industry, a major contributor to the GDP of many countries including India, is facing its share of challenges. Rather, the biggest challenge till date with operations coming to a halt as many governments announce lockdowns in order to stall the spread of the highly contagious and deadly Novel Coronavirus. As much as it's a phase that tests the resilience of the industry, it is also a test of leadership and management practices.
"None of us know that how long this crisis will last but what we do know is that we are a strong company, a strong team, all of us and all of you. Don't lose heart, be strong. Take good care of yourself, look out for your colleagues and your staff. Think of your families, your friends and be there for others if you can. Set an example, a strong example," says Klaus Rosenfeld, Group CEO of global Tier 1 supplier Schaeffler in a video message to all employees in his organisation. Rosenfeld is also a Board member of Schaeffler India. Schaeffler , headquartered in Herzogenaurach, Germany, has an employee strength of 89,000 globally, of which 3000 are in India.
The abovementioned quote of Klaus Rosenfeld is an example of how many leaders are looking at the well being and motivation level of employees as equally important, if not more, as the businesses they are responsible for. Autocar Professional finds out from the leadership of a few companies from different segments of the automotive industry about the approaches they are taking to cope with the ongoing pandemic.
From drawing inspiration from Mahatma Gandhi to be well prepared for the future with a robust spirit, to trying out new ways of doing engineering work, to tapping digital technology like never before, these leaders in the automobile and component industries share how they are keeping the morale high in their respective organisations, and also continuing operations while following the social distancing norms which is absolutely critical in the current phase. It also appears that the current phase may change the way some departments work, for good.
Leadership mantras during a pandemic
Martin Schwenk, MD & CEO, Mercedes-Benz India
"The future depends on what you do today' is my favourite quote from Mahatma Gandhi. In times of crisis, this is a strong motto for our actions. The current spread of the COVID-19 pandemic poses multi-dimensional challenges and our top priority is the health and safety of our people. That's why we have taken necessary measures already more than two weeks ago – for example necessary travel restrictions, employees started to work from home, we introduced special protocols at the dealerships to keep our employees and customers safe and hygiene precautions. Wherever possible, our employees are working from home and we are impressed how well it works. My impression is that everyone is in good spirit, supporting customers and dealers where needed and preparing together with our dealer partners and suppliers to be able to take off quickly after the crisis. I am convinced today's spirit will win us the future. Stay healthy."
Klaus Rosenfeld, Group CEO, Schaeffler (in a video address to employees):"We are a strong company and a strong team – together! At Schaeffler, we have proven that we can handle difficult situations. We will not let things get us down now either, nor at Schaeffler, not headwinds, not adverse conditions, not a Coronavirus and also not if things getting worse. If that's how we think, if we stand together in this spirit, we will not only succeed in fighting this crisis, we will also come out of it stronger and together."
Carlos Tavares, Chairman & CEO, Groupe PSA
"We will not compromise on the health of our employees so that the industrial restart necessary for the sustainability of the company can be carried out under optimal conditions. I have every confidence in the ability of the employees of Groupe PSA to help get out of this crisis without fatality. Our fighting spirit and our collective mental strength are as many assets that we put at the service of our fellow citizens."

Prashanth Doreswamy, Country Head, Continental India and Managing Director, Continental Automotive India
"These are extraordinary times for all the industries across the globe and the auto industry is no exception. Since the outbreak of the coronavirus, our main focus has been on the health and safety of our employees, in addition to maintaining our supply chains. We have taken several measures to ensure employee safety and will continue to do. To give some examples, business travel was restricted right from the beginning of the outbreak. All our ESH protocol were in place, and mobile work as well, where possible, even before the country lockdown.
Equally critical is how we maintain customer commitments. We have been closely tracking and managing our supply chain situation for the last three months. Globally too, we are gradually adapting production in our plants around the world in coordination with our customers and suppliers, in some cases temporarily halting it completely. Now of course, each market has its own unique situation, and Continental is taking measures that are oriented towards the respective situation and regulations in each country.
At times like these, we as an industry need to stay patient and reconfigure ourselves if required. These situations provide us with the time to reflect, discuss and focus on areas that add value to our businesses. Certainly, there have been a lot of challenges, but we also need to identify the opportunities that come along with the challenges and act accordingly. Continental has been developing pioneering technologies and services for sustainable and connected mobility of people and their goods and will continue to do so. When the situation starts getting back to normal or the new normal, Continental will continue to be at the centre of future innovations."
Balbir Singh Dhillon, Head, Audi India
"With the advent of lockdowns and self-quarantines during the Covid-19 outbreak – situations have changed rapidly. From working at home, to interacting with dealer partner on skype calls, to managing teams and making the right business decisions – it's all becoming the new normal.
People safety: The first and foremost topic for us is people safety; be it our customers or employees at our dealerships / our office. We are working with our partners to share and implement guidelines and best practices to ensure a disinfected work environment at showrooms and workshops, as and when we open our business.
Motivate and engage with employees and stakeholders: I have always believed that a business is as good as the people associated with it. It is important to keep your teams trained for such situations and motivated to deal with untraveled waters. Employees are facing a stressful situation and it is a good idea to start the day with a team call to not only discuss work, but also to check-up on each other and boost each-others morale. It goes a long way!
Through digital mediums like Skype for business, I personally connect with colleagues, dealer partners and the HQ - we see each other through video calls and it ends up feeling like a regular day at work.
Frugal business approach: In times like this, one has to look inwards. It is very important in our business that we shed the burden that we can live without; here I am only talking about expenses, not people. A pragmatic approach is very important and one has to clearly distinguish between what is 'a must' and the rest!
Strengthening the business ecosystem: A business is made up of multiple stakeholders including employees, business partners and suppliers. It is important to strengthen the entire ecosystem and see that all stakeholders derive strength from each other and that you are able to support each other during these challenging times. All of us are interdependent on each other and this chain must be preserved.
Effective use of resources: Whether it is financial or human resources, it's time to increase productivity of each asset at hand. In a new business world, the focus would be on the accomplishment of a task rather than number of meetings or the hours logged in. Similarly, each financial resource must be put into its most effective use.
Profitability and liquidity: At the end of the day, each business works for profitability. In difficult times like this we clearly focus on profitability and liquidity of the entire ecosystem. We look at newer avenues to expand our reach and include allied businesses into our portfolio. This not only helps use our manpower more effectively but also generates additional revenue for the business.
An effective example for us here is – Audi: Approved plus- our pre-owned car business.

Digitalisation: I firmly believe that in the connected world, most aspects of businesses have to go digital. While aspects like production do require a plant set up and physical personnel, I feel that a large part of the office and retail work can and should go digital. Our strategic focus on digitalization has held us in good stead in current times.
Sharad Malhotra, President – Automotive Refinishes and Wood Coatings, Nippon Paints India (in a message to the team):
'Dear all. The next few days will be extremely challenging for all of us and I wish that all of us can emerge from the current corona crisis with good health and spirit.
Our HR and safety team has been proactive and a host of recommendations have been issued. Please follow them sincerely and take care of yourselves and your families.
While we maintain a strong vigil on the health front, we continue to press hard on the business front as well, without taking any undue risk, in these difficult circumstances.
I am very grateful to all of you for being such great sources of strength and inspiration at all times.
If there is anything that we can help with, don't hesitate to contact. I'm always at disposal of my Nippon Nation family. All the best. Take care."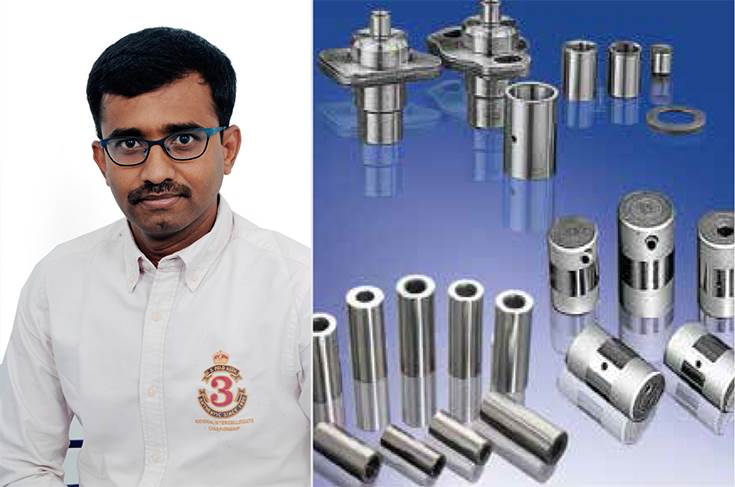 Meenakshi Sundaram, CTO – Advanced Engineering,
Amalgamations Components Group
"We are at a stage where current business is at stake. Unfortunately, we can't do much about it. But we prepare for our near future so that we bounce back with full energy after the lockdown lifts.
The following are the business mantras we have evolved. --
- Our employees' safety is of paramount important for our long term success. We've asked them to work from home. Those who cannot work (operations, safety etc) will think from home.
- We trust our employees. They are responsible for the future, so no weekly reports or questions on the time spent.
- Engage in work through modern communication tools.
- Engineering team will come up with one patentable product/process/ idea within 15 days'; will be reviewed by April 10th.
- Try to build strong tools which can improve our productivity.
- Document lessons learnt.
- Learn and share.
- Competency building [one new topic for every one]
- Be a strong team and care about each other.
RELATED ARTICLES