Kinetic Engineering's revival plan revealed
Having transformed itself from a vehicle maker to an auto component manufacturer, the Pune-based Kinetic Engineering is now actively pursuing a strategic growth path which will see it develop a broad and modern range of parts, says Amit Panday.
Ajinkya Firodia: "We want at least 70% of our business to come from transmissions, either gears, shafts or complete gearboxes."
The Kinetic Group is still known for launching India's first gearless scooter, the popular Kinetic Honda.
The Kinetic-Magna alliance has won the order for supplying quadricycle-specific gearboxes to Polaris-Aixam.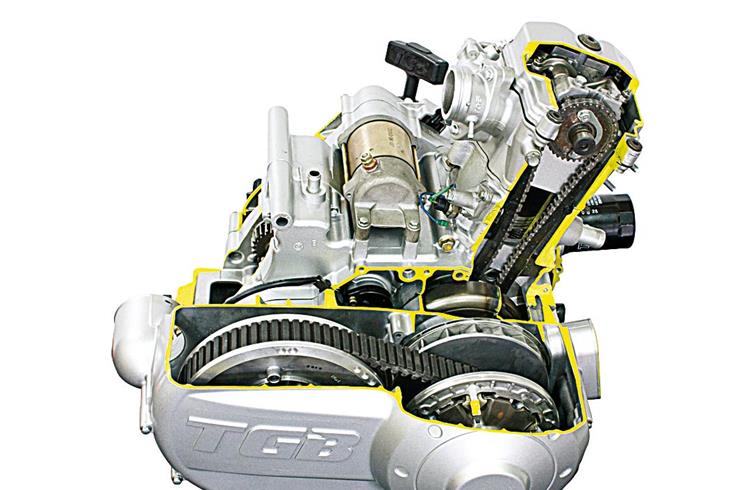 A CVT gearbox from TGB of Taiwan. Partner Kinetic is exploring supplies to various two-wheeler OEMs.
Polaris has given Kinetic a new ATV transmission assembly order for the US market.
Dust-free, world-class gearbox assembly line for Polaris Industries in Ahmednagar.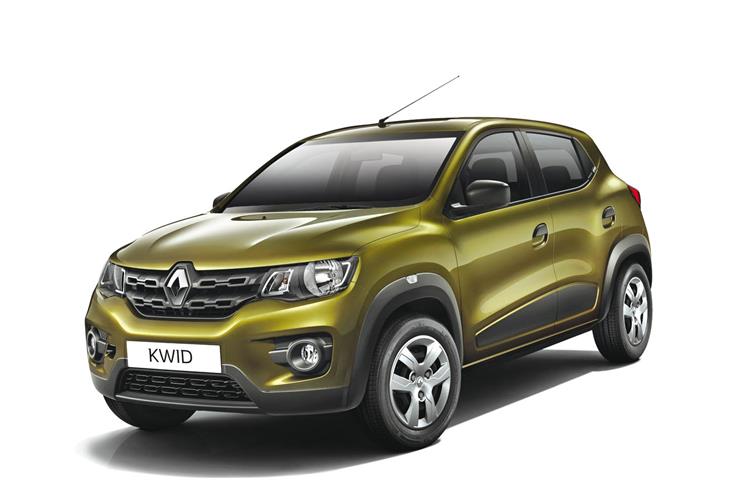 Kinetic is to make and supply three parts that go into the upcoming Renault Kwid's gearbox.
Operator using a Japanese CNC shaving machine for components made for Renault-Nissan.
German Liebherr hobbing machines ensure accuracy in gear profiles from first operation.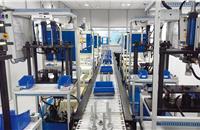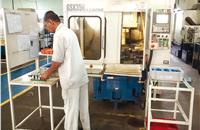 Having transformed itself from a vehicle maker to an auto component manufacturer, the Pune-based Kinetic Engineering is now actively pursuing a strategic growth path which will see it develop a broad and modern range of parts, says Amit Panday.
The original forerunner of the moped culture (even before TVS Motor) and what can be called as the company which brought the first automatic scooter to India (the Kinetic Honda) and gave women mobility, is now gearing up to begin yet another interesting journey but in the area of automotive components.
Kinetic Engineering, founder of the Luna brand in the 1970s that at its peak saw an average production of 1,500-2,000 units per day from in-house-built assembly lines and heavy machinery, has come a long way.
Recalling his grandfather's days at work, Ajinkya Firodia, the third-generation entreprenuer who's now the managing director of Kinetic Engineering, says: "I remember the Luna was launched for Rs 2,000 as the idea was to provide a low-cost mobility solution for the common man. From the first day of our operations, the machinery, design, engine and all parts were 100 percent Indian. To keep costs low, even in those days, we had set up our factory at Ahmednagar, near Pune."
In the late 1980s, the company not only played an instrumental role in rolling out Kinetic Honda scooters and creating a market for them but also learnt Japanese techniques of manufacturing. "The Kinetic Honda scooters were rolled out from our Pithampur plant, which was set up as per Honda's then latest assembly and manufacturing techniques. We made a number of components (engine, gearbox parts and others) for those scooters at our Ahmednagar plant. That is when we learnt the Japanese way of manufacturing," he reminisces.
The company (Kinetic Motor Co), which also made motorcycles and scooters like the Flyte and Nova, inked an alliance with Mahindra & Mahindra (M&M) and sold its two-wheeler business assets to Mahindra Two Wheelers (MTWL) in 2008 but held a 20 percent stake in it.
SUM OF ALL PARTS
Kinetic Motor, which then planned to step into the automotive components business, began transforming itself from being a vehicle and engine manufacturer to a components maker.
This process saw Kinetic Motor Co merge into Kinetic Engineering in 2012. Continuing to invest in this new area, Kinetic Engineering later divested its remaining stake in MTWL in February 2014 for around Rs 180 crore. These funds were re-invested into the business for further setting up automotive component manufacturing facilities.
In the initial years when Kinetic's managing team was planning to foray into the automotive components business, the company found support from Tata Motors and Force Motors.
"It is very interesting to see that in India, most companies make loose parts for gearboxes but hardly anyone makes completely assembled gearboxes. Generally, all OEMs make gearboxes at their own facilities. We developed the gearboxes for Force Motors' Minidor and Tata Motors' 407 truck. These projects came to us in 2008. That's how we began our auto components manufacturing business," says Firodia.
NEW DIRECTION
Ajinkya was given this company to manage which had vast resources in the form of technical knowledge, manufacturing capabilities, plant and machinery. The last few years of operations, learnings and the understanding of industry dynamics and requirements have helped earmark a clear direction for him.
He explains, "Big facilities bring a lot of overheads and we have realised that we need to make products that other local players cannot make. We wanted to specialise in high technology products and transmissions are just that. It takes very expensive machineries to produce quality gearboxes and its parts. I have been working in the auto components business since 2009, and now we are sure that our area of specialisation would be transmission. We want that at least 70 percent of our business should come from transmissions, which means either gears or shafts or complete gearboxes."
However, manufacturing high-precision components for gearboxes is a capital-intensive job. The company, which has been declaring losses over years, has a long-term growth strategy in its sight. Unlike sourcing forged components from other suppliers for making gears and shafts, Firodia decided last year that he would invest in backward integration and save costs in the longer run by performing forging and blanking operations within its own facility in Ahmednagar.
Clarifying his stance, he states that, "In 2009, our material costs were 78 percent. Last year, it was 60 percent. This is the kind of work we have been doing. My target is to make it 55 percent by end of FY2015-16. We managed this through many mini steps, one of which was by doing backward integration. We invested in forging machinery. We realised that we were managing all the expensive operations with large overheads and we had to get better control over costs, inventory, quality and to execute that we had to do this. That required heavy investments to acquire inventory and machinery, which promised savings but in the long run."
The company has invested in hammer forging and press forging machineries. The press forging machinery is being commissioned currently. "That will give us huge benefit in reduction of material costs, ensuring quality standards. Total investment made in this area is close to Rs 4 crore," he says.
HIGH-PROFILE TECH TIE-UPS
Last year Kinetic entered into two technological tie-ups, which were in line with its new-found direction. It tied up with Austria-based Magna Steyr AG, which is known as one of the world's biggest vehicle engineering and contract manufacturing company, and Taiwan's TGB (known as Taiwan Golden Bee). The latter is known for its prowess in designing and developing continuously variable transmission systems (CVTs).
Explaining the alliance, Firodia says, "Magna is one of the best known companies in the world for its design and development capabilities. Under the tie-up, we approach the customers together and offer them end-to-end transmission solutions. While Magna will design, develop and test the transmission systems, Kinetic Engineering will manufacture them. We do this for complete gearbox systems."
FORAYING INTO THE SCOOTER CVT SPACE
Learning how to make CVTs for Kinetic Honda scooters in the past, the company plans to go back to its roots. Under its alliance with TGB, it learnt about the present-day CVT technology.
"We tied up with this Taiwanese company, who we have known from our previous alliances, to get the new, upgraded CVT technology from them. TGB makes CVTs for vehicles from 100cc to 1000cc including ATVs. They know how to design, develop and test CVTs as good as any other company in the world. A CVT is a very complex system because it has a sheet metal part, forged part, and an aluminium part and involves sophisticated functioning of all these parts working together. There is a dying need for a good manufacturer for CVTs in India. We are planning to approach various two-wheeler OEMs to have an alternate supplier of their CVT systems," elaborates Firodia.
Kinetic Engineering has closely studied all the CVTs found in scooters today. With the help of TGB, it has now improved upon its own CVT technology that now, according to Firodia, is capable of delivering better fuel efficiency than the ones sold in the market.
"It is important to show that we are serious about this and that we have invested in the manufacturing of this world-class product line and we are capable of supplying these. We are now working on our go-to-market strategy for this product. This is to fuel our long-term growth in this market. We hope for results soon," says Firodia, who is excited about the prospects of its CVT products for the fast-growing scooter market.
MAKE IN INDIA
"We want at least 50-60 percent of our business to come from exports," states Firodia who has recently bagged three major orders in-line with prime minister Narendra Modi's Make-in-India initiative. According to the official, these three new orders have the potential of fetching revenues worth Rs 200 crore for the company. However, it will take FY2016-17 to ramp up to full volumes and realise full potential.
The company has bagged an order from American Axle, a US$ 3 billion company, which is a prominent supplier to General Motors. Within this, Kinetic will manufacture spline yokes, a forged and machined component, and export them to the USA.
"It is an existing part that they used to manufacture in the USA. Its volume is close to 61,000 units, which translates into an annual business of Rs 40 crore. Mass production of these components will begin soon," he reveals.
The second major order came from Polaris, a US$ 5 billion company that has recently acquired French quadricycle maker Aixam, which is known to have close to 70 percent market share of quadricycles in Europe. The Polaris order came on the back of Kinetic's tie-up with Magna.
"They wanted us to design, develop, manufacture and supply gearboxes for their mini cars under Aixam's umbrella. This is a classic Make-in-India example. We were able to decrease the weight, reduce the cost and make an entire new product for them. We set up a brand-new world class assembly line at our Ahmednagar plant to produce these. The gearboxes are now going into production and this order should add another Rs 20 crore to our top line," he estimates.
Mass production of Aixam-specific gearboxes is expected to begin in June-July 2015 and the order is to make close to 1,000 units per month.
Firodia further reveals that "Polaris has awarded us with another order for the new transmission assembly for its ATVs for the US market. Once this gets going, we may well produce upto 5,000-7,000 gearboxes per month."
RENAULT KWID BUSINESS IN THE BAG
For its Maruti Alto-rival Kwid, Renault has chosen Kinetic Engineering to make and supply three different parts that would go into the car's gearbox. "This is where we intend to use the spare capacity we had set up for the Nano earlier," he says.
Praising Renault's commitment and the learnings from the French carmaker, Firodia says: "For Renault, we make a simple part. But the precision is such that they check 70 dimensions for that simple part. They would sit with our team till 2 in the morning to ensure quality guidelines are adhered to. They reject the products if there is even a difference of one micron from their specifications. They look at our machines, our quality control plans, our pressures, our gauges and almost every aspect of production."
Domestic demand and export volumes for the Kwid are expected to bring sizeable volumes for Kinetic. The company now has the schedule in hand for beginning mass production of parts to be supplied.
"In the next three months, all these three businesses will start showing up results," affirms Firodia.
Summing up his efforts, he says: "Theoretically, it may sound easy to convert a vehicle manufacturing company into an auto component manufacturing unit but in real terms, this is not easy. It calls for an entire business transformation. We could not have achieved this without our struggle during the transformation process. It is important to make mistakes and learn from them. The auto component industry is an amazing one and all this while I have developed immense respect for this industry."
This article has been published in the July 1, 2015 print edition of Autocar Professional.
RELATED ARTICLES