India's sole woman tractor dealer harvests gains in Rajasthan
Seema Gupta of Alwar, Rajasthan is breaking barriers and how with nearly 90 percent of the tractor sales being finalised in the field and not through showroom walk-ins.
India's sole woman tractor dealer harvests gains in Rajasthan
India's sole woman tractor dealer harvests gains in Rajasthan
India's sole woman tractor dealer harvests gains in Rajasthan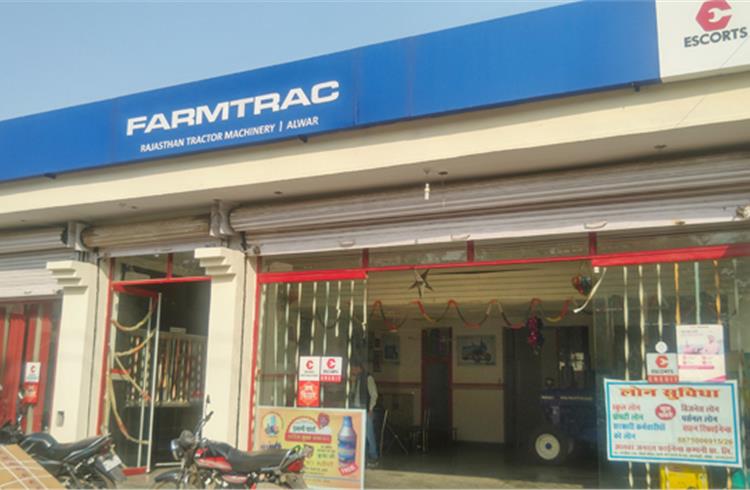 India's sole woman tractor dealer harvests gains in Rajasthan
Traditionally, the global automotive industry has been a male-dominated industry and in a developing country like India, the situation is no different albeit things are gradually changing. In what seems to be a very unique and a truly inspiring story, an entrepreneur from Rajasthan, India is breaking the taboo of 'Women entrepreneurs in automotive dealerships' and is renowned as the 'Tractor Queen' in the industry.
Seema Gupta is not your typical entrepreneur. A chartered accountant and an MCom gold medalist, Gupta started her career as a professor at MS University, Baroda in the early 1990s, before taking up a job in a pharmaceutical company in 1991. Little did she imagine that after her marriage she would go on to head a one-of-its-kind tractor dealership in Alwar, Rajasthan.
Her journey has been quite unique, and in Gupta's words, "My in-laws had been supportive of me taking up a job or their family business, but since the culture that I came from was quite different, I was not very sure, how things would work out."
As opposed to Gupta's parents who hailed from the service background, her in-laws had partnership businesses that include auto dealerships of Tata Motors (CV business), Rajdoot Yamaha dealership for two-wheelers and Escorts for tractors among others.
"I got married in 1992 and joined the family business around 1993, and initially was handling finance, servicing and parts functions for the Tata Motors dealership," recollects Gupta. The partnership existed for over 30 years, but as one says, an entrepreneurial spirit is open to taking risk, and she and her family decided to take things further.
The partnership got dissolved in January 1995, wherein Gupta and her husband took over the Escorts Tractor dealership. "From 1995 to 2010, my husband and I managed the dealership by ourselves; while I was taking care of the financial and other functions, my husband focused on marketing, sales and the service part," explains Gupta.
Selling a tractor
In 2011, her husband started an NBFC finance firm, and Gupta had to take over all the responsibility. "You have to understand, that selling a tractor is completely different than selling a car or a two-wheeler, the sales part is quite challenging," says Gupta. Elaborating, she explains when it comes to sale of a tractor, around 85-90 percent of the deals happen either in the field or at a customer's house, only a handful of sales are achieved through walk-ins.
"When a farmer decides that he wants to buy a tractor, he will walk into the showroom with around 10-15 people; over here each individual has a different thought process. You have to convince each and everyone before the customer decides to purchase," shares Gupta.
According to her in the tractor industry, the seller has to go and convince the customer of "why he needs to buy it most of the time", instead of the industry trend of a customer reaching out to the dealership for his need. "Sometimes, a farmer would call up at around 5 am, and inform that he wishes to buy a tractor that day. If we are unable to satisfy his demands, the sale is mostly lost," adds Gupta.
What's interesting is that, according to Gupta, most of the sales in the tractor industry happen through credit, and since the farmer demand is not completely predictable the dealerships have to ensure that they are able to service/meet all their expectation, including providing for credit.
Many a times, she says that the farmers come with zero advance, meaning it is up to the dealerships to take a call. Gupta says she took a firm decision – "I told my employees that we may lose out on some sales, but we shouldn't lose out on money." She says this helped her dealership to achieve a sustainable growth that translates to around 95 to 100 percent recovery (on credit/finance), except for some rare genuine cases.
Looking to set up India's first all-women tractor dealership
Interestingly to further enable her sales employees to take a judicious call in providing credit to genuine farmers and not risk business, she has put in place a unique pre-emptive measure of taking a security from the sales team. She says this ensures that the employees do their homework before extending credit to customers.
At present, Gupta employees over 55-60 people in her dealership, which consists of a strength of female employees around 15 percent. In an interesting revelation, Gupta says, she is targeting an all-women dealership that includes each function including aftersales and service by women in the next two to three years. In terms of growth, she says her dealership is growing on an average of 15-20 percent since inception, and in 2018 they sold around 800 tractors.
Sharing her message to young women in India who wish to join the automotive field, she says, "Historically women's capabilities has been undermined. But once a women decides to go out and take a risk, she can conqueror it all," adds a supremely confident Gupta.
RELATED ARTICLES