India Japan Lighting bags Maruti Ciaz order
IJL hopes its business orders for the Maruti Celerio, Tata Zest and the upcoming Maruti Ciaz will pay rich dividends as the passenger vehicle sector sees an uptick in sales, says Kiran Bajad.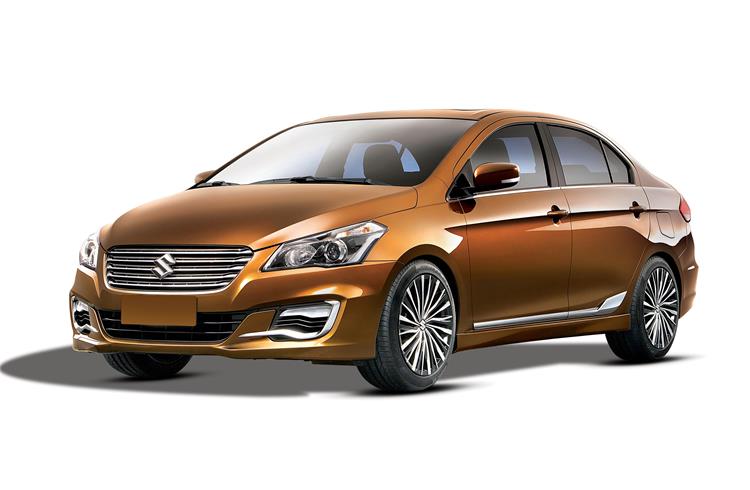 India Japan Lighting (IJL), the 50:50 joint venture between Lucas TVS and Koito Japan, which bagged the mandate to supply headlamps and tail-lamps to the MarutiCelerio hatchback earlier this year, is to supply another Maruti car – the premium Ciaz sedan slated for launch later in the year.
The company is bullish on this order given that the Celerio has been selling about 5,000 units a month. According to B S Sivaram, marketing head, "The orders for the Celerio and Ciaz together could well account for close to 17 percent of the total business of the company."
In addition, IJL also supplies products to the Honda Amaze and the Mobilio, launched in mid-July, which has received a very good response with over 10,000 bookings. The company's volumes increased significantly since it began to supply multi-coloured tail-lamps for the new Honda City launched in January.
IJL is also supplying lights for the Tata Zest sedan and its hatchback sibling, the Bolt, slated for launch later this year. In a significant development, the company claims it has, for the first time in India, indigenously developed projector and ring headlamps for the Zest. These headlamps are, so far, being used in premium luxury cars. However, it was able to indigenise these lights and supply them at an affordable cost. For the Zest, IJL has supplied three different headlamps including a normal headlamp, a projector headlamp and projector+ring headlamps for the variants.
Another IJL customer is Toyota Kirloskar Motor to whom it supplies both headlamps and tail-lamps for the Innova, and tail-lamps and fog lamps for the Etios, Liva and more recently, the Etios Cross.
TAPPING IMPROVED MARKET SENTIMENT
IJL hopes to tap the green shoots of growth seen in passenger vehicle sales which have registered increases for three months in a row. Over the past two years, the industry has seen a slow phase in sales and a consistent decline but with the recovery expected to strengthen in this calendar year, IJL expects its own performance to improve.
In 2013-14, IJL recorded a 40 percent growth against the previous year. It seems with large orders over the next year and a half, it is anticipating double-digit growth. Last year the company recorded a turnover of Rs 340 crore and this year, on the back of healthy orders, it expects to touch Rs 420 crore and cross Rs 500 crore over the next 18 months.
IJL is also working on various new projects with a number of OEMs including Maruti, Nissan Motor India, Tata Motors, Mahindra & Mahindra and Toyota, all of which, according to Sivaram, are at the initial stage. Lighting solutions are part of the overall vehicle designing and therefore IJL works with OEMs from day one. From product development to final assembly, this could take at least three years.
Besides passenger cars, IJL also supplies its products to major two-wheeler and commercial vehicle players. In the two-wheeler segment, it is concentrating on Honda Motorcycle & Scooter's premium models and for its best-selling Activa has over 70 percent of the headlamp business. In a new development, IJL has started supplying LED tail-lamps to the Yamaha R15 for the domestic market as well as export too, as Yamaha gears up to export these bikes. Further, Yamaha is expected to commence production at the new Chennai plant later this year. IJL will supply headlamps for the Yamaha Alpha scooter and other models that are manufactured at this plant.
On the CV front, IJL developed headlamps for the Ashok Leyland Boss and Captain range of trucks and has started supplying to them. However, volumes are yet to pick up as the segment goes through a slow phase. In addition, IJL already supplies some lighting solutions to the Dost LCV. Other CV customers include Daimler India Commercial Vehicles including lighting solutions for the Fuso trucks which are exported. All these orders make Sivaram confident that IJL can cross the Rs 500-crore turnover mark with a stable and steady performance for the next 2-3 years.
IJL has two manufacturing plants, one each at Chennai and Bawal. While the Bawal plant caters to OEMs in north India and is operating at 100 percent capacity (its annual capacity is one million units each of headlamps and tail-lamps), the Chennai plant caters to customers in the south and is operating at close to 65 percent capacity. The Chennai plant has a total capacity of one million headlamps and half-a-million tail-lamps. The JV focuses primarily on the domestic market as Koito has a global footprint spread over 33 companies.
OEM FOCUS
In the lighting segment there is an enormous aftermarket available and most of the home-grown companies focus on this segment. However, IJL is currently occupied with supplying to its OE customers and remains to focus on OEM business, although it supplies the aftermarket but through OEMs' brands.
The lights in a vehicle – both headlamps and tail-lamps – are critical from a safety point of view and have about 40 different regulations such elevations-height, bulb source, light intensity, and desistance of light. Styling-wise, for cars, lamp development begins right at the start of the car design which is why it takes 3-5 years from development to mass production.
IJL has a strong R&D team that works on new technologies and the manufacturing process. "We have learned all latest technologies from our JV partner, and in the beginning do combine R&D with our Japanese engineering, but importantly we do indigenous R& D," explains R SenthilVelavan, head (Engineering & Quality Assurance).
According to R SenthilVelavan, with Koito being a global player with all the latest technologies available, the challenge is to adapt them for India in order to offer them at an affordable cost. The R&D works to bring down costs but not compromising on technology and quality.
To keep costs in check, IJL has its own engineers develop critical technologies to suit Indian customer requirements and also to source via multiple channels without any compromise on the material specification. The Indian manufacturing and moulding operations, says SenthilVelavan, helps reduce costs significantly.
Depending on the type of the lighting product required, the total cost of imported lights compared to making the same in India could be around 50 percent less.
"In the Tata Zest and Bolt, it was possible to use the best and lightweight technology mainly because we made efforts to reduce the price so that it would be possible to offer the technology even for entry level," says R SenthilVelavan.
Speaking about future trends in the automotive lighting field, he says
LEDs are the way ahead because they offer wider scope for achieving different styling as well as the benefits of instant switching, durability and safety. Tackling rising costs remains a challenge but with higher usage, this is expected to reduce in the years to come.
RELATED ARTICLES