India at 75: Electric is now mantra for automakers
OEMs and startups are investing in new products and technologies to usher in an EV revolution that could change the face of motoring in India.
EV companies like Ather are setting up experience centres for their products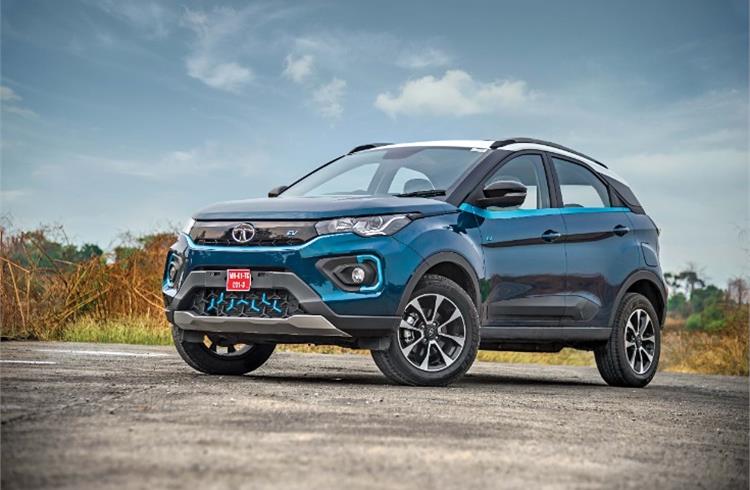 The Nexon EV has given Tata Motors the first mover advantage in the segment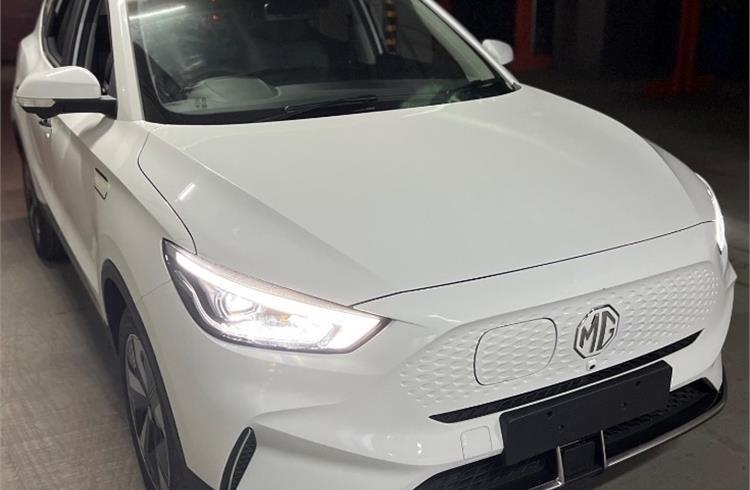 MG Motor India's ZS EV will soon be joined by another EV offering in the affordable segment
A proud family takes delivery of its EV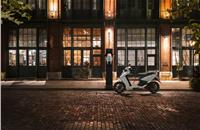 As the push for sustainability gains further momentum the world over, India's ICE companies and startups, many of whom work with the old economy players are looking to reengineer the vehicle architecture from a sustainability perspective.
For a developing country like India, where the predominant share of the personal vehicle parc is formed by two-wheelers, followed by small cars, the automotive industry has its task cut out to minimise emissions, as well as help slash the country's huge crude import bill.
While the last decade saw intermittent actions from the industry, with OEMs taking the baby steps in investing into the electrification technology, the momentum has picked up post-pandemic. This is being seen in the EV space where sales were only pegged at a fledging 2,000 units in fiscal 2019 but thanks to spiralling fuel prices, sales have soared albeit on a low base by 686 percent to 211,398 units in the April-June quarter of the current fiscal as against 26,833 units for the year-earlier period.
FADA data suggests that retail sales of EVs hit their highest at 429,217 units in FY22, up 218 percent on FY21's 134,821 units, and up 155 percent on FY20's 168,300 units. From the looks of the fast-increasing EV sales in Q1, the current fiscal may well see new records being made.
PV majors step up game
In the passenger vehicle (PV) segment, Tata Motors, which has gained the first-mover advantage with its long-term strategy of entering the EV space has hit paydirt with the all-electric version of the Nexon crossover in January 2020 by plonking its EV technology in the ICE Nexon. The company's managing director, Shailesh Chandra told Autocar Professional in an interview that "The Nexon EV would be expected to play a good role in the industry's growth."
Tata Motors, which at present has three models – the Nexon EV, Tigor EV and fleet-only XPres-T EV – is looking to aggressively expand its EV portfolio and is slated to launch 10 new EVs even as it recently showcased its second- and third-generation EV architectures in the form of the Curvv and Avinya concepts, respectively.
Earlier this month, Tata Motors signed a definitive agreement to procure Ford India's Sanand plant in Gujarat for Rs 726 crore, through its EV arm Tata Passenger Electric Mobility. The acquisition of Ford's facility will give it 300,000 units of annual production, scalable to 420,000 units, and the new plant will certainly be a part of the company's EV plans.
Mahindra & Mahindra (M&M), which started off its EV assault with the acquisition of the Reva Electric Car Company over a decade ago may not have been able to leverage its first-mover advantage but is now working to a plan and will unveil its range of all new Born Electric vehicles designed and developed grounds-up this month in the UK. in the electrification journey.
MG Motor India is by far the second-largest passenger EV player in the country with the success of its ZS EV crossover giving it a good head start. Launched in 2020, the ZS has clicked with EV buyers with its premium appeal and reasonable battery range, which is pegged at an ARAI-certified 461km from its 44.5kWh lithium-ion battery pack. The carmaker has leveraged its advantage of getting matured EV technology from its Chinese parent SAIC, which also has a range of other green technologies. MG Motor India is gearing up to introduce a compact, two-door, micro-EV, targeted at the mass-market audience in the sub-Rs 15 lakh price range next year.
Hyundai has tried to make its mark with the Kona Electric crossover. However, the car has failed to make a serious impression in the Indian market, perhaps because of its radical styling, that looks a little too unconventional for the present market scenario. But with its Korean sibling, it has identified EV technology to be the focus area in the longer-term, and are betting big on a host of greener solutions, including fuel-cell technology, available with the parent Group.
"As far as the Hyundai Group is concerned, we have access to all technologies, be it hybrids, electrics or fuel-cell vehicles. But we have to determine our roadmap in line with the policies of every country," said Tarun Garg, director, marketing, sales and service, Hyundai Motor India, in an earlier interaction with Autocar Professional.
The company has outlined introducing six new battery-electric vehicles in India by 2028, with the first launch of this strategy coming later this year in the form of the Hyundai Ioniq 5. Kia India too introduced its first EV - the Kia EV6 earlier this year.
Maruti Suzuki India too is heading in that direction with the company gearing to introduce its first all-electric model by 2025. However, even the mass-market leader will see it difficult to introduce an electric car in the affordable segment, simply because of the high cost of the battery technology. While the company's first EV is expected to be in the midsize SUV space, the Japanese carmaker, with its alliance partner Toyota, is establishing the right ecosystem for the battery supply chain along with players like Denso and Toshiba, which has a battery manufacturing plant in the country in Gujarat.
The offtake of electrification is also highly dependent upon not just the battery technology but on charging infrastructure as well. While India currently has around 10,000 public chargers, "The country needs around 120,000 more DC fast chargers in the coming five years given the rate of EV penetration," Anant Nahata, MD, Exicom Group told Autocar Professional.
Charging infrastructure and technology companies such as Exicom, that holds around 40 percent share in the DC fast charging category, with a dominant 70 percent share in the home charging space, are increasingly investing in this space with a long-term perspective. OEMs too are partnering with firms such as these to set up chargers at their dealerships and other strategic locations to build momentum for the EV market.
Low-hanging fruits
The low-hanging fruits, however, in this transition towards electrification are clearly the two-wheelers. The key factors that have aided this rapid transition include the relatively simple nature of the EV technology for two wheels, lesser range anxiety than in the case of cars electric cars and low running costs in times of skyrocketing fuel prices.
The promising sector has seen early entrants such as Hero Electric and Okinawa, which have tried to understand the market, build footprint, spread awareness as well as strengthen production capabilities. The opportunity has also been lapped up by newcomers like Ather Energy, Greaves-acquired Ampere Electric, and Ola Electric, which have been able to make their mark with a strong product each, and key investments into local development and production base in the country. Furthermore, the size of the Indian two-wheeler market has provided enough room to completely new players, many importing Chinese technology from China and selling locally-assembled products.
Bengaluru-based Ather Energy which expanded capacities and setup a new plant in Hosur, Tamil Nadu in 2021, is bullish about demand in the e-scooter segment. In July 2021, Tarun Mehta, co-founder and CEO, Ather Energy, told Autocar Professional that "there is a ton of demand out there, and over the next five years, I believe as much as 50 percent of the Indian scooter market can go electric. The primary constraints will be the number of products available and capacities."
While the young start-ups have been proactive in understanding and introducing EV products into the Indian market, traditional players such as Bajaj Auto, TVS and Hero MotoCorp, are too following into their footsteps and increasingly moving towards the electric technology. While Bajaj revived the legendary Chetak scooter in its electric avatar in 2019, TVS introduced its all-electric iQube in 2020.
Both companies have been consistently taking incremental steps to improve their respective products as well as growing their market reach. In May, Bajaj Auto kicked off production of the Chetak at a brand-new dedicated EV manufacturing facility in Akurdi, Maharashtra, where the automaker and its vendors have committed to invest over Rs 750 crore. The company sees growing potential in the electric two-wheeler space with the facility geared for ramp up to 500,000 units in the coming years.
Although it holds nearly 35 percent stake in Ather Energy, Hero MotoCorp is also intensifying its efforts in coming up with its indigenous range of electric products, with the first one likely to be an e-scooter, slated for an unveil in the run up to the festive season. The company has, however, revealed a new sub-brand – Vida – to power its EV ambitions.
Hero's erstwhile joint venture partner Honda Motorcycle & Scooter India too has become upfront about pursuing its EV plans, with the company having successfully conducted the feasibility study of its first product. "We are looking at the concept of battery swapping for alleviating range anxiety as well as offering convenience to customers," said Atsushi Ogata, MD, President and CEO, in a recent interaction. While HMSI is still at early stages and is planning to commence development of an India-specific product soon, it is building a battery-swap network for electric autos and e-rickshwas, with its swapping stations coming up under the Honda Power Pack Energy India vertical. The target is a network of 70 swap stations in Bengaluru in the initial phase and expansion across the country in a phased manner.
RELATED ARTICLES