Hero plots faster ride on electric avenue
With the push by the government towards adoption of EVs along with the consumer perception tilting towards usage of shared mobility, the country may witness the next stage of evolution in the mobility space.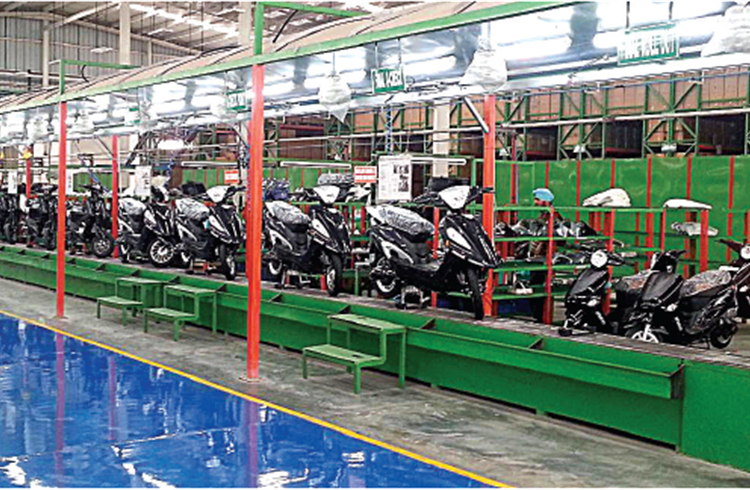 Hero Electric is keen to plug into the government's ambitious electrification programme. CEO Sohinder Gill speaks to Nilesh Wadhwa on why this is the best time for OEMs to make EVs, the sales challenges and why it's a matter of time before lithium ion batteries are made in India.
As India prepares for an ambitious all-electric vehicle population by the year 2030, one of the earliest entrants in the EV segment, Hero Electric is bullish on the prospect of e-mobility growing in the country. The New Delhi-based company plans to have a wide range of high-speed products along with an equal number of low-speed products in the next six months.
With the push by the government towards adoption of EVs along with the consumer perception tilting towards usage of shared mobility, the country may witness the next stage of evolution in the mobility space. "As the government's intentions are becoming clearer, along with NITI Aayog (the government's premier policy think-tank) talking about EVs, we are much more optimistic," says Sohinder Gill, CEO, Hero Electric and director, Society of Manufacturers of Electric Vehicles (SMEV).
The company, which has its manufacturing base in Ludhiana, Punjab, has sold more than 100,000 two-wheelers and currently has an over 300-strong dealer and service network in the country.

BULLISH ON EV ADOPTION IN INDIA
While the company has been in the e-vehicle segment for a long time, it sees India's momentum to be fast changing as the government is serious about what it wants to do and its objective. But recent sales statistics of EVs in India are hardly electrifying – in 2016-17, EV sales were a mere 24,000 vehicles comprising 22,000 two-wheelers and 2,000 four-wheelers. Hero Electric is currently targeting a Rs 100 crore turnover in FY2017- 18 and aims to become profitable by 2020.
In April 2015, the government implemented the first phase of Fame- India (Faster Adoption and Manufacturing of (Hybrid &) Electric Vehicles in India) for two fiscals (2015-16 and 2016-17). The scheme focused on four areas – technology development, demand creation, pilot projects and charging infrastructure – albeit most did not see much traction. "Of all the things decided in the policy, only one thing happened – direct incentives to the customer. What was supposed to happen two years ago have started to happen now," says Gill.
With a current range of around six products, the company is focusing on having a balance of high-speed and low-speed performance products that can cater to a variety of consumers. "When we initially came out with our products, the concept of e-scooters was not known to the customer. Many people compared the performance with traditional scooters but at the same time it was not accurate to judge the two products at the same level, given the fact that cost of the e-scooter was much lower than its counterpart," mentions Gill.
According to Gill, the reality of electric mobility adaption should start with the focus on adoption of electric two-wheelers, as the country has a huge proportion of commuters who rely on usage of two-wheelers for their day-to-day activities. While the stage has been set by the government since 2015, the lack of on-ground action that led to a delay in adoption will hopefully change in the coming years. Hero Electric's initial products, whose USP was more about cost benefits, are being phased out. They are to be replaced by a newer range of products aimed at providing performance at par with petrol-engined two-wheelers.

Along with two-wheelers, the public transport system can be the second key to drive the government's e-mobility vision. Importantly, it will help create the much-needed charging infrastructure to make adaption of EVs a reality. There is also the likelihood of providing lithium-ion batteries on a per-charge basis for three-wheelers, which will help reduce cost of ownership in that segment while also improving last-mile connectivity.
FUELLING EVs
One of the biggest factors that make up a bulk of cost in EVs is the cost of the lithium-ion battery. With drastic reduction in costs from an estimated $1,000 per kWh in 2010 to $227 per kWh in 2016, EV battery prices are dropping sharply. With increase in demand for the cells helping manufacturers reduce production costs and also achieve economies of scale, the future green fuel will see a much-reduced price that is going south compared to traditional fossil fuel.

COMPETITIVE MARKET
"Most two-wheeler companies have their backyards with half- or fully developed e-scooters that are ready to be pounced in the market. But until their existing line-ups are witnessing healthy sales, why should the companies, hurt their own healthy sales numbers? They already have their production facilities working in double-shifts to cater to the demand. Only some mediating by the government or market forces will trigger a shift. For OEMs who are sitting cozy, with big money and big volumes, it is a risky proposition to open up a new plant (for EVs)," says Gill, commenting on the low-visibility of EV products by existing OEMs.
(This article was first published in Autocar Professional's 1st August 2017 Issue)
RELATED ARTICLES