Growing global demand for telematics and V2X sees L&T Technology Services game to ride the next wave
From an integrated 5G network design to optimise end-to-end V2X connectivity, to the ACES megatrend and state-of-the-art security solutions for connected cars, this engineering major is being buoyed by the increasing demand for vehicle telematics, among other technologies.
L&T Tech is working on realtime 3D navigation for its Advanced Driver Assistance Systems and autonomous drive solutions.
The company sees a different level of maturity for the ACES megatrend in India compared to the West, but believes it surely is catching up.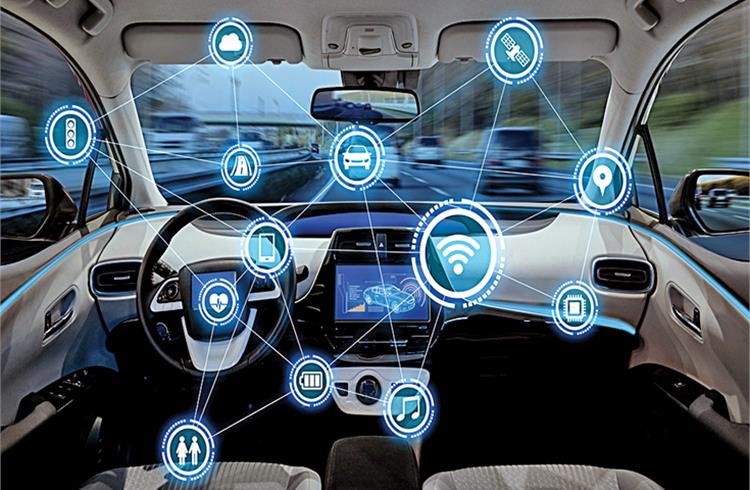 L&T Tech's upcoming state-of-the-art EV testing lab in Bangalore will allow it to test and validate almost all the components of EVs including Battery Management System.
The ongoing pandemic has disrupted the normal way of life for everyone, from individuals to companies and countries, but challenging times often throw up new solutions.

In the past, the concept of Work-From-Home was restricted to a minuscule few but now it seems to be de rigueur for most companies and industries, albeit not in the manufacturing sector. Bangalore-headquartered engineering major L&T Technology Services (LTTS) is working on a slew of new solutions, services, and technologies to cater better to the automotive and mobility sector.
Sharing his thoughts on the present situation, Shailendra Shrivastava, Global Head of Transportation, LTTS says, "The overall ER&D story, of which we are a key player, remains intact in the long run. These are periods of short-term impacts for organisations globally, but it all depends on how soon the industry can resume normalcy. We believe that the extended lockdown period has accelerated and ushered in new changes across the transportation sector and given an opportunity to us to develop new solutions. Being an agile technology company, we are in constant connect with customers to evolve and build solutions for the post-Covid era."
In the past six months, Shrivastava says that the auto industry "has seen a reversal of fortunes of sorts — with automakers going from a position of facing excessive demand to a situation of no demand during the lockdown phase. Now that the lockdown is partially lifted, the auto industry appears poised for a moderate rebound in the short-term, with a more gradual recovery in the long term. The good news is trends such as autonomy, connectivity, electrification of vehicles and shared mobility (ACES), advanced safety and telematics systems remain prevalent in 2020 and automakers, OEMs and Tier 1 companies are focusing either on accelerating or consolidating their progress in these areas."
What exactly are the new trends that LTTS sees on the back of Covid-19? According to the company, the pandemic has forced a shift in overall consumer sentiment with the global population now reconsidering urban transport. Public transport, car and bike sharing, travel habits and customer demands have changed significantly. "In India, we observe a growing consumer preference for affordable personal transport. With advances in technologies such as Machine Learning (ML), Internet of Things (IoT) and artificial intelligence (AI), we expect rising demand for app-controlled car systems, in addition to touchscreen infotainments in the Indian automotive industry. Safety being an operative word now, vehicle telematics is set to grow by leaps and bounds," says Shrivastava.

For the tech major, another important trend in the post-Covid world is that of connectivity, which has enabled work from almost anywhere on the planet — from application, testing to engineering and R&D services. People can work from anywhere and yet seamlessly contribute to product development that means "technology can be engineered from anywhere."


New EV testing lab in Bangalore


The megatrend of ACES in the automotive industry globally has started reaching a "certain level of maturity" and is starting to pick up in India. For L&T Tech, it means a bigger opportunity to bring its global experience to the forefront. The company at present says its team is working on advanced 5G-based telematics solutions on the vehicle processor side, using AUTOSAR-based architecture. Shrivastava says, "From a telematics perspective, we are also working on various V2X (vehicle to everything) and V2I (vehicle to infrastructure) applications for autonomous drive, electrification from vehicle-to-grid and grid-to-vehicle communication on charging the vehicle. Additionally, we are also engineering real-time 3D navigation for our Advanced Driver Assistance Systems (ADAS) and autonomous drive (AD)."

Interestingly, L&T Tech is also setting up an electric vehicle testing lab in Bangalore. According to Shrivastava, "This state-of-the-art lab will allow us to test and validate almost all the components of EVs like Battery Management System (BMS), invertors, converters and even the algorithms. This will be a one-of-a-kind lab for any engineering service provider. "

While with any new technology, the early adopters are the maximum risk takers as well as those who reap the maximum gains. According to L&T Tech, "The automotive sector has been one of the early adopters of the IoT revolution in India. Machine-to-machine connectivity and AI have brought about a transformation in both driver behaviour and driving patterns. Engineering data analytics is driving the trend of data monetisation in the Indian subcontinent. Over the years, a number of prominent OEMs and Tier 1 companies have set up manufacturing bases and R&D facilities in India which is further contributing to the emergence of the connected vehicle business."

"Engineering firms like LTTS and others are helping customers seamlessly adopt smart factories — which use a combination of IoT, cloud computing and cognitive computing — to connect the entire production chain. In recent years, India's road infrastructure has seen consistent improvement with improved connectivity and has become a focal point for rapid development. Government of India's Ministry of Road Transport and Highways has built a strong road network in the country that will help connect and influence India's overall development," says Shrivastava.
To ensure peace of mind in terms of cyberattacks, LTTS says it has already developed security solutions to address the security needs of a connected car. Its cybersecurity framework offers end-to-end vulnerability assessment and penetration testing for automotive products, which it says help customers across industries to evaluate attack surface for their products, create threat models, define security requirements, design security architecture and conduct penetration test of products.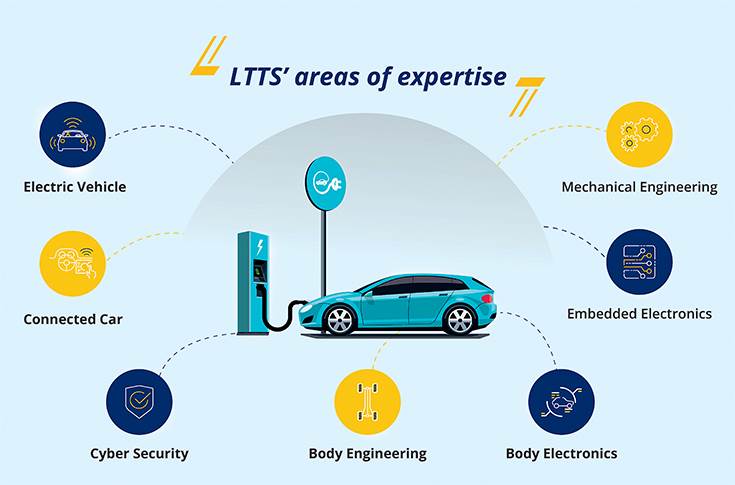 L&T Technologies says its 360-degree service suite spans across design, development, sourcing and manufacturing services as it strives to meet global transport safety protocols, emission standards.

OEM clients look to expand India operations
While the pandemic has brought a number of challenges, it has also brought to the fore the subject of de-risking of the automotive supply chain amid geo-political situations. This may act as a favourable opportunity for companies looking at expanding in India.
Sharing his views on the 'Make in India' programme, Shrivastava says, "India continues to be an important market for many global OEMs. The government's 'Make in India' initiative has played a key role in elevating India's position as an automotive hotspot with keen participation from foreign manufacturers to set up their facilities here due to the availability of skilled and semi-skilled workers and a strong educational system. We believe this is a great opportunity for Indian companies. Our conversation with our customers is ongoing, despite the Covid-19 pandemic and we are in discussion with a number of OEMs to help them expand or consolidate operations in India."
Shrivastava though is tight-lipped about the OEMs which are currently engaged in talks with L&T Technology for their plans for India. But given the fact that it is actively working with automakers across the globe, it would be safe to surmise that one can expect new announcements from OEMs and Tier 1s on their India journey.

The global automotive sector is now witnessing unlikely alliances and partnerships between traditional competitors, a welcome move that will likely benefit and define the future of mobility. According to Shrivastava, "In the coming years, we will see an increasing number of partnerships as cars become software-defined and OEMS own an increasing proportions of software features."

This requirement results in direct collaboration between OEMs and many leading semiconductor companies. The partnership helps assume responsibility for the safety standards and functional features as well as have control over the software that goes into the vehicle. Tying up with semiconductor manufacturers also opens channels for digital revenue as cars become more software defined. LTTS has been engaged in active talks with various semiconductor companies, including a leading chip maker from Japan, to see how it can jointly support OEMs' "go-to-market" strategies." But that would call for an altogether new report.
(These are excerpts of the interview, published in Autocar Professional's July 1 issue, also an annual 'Connectivity & Electronics Special' issue.)
RELATED ARTICLES