Ford will have to weigh all options for electric facility in India
The Maraimalainagar facility near Chennai is a logical choice, especially with Sanand tipped to be sold to Tata Motors but there are other issues to reckon with.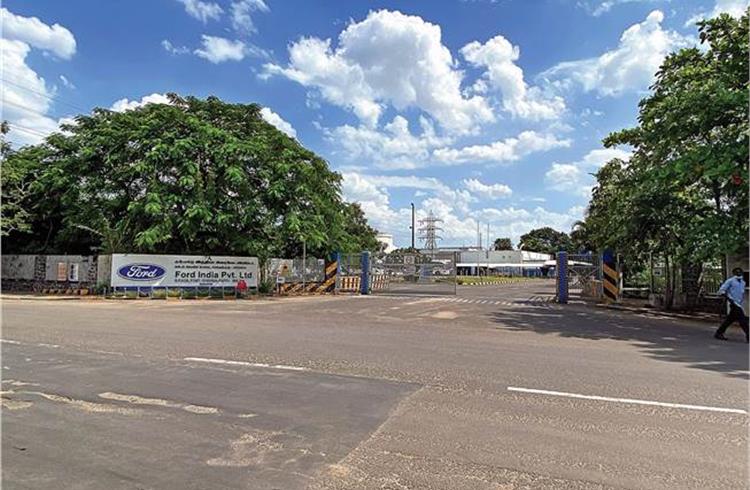 Ford has been making news in India over the last few weeks even though it is over seven months since it made known that it was going to stop producing cars for this market.
In February, the Centre announced that the American automaker was among those entities which qualified for its PLI (production linked incentive scheme) where the core objective is self-reliance. In Ford's case, it was made amply clear that this meant production of electric vehicles and components for overseas markets.
Then more recently came the news of Tata Motors likely to acquire the company's Sanand plant in Gujarat even though there has been no official confirmation yet. For all practical purposes, it is a done deal except that there will have to be a lot of administrative work to be carried out before the plant finally changes ownership status from Ford to Tata Motors.
Yet, as part of its exit plans, the Dearborn-headquartered company has announced that it will continue to produce and export engines at Sanand for its global operations. This means that only the automobile business will pass on to Tata Motors while issues relating to absorbing the existing workforce will have to be sorted out by the two companies and the Gujarat government.
So this leaves the Maraimalainagar facility near Chennai which Ford had established two decades earlier when it decided to grow its India presence beyond the joint venture with Mahindra & Mahindra at Nashik to assemble the Escort. It was from this Chennai plant that the popular Ikon model rolled out and cemented Ford as a brand to reckon with in this competitive market.
It was also the period when the company was tipped to acquire the beleaguered Daewoo Motors business worldwide before it backed out and General Motors stepped in as the Korean automaker's knight in shining armour. Interestingly, this was the time when Ford's Indian arm was exploring a powertrain alliance with Fiat though nothing came out of this eventually.
Global markets
Fast forward to the present and here is Ford which announced its India exit last year and is promptly back on the radar as a participant in the country's PLI scheme. To assume that the company has changed its mind about quitting and will now sell electric cars in India is a fancy and romantic thought. Ford has made it clear that this initiative will service global markets which essentially means Europe and the US.
Will the company now kick off this EV journey at Chennai where operations will officially come to a standstill very soon? Nobody knows what is in store, which includes the Tamil Nadu government that is keen on finding a buyer for the plant and taking care of the 2,000 plus workers who are due to be jobless soon.
Reports have been doing the rounds for a while that Hyundai was in talks with Ford as also Ola Electric. Prior to this, Changan Automobile of China had apparently toyed with the idea of producing cars in this facility but then the Chinese army decided to occupy Indian territory at Ladakh.
With no love lost between the two countries as a result, Changan dropped its India plans. Similarly, Great Wall Motors had agreed to take over the GM plant near Pune in early 2020 but is still waiting for the green signal which is not likely to happen in a hurry.
Ford will doubtless be pleased that one half of the India exit puzzle has been solved with Tata Motors hopefully stepping into Sanand. Will Chennai now pave the way for its electric drive which is an integral part of its priority list for this decade?
"On the face of it, there is no reason why the plant cannot double up as the new electric hub for Ford," says a top automotive CEO based in Chennai and a keen observer of the industry.
Vibrant auto hub
According to him, the biggest advantage the Maraimalainagar facility offers is its location in a vibrant industrial zone which is home to a host of automakers and ancillary suppliers.
Across this belt stretching to Oragadam and Sriperumbudur are some of the biggest brands such as Renault-Nissan, Daimler India Commercial Vehicles, Hyundai Motor India, BYD, Royal Enfield, Yamaha and a host of others. Hyundai, of course, has been the biggest success story in this region where the script opened with the Santro. Ford also had a blazing start with Ikon except that it ran out of steam while its Korean neighbour grew from strength to strength.
Like other states, Tamil Nadu is also keen to prove a point in the electric arena and plans to pull out all the stops in making this a reality. Two decades earlier, it successfully laid out the red carpet in wooing some of the biggest brands which put the state on a pedestal-like status as the Detroit of Asia. This decade will see electric take centrestage and Hyundai has already announced big investments to set the ball rolling in India.
The access to the Chennai port is another big plus for Ford which, in any case, has been focusing on exports from India for many years now. With electric, the focus will be on Europe and the US where its alliance with Volkswagen is another important component of this vision.
During its long stint in India, Ford has figured out that the country has huge competencies in engineering, R&D and manufacturing even while it did precious little to increase its domestic market share. These strengths will be tapped at Ford Business Solutions which will continue to operate out of Chennai as an integral part of the company's business plans.
Electric, likewise, may well see a new lease of life at Maraimalainagar once the Sanand deal is sealed and Ford takes a call on this all-important move. "It definitely makes more sense to continue operations at an existing plant instead of investing money elsewhere for an all-new facility," says an industry official.
The bigger challenge could lie in the fact that absorbing the existing workforce would be a different ball game altogether. Electric will need specialised skills and it is a moot point if such a large workforce would actually be required for this foray. Then, there is the TN state government to reckon with since it will ideally want jobs to stay intact at Maraimalainagar.
"It is not going to be easy by any stretch of imagination especially when this involves a touchy subject like labour," adds the official. Tempers can run high when people find themselves redundant at a time when the economy is already on a slippery slope with inflation spinning out of control. If a solution is found, Ford may well resume its innings at Maraimalainagar in this new electric avatar…else it will just look for options elsewhere especially when other Indian states are bending backwards to woo new investments.
Did Ford act a little too hastily in announcing its India exit especially when it was back in the reckoning for the PLI scheme? It may just make for an interesting case study in the future but perhaps the company had had enough of operating in markets which yielded nothing in terms of profits. It had already shut down its Brazil plant last year and India followed suit some months later.
Electric has changed the dynamics all over again except that the choice of facility will be a tough challenge and a virtual tightrope walk. Ford President and CEO Jim Farley has already introduced the Ford+ plan which will involve the formation of two businesses – Ford Blue and Ford Model e.
"Ford Model e will be Ford's center of innovation and growth, a team of the world's best software, electrical and automotive talent turned loose to create truly incredible electric vehicles and digital experiences for new generations of Ford customers," Farley had said.
Ford Blue's mission, on the other hand, is to deliver a "more profitable and vibrant" ICE business and strengthen "our successful and iconic vehicle families". It is about harnessing a "century of hardware" mastery to help build the future.
According to Farley, the team would be "hellbent on delivering leading quality, attacking waste in every corner of the business, maximizing cash flow and optimizing our industrial footprint". How India fits into this plan will be clear in the coming months when Ford finalises its site for EV manufacturing.
The feature was first published in Autocar Professional's April 1, 2022 issue.
Also read
Ford drops India plans for EV exports

RELATED ARTICLES