Flash Electronics and RE settlement: so near, yet so far
Negotiations between Flash Electronics and Royal Enfield over a regulator-rectifier patent infringement comes very close to settlement before fizzling out again.
The Pune-based Flash Electronics, which manufactures electrical auto components for two-, three- and four-wheelers, created a stir in the Indian auto industry in May 2019 when it filed a lawsuit against Royal Enfield for patent infringement in the US, regarding the production of a key component for its motorcycles. As per the suit filed, Royal Enfield has allegedly infringed on the Indian company's patent on a 'Regulator Rectifier Device and Method for Regulating an Output Voltage of the Same' issued by the United States Patent & Trademark Office (USPTO) to Flash Electronics on February 20, 2018.
Flash Electronics says its R&D department made a breakthrough invention of the component in 2014. Since then, the company has been the manufacturer and supplier of this component to many leading two-wheeler OEMs in India and overseas.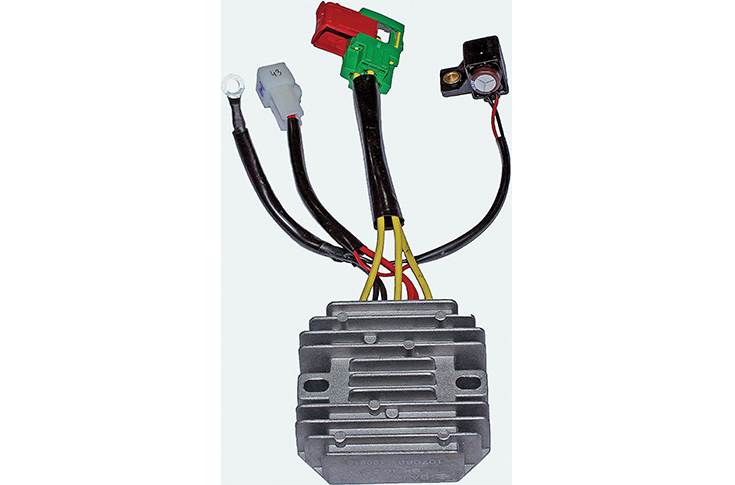 Regulator-rectifier converts AC into DC voltage to charge the motorcycle's electrical systems
The regulator-rectifier is a vital component that converts the AC (Alternating Current) voltage produced by motorcycle engines into DC (Direct Current) voltage to charge the battery, power the headlights and light up the instrument panel – essentially its function is to drive a motorcycle's electrical systems.
Besides the US, Flash has been granted a patent in other countries including Germany, France, Italy, United Kingdom, the Netherlands, Sweden, Spain, Austria and Switzerland as well as Turkey.
Flash Electronics says it approached Royal Enfield in 2014 with a business proposition only to realise later that RE asked another company to manufacture it. According to Sanjeev Vasdev (pictured below), founder and managing director, Flash Electronics India, after the filing of the case in the US, Royal Enfield management approached him in June 2019. "We had more or less reached a settlement with Royal Enfield but at the very last minute, there was a change of negotiators. Let's put it this way — the team I was dealing with suddenly changed and then we could not arrive at the settlement," says Vasdev.
Sanjeev Vasdev: "We had more or less reached a settlement but at the very last minute, the negotiators changed."
Offering a glimpse into the settlement talks between Flash Electronics and Royal Enfield, Vasdev says in October 2018 his company approached the Chennai-based bike maker, informing it about the patent infringement. Two senior executives from RE got talking and assured him that the matter would be sorted out within the next 3-4 months. However, when things did not move any further, Flash went ahead and filed the legal case in the USA in May. Within 10 days of filing of the suit, Royal Enfield's top management team is said to have contacted Flash Electronics, aiming for a settlement. "It was only a matter of sorting out minor ifs and buts," points out Vasdev, adding that when finally called for the last-held meeting in August 2019, he was surprised to find the very same executives, who had approached him earlier, present instead of the team with whom he was holding negotiations. "So naturally, there was no possibility of coming to a settlement."
Vasdev emphasises there were no monetary benefits in their demand and the compensation was 'typically' in the form of royalty and business understanding.
Royal Enfield's response
Autocar Professional contacted Royal Enfield for its side of the story. A company insider said that negotiations on such matters happen as per the standard operating procedures where different teams hold talks. "It just does not mean that we are derailing the talks," he said. Meanwhile, a Royal Enfield spokesperson said that the matter is sub-judice.
Royal Enfield had earlier said, "As mentioned earlier, depending on the requirement, we work with several vendors for the development and supply of parts. We are in talks with various suppliers and vendors for many of our components and the Regulator Rectifier Units are no exception. The cost of this particular component constitutes a negligible proportion of the cost of the motorcycle but we constantly evaluate various options based on quality, technology, and delivery and cost basis our on-going sourcing strategy". Also, in a regulatory filing, the company asserted that it is fully prepared to meet the BS-VI implementation timelines and to implement its growth strategy in all markets it operates in, "notwithstanding the progress and outcome of the litigation with Flash Electronics in the US court, or continued supplies from any particular vendor".
Flash Electronics halts acquisition plans
In April 2019, Flash Electronics had raised Rs 200 crore from private equity firm DMI Finance to expand operations. Vasdev says that about 60 percent of this amount has already been invested and another 20-odd percent is to be spent towards BS-VI and EV readiness. However, around 25 percent of the raised amount, originally meant to be used for acquisitions, has not been used. "That was the only part held back. At this moment in time, we want the industry to stabilise and have some clear-cut visibility coming in before we look at an acquisition," explains Vasdev.
He adds that Flash Electronics was keen to carry out an acquisition in electric or electronic components but has now developed most of them on its own, and thus is not hard-pressed at present for one. In October 2015, the company acquired Germany's Bing Power System to expand its global footprint.
The group supplies components to Bajaj Auto, India Yamaha, Maruti Suzuki and Jawa Motorcycles, among others. Globally, it counts Porsche, Audi, BMW, KTM, Kawasaki, Harley-Davidson, Ducati, Triumph and BRP-Rotax among its clientele.
Exports as a de-risker
Though Vasdev is in agreement about the ongoing industry slowdown, he says Flash Electronics is not "that badly" hit. In the first six months of FY2020, the company has recorded marginal growth of 7-8 percent. "So, for us, it's not been that bad," he remarks. He claims the company, which has manufacturing units in Germany and Hungary, started focusing on exports from 2015 to de-risk its business from regional uncertainties.
According to Vasdev, it is still not very late to start exporting due to the sizeable pent-up demand in global markets, especially in view of the US-China trade war. However, he cautions that even exports could get hit as the US has recently turned its attention to Indian products, levying 28-30 percent duties on certain components like forgings.
As regards Brexit and its fallout, Vasdev says it is too early to comment on the effect Brexit will have on Flash Electronics since it operates in Europe. "How Brexit finally happens, we will all know in a month's time. We have a unit in Germany. There are a lot of expectations in Germany that it will benefit. But globally I can see a recession setting in," he adds on a cautionary note.
Rising patent infringement cases
Before the slowdown kicked in last September, India's automobile industry was one of the fastest-growing in the world and saw new product launches with alacrity. But there has also been a steady increase in cases of allegations over patent infringement.
In 2007, TVS Motor Co and Bajaj Auto were involved in a lawsuit regarding the unauthorised application of the patent of the DTSi (Digital Twin Spark Ignition System) in the TVS Flame bike
In August last year, one such infringement case was filed against home-grown Mahindra & Mahindra (M&M) by Fiat Chrysler Automobiles at the US-based International Trade Commission. M&M denied the allegations which related to the Roxor, an off-road vehicle launched in the US by M&M. Fiat claimed that M&M copied the looks and design of its iconic Jeep. Likewise, in another major case over a decade ago, the launch of the TVS Flame sparked off a patent tussle between TVS Motor Co and Bajaj Auto over the use of twin-spark plug in the Flame motorcycle. While Bajaj filed a suit citing patent infringement, TVS responded filing a countersuit alleging infringement was a 'groundless threat'.
With the Indian as well as the global auto industry currently struggling for traction in the wake of stringent regulations, changing consumer mobility patterns and rising costs, it can do without growth-impacting issues like court cases.
(This article was first published in the October 15, 2019 issue of Autocar Professional)
RELATED ARTICLES