Eaton targets future growth from BS VI, axle load norms, e-mobility
The power management company has an optimistic strategy for the new axle load norms, BS VI, electrification and automated manual transmissions in the CV industry.
The $20.4 billion (Rs 142,545 crore) power management company, Eaton Corporation, identifies India as a strategic market for its future growth. Globally, and in India, the company operates in four major areas – vehicle, hydraulics, aerospace and electrical domains.
Eaton, which entered India about 19 years ago, is now a well-established player with more than 5,500 employees, seven manufacturing plants and has its presence across 18 locations. The company caters to the automotive industry via manufacturing and supplying the manual transmission systems (for the commercial vehicle industry) along with a few products in its engine management portfolio.
Eaton's six-speed transmissions are manual synchromesh units suitable for CVs with engines generating a maximum of 900 Nm torque.
Speaking to Autocar Professional recently at the company's Ranjangaon plant, Shandar Alam, managing director (vehicles and hydraulics), Eaton in India, stressed, "Eaton has been consistently investing in India. Our India Professional Services Center's spectrum of capabilities from a single integrated facility in Pune is enabling Eaton globally to innovate, continuously improve processes, make effective decisions, strengthen customer focus and create value and competitive advantage by engaging diverse skill-sets of over 2000 employees. The Eaton India Innovation Center, located at the Magarpatta City in Pune, with its 1,500-plus strong engineering workforce, is driving cutting-edge R&D projects for all of Eaton's global businesses."
The company is bullish about India's now fast-evolving automotive industry, especially in the wake of the incoming BS VI emission standards and the newly revised truck axle load norms. According to the senior management at Eaton India, the company is already prepared for the potential impact of the new axle load norms and the new requirements under the BS VI emission standards (on its products). The company is now eyeing penetration of the automated manual transmissions (AMT) in the CV industry, which is expected to see some technological evolution under the incoming norms.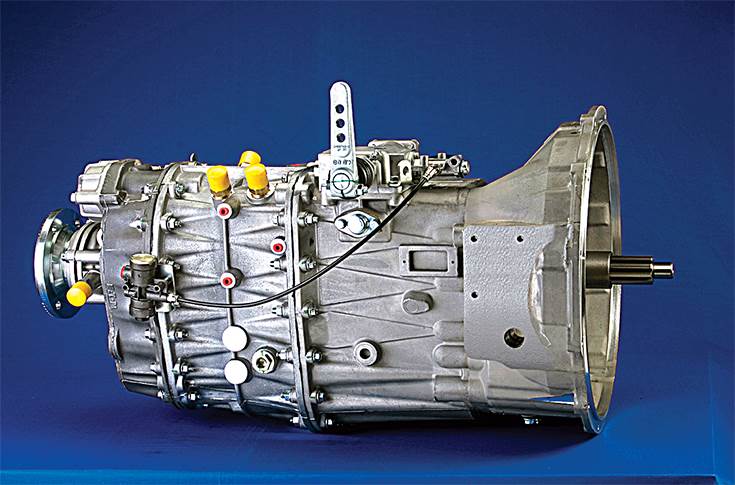 The nine-speed transmissions are also manual synchromesh units designed for engines developing peak torque of 1,100 Nm.
Speaking in this context, Alam revealed, "We are planning to introduce AMTs in the Indian market. We have Ultrashift Plus that we are introducing in India on the AMT side of our business. This is an industry leading range from Eaton. It not only provides more driving comfort to the driver, but also gives significant amount of fuel saving compared to manual transmissions as well as conventional automatic transmissions available in the market. Eaton's AMT is not only BS VI compliant but also gives 18-20 percent better fuel efficiency than the conventional AMTs available in the market today. So much so that this transmission is about 5-8 percent more efficient than even the manual transmissions present in the local market currently. Our new product Ultrashift has a 6-speed platform for trucks and 10-speed for mining and other similar applications. Such leading technologies give us an edge over the new norms that are coming in."
While Eaton manufactures transmission systems at its Ranjangaon plant, it produces valve actuation and associated parts at its Ahmednagar plant.
"These are our valve actuation products, which help the OEMs make their respective engines Euro 6 compliant," said Alam.
The Ranjangaon plant was set up as a greenfield facility 10 years ago. It is running two shifts currently, leaving little scope for idle capacity.
While the bus segment (in certain categories) in India has seen some penetration of AMTs, the trucks (within the local CV market) plying on the roads are all fitted with manual transmission systems. Eaton views this as an opportunity area.
Alam believes that either the OEMs will introduce the AMTs in the trucking sector or large companies such as Eaton will lead the change. Nevertheless, according to the top official, Eaton commands a share of more than 90 percent in the existing market for manual transmissions (non-vertically integrated OEM demand).
"In India, Eaton is consistently and significantly strengthening its customer footprint by offering highly efficient, robust and reliable six-speed and nine-speed transmissions that suitably address the needs of the most demanding Indian operating conditions. Our market is with 16-tonne vehicles and above," he underlined.
Electric mobility
The senior company official also updated that Eaton has globally constituted a new business vertical for electric mobility earlier this year. "It is a team with front-end engineering program managers focusing exclusively on the electric vehicles, as we see it as an emerging trend globally," disclosed Alam.
Under its upcoming e-mobility vertical, the company supplies power distribution systems with fuses, convertors, power system and other parts.
L-R: Balachandran Varadharajan, director - Operations (Vehicle & Hydraulics) and Shandar Alam, MD - (Vehicle & Hydraulics), Eaton in India, at one of the two transmission assembly lines at the Ranjangaon plant.
"These power systems are for applications in the buses, as we predict that buses might go into the electrification mode before trucks. There are OEMs in India who have already launched buses with transmissions supplied by us. These transmissions can be two-speed or four-speed depending on the size of the motor and the efficiency customers desire. We are manufacturing four-speed transmissions at our Ranjangaon plant currently for the export markets," Alam told Autocar Professional.
Adding to that, Balachandran Varadharajan, director – operations, vehicle and hydraulics, Eaton in India said, "As we speak about e-mobility, the good news is that this (Ranjangaon) plant has a product, which is ready. Currently we are discussing with local OEMs and we have already started supplies to customers in China, US and other few critical markets."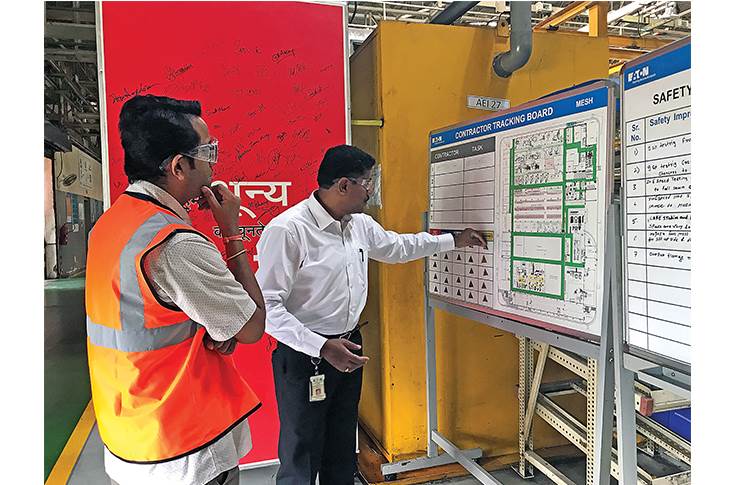 Balachandran Varadharajan explaining productivity mapping, planning, review and safety aspects of the shopfloor at Eaton's Ranjangaon plant.
The company is currently engaged with a few customers in their respective product development under e-mobility. Eaton claims to be ready with products that may see demand as electrification picks up in the bus segment. Additionally, the management is confident that with the rising demand for these products, the localization rate will also increase, thereby making way for cost competencies.
Intra-city buses to go electric
Alam deduces that although the government policies would largely determine the time required for bus manufacturers such as Tata Motors and Ashok Leyland to roll out electric passenger carriers, a large portion of the intra-city buses would be converted from IC engines to electric powertrains in the next 5-7 years.
Gear Machining Cell
"That is our assessment and with that intent we are preparing ourselves to be ready with our local offerings. As you know India is a very conscious and price-sensitive market, imported products don't work and people have to take the first-mover advantage in terms of new technology adoption. We have those products and solutions available. We have to leverage the infrastructure and capabilities that Eaton has invested and developed in India and have to be ready with any technology upgrade that is coming in. Eaton's global e-mobility business definitely gives us that advantage," Alam summed up.
(This feature was first published in the November 1, 2018 issue of Autocar Professional)
RELATED ARTICLES