Continental walks the tech talk for India business
Gearing up for OEM requirements under upcoming legislative mandates in India, the German Tier 1 supplier had showcased a number of advanced technology products at SIAT 2017. Amit Panday reports.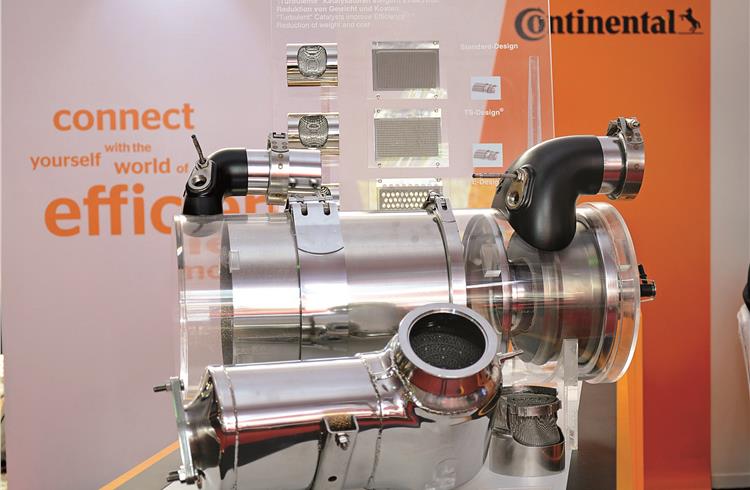 Continental Automotive Components (India) was one of the major exhibitors at the Symposium on International Automotive Technology (SIAT) 2017, organised by ARAI in association with SAE India, NATRiP and SAE International in January 2017.
The four-day-long mega automotive R&D event drove along the theme of smart, safe and sustainable mobility, which is aligned with the current challenges faced by the Indian automotive industry in the wake of upcoming norms around BS VI emission standards, safety and Bharat NCAP, and the government's initiatives for cleaner transportation solutions.
Backed by its global teams' support and its R&D, Continental exhibited some of the advanced components across domains including engine systems, catalysts and filters, exhausts, applications for plug-in hybrids and pure electric vehicles, chassis and safety systems, and interior solution ranging from immobilisers to tyre pressure monitoring systems.
Among the key highlights were the 48 Volt, 14 Kw belt starter generator (BSG) along with its connector and the 120Kw axle drive system. According to a company official, who demonstrated the technology, these can run parallel to the car engine and can be fitted into the powertrain system at modest costs. "The BSG, which is aimed at the 48 Volt hybrid architectures, has already demonstrated savings of 13 percent in the New European Driving Cycle (NEDC). Hybrid driving strategies make an even greater difference in inner-city traffic, where savings of around 20 percent are possible," quotes the company website.
The Tier 1 supplier also showcased electrically heated catalysts (EHC) for petrol and diesel-powered passenger cars and commercial vehicles. According to the subject expert from Continental, EHCs cut down harmful emissions while starting a vehicle in cold temperatures within seconds.
"In winter mornings, vehicles take longer than usual to start. The exhaust emissions are a lot while igniting the engine until it struggles to reach the desired temperature. The EHC speeds up this process by heating up the catalyst within a fraction of a second, and cuts down exhaust emission drastically. The catalyst is heated electrically and does not rely on engine or exhaust gas temperatures to reach its operating temperature," he explained.
"For a petrol engine, this helps to reduce cold-start emissions of hydrocarbons (HC) and particulates. In the case of diesel engines, the benefits also include reduced CO and NOx emissions," details the company website.
According to the company official, the EHCs are being planned to be locally manufactured at the Pune plant. However, the plans will be viable only when the demand for this product reaches around 100,000 units per annum.
To meet BS VI norms and further OBD 1 and OBD 2 stages, according to the company official, Continental is following a modular design approach with forward compatibility for real driving emissions (RDE) in its fuel injection and exhaust systems.
The M4L air module was another key highlight. The ECU, specifically for two-wheelers, is one cost-effective solution that meets exhaust emission regulations (BS IV and VI with OBD 1), and engine performance targets. According to the company, it also improves startability and overall performance over a wide range of environmental conditions. "The simple yet flexible package is suitable for all four-stroke, single-cylinder, small displacement engines ranging from 50cc to 180cc," reads the company product note.
"The fourth-generation (M4L) ECU for two-wheelers is smaller in size by almost 60 percent of its previous (third-gen) avatar. It is also lower in costs. The number of connectors involved in the unit have also been reduced in the latest fourth generation, and it now comes integrated with throttle position sensor. This can be implemented without making any major changes to the engine. It was first developed by our team based in France. This unit is likely to be localised in 2017," disclosed the company engineer working on this product.
Continental also showcased other advanced engine parts, which are expected to see demand from OEMs in near future. These include all-new diesel dosing unit, gasoline direct injection (GDI) pumps and injectors among others.
The diesel dosing system provides a simple and robust technology for delivering liquid diesel fuel into the exhaust path. The company official explained that the diesel fuel can be used to create an exotherm reaction for active regeneration of the diesel particulate filter (DPF).
"This is done primarily to burn soot. This system is expected to be required for all diesel-run vehicles including cars and CVs from 2020. The localisation of this product depends on OEM anticipation and subsequent orders," revealed the engineer, who demonstrated the product.
The benefits of the diesel dosing unit, as mentioned in the product note, include a robust approach for DPF and high efficiency NOx trap (HENT) regeneration with higher degree of flexibility for the regeneration timing and avoidance of oil dilution by post injection, which leads to longer oil change intervals. The system also has a greater tolerance of biodiesel and offers increased engine durability.
The GDI injector for naturally aspirated and turbocharged engines (read engine downsizing) contribute in terms of enhancing performance and minimising fuel consumption and CO2 emissions of petrol engines. The GDI pump (gasoline high pressure pump) is able to generate a fuel pressure of up to 20MPa or 200 bar. "This product is cost competitive, based on modular design with noise level best in class and offers high efficiency due to innovative inlet valve design. It has worldwide fuel compatibility," remarked another company official.
ABS-OLUTELY FOR INDIA
The company also showcased its MiniMAB, the one-channel ABS system for motorcycles and scooters. The single-channel anti-lock braking system, which was developed typically for India and other developing markets, is easily adaptable as it demands for only one wheel speed sensor. The low-weight, low-cost solution provides ABS functionality at the front wheel by avoiding the blocking of the wheel in case of sudden braking by the rider. The MiniMAB is aimed at the upcoming ABS regulation that mandates 125cc and above two- wheelers to be fitted with the ABS system. The company has localised this product at its Manesar plant, which also manufactures ESC (electronic stability control) units.
Overall, Continental showcased its tech prowess and capabilities at SIAT 2017, providing a glimpse of how future-ready it is for a market like India.
RELATED ARTICLES