Charging back to the future
An electric classic car duo of 1906 and 1907, to be auctioned on June 11, illustrates there's nothing new in this world!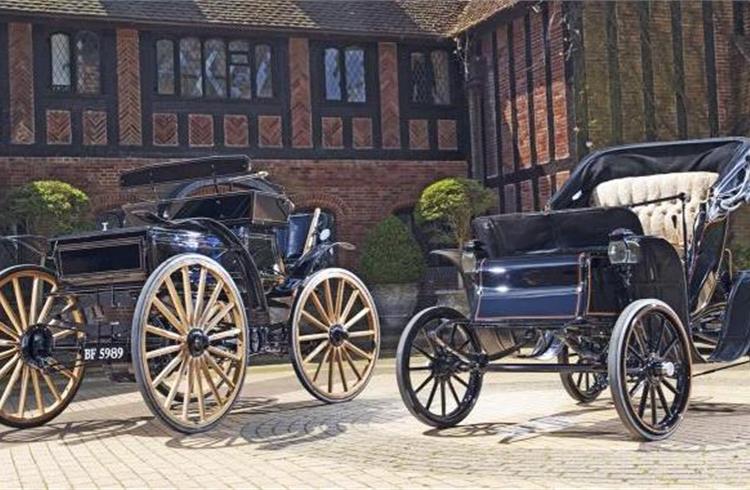 In 2009, the then Mayor of London, Boris Johnson commented: "Electric vehicles are a clear example of how technology can provide the solution to the biggest challenge of our generation." But what the Mayor failed to mention was that the electric car epiphany is not exactly new, as UK classic car auction specialist, Historics at Brooklands, emphasises with the sale of two astonishingly-competent, electrically-propelled cars manufactured back in 1906.
The USA-built centegenarian duo - an elegantly-named 1906 Pope Waverley Victoria Phaeton and 1907 Victor High Wheel Electric Runabout - come to sale at Historics major summer auction at Brooklands Museum, Surrey, UK on Saturday, June 11.
The fact that Brooklands - the birthplace of UK motorsport and aviation - was opened in 1907 only adds to the resonance of these electric time-warp masterpieces as they come under the hammer.
Immensely rare and sought-after today, they were no flashes in the pan at the time they were built. Indeed, emphasising the clamour for electric cars as personal mobility became the mantra, there were over 100 manufacturers of cars powered by a battery in the early 20th century. It was only advances in the internal combustion engine and the mass production of cheaper petrol vehicles that sounded the death knoll of the electric car movement.
The 1906 Pope Waverley Victoria Phaeton, offered by Historics at an estimate of £30,000-£40,000 (Rs 30-40 lakh), sold at the time of its build in Nebraska for some $1,600 (Rs 1,08,000), and is notable for its supreme presentation. Fully-restored and elegant in the extreme, the convertible features a leather-lined hood, with the additional sumptuous comfort of complementary leg covers.
Seating two on the floral print, button-back fabric 'bench' seat plus a rear-facing occasional seat, the car is steered by tiller and rudimentary but extremely effective controls to go and stop. With electric coach lamps, it is fully capable of nighttime expeditions but it is in its element with the roof down on a summer's day.
Brought to the UK by the vendor some years ago, the Pope Waverley is now equipped with modern technology batteries and charging system giving it a very useable range.
The very compact 1907 Victor High Wheel Runabout, built one year later in Indianapolis, spent many years on display in an American Museum before being imported to the UK, when it was the subject of a complete sympathetic overhaul. This included the fitment of contemporary batteries and charging system, and a recent repaint of both the chassis and bodywork, together with black leather upholstery and far from rudimentary patent leather mudguards to protect its inhabitants. As is the case of the Pope Waverley, vision is superb from the high driving position.
In common with today's 'new age' electric vehicles the Victor is practically silent when running – all the more so thanks to minimal solid tyre contact. Perhaps today's EV manufacturers could take a cue from the Victor, which is equipped with a large bell on the driver's side so pedestrians are aware of its stately approach.
In common with the 1906 Pope Waverley, much interest in this equally rare and sought-after Victor is anticipated at its estimate of £30,000-£40,000.
These magnificent examples of electric cars from more than a century ago are two of the highlights of 139 fine classic motor cars, across a wide range of values and marques, spanning 10 decades, can be viewed at Historics in Brooklands, Surrey on June 11.
RELATED ARTICLES