Charge of the green brigade
These clearly are tough times – oil reserves are limited, and the use of oil is contributing to climate change.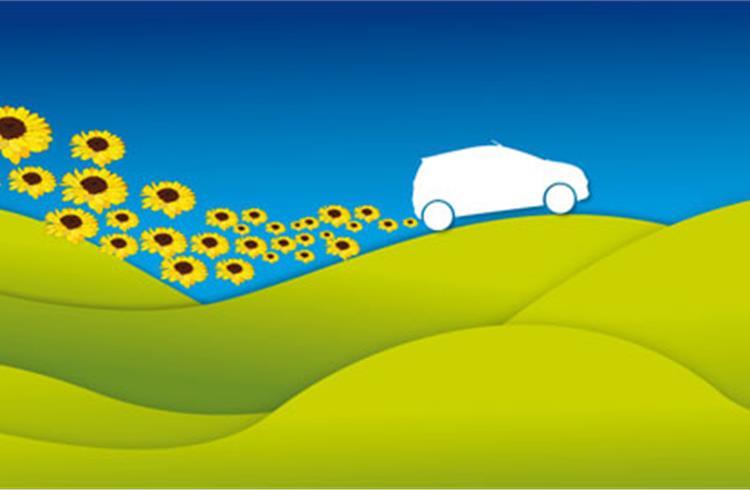 These clearly are tough times – oil reserves are limited, and the use of oil is contributing to climate change. Meanwhile, the need for mobility is growing worldwide and individual transport is steadily increasing, together with its effects on the climate and the environment in general.
Carbon dioxide isn't the only gas responsible for the greenhouse effect, but it does account for around half of global warming. Methane is the other major contributor, but it's a lot harder to limit the output of this gas, so sights are set securely on CO2. By burning fossil fuels, the transport sector is responsible for around 25 percent of CO2 emissions, with aviation and cars the main culprits. Carmakers cannot simply consider tailpipe emissions alone when designing and building cars. They have to make sure their manufacturing processes limit energy usage so they can deliver a truly 'green' car. So, to a car buyer keen on making a green choice, should that manufacturing percentage matter?
Autocar Professional's annual survey of vehicle and component makers in India indicates that many of them are taking the greener path, despite the need to invest more in R&D, new technology and manufacturing processes. From shopfloor to the final product, OEMs and their vendors are going all out to reduce their carbon footprint.
MARUTI SUZUKI INDIA
India's largest carmaker has been a proponent of environment-friendly measures since quite some time. Along with consistent energy saving advances in its manufacturing processes, it sees the green path as a measure to stay competitive.
I V Rao, managing executive officer (engineering), Maruti Suzuki, answered our questionnaire in considerable detail.
Annual R&D expenditure
Maruti Suzuki started investing in R&D in a big way since the past five years and the total R&D spend between 2006-2011 was Rs 8,393 million. In 2010-11 alone, we spent Rs 4,163 million on R&D.
Our major R&D efforts have gone into developing capability for full body change in India and we have also outlined huge investments for the future. A part of this investment has gone into developing fuel-efficient vehicles equipped with the new-generation K-series engines and CNG models. We also invest in new technology adoption, adaptation and absorption. Besides this, our parent company in Japan invests a lot in new green technology development, which MSIL adopts.
Current progress towards greener technologies
For green technologies, we are looking at both the product and manufacturing sides. Some initiatives as regards our products are:
Alternate fuel technology to reduce CO2 emissions:
Maruti Suzuki was the first company in India to introduce the CNG option using conventional CNG technology. More recently, it has developed a new Intelligent Gas Port Injection (i-GPI) technology for CNG bi-fuel vehicles which promotes uniform and complete combustion in the combustion chamber, resulting in lesser pollutants, without compromising on the vehicle's power and performance. The company has also launched bi-fuel variants (Alto 800, Zen Estilo, WagonR, Eeco and SX4) with i-GPI CNG engine technology that reduces CO2 emissions by 20 percent as compared to its petrol variants. And the engineering team has upgraded the WagonR Duo BS-III to the new WagonR Duo with i-GPI tech for LPG fuel compliance to BS-IV. This LPG variant produces seven percent less CO2 as compared to petrol.
Hybrid and electric vehicle technology:
Maruti Suzuki took a significant decision to develop functional prototypes of the Hybrid SX4 and electric Eeco and company engineers are studying these technologies at present. Cost is a major challenge as regards HEVs and EVs and the industry is looking to the government to announce the policy guideline for hybrid and electric mobility in India. The announcement of tax incentives on hybrid components in this year's Budget is a step forward. However, once the broad framework is clear, we will finalise our plans in consultation with our parent company.
OBD-compliant Vehicles:
Maruti has started launching (On-Board Diagnostic) OBDII-compliant vehicles ahead of the regulation in April 2013. OBD is a tool to diagnose the emission-health of the car. In the event of a malfunction of the emission control systems, the OBD system indicates the same by the engine check lamp on the speedometer cluster.
End of Life of Vehicle:
The ELV directive, a mandatory rule in Europe with effect from 2000, aims at elimination of hazardous substances like lead, cadmium, mercury and hexavalent chromium. Many countries are taking steps to promote ELV and subsequent recycling. Maruti Suzuki has taken voluntary measures to implement ELV at the model development stage and has successfully made all its new models launched in the last two years ELV-compliant.
Lightweighting:
Following its mantra of lighter, fuel efficient and value-for-money products, in 2010-11, Maruti Suzuki engineers successfully reduced the weight of Alto seats by over 5kg. Battery weight was also reduced by around 500 grams.
The new Swift, although bigger than the outgoing Swift, is lighter by around 30kg. Maruti and Suzuki follow the philosophy of making the upcoming new models lighter compared to previous versions.
Manufacturing processes:
We have several green initiatives here. 3-R (Reduce, Reuse, Recycle) is one of the guiding mantras. We use CNG for power generation in our captive power plants. Instead of dumping our hazardous wastes in landfills, we send it for co-processing in the cement industry. We recycle and reuse treated effluent and sewage for industrial water generation. And we do not discharge any water outside factory premises.
Steps taken to reduce carbon footprint
Maruti uses clean CNG for captive power generation. Also, various technologies are used like waste heat recovery in the form of a steam generator to improve the efficiency of power generation. MSIL has also started harnessing solar energy for energy production besides using LED lamps for street lighting within the plant.
MSIL also initiated and promoted the setting up of vendor parks near its manufacturing locations to reduce transportation- related costs and consumption of energy.
Plans to invest in a new eco-friendly tech
There are technologies like solar energy harnessing and using low-consumption LED lamps which MSIL would like to use extensively. Besides, there are efforts to improve the efficiency of production and reduction of water consumption and energy consumption per vehicle produced. Rather than depending on some technologies, the efforts are more on improving efficiencies.
On achieving a balance between price competitiveness and eco-friendliness It is MSIL's commitment to being environment friendly and being ISO14000 certified, that drives MSIL in adopting the technologies for improving energy efficiency. We take decisions looking at the long term benefit of the solutions.
Challenge of investing in cleaner tech in the price-competitive compact car segment
Small cars are cleaner from a CO2 perspective. At the same time, any technology intervention to reduce CO2 from small cars comes at a premium. The cost of technology at some stage does not depend on the size of the engine. So a smaller vehicle, which would also be cheaper, will see a higher increase in the cost as compared to the bigger vehicles. This is where governmental support will be required to make sure the majority of our customers are not burdened.
How the auto industry can play a more active role in protecting the environment
Although the auto industry's contribution to CO2 emission in India is much lower at around 10 percent compared to the global trend of 20 percent, it is putting all-round efforts to reduce emissions.
At the same time, fuel consumption being one of the most important buying criteria for a consumer, is driving change as well. The industry is adopting measures on its engines and vehicles to keep improving them with each model launch. Plus, there are other measures which can improve CO2 from Indian cars when running in actual service life. They are driver behaviour and road infrastructure and decongestion. The auto industry, although it has no control on these issues, has started training drivers to inculcate better driving habits, to improve in-use fuel efficiency in their vehicles. This is done through driver training institutes and also one- to-one communication during service campaigns.
On comparing Indian OEM capabilities with foreign carmakers
We believe technologies are available worldwide and can be adopted on engines and vehicles. Today, the majority of the green technology development takes place in the developed world, primarily due to prevailing regulations there. Therefore, there is a definite lag between Indian and foreign companies as far as technology development and experience in using these technologies are concerned.
However, more than technologies, the manufacturing process needs to be precise and variation minimised to produce vehicles which consistently deliver the required performance. Hence, Indian companies need to focus not only on technology absorption, but also on process technology improvements and this should be done at a faster pace to bridge the time gap.
How the Indian government can assist industry in reducing its carbon footprint
If we look at the efforts from the government's side, there have been some initiatives in this regard but a wholesome well coordinated and well directed effort is not visible.
Seriousness of government is seen in formulating regulations for the industry. Although these are important to give direction to auto industry, commitment from the government in improving other factors which can reduce CO2 emissions like fuel quality, road infrastructure, driver education and traffic management is missing.
A few initiatives taken by government like lower taxation on small green vehicles, and initiatives for promotion of electric and hybrid vehicles taken lately has shown a shift in government outlook.
MAHINDRA & MAHINDRA
Mahindra & Mahindra (M&M) ranks among those automakers in India who reflect a dynamic attitude towards green manufacturing. The company incorporates a healthy mix of energy saving measures in all its business activities, ranging from controlling raw materials in the manufacturing process through to planting lakhs of saplings at its Nashik plant which produces the Scorpio, Xylo, Bolero and Verito.
M&M's new integrated Chakan plant which rolls out the flagship XUV500, the Maxximo and Genio small CVs and Mahindra Navistar trucks, is a state-of-the-art green facility aimed at capturing both immediate and incremental environmental benefits.
The 300,000 units capacity plant can produce multiple vehicle platforms from press to body to plant to general assembly, substantially reducing production costs. M&M has installed over 70 solar dishes which supply power while hydro-pneumatic pumping and compressed air systems help reduce power consumption. The plant also recycles waste water on site and chiller and closed loop cooling towers help reduce energy consumption.
It took a drought in semi-arid Zaheerabad, Andhra Pradesh, in the year 2000 to get M&M to develop groundwater sources. Turning to creative water management systems including recycling and re-use of water through an on-site bio-filtration plant, effluent treatment plant and drip irrigation system, the company's recharging efforts have borne fruit, helping the groundwater table rise by 220 feet. The twin strategy of rainwater harvesting and tree planting has enhanced the local biodiversity and made the plant carbon-neutral. A good number of eco plaudits have come in for the 90-acre site including a must-visit recommendation by the Bird Watcher's Society of India!
However, the plant very much in the news for its green activity is the upcoming Mahindra Reva plant in Bangalore. The facility has the mandate to be a completely green plant – to create cars with the lowest possible dust to dirt carbon footprint. Built using green-sourced materials and green methods following the standards of the Indian Green Building Council (IGBC), the 30,000 unit capacity plant consists of a production unit, test track, administrative office block, conference area and technology demonstration area.
Among its highlights are a rooftop solar power plant to provide energy for industial use, street lighting and charging facilities for vehicle testing. An efficient rainwater harvesting system provides water and soil conservation strategies prevent erosion. To keep consumption of electricity low, the building optimises natural ventilation and lighting. For instance, a translucent honeycomb mesh covers the eastern side of the building to block out heat from the morning sun and minimise the need for fans and air-conditioning. Here is the response from Rajan Wadhera, chief executive (technology, product development & sourcing).
R&D spend to develop greener technologies
We have started to spend quite a significant amount of money on developing greener technologies where concept development has to be done with major investments as most of these technologies are expensive and futuristic. To make a business case for such technologies is difficult now as it is at a concept development stage.
The road to greener tech and processes
Mahindra & Mahindra has drawn up a long-term plan to develop greener technologies. These technologies can be summarised as a reduction in fuel consumption in conventional diesel vehicles, diversification of product range to alternate propulsion systems, and adopting alternate fuel vehicles in our product portfolio. Two examples of this is the introduction of five models of CNG vehicles and introduction of electric vehicles like the Reva and Bijlee.
Steps taken to reduce the carbon footprint
Mahindra is committed to sustainability in its business operations and decision-making processes. As part of sustainability initiatives, the company is committed to the reduction of greenhouse gases and reducing the carbon footprint. M&M is reducing its carbon footprint through improvement in the efficiency of its products and process; use of renewable sources of energy in its products, use of less carbon emission alternatives and alternate propulsion systems with improved system efficiency. Some instances of this are:
• Enhancing efficiency and controlling raw material in the vehicle manufacturing process.
• Conserving carbon emission by reduction of water and energy during manufacturing process.
• Continuous improvement of efficiency of diesel vehicles by appropriate carbon reduction technologies.
• Developing vehicles to run on low CO2-emitting fuels such as CNG, biofuels and hydrogen.
• Enhancing the use of hybrid and electric vehicles in the product range.
New green technology/process that M&M plans to invest in
The company has drawn up a long-term roadmap for environmental-friendly technologies and hybrid, electric-powered vehicles, alternate fuels such as biofuels and hydrogen-engined and fuel cell vehicles are the future direction which Mahindra would like to progress. M&M is developing some innovative technologies in these areas, with a focus to provide cost-competitive and affordable products to customers.
On achieving a balance in being both price-competitive and environment friendly
Cleaner technology is generally costlier. This is partly because most of these technologies are in a nascent stage and have not gone into mass production. If that happens, there is a good chance for cleaner technologies to be less costly as they are perceived today. Besides, Mahindra's strategy is to look for cost-effective solutions. With our experience in frugal engineering, we will attempt to develop cleaner technology at an affordable cost.
Challenge of investing in more efficient tech in the luxury/performance car segment where the focus is more on performance
Yes, it a big challenge for efficient technology in the luxury segment. Generally, it is seen that the luxury segment has to impart a lot of high level of performance in terms of fast driveability, high speed, high power and torque requirements to satisfy those customer needs. Most of these requirements are conflicting to normal and conventional high-efficiency solutions such as downsizing, downspeeding of engine, low accessories power consumption and low drag design. Hence, to meet those high-performance needs and also be fuel efficient in the luxury segment is a big challenge. We need to think of more expansive, unique and complex solutions to meet both these aspects.
How the industry can play a more active role to protect the environment
Most of the major OEMs worldwide, and Mahindra is no exception, are working towards a sustainable mobility solution as their future target to mitigate the concern on climate change which is mainly due to higher greenhouse gas emissions generated by automotive vehicles.
The strategy for a Sustainable Mobility Solution is centered on the improvement of fuel efficiency, reduction of vehicle emissions, energy diversity and renewable fuel usage, and use of recyclable materials. Some of the development focus for Sustainable Mobility is continuous improvement of fuel efficiency of conventional vehicles by enhancing engine and transmission efficiency and reducing losses by using lightweight materials, limiting drag losses and limiting accessory losses; use of alternate fuel such as CNG/LPG, biofuels and hydrogen; alternate propulsion technology such as electric and hybrid vehicles; and use of recyclable materials that help make end-of-life vehicles.
Capabilities of Indian companies in developing cleaner tech compared to foreign firms
In developing cleaner technologies, Indian OEMs are very competitive with their foreign counterparts. Indian companies have demonstrated their capability in developing cleaner technology through their in-house R&D capabilities. A remarkable experience is the way Indian companies developed CNG vehicles to meet the stringent timeline in Delhi in the year 2000 and beyond, following the government's decision to replace diesel CVs with CNG within 18 months. Also, several Indian OEMs are developing more advanced cleaner technologies like hybrid, electric vehicles and biofuel vehicles. Mahindra has demonstrated its capability in developing such eco-friendly vehicles and also hydrogen- powered small vehicles.
On how the government can play a more pro-active role on the green front
Government support to automotive OEMS in their efforts to go green is fairly alright in some areas and remarkable in the case of CNG and LPG. The Ministry of Nonconventional and Renewable Energy (MNRE) has been initiating programmes and projects with industry in areas like electric vehicles and a hydrogen economy.
What the industry laments is the lack of a clear-cut road map and direction on the future of cleaner technology implementation. Most of these technologies are constrained by a lack of infrastructure facilities for which the government has a large role to play. Unless this is done, propagation of these technologies becomes difficult and slow. Also, the government has to declare fiscal incentives and policies for propagation technologies which reduce the carbon footprint.
FORD INDIA
Ford is among the leading carmakers driving green manufacturing, both in India and overseas. Not surprisingly, this comes forth in the answers sent in by Tom Chackalackal, executive director, manufacturing, Ford India.
On the progress towards greener technology, processes
Among the myriad green technologies and processes that we have been implementing to reduce Ford's impact on the environment, there are two processes in particular that I would like to highlight.
First among these is our range of water conservation initiatives, which helped us achieve a five percent year-on-year reduction in water usage per vehicle. Through these, Ford India was able to reduce its water consumption by as much as 78 percent in six years, from 2006 to 2011, at its plant in Chennai. The other green technology that we employ at the Ford engine manufacturing plant in Chennai is a 'cold test' wherein we conduct fuel-less tests of the engines that are being manufactured, thereby reducing our carbon footprint.
Steps taken to reduce the carbon footprint
'Green' is one of the four pillars of the Ford brand, both globally and in India. Naturally, we have been committed to the implementation of processes that help cut down our carbon footprint.
As far back as 2009, our manufacturing facility in Chennai was recognised in Asia-Pacific and Africa for its eco-friendly practices when it received the Ford APA Environmental Leadership award for operating under a "Zero waste to landfill" strategy. The process helps us eliminate the disposal of materials to a landfill and provides waste as an alternative fuel to the cement industry, thus reducing demand on non-renewable resources. Additionally, there is the benefit of Ford India being able to avoid contributing to the long term risks of landfill, which again is in line with Ford's global strategy of reducing environmental impact.
At Ford India we also use a best-in-class 3-Wet paint technology. This helps us to significantly reduce energy usage – the process helps save 30 percent fuel, courtesy the elimination of one baking stage - along with reduction in volatile organic compounds (VOC) emissions. In fact, there has been a 26 percent reduction from 2006 to 2010 and Ford India won the award for the most energy efficient unit at CII's Energy Awards category in 2010.
New eco-friendly tech/process that Ford plans to invest in
Here in India, a key aspect of becoming environment friendly is the development and subsequent introduction of highly efficient yet powerful powertrains for our vehicles.
Ford India has already shown its pioneering streak with the introduction of the state-of-the-art 1.0-litre EcoBoost engine at the Auto Expo 2012 in Delhi. Being a small-capacity engine, it brings with it the twin benefits of high fuel economy and subsequent low CO2 emissions. But at the same time it produces power equivalent to what one would normally expect in a 1.6-litre capacity engine. Ford will expand the availability of these highly efficient and modern EcoBoost family of engines by offering them in additional vehicles and markets around the world, including India in the near future.
On achieving a balance between price competitiveness and environment friendliness
Clean technology can be affordable too, and a classic case in point would be Ford's 1.0-litre EcoBoost. With a 20 percent improvement in fuel efficiency and a reduced CO2 emission of 114g/km, it certainly qualifies as clean technology. While its high fuel economy will mean that running costs will be kept low, the fact that it will be produced in India means that purchase cost will be lowered too.
Challenge of investing in more efficient technology in the luxury/performance car segment
Although Ford India does not operate in the luxury segment of the Indian car market, we can safely say that performance is desired not just in the luxury car segment but across all segments of the automotive market. As is efficient technology. And we have already proven that efficiency does not always have to be at the cost of performance.
Take the all-new Fiesta for example. Both the 1.5-litre Ti VCT petrol engine and the 1.5-litre Duratorq TDCi engine deliver a healthy power output of 109bhp and 90bhp respectively. At the same time both these engines have class leading fuel economies; the 1.5-litre Ti VCT is capable of 17kpl while the 1.5-litre Duratorq TDCi boasts a fuel efficiency of 23.5kpl.
This balance of power and efficiency has been taken to a new level altogether with the introduction of the 1.0-litre EcoBoost that puts out 125bhp but delivers 20 percent more fuel efficiency.
How the automotive industry can play a more active role in protecting the environment
We believe the auto industry's commitment to addressing concerns about climate change should stretch from the manufacturing process itself to the end product.
At the product end, we are already delivering vehicles, like the all-new Fiesta, with engine options that are highly efficient and therefore have low carbon emissions. Additionally, we introduced the award-winning EcoBoost technology to India and have announced our intention to bring this highly efficient technology to the end consumer.
At the manufacturing end, as mentioned earlier, we have in place numerous processes and practices, such as the 'Zero waste to landfill' strategy, 3-Wet paint technology and fuel-less 'cold test' of engines, which help us fulfil our commitment to protect the environment.
On comparing capabilities of Indian and foreign companies in developing green technologies.
It is difficult to compare such capabilities in an increasingly global scenario. We, at Ford, are fully committed to our One Ford philosophy wherein the products that come to India are global products.
We have already demonstrated this commitment with the launch of the all-new global Fiesta and the announcement of our intention to introduce the EcoSport SUV.
How the government can play a more active role in helping industry reduce its carbon footprint
We are, as part of the Society of Indian Automobile Manufacturers (SIAM), working with the government on a road map to a greener future. Currently it's at a nascent stage and we are yet to see any significant growth in this regard. Globally, however, Ford expects 10 to 25 percent of its sales to come from electric vehicles, including hybrids, plug-in hybrids and purely electric vehicles, by 2020. In line with this expectation Ford will introduce five new electric vehicles – hybrids, plug-in hybrids and purely electric vehicles – in 2012 in the US and by 2013 in European markets. We have already showcased our first ever all-electric Ford Focus at the Geneva Motor Show last month.
NISSAN'S GREEN MANTRA
NISSAN MOTOR INDIA'S response was mainly focused on its international operations. Nissan Motor, Japan invested 440.0 billion JPY in R&D in FY11. In alliance with its global partner Renault, it is investing €4 billion in projects related to zero-emission mobility. This amount includes battery development which began in 1992, battery and vehicle production and eight EVs to be released by both Renault and Nissan by 2014.
Nissan has a huge global success in its Leaf electric vehicle (EV) and says that CO2 emissions can be reduced by 40 percent in this EV's lifecycle compared to a petrol vehicle in its class.
Nissan's sustainable mobility strategy has two pillars — Zero Emissions and Pure Drive. This provides customers with a choice of either zero-emission EVs or an extensive range of conventional Internal Combustion Engine (ICE) solutions offering class-leading fuel efficiency supported by advanced green technologies. By this measure alone, the investment in EV is significant but balanced against Nissan's investments in non-EV technologies and products. Nissan adds it is capable of the development of plug-in Hybrid Electric Vehicles (HEV) with technologies for HEV and EV and is now working on its development. The company thinks plug-in HEV is one of effective technologies for reducing CO2 emissions and can satisfy the needs of long-distance drive and large vehicles.
As regards the debate on eco-friendly cars coming at a high cost, the Japanese carmaker aims to set a competitive price by mass-production of the EV and not entering into niche market. It also has strengths in the development of lithium-ion batteries and in production of the Nissan-developed motor and inverter.
Commenting on how the industry can play a more pro-active role, the Nissan spokesperson says, "More and more recyclable parts used in the manufacturing of an automobile will play a vital role in protecting the environment. It would lead to less usage of new raw materials, in turn earning more carbon footprints overall. Manufacturing facilities have started using natural resources like sunlight and water for day-to-day running operations, thus making it a more efficient and eco-conscious way of running a plant. Basically steps taken at every operation, and process in a cost and eco-conscious manner would help protect the environment."
CONCLUSION
If we don't curb CO2 output from cars, the planet will continue to warm up. The main consequence will be an increase in the instability of our weather systems. So instead of having a catastrophic flood once every century, we might have one every 10 years, or even more frequently.
A world climate control study reckons average temperatures could rise by as much as six degrees by 2100 if we carry on the way we are. There will be a serious loss of quality of life and mass forced migration. Places will become massively overpopulated – and it's going to affect our kids' generation. So the goal isn't really to save the planet, but ourselves — the Earth would merrily continue on without us if we were gone…
RELATED ARTICLES