BYD plans a future beyond e-buses in India
BYD's future goals and strategies that are earmarked exclusively for India. Their aspirations with the new public transport venture. Their possible entry into the passenger car market in the future.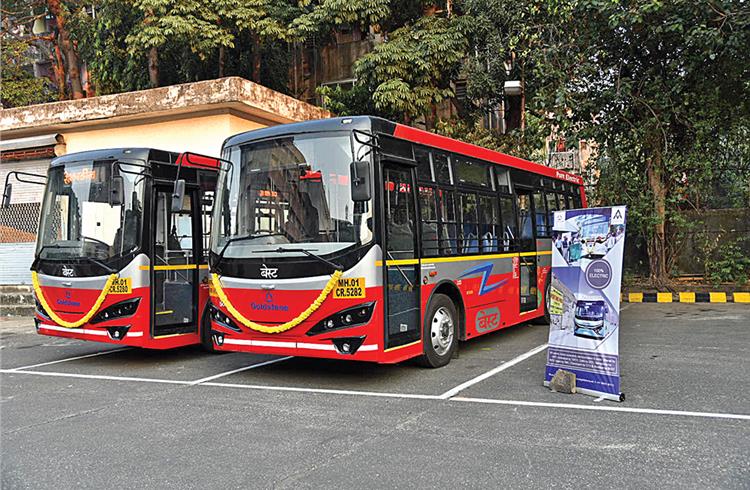 Chinese major, which has introduced its buses in India in partnership with Goldstone Infratech, is exploring setting up an R&D centre to develop technologies for India. What's more, it could also be looking to enter the passenger car market.
BYD Auto, the Chinese auto major which has tied up with the Goldstone Group in India for manufacturing electric buses, has a larger game-plan beyond electric buses in India. BYD has a huge portfolio of clean energy products, some of which may find a relevant market here. The company is also exploring new focus areas which include technologies that will facilitate a deeper dive in one of the world's fastest-growing automotive markets.
"We are discussing plans to set up an R&D centre in India to develop technologies which are part of our plan," says Zhang Jie, executive director, BYD India, in an exclusive interview with Autocar Professional. It will take some time for this plan to be executed as BYD conducts research to understand the market and its needs well. Identifying and recruiting professionals for electric mobility R&D may also be time-consuming.
L-R: Zhang Jie, executive director, BYD India, and N K Rawal, managing director, Goldstone Infratech Ltd.
Electric buses are not a common sight yet but the company is bullish on their prospects in India. The Indian electric bus market is currently evolving, due to the heightened focus of the government. GIL, the JV between BYD Auto and the Goldstone Group, has delivered four K7 all-electric buses to the Brihanmumbai Electric Supply and Transport (BEST) in November 2017.
BYD's journey in India has started with buses and its focus is currently only on that segment, but the day may not be too far when the Chinese OEM enters the passenger vehicle space. "We can't say we are not exploring the market for a passenger car or others. We will certainly do, but now our focus is on public transport. We are going introduce the latest and best technologies from China to India in partnership with Goldstone and adopt the technologies to the Indian market. It is not just products but a complete solution in electric mobility and other technologies that we are considering but can't reveal now," explains Zhang Jie.
"At present, our focus is public transport as we see that every city is facing air pollution and congestion. We want to reduce this congestion, for which public transport is necessary. Our focus is buses and India is a good market, the fourth largest in the world. We see a good future here," says N K Rawal, managing director, GIL.
The company is now targeting STUs for business but is also looking to engage with private bus operators. "Right now it is STUs but definitely non-STU customers will also be a major segment in times to come. We see this happening in a year's time. We are meeting many several private players but at present, the focus is on STUs," says Rawal.
GIL's eBuzz K7 and K9 e-buses have a travel range of 70kph on a single charge that takes about 4 hours.
In India, today there are over a million registered buses, of which nearly 150,000 are operated by public bus operators. With fast-growing towns and cities, and the focus on smart cities, there is a dire need to increase the supply of buses in Indian cities to develop a sustainable public transportation programme.
Acceptance of electric and hybrid buses has been slow in India, largely due to higher cost as their average cost is 3-4 times higher than diesel buses. Further, with the decrease in the cost of diesel, there is not much incentive for fleet operators to shift to hybrid or electric buses.
In an earlier interview with Autocar Professional, Rawal had said: "I think the issue of price needs a little perspective for a fair comparison – especially with regards to operating cost, government subsidy and total cost of ownership. Currently, upfront cost of electric buses is high but with the government offering 60 percent incentive under the FAME India Scheme with a cap of Rs 1 crore and with significantly lower operating costs which may be 60-70 percent lower than diesel buses, the cost of ownership is much lower than that of traditional diesel or CNG buses. Add to that the zero-emission advantage that these buses provide and it becomes more competitive. So overall, the price of electric buses, considering the advantage and subsidy, is very competitive."
While incentives under the FAME scheme will help e-bus or hybrid bus buying, the higher acquisition cost remains a bugbear. To address this, GIL is promoting a concept with STUs wherein they don't have to pay upfront to buy a bus. Instead, they can go for gross cost basis on a per kilometre basis and pay a monthly charge based on guaranteed usage through operating revenue. "Some of the largest private players are keen to invest in this asset, own it and operate for STUs; this way, a PPP model is working out," reveals Rawal.
100,000 green km under byd-goldstone's belt
It was in November 2016 that Hyderabad-based Goldstone Group forayed into electric mobility, announcing plans to assemble electric buses in partnership with BYD. In February 2018, it announced the completion of 50,000km of commercial running on Indian roads – in Mumbai and Himachal – and additional 50,000km under trial runs in various cities including Bangalore, Hyderabad, Goa, Rajkot, Chandigarh and Delhi.
With this, GIL has become the first company to have crossed the 100,000km milestone for electric buses in India. As per estimates, every 10,000km run of an EV reduces 10.2 tonnes of tailpipe carbon (CO2) emission, in addition to saving of Rs 19 per km (on net basis) in fuel cost.
Meanwhile, GIL claims to be the first OEM to have bagged an order for 31 buses and successfully delivered full electric buses to two state transport units (STUs) – Himachal Roadways and Transport Corporation (HRTC) and to Mumbai's BEST.
The company delivered its first batch of electric buses, which cost Rs 1.61 crore each, to the Himachal Pradesh State Transport where its K7 buses are plying on the tough Kullu-Manali-Rohtang pass route.
Meanwhile, GIL has successfully completed an over-22,000km commercial run in the Himachal Pradesh region including the arduous Manali-Rohtang Pass route at an altitude of 13,000 feet which is the steepest gradient in the world for any electrical bus to operate – and 28,000km run in Mumbai.
The company has two models – eBuzz K7 (9 metres) and eBuzz K9 (12 metres) – and is adding a range of other buses as per customer requirements. Currently, GIL is using several local components and the level of localisation will increase as the volumes grow. And, gradually, as the ecosystem for EV component manufacturers expands, it will result in increased localisation.
Goldstone Infratech sees the lack of trained manpower and the absence of EV-related ancillary and component manufacturing facilities as the key challenges for now, which it says will develop over a period of time. The EV sector is in its infancy as of now and more players will substantially expand the market. The company says there is a role for every manufacturer to have a share of the market. It is bullish about having a significant share of India's market for buses and public transportation and will be banking on its tie-up with BYD and access to its proven technology and product range for growth.
(This article was first featured in the 1 April 2018 issue of Autocar Professional)
RELATED ARTICLES