Benelli to rev up its India portfolio with 250cc bikes
With growing demand in the midsize motorcycle market, it's no surprise that Benelli plans to introduce a new set of 250cc machines.
The idiom 'once bitten, twice shy' does not apply to those who recognise the wrong(s) of the past and are willing to correct the present and aim to make their future full of sense. Benelli fits that description completely.
The century-old Italian motorcycle manufacturer, which had to shut shop in India in 2018 due to the serious financial troubles of its Indian partner, resumed its India market operations in August 2018 with the Hyderabad-based Mahavir Group. Benelli India 2.0 was born as a strategic partnership between Benelli QJ and Adishwar Auto Ride India (AARI) — a new company floated under the Mahavir umbrella for this venture. The company, which has set up an assembly plant for Benelli in Hyderabad, assembles and imports a range of Benelli bikes from Italy and South East Asia.
This time around, the Italian bikemaker, which became part of the Qjian Jiang (QJ) Group in 2005, had a clear plan and vision to achieve sales growth in the domestic market, one in which every global OEM worth its salt wants to have a footprint.
There were some hurdles though. First, the technology shift to BS VI emissions and then the Covid-19 pandemic in 2020 impacted the company. Benelli India, which registered sales of 199 units in October 2020, clocked 103 percent year-on-year growth. It aims to target a wide range of customers with new smaller cubic-capacity engines and plans to reintroduce its existing line-up with BS VI upgradation.
Speaking to Autocar Professional, Vikas Jhabak, managing director of Benelli India, said, "Benelli India has made a lot of progress over the past two years. In 2018, we had about eight dealers across the country. We now have around 40 dealers and more are being added. We started the transition to BS VI and it has been well received. Over the next few months, we will be increasing the portfolio with BS VI bikes. There will be more new dealer expansions in 2021. We are happy at the way we are progressing."
He added, "Our focus in the short-term and medium-term is going to be in the midsize segment. We will be focusing on 250 to 750cc motorcycles. In 2021, we will re-introduce our Leoncino 250 in BS VI guise. But it will not be the only 250cc bike. We are looking to increase the portfolio in 2021 and there will be more bikes available in the 250cc segment. Also, with the touring segment set to increase after the pandemic, Benelli's TRK will also be introduced. Following that, the TRK 251 adventure bike will also be made available in 2021."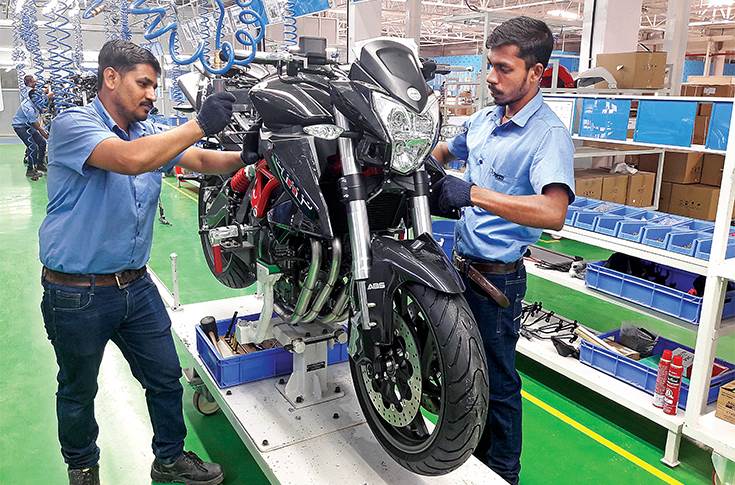 Benelli plans to upgrade its entire model line-up to BS VI-compliant and the focus will primarily be on the 250 to 750cc motorcycle offerings.
Sales during the pandemic
Like other two-wheeler OEMs, which saw a massive reduction in showroom footfalls due to social distancing, a digital platform has benefited Benelli India. According to Jhabak, going digital has given a new charge to both sales and fresh enquiries and he points out that the company is currently seeing its monthly sale pre-Covid levels. October 2020, with multiple Indian festivals in it, was a standout month. What has also helped is the growing dealer network.
Benelli has been slow to make the shift to BS VI mode and currently only the Imperiale 400 is BS VI. However, the plan to bring the rest of the model line-up to BS VI spec as soon as possible.
"The year 2020 has been different and difficult for all of us. We took steps to adjust to the new normal and upped our game on the digital front. More customers now interact with us in the digital space. Be it the social media or the website, we have improved our communication and customer connect. Customers can book their bikes digitally and visit the dealer only to pick their vehicle," said Jhabak.
Jhabak is appreciative about the fact that the midsized bike market is seeing new momentum, what with Honda entering the fray with its H'ness 350 and midsized motorcycle market leader Royal Enfield rolling out the Meteor 350 recently. "There has been a lot of positive momentum for this segment. When more people are interested, they will start looking for comparisons and we have seen a huge increase in enquiries. It is a positive sign when more people enter the segment and it will grow much bigger. Also, Harley-Davidson's exit from the Indian market is a part of their global restructuring. The pandemic has forced many to restructure their plans. We are strongly committed to the market here and we will continue to grow. Our plans stay intact," confirmed Jhabak.
The company is also closely monitoring the EV situation in India. He stated, "It is nice to see the government being aggressive in this. Globally, Benelli has an EV in its portfolio which it has launched in some countries. But, for the short term, we have not planned to bring this to the Indian market. Since we have this in our global portfolio it will be easy for us to bring when it is suitable for the market here."

Vikas Jhabak: "We are looking to increase the portfolio in 2021 and there will be more bikes available in the 250cc segment."
Increasing local content on the anvil
Benelli, which has an assembly operation here, still has plans to manufacture in India albeit this depends on volumes. Now, with monthly sales on the upswing, the company is looking to increase its localisation level. For the Imperiale 400, it sources parts from Indian, foreign suppliers and puts them together.
"Setting up a facility is still part of a long-term vision. As of now, we are concentrating on localising. The current percentage is around 15-20 percent and a number of suppliers are now working with us. The plan is to work with more of them and increase the level of localisation," said Jhabak.
This feature was first published in Autocar Professional's February 15, 2021 issue.
RELATED ARTICLES