BASF gives plastics the velvet touch
As sporadic showers splattered over the small industrial town of Ludwigshafen in Germany, the home turf of chemicals major BASF SE, the company played host to journalists from around the world at a trade press conference held on June 25-26, ahead of the K2013 plastics trade fair to be held at Dusseldorf in October.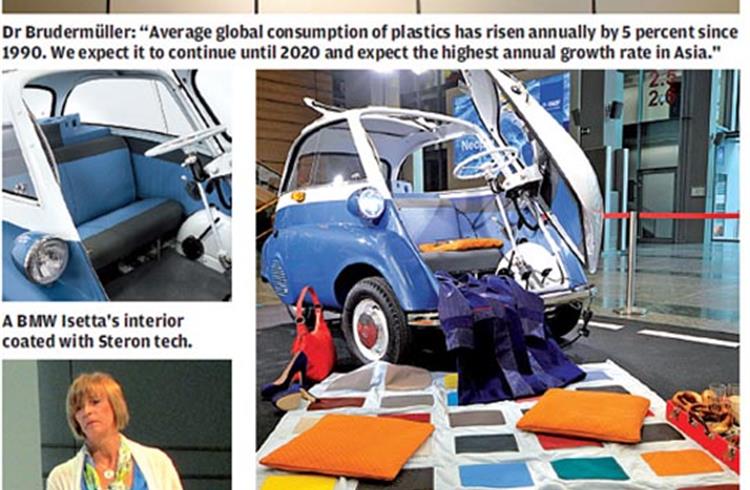 BASF's Steron transfer coating tech, licensed to AIM Filtertec in India, helps create surface textures, ranging from classic leather grain and velvet effects through to geometric patterns. Shobha Mathur reports from Ludwigshafen, Germany.
As sporadic showers splattered over the small industrial town of Ludwigshafen in Germany, the home turf of chemicals major BASF SE, the company played host to journalists from around the world at a trade press conference held on June 25-26, ahead of the K2013 plastics trade fair to be held at Dusseldorf in October. Ludwigshafen, which has grown around BASF, brings to the fore the significance of the company's performance materials like customised plastics used in various industries, especially the automotive sector today. It also underlines BASF's keenness to grow faster than the market with its downstream plastics as well as large-volume monomers and commodity polymers. Speaking at the conference, Dr Martin Brudermüller, vice-chairman of the Board of executive directors of BASF SE, said that BASF has bundled all specialty polymers in the newly created Performance Materials division. With this, the company has pitched for further strengthening its focus on customer needs. Organic growth will be complemented by investments in capacity expansion, new plants and products, as well as acquisitions in the specialty polymer business. BASF is also expanding in engineering plastics for automotive construction to include a completely new approach, the Ultracom that is a package of three components: continuous fibre reinforced semi-finished products, adapted over moulding compounds and the complementing engineering support. An interesting innovation has been the automation of BASF's Steron coating technology developed a few years ago. It is now launching the first production application of Steron in the automotive and furniture industries. The coating system combines the characteristics of leather, artificial leather, fabric and soft-touch materials and permits creation of surfaces with a structure and design that cannot be achieved in any other way.
How Steron tech works
Steron coating improves the comfort of the coated materials and in automotive applications where leather or plastics serve as the substrate material, new design structures can be developed for seats, headrests, steering wheels and interior surfaces with a smooth touch. This is how it works: the starting point for production is a silicone mould half into which the desired surface structure is engraved by a laser. A thin layer of polyurethane dispersion is sprayed onto this surface with the top coat followed by a base coat and then the adhesive. Finally, the substrate is laminated to the adhesive layer and the two are pressed together with the finished product removed from the mould. Modern laser technology permits fast and economical production of moulds with any custom design. The benefit of using silicon as the mould material is that it can be engraved readily by laser while the substrate with Steron coating releases easily. The polyurethane dispersion is micro-porous and in contrast to conventional leather finishes can improve the comfort of the coated materials. The new coating is used in seat covers in the Smart Forvision concept car and in side panels for the new Hyundai models HED-7 and Ioniq with laminated parts for seats and vehicle interior components. The material is light and compared to leather, which accounts for up to 25kg in a vehicle, weight savings of more than 50 percent are possible, said Heidrun Goth, head of Global Steron Technology.
Licensed for India
Meanwhile, in a first worldwide launch, BASF has entered into a licensing arrangement with AIM Filtertec, a Pune-based company, for the production and application of Steron in India. The arrangement includes the sharing of chemistry, technology and joint development with the customer as well as application-oriented services that will enable AIM to enter this market. "AIM Filtertec is a very young company and won the entrepreneurial award of Plast India last year. They show a lot of possibility of diversification in the market," added Goth. "We have tied up with German carmaker Volkswagen for it, though it is not clear when supplies will start but we are in contact for the development. It will take 2-3 years for launch of the product for the auto industry for locally manufactured car models. We have also talked to General Motors and Tata Motors in India. The interest is very high for Steron coating for use in seatings and headrest materials." But Goth hastened to add that the supplies will start first to the fashion industry from AIM due to the lower entrance barriers in that sector. A greenfield facility has been set up for the production process by AIM Filtertec.
The plant is expected to go on stream in September with an annual production capacity of 1.7 million square metres of Steron. Earlier, AIM had been supplying non-woven materials for automaking and hence the synergies in this initiative. AIM is procuring the production equipment from German machinery manufacturer Venjakob. A similar production setup will also kickstart in Germany by early 2014. According to Goth, experts involved with Steron feel that cooperation with flexible, medium-sized companies will foster rapid development in their respective fields of activity because these companies often combine creativity with market savviness. Overall, for BASF, the cooperation with AIM started in 2011 with the contract finalised in 2012. For the chemicals giant, the spinoff benefits involve selling its chemistry and helping its customers in the market as well as brand visibility.
BASF is also talking to other companies besides AIM at the supplier's end as one player in this segment will not be adequate to meet the growing automotive industry requirements. Earlier in June, BASF had announced that it was implementing its global strategy in the Asia Pacific. Focusing on sustainability, this 'grow smartly' strategy has laid down some ambitious targets including sales of 25 billion euros (Rs 195,775 crore) to customers in the region by 2020. The Asia Pacific strategy also outlines investments of 10 billion euros (Rs 78,310 crore), around 9,000 new jobs and annual savings of one billion euros. Around 25 percent of BASF's global R&D will be conducted in the Asia Pacific region by 2020.
Growing role of plastics
Dr Brudermüller said that plastics will play an even more important role in the future. "Global consumption of plastics has risen by an annual average of 5 percent since 1990. We expect this growth rate to continue until 2020 and anticipate market growth in all regions. We expect the highest annual growth rate amounting to 6 percent in Asia where plastics consumption exceeds European and North American demand put together. China has the highest consumption rate in Asia and accounts for more than half of Asian demand. A further significant increase in demand is expected, given the continuing positive development of the Asian economies and rising individual prosperity in these countries." He forecast that Asia will continue to be an important focal point for investment in new plants for BASF. To facilitate faster growth, BASF reorganised its plastics business at the beginning of the year, systematically entered new growth markets such as wind energy and is increasing its use of renewable resources and working towards more innovative solutions.
A drive through the huge BASF factory located next to the river Rhine shows it spilling over 1,000 hectares of land with almost 2,000 buildings. Our guide informed us that over 15 million tonnes moves in and out of the plant annually. While about 32 percent is moved by road with 2,000 container trucks plying daily, train transport constitutes another 28 percent with the rest ferried on the waterways. Further, BASF is on the same page as the automotive industry in vehicle lightweighting and has set up a lightweight composites team in mid-2011. The team focuses on the development of materials and technologies for manufacturing high-performance fibre reinforced parts for auto applications. The strategic alliance with Dutch composites maker TenCate and fibreglass maker Owens Corning in end-2012 will also further the development and production of composite materials suitable for high-volume vehicle production.
At present, the average plastic content per vehicle globally is about 160kg or 12-15 weight percent. By leveraging plastic in cars, about 750 litres of fuel are saved on an average over the lifetime of the vehicle in Europe (about 150,000km), said RaimerJahn, president of the Operating Division Performance Materials, BASF SE. It is here that BASF's plastics including Ultramid, Ultradur, Neopolen or the numerous polyurethane products contribute in the exterior, interior and under-the-hood applications of a vehicle spanning oil pans, bumper stiffeners, chassis dampers through instrument panels, interior trims, wiring insulation and roof modules.
Jahn felt that an area which offers further room for development is the vehicle body and chassis. "Starting with the fibre reinforced plastics, projections indicate that up to an additional 60 percent of individual part weight compared to steel can be saved here," he elaborated. Thus, the next development to be taken up will be in composite parts based on engineering thermoplastics. BASF plans to offer a package consisting of the semi-finished products to the auto industry at K2013. These are prefabricated, plastic-impregnated fibre fabrics and plastic pellets for over-moulding as a common development platform. The product package will be officially launched this year under the Ultracom name. Within 15 years, BASF foresees that entire vehicle concepts will be based on new composite materials and components and based on this development, the body and chassis market for composite materials will be worth two billion euros starting 2025/2030. Therefore, BASF is making big-ticket investments in R&D activities in thermoplastics and thermoset composite materials for vehicle lightweighting over the next three years. With OEM demand for high-tech plastic components growing both in India and worldwide, BASF is well placed to make the most of the trend.
RELATED ARTICLES