Bajaj Auto redefines employee wellness with Utsah
Employees are the pivot of the recreational facility at the Akurdi office, a  unique concept in wellness where the intent is to keep them happy and content.
A brainchild of Managing Director Raji Bajaj, Bajaj Auto's recreational facility for employees – 'Utsah' – is spread over 6.5 acres. With world-class infrastructure and exemplary amenities, it is designed to help employees maintain holistic wellness and fitness.
Chief HR Officer at Bajaj Auto, Ravi Kyran: "Utsah is not just any frugal area of wellness but the concept created was holistic wellness."
The gym has imported Technogym equipment used by Olympic athletes and specialised flooring from Hungary.
Dance away your blues: Utsah has a dance room with professional vinyl flooring and a sound system.
Multipurpose hall for badminton, basketball, futsal, volleyball, handball and rock-climbing.
The Utsah library has over 4,000 books that employees can self-check in and out.
There is also a yoga room for those in the mood for mantra
Health bar — a food and beverage centre for fresh fruits, juices and protein shakes to promote healthy eating habits.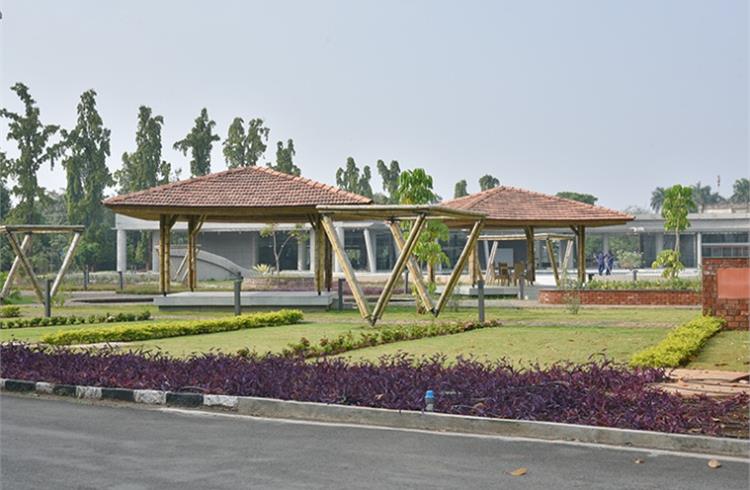 Gazebos for collaborations and meaningful conversations.
The sustainable facility is entirely solar-powered and is capable of harvesting up to 65 lakh litres of rainwater.
Employees are the pivot of the recreational facility at the Akurdi office, a unique concept in wellness where the intent is to keep them happy and content.
Ravi Kyran comes early to work out of choice or, as he puts it, "as part of my personal preference".
When he arrives at the Bajaj Auto facility in Akurdi near Pune by 7-7.15 am, the Utsah wellness centre is brimming with activity. People are working out and there is a tremendous sense of energy all around. And this is what gives the Chief Human Resources Officer a lot of satisfaction since this is precisely what Utsah was intended to achieve.
A brainchild of Managing Director, Rajiv Bajaj, it was inaugurated in October this year. Akurdi is the corporate headquarters of Bajaj Auto and the place where its geared scooters rolled out a frenetic pace during the heady days of Hamara Bajaj. Akurdi is also the location of the original Chetak plant, where Bajaj Auto is building a brand-new 500,000 units per annum electric vehicle plant, with the first product to roll out by July 2022.
The seeds for Utsah were sown about 4-5 years ago by Rajiv Bajaj who was keen that something be created for employees to encapsulate a concept of total wellness. "It is not just any frugal area of wellness but the concept created was holistic wellness. And that is where when you look at it, we have a gym, yoga centre, music room, dance studio, a full-fledged indoor sports arena, multiple board games, a library and also a beautiful amphitheatre," elaborates Kyran during the course of a telephone interview.
The Utsah library has over 4,000 books that employees can self-check in and out.
There will also be an area for outdoor clinics in homeopathy, acupuncture and osteopathy. What is equally pleasing to the senses is the presence of a water-body in the centre with the facilities surrounding it. According to him, all this has come together nicely and fits in with the vision of being "really holistic" for employees to relax, read, exercise, play a sport or "sit together and confabulate".
Kyran believes this concept is "outstanding for a manufacturing organisation" where Rajiv Bajaj had made it clear that people should have access to Utsah throughout the day and not just during early morning or late evening. "This is open throughout the day and people are welcome to work out. There is a wonderful shower facility for them to clean up later," he adds. The idea is to take a quick break, refresh oneself and then get back to the workplace completely charged.
The execution of Utsah, from the time the idea was conceived, has taken a "good portion of time" but work continued uninterrupted despite "multiple hits" to the economy like demonetisation, GST, migration from BS III to IV and Covid. Yet, not a single rupee was cut from the budget and there were no delays either in commissioning the project.
As Kyran explains, it was clearly understood that this was an important initiative for employees where "we should not be worrying" about short-term glitches like the ones mentioned above. The strategy was clear about "where we are going as a company and so we should not allow these temporary distractions" to come in the way of Utsah.
Despite economic turmoil going all around, the fact that an organisation chose to "stick to the basics of saying this is good for employees" is the "most beautiful part of the effort". As he explains, "It is just not that we have it — but we have it despite the economic challenges where the easiest thing actually would have been to shut it. There are many others who would have canned or delayed it but we did neither and this is where Utsah stands out."
The gym has imported Technogym equipment used by Olympic athletes and specialised flooring from Hungary.
In Olympic mode
Beyond this, the objective was to go for the best as in the case of the gym equipment which are from Technogym and imported from Italy. "Literally, the equipment here are the ones that Olympic athletes use," says Kyran. No wonder then that people within the Bajaj Auto ecosystem have cancelled their regular gym memberships elsewhere and "come here instead" simply because they cannot get such facilities in Pune.
Likewise, the flooring in the basketball court is in line with "true international" standards. The same holds true for the indoor badminton court which has been executed with "that level of excellence". Rajiv Bajaj, says Kyran, had driven home the message that it was just not about "creating a facility" but to ensure that employees should have everything that is world-class "just like how Bajaj Auto is world class and sending products across the world".
By the end of the day, it is "our employees who are helping us create world class products which are winning hearts worldwide". Consequently, it was only fit that they were given world-class facilities and there was no question of cutting any corners while creating Utsah.
While Akurdi is home to this concept, Bajaj Auto's other plants at Chakan, a little distance away, Waluj and Pantnagar also have facilities for employees to work out or play indoor sport. However, Utsah is special in terms of the way it was conceived where everything was integrated.
Bajaj Auto also makes motorcycles. Utsah is aimed to be a tool to integrate wellness in employees, which in turns translates into higher productivity.
Kyran dismisses any thought that this was also done as part of an effort to measure productivity and check if it had gone up with the commissioning of Utsah. As he puts it, there are things that one does because of philosophical alignment and belief there are also things one does for return. "Our belief is that employees need that integrated wellness for them to be happy and productive," he adds.
Hence, while any resultant like productivity improvement is welcome, that is not the objective of Utsah. "We are not doing it because we want additional productivity. Our philosophical belief is that happy employees lead to their better impact in the organisation and that is the belief which we do not plan to measure," reiterates Kyran.
Equally, after sometime, it involves a lot more effort to measure productivity than to simply allow employees to enjoy Utsah. "We enjoy the fact that employees are enjoying it and that is the joy of the entire thing. Happiness comes from the fact that employees are using it," he says.
This was important to Rajiv Bajaj who was keen that people revelled in using this facility. "Whenever a lot of employees are coming in or the gym is running full, it gives us immense joy because we can see that employees are enjoying it," says Kyran.
This is the core of Utsah and it is only fit that is being driven by employees and one of the latest initiatives was the formation of an employee council for different activities. For instance, there is a council for the gym, another council for yoga, indoor/outdoor sports, dramatics, music and so on.
The key here is that employees who have "great interest, energy and drive" in that specific area of the council (health, music, sports, dramatics or the library) play a pivotal role. Each council has 6-8 people who are hardcore enthusiasts and all the heads come together to form the Utsah governing council.
"Our objective was to create the fabric/facility. By the end of the day, this is for the employees and by the employees and we want them to drive it. Every year, we will ensure that the leadership is rotated to throw up new ideas," says Kyran. The company will, of course, provide the budget and all support to the councils on any new initiatives.
For instance, the sports council is "already thinking" of creating interdepartmental tourneys which will culminate in an annual super tourney. Similarly, the dramatics club is working on creating programmes for employees to come and enjoy themselves in the amphitheatre. "Each council is coming up with its own set of events and challenges through the year," says Kyran.
As he explains, this goes just beyond the usage . . . it comes to a place where employees are coming and participating in running the facility. They are also figuring out how to create a platform to showcase their skills to other employees and in a way "you create the whole bonding and camaraderie and a sense of fulfilment".
This, in turn, is where the joy comes in and eventually "you are part of something that is bigger than you". According to Kyran, these are all the "fundamental philosophical beliefs of this company and all of us are part of something that is bigger than us". This is also part of a larger thought process.
"We are all custodians of this place and we will take something, better it and hand it over to the next generation. Our belief is that togetherness is important and that is about associative enjoyment. One just cannot have enjoyment by being alone but by being part of something bigger than us and contributing and adding value to oneself," elaborates Kyran.
Health bar — a food and beverage centre for fresh fruits, juices and protein shakes to promote healthy eating habits.
All of this, at a philosophical level, is coming together in Utsah and that is why Rajiv Bajaj chose that name because by the end of the day it is about that inner joy that comes out. "We are an Indian MNC and proud of our legacy which is rich and huge. It also anchors on our Indianness. When we are creating a facility, we want to benchmark it to the best and say we are also global while being Indian," he says. This explains why top-class equipment, among other things, was a priority for Utsah in order to create a best-in-class facility.
The best part is that it is based on tremendous employee trust where nobody needs to be monitored — they know what is important for the company and all this was thought through carefully during this conceptualisation. "This also explains why our MD wanted it open so that people use it during the day for him to know that they are enjoying the facility," says Kyran.
Gazebos for collaborations and meaningful conversations. The sustainable facility is entirely solar-powered and can harvest up to 65 lakh litres of rainwater.

This is in sharp contrast to many conventional organisations where worker loyalty is typically gauged by their physical presence at work irrespective of the fact that they could actually be doing very little in terms of actual productivity. It is here that Utsah marks a refreshing departure from convention since there is complete transparency in the process and there is no need to be secretive about taking a well-deserved break.
The aftermath of the pandemic has also thrown up some important questions on the mental health of employees following months of turmoil during the lockdown phase. However, Utsah was conceived a lot earlier with a more proactive approach to employee wellness.
Kyran recalls that a bulk of the work was happening during the pandemic. "We were still investing in it while Covid was raging and the gym equipment was imported then and got caught in the travel delays," he says.
The fact that it was not a reaction to Covid also reminds Kyran of what Rajiv Bajaj had once told him and which has stayed with him since: 'Ravi, we should respond and not react.' This, he continues, is profound in its core because "when you respond, you are taking everything into consideration, understanding where you are and what your stand is".
On the other hand, when "you are reacting, you are doing so emotionally, out of anger or fear". Reacting is emotional while responding is comprehensive and more valuable. Utsah, therefore, is a response to "our belief in employee wellness". It is not a reaction to Covid or to what other companies might be doing.
It also puts in perspective why the holistic objective is so important because Utsah has within its fold dramatics, sport, the amphitheatre "and everything else". As Kyran reiterates, "We find everything here in an integrated space of holistic wellness. It is a response to our philosophical belief."
Equally, Bajaj Auto is emphatic about the fact that it does not want Utsah to be a static concept and this is why the council was created to ensure that it continues to be relevant. "The concept is to have a life of its own and the life force does not come from the facility but from its employees," he says.
Similarly, the governing council was created by employees and not by HR or the management. "They are going to be passionately driving each one of these areas
and in toto, that will keep this place dynamically alive.

We will keep allowing it to evolve and add more to itself while remaining current always," explains Kyran. This is the absolute fundamental concept and "we will be happier with employees being the live force centre" of Utsah rather than the structure.
RELATED ARTICLES