Bajaj Auto expects to restart production in a week
The company has filed a petition in the Pune industrial court to declare the ongoing worker's strike as an illegal activity. In a press conference called to clarify Bajaj Auto's stand, Pradeep Shrivastava, chief operating officer, said that "we have moved the Pune industrial court to declare the strike at our Chakan facility as an illegal activity."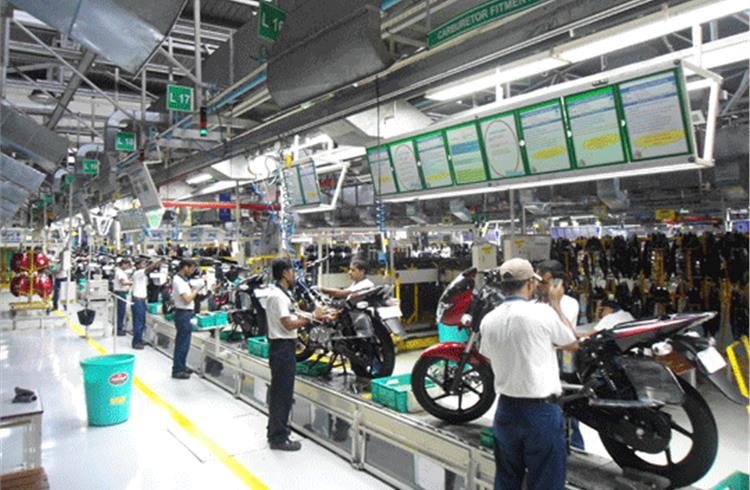 July 2, 2013: With Monday (July 1, 2013) being the seventh day of the ongoing strike at the Chakan facility of Bajaj Auto, the company management expects to be able to restart production in another week.
The company has filed a petition in the Pune industrial court to declare the ongoing worker's strike as an illegal activity. In a press conference called to clarify Bajaj Auto's stand, Pradeep Shrivastava, chief operating officer, said that "we have moved the Pune industrial court to declare the strike at our Chakan facility as an illegal activity."
With the company gaining traction on the situation, Shrivastava claims that Bajaj Auto will be able to reinstate normal production in another week's time. He said that "200 workers reported at work on June 30 while 488 workers reported at work on July 1 to make nearly 1,250 motorcycles."
Giving a brief chronology of events, Kailash J Zanzari, vice-president, motorcycle manufacturing, said: "We received a note from the worker's union that they will not come for work from the morning shift of June 28. However, they stopped work at Chakan on June 25, demanding 500 equity shares of the company to each worker for Rs 1 per share. Other demands are wage increment, reinstatement of a sacked employee along and 13 others temporarily suspended from work on disciplinary grounds." According to him, the stoppage of work at Chakan led to the production of only 250 motorcycles on June 25. However, gaining momentum over the last week, Bajaj Auto managed to increase the production numbers to 950 motorcycles on June 30 at its Chakan plant.
According to Zanzari, Bajaj Auto entered into an agreement with Vishwa Kalyan Kamgar Sangathana (VKKS) in May 2010 for 9 years wherein one of the clauses held that worker salaries were to be revised every 3 years. "While during the first two years, we witnessed smooth production, the issues began during October 2012 onwards. We have been seeing a consistent drop in the production of our bikes at the Chakan facility since October 2012 until they went on strike on June 25. We have seen production efficiency dropping from around 92 percent to 30 percent over this period," added Zanzari.
According to Bajaj Auto's management, Dilip Pawar, the head of the union of workers at the bike maker, has not visited the plant in the past one year despite the management inviting him several times to the Chakan facility.
The company's records say that it employs a total of 1,486 workers at Chakan, of which 900 are permanent. At any given point of time, there are around 650-700 workers on the shopfloor. The company management says that only permanent workers are involved in the core production work. Zanzari added that "out of 900 said permanent workers, I suspect nearly 780 of them to be the members of VKKS while remaining are the non-members."
Ninjas, Discover bikes unaffected by the strike
As on June 30, a total of 300 Pulsars rolled out from the Aurangabad plant and 80 KTMs and 40 Avengers (of 950 total units) from the Chakan facility. Under normal conditions, the Chakan plant rolls out nearly 2,000 motorcycles a day. While the Kawasaki Ninja motorcycles are assembled at the Akurdi facility (10 units per day), Bajaj Auto's largest-selling bikes, the Discover series, are produced at the Aurangabad and Pantnagar (Uttarakhand), plants. The Aurangabad facility has an installed capacity to roll out nearly 175,000 motorcycles per month, of which, the company currently rolls out 140,000 units per month. This comprises of 50,000 Boxer 100/150 models and 10,000 CT100 models for exports. Another 10,000 units of 135cc Pulsars and 70,000 units of Discover 100, 125, 150 models for domestic and exports roll out from the same facility.
TOTAL NUMBER OF WORKERS EMPLOYED AT VARIOUS FACILITIES
Chakan (Pune) 1,486
Aurangabad 3,300
Akurdi (Pune) 430
Pant Nagar 850
Bajaj Auto's management says that the company employs around 5,000 permanent workers (of over 6,000 workers) across all 4 facilities.
CHAKAN PLANT STATISTICS
Installed capacity: 3,600 units per day
Market requirement: 2,700 units per day
Under normal work conditions, this facility rolls out 1,900-2,200 units per day (depending on orders, inventories)
Number of Pulsars produced: 60,000-65,000 per month
Number of KTMs (125s, 200s & 390s): Nearly 3,000 units per month
Production on first day of strike (June 25, 2013): 250 units
Production on sixth day of strike (June 30, 2013): 950 units
Production on seventh day of strike (July 1, 2013): 1,250 units
AURANGABAD PLANT STATISTICS
Installed capacity: 175,000 units per month
Total bikes rolled out: 140,000 units per month (80% capacity utilisation)
Bajaj Boxer models: 50,000 units per month (for exports only)
Bajaj CT100 models: 10,000 units per month (for exports only)
Bajaj Pulsar 135cc models: 10,000 units per month
Bajaj Discover models: 70,000 units per month
MODELS PRODUCED ACROSS FACILITIES
Chakan: All Pulsar and KTM models
Aurangabad: Discover models, Pulsar 135cc and other export models
Akurdi: Assembly of CKD kits of Ninja bikes (Ninja 300 & Ninja 650R)
Pantnagar: Discover models and Platina 100
AMIT PANDAY
RELATED ARTICLES