AutoNxt Automation readies electric tractor that farms on its own
AutoNxt Automation, which is developing India's first autonomous e-tractor, aims to make a difference to those who toil on soil
It may not be from the popular Marvel ensemble, but this Hulk is set to make its mark, nevertheless. Mumbai-based start-up, AutoNxt Automation claims that it is in the process of conceptualising what might become the first-ever e-tractor in India's agriculture-dominated economy.
The brainchild of 27-year-old Kaustubh Dhonde (pictured below), this Level 2 autonomous tractor, nicknamed the 'Hulk', will be a 27hp tractor, more compact in size compared to a traditional 25hp tractor, and is set for a commercial launch in 2020.
After Autocar Professional had first broken the news about the Hulk in February 2018, the start-up with its eight-member team has been diligently reaching out to farmers to understand their needs, demands and expectations to help develop an appropriate tractor that runs on electricity.
Driving the automation bandwagon
The Hulk begs a question why a tractor, when we talk of an autonomous prototype. Well, the farm output is still a major component of India's GDP and 58 percent of the country's population is engaged in agriculture. According to Dhonde, this is the market that they are keen to tap as they get around, "testing our product across regions. The battery, the powertrain, the number of hours it can work, across different applications, is something that varies across the length and breadth of the country."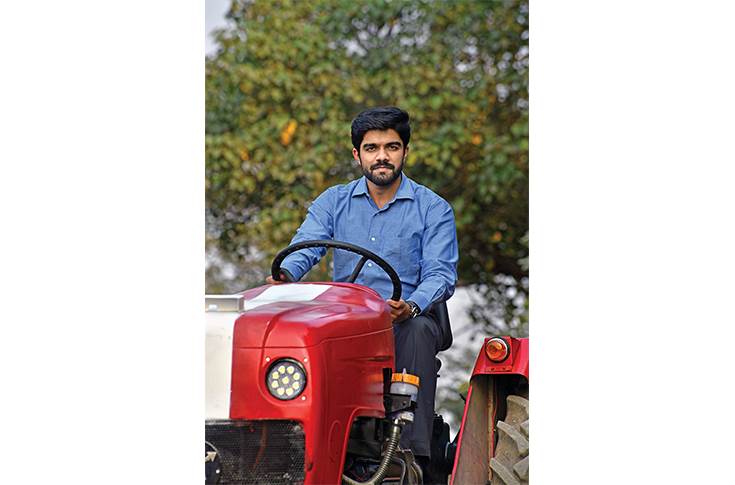 Kaustubh Dhonde: "The electric tractor's charger will have a stabiliser to ensure safe charging as there is huge power fluctuation in villages."
The Indian food and agriculture industry is at a critical juncture currently. On the one hand, it is poised for huge growth, increasing its contribution to world food but on the other hand, the Indian agricultural sector is facing shortage
of farm labourers on the back of low payout, marginal land holding, health factors and migration issues.
In this kind of a scenario, Dhonde and his team are keen to create the ideal product that could offer constructive farming solutions. AutoNxt is working on a design that is set to make a difference across a diverse segment of applications such as ploughing, tilling, disking and spraying insecticide. Dhonde reveals that the start-up aims to target the horticulture space, where the need for compact tractors with smaller footprint is significantly higher.
How well the e-hitch will hold?
The range and extent of charging continues to be key challenges for most electric vehicles. In the context of an electric tractor, the challenges multiply as users also have to contend with unreliable grid power in villages. Dhonde says, "to ensure that the e-tractor's battery is able to charge in such a challenging situation, the company is incorporating a stabiliser in the charger itself."
AutoNxt's electric tractor will come with e-hitch technology, involving a three-point linkage for hydraulics which makes sure the implements stay at a constant level depending on the soil type. The company is in the process of integrating this technology with some changes. The only thing that a user needs to do then is to select the soil type and implement type. The AutoNxt founder adds that, "to ensure that our tractor is able to operate across different plains, the tractor will have a maximum torque of 150 Nm available right from start. In contrast, an equivalent diesel-tractor (25hp) has a maximum torque of 40-50 Nm."
Investment and operations
That brings us to the point about how all of this will be funded. Dhonde says, "We are open to seed funding and have received some support but there is still a lot to do. We are interacting with ICAT and ARAI from the past six months for certification. Once that process is complete, we will start commercial operations."
He mentions that while he has got some funding, the company is targeting to raise $3 million (Rs 22 crore) from June 2020. "We are already in high-level discussions and are working with a company in India and testing out our solution. The idea is not to do manufacturing ourselves, we are looking at contract manufacturers for the same," reveals Dhonde. However the company remains tight-lipped about its future game-plan.
But for Dhonde and his team, the idea from concept to prototype stage has been a continuous learning journey. In fact, responding to a query on the potential use of the tractor's autonomous driving capabilities on rural or city roads, he says, "In villages, most farms are not more than a few kilometres away from the farmer's house. The tractor's operation will be limited to a 10km radius of the customer and with the use of GPS data and other safety features, we will ensure that it cannot be operated on roads."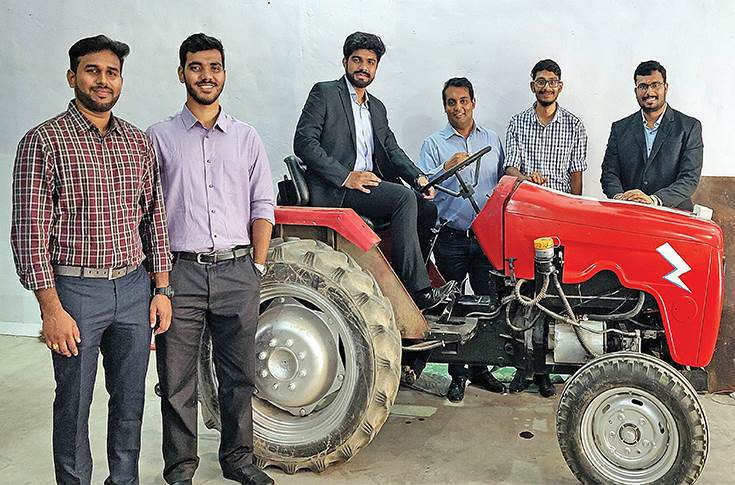 The AutoNxt Automation team. The start-up aims to raise $3 million (Rs 21 crore) from June 2020 and is scouting for contract manufacturers.
Commenting on the potential of adopting battery swapping technology for the company's future offerings, Dhonde says, "We are looking at that too!" This could help chart out the finer details ahead of the commercial launch given that Chetan Maini, one of the most vocal advocates of battery swapping, is also an investor in AutoNxt Automation.
Autonomous on-field and limited road applications
However, one of the primary challenges for new-age start-ups in India is that the introduction of new policies and regulations lag behind the actual pace of innovation. This is more so when it comes to autonomous technology, an area where established OEMs have not spoken much about. And when it comes to the commercial business application, the adoption of new technology in India has not seen much progress either.
The start-up is not shying away from using battery swapping technology in the future. it helps that Sun Mobility's Chetan Maini is an investor in AutoNxt Automation.
In September 2017, Mahindra & Mahindra, the world's largest tractor manufacturer, had showcased its semi-autonomous product offering. The tractor was developed at the Mahindra Research Valley, the Group's innovation and technology hub in Chennai. The company had said that its driverless tractor, which can be programmed to carry out specific tasks and can also be operated remotely, is aimed at redefining the mechanisation process for the farmer through substantially increased farming productivity.
At the time, M&M had said its driverless tech would be deployed across all three Mahindra tractor platforms, from 20hp to 100hp, in due course of time. The company was also exploring markets such as USA and Japan, giving Mahindra tractors a distinct competitive edge with technological advancement being their USP.
Now, with AutoNxt Automation's Hulk expected to roll out in mid-2020 and no issues of BS VI to contend with, farming may not be a man's job anymore as machine takes over the learning.
(This article was first published in the December 15, 2019 Anniversary issue of Autocar Professional)
RELATED ARTICLES