2020: Traumatic year for mankind, industry
Who would have thought that 2020 would end up becoming such a nightmare for India and the world? The going has been difficult but perhaps some lessons have been learnt along the way.
Clad in PPE, a frontline warrior at a railway station in Mumbai. A sight that became commonplace in the year that was. (Picture: Aultrin Vijay)
Auto Expo 2020 held in early February in Greater Noida, Delhi saw the presence of mask-clad visitors for the first time albeit the full impact of the coronavirus pandemic hit India about two months la
The nationwide lockdown, due to Covid-19, was from April through to mid-May. This is a photo of a traffic-less Mumbai and the iconic Oval Maidan. (Pic: LMC Automotive)
Automakers the world over shifted production to making masks and face shields. Top: Bangalore-based Stumpp Schuele & Somappa Springs produced face shields, with assistance from Toyota Kirloskar Motor
Mercedes-Benz operated a production plant for mouth and nose masks at its Sindelfingen plant with a daily capacity of more than 100,000 masks.
Covid-19 and the resultant social distancing meant that stringent staffer scanning, face masks, virtual new product launches and high-quality PDI are part of the new normal.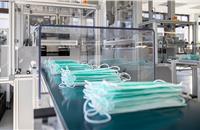 As 2020 turned into history and a year gone by, people across the world will be keen to obliterate terrible memories caused by an invisible assassin called Covid-19.
What began as seemingly innocuous reports of a new virus strain emerging from Wuhan in China gradually assumed demonic proportions and swallowed everything in its wake. As the most powerful countries struggled to cope with this spectre of doom and disaster, their medical fraternities quickly realised that they had more than a challenge in their hands.
It was quite obvious that Covid-19 was quite unlike anything doctors had ever experienced in their professional careers. Ebola and swine flu had affected some countries but here was an impartial predator that was sweeping across the globe rapidly while scorching both rich and poor nations along the way.
Clad in PPE, a frontline warrior at a railway station in Mumbai. A sight that became commonplace in the year that was. (Pic: Aultrin Vijay).
India Auto Inc quickly put new SoPs into place.
The initial images of Italy were horrifying with bodies piling up in morgues and doctors clearly flummoxed by the magnitude of the problem. It was clear that this was serious stuff and only a matter of time before it truly exploded in everyone's faces — and quite literally as the humble mask became the most trusted weapon to combat Covid-19.
Back home in India, there was clearly awareness of the Wuhan virus and what was happening many miles away in China. Not too many people perhaps gave a thought about what lay ahead . . . for now, it seemed highly improbable that Covid would wreak havoc in the subcontinent.
After all, Donald Trump had visited India in February to a thunderous ovation where he was feted like a Caesar in Ahmedabad where there were thousands of people cheering loudly for him. The same month had seen the Delhi Auto Expo also take place even while concerns were being raised about the China factor and spread of the virus.
The organising committee went the extra mile to assuage fears and ensured that checks were in place to keep those people who visited China at bay. Automakers from the country like SAIC (MG Motor India) and Great Wall Motors, which had some days prior announced that it would buy out the General Motors plant in Pune, showcased their vehicle range in fancy pavilions at the Greater Noida venue.
Auto Expo 2020 held in early February in Greater Noida, Delhi saw the presence of mask-clad visitors albeit the full impact of the coronavirus pandemic hit India about two months later.

Masks were distributed at the Auto Expo but nobody was really in a state of panic. Some chose not to wear them and the mood was distinctly buoyant as it is in most of these events. India perhaps had no reason to fear — after all, the most powerful person in the world, the US President, had graced its shores when the virus was already on the move beyond China.
World goes into lockdown mode
Yet, there was no denying the fact that Europe was in trouble as television images brought to everyone's homes the horrors of Italy in particular. By this time, it was quite apparent that this was no ordinary virus and the World Health Organisation finally made known what nobody wanted to hear; this was a full-fledged pandemic which meant that lives were in serious danger if one wasn't careful enough.
Powerful countries like the UK, US and France suddenly seemed so vulnerable that it was like a comic strip playing out on TV screens. Iran was also in trouble while there was some serious rearguard action happening in South Korea, Vietnam, New Zealand and Germany.
It was only a matter of time before India would join the parade except that its people did not quite expect things to get out of control so rapidly. When Prime Minister Narendra Modi first declared a Sunday lockdown — the Janta Curfew — on March 22, people happily cooperated since this was for a national cause when the day would end with everyone clapping for doctors and nurses, who were already grappling with the realities of Covid-19.
Three days later when the Prime Minister made known that the country would now go into a complete lockdown for three weeks, panic set in. This was only natural since there were less than four hours to go before everything would come to a screeching halt. People made a furious beeline for supermarkets and bought truckloads of groceries to keep themselves secure in the lockdown that would follow.
In the process, shelves emptied out rapidly and for those who followed later, there was nothing to pick and they returned home empty-handed even as anxiety levels were picking up. This was something new and unexpected for everyone concerned. Factories had to shut down, trucks were off the road, supermarkets and warehouses closed . . . the list was endless and the economy just went into silent mode overnight.
The havoc this caused was naturally of catastrophic proportions. Trucks were stranded on the roads and their drivers had no sources of food or water. Supplies were stranded in these trucks, which meant that food and medicines would not be easily available. For the first time ever, April saw zero sales across all vehicle segments with factories and dealerships closed nationwide.
The bad news continued to come in as all sectors of the economy began feeling the impact of the lockdown. The worst hit were the aviation and hotel industries and it is unlikely if they will recover quickly enough in 2021 to be able to square up the huge losses that they posted during the course of this traumatic year.
Job losses became the order of the day and this was particularly painful for the unorganised sector. For those working under the umbrella of casual/contract labour, the axe came down with tremendous ferocity and they found themselves marooned in big, expensive cities. These are people who are seen on housing sites, automotive plants . . . they could be the roadside press-wallahs or chai-wallahs.
It is this workforce that is an integral part of the Indian ecosystem and most of them pretty much take their presence for granted. Go across to Mumbai's posh Nariman Point where you will typically see hundreds of them spread across selling food and tea on the pavements. This is true for the entire country where these service providers — for food, clothes, haircuts and transport — are a critical part of the landscape.
Almost all of them constitute people who left their towns and villages back home to make money in big cities. They are ready to take on any job that will ensure an honest livelihood and help send money back home to their dependent families. It's hard work, be it in a plant or on a pavement, but the show will have to go on. And it is this category of the workforce which was badly hit by the lockdown.
With incomes drying up, it is not a joy ride to live in expensive metros like Delhi or Mumbai. As the lockdown continued beyond the three weeks, desperation set in and this was what paved the way for disturbing visuals of migrant workers heading back home. Remember, trains and buses had been yanked off, which meant that these helpless people resorted to carrying out the long journey on foot.
TV images showed that some had walked huge distances on terrible terrain and in difficult weather conditions with little access to food and water. The tragedy was that some truck drivers decided to make a killing in this truly heartbreaking time and charged them big bucks to transport them back home. The horrific images of these migrant workers will haunt India for years to come and will serve as a reminder to the fallout of Covid-19.
Supply chain disruption
On the business side, automakers and the industry across the value chain struggled to cope with the massive disruption in supply chains as factories gradually began opening up. Smaller component vendors had taken a huge hit and were strapped for cash. The presence of containment zones meant that some suppliers were hard pressed to send out parts to their OE customers. It was nothing short of a nightmare.
There will be endless debates on the merits of the lockdown and if it had to be carried out in the way it did . . . without giving too much notice and clamping up the whole country on a single go. Critics of the BJP will insist that it was the wrong way to handle a problem and if only this move had been confined to big cities, the fallout would have been less severe.
Wisdom, however, can be gained in hindsight and some realities cannot be wished away. Had the lockdown not happened the way it did, hospitals would have been under tremendous pressure to cope with the crisis. To most doctors, Covid-19 was a new animal, an alien that they had never encountered before in their careers. They needed time to understand what it was about and how best it could be tackled.
There is no getting away from the fact that the pandemic has wreaked havoc across the world, even the developed countries. After the US, India heads the infection tally but quite mercifully the death toll has been relatively smaller. Experts believe that this has to do with people's stronger immunity levels combined with tropical weather and so on. The theories continue but keep changing everyday too as new findings keep cropping up on this virus.
Work-from-home wisdom
From the automotive industry's point of view, there have been some valuable lessons learnt along the way. Companies have realised that work from home (WFH) is actually a viable alternative from the viewpoint of ensuring optimal productivity. This is particularly true for those jobs which do not need people to be seated in plush corporate offices.
CEOs say that online meetings are more focused now and there is greater respect for time management. There have been huge cost savings on travel and hotel stays, even though this is not great news to both industries which need their corporate clientele to keep their balance sheets healthy.
Going forward, a whole lot of companies have decided to shut down commercial space in many parts of the country since this is nothing but wasteful expenditure. Will WFH then become the norm for the future? This may be a practical option for the IT sector but clearly not the way forward for an industry like automotive.
Even while manufacturing plants will need people to be present, companies also believe that nobody should work in isolation beyond a point. There have been enough reports suggesting that anxiety levels have mounted across the word as people continue to stay indoors worrying that they could be infected. It's to get over this paranoia and solitude that companies will insist that there is some work rotation happening all the time even as WFH could be exercised perhaps thrice a week.
Personal mobility to the fore
Covid-19 has also paved the way for automakers to capitalise on the opportunity to ensnare more customers keen on personal mobility. After all, the fear of using public transport will continue for a while and this is the time people will be keen on buying cars or two-wheelers. Likewise, there will be a clamour for used cars and subscription models for those not too obsessed with the idea of owning a vehicle.
Automakers have also realised — and this is really not anything new except that the pandemic has only fuelled options — that rural India's buyer base needs to be tapped with greater vigour. Some of these manufacturers who were already ahead of the curve are also reaping the benefits while others are furiously plotting new strategies and products to take the growth story forward.
Yet, there are niggling doubts whether this boom will actually last the course. After all, the economy was in slowdown mode when Covid-19 struck in all its ferocity and it is not as if the buoyancy has returned. This is borne out by hard facts on the GDP fall but for now there are no two ways about the fact that there is a momentum in place and it, therefore, makes sense to make the most of the situation.
Reality check for all
It is also naive to assume that the fear of public transport will continue forever. Indians are quite resilient as evident in the way many of them have reacted to the unlocking of the economy. Sure, there is still some anxiety but this will abate as buses and trains resume and people will be reassured that there is really no reason for excessive paranoia.
Most importantly, there is a reality check of affluence and per capita income levels to factor in — it is not as all Indians are super wealthy and can afford their own cars or bikes. Given a chance, they would rather travel in public transport which is easier on their pockets.
Beyond Covid-19, there have been other headwinds India has had to contend with. The face-off with China was a needless headache for a country which was already grappling with the challenges of a lowdown. In the process, Chinese investments have taken a backseat even while there has been a fresh surge of nationalism in the form of Atmanirbharta Bharat and the need for self-reliance.
The farmer protests have been intensifying along the Delhi border and it remains to be seen how long this will last. This stretch at Gurugram is also a vital automotive hub where supply of vehicles and parts are critical. If the protests continue, there is no telling what this will mean on road transport, freight and logistics costs.
In the US, Covid-19 has played a big role in the toppling of Donald Trump as President. He was criticised for the way he handled the crisis and paid the price in the process. It is also anybody's guess if Trump will have sailed through had the pandemic not occurred.
For now, India seems in a relatively better place as far as Covid-19 is concerned compared to what is being seen in the US and Europe. As an auto industry CEO wryly remarks, "If 2020 was the year of Covid, 2021 will be the year of the vaccine." To that extent, there will be no shortage of hope and excitement even as mankind strives to put the terrible memories of 2020 behind and move on.
RELATED ARTICLES