2012 Automotive Logistics Special: Mahindra Logistics targets South East Asia
Established as a 100 percent arm of Mahindra & Mahindra (M&M), the current share of M&M business in the company's revenue mix is 70 percent.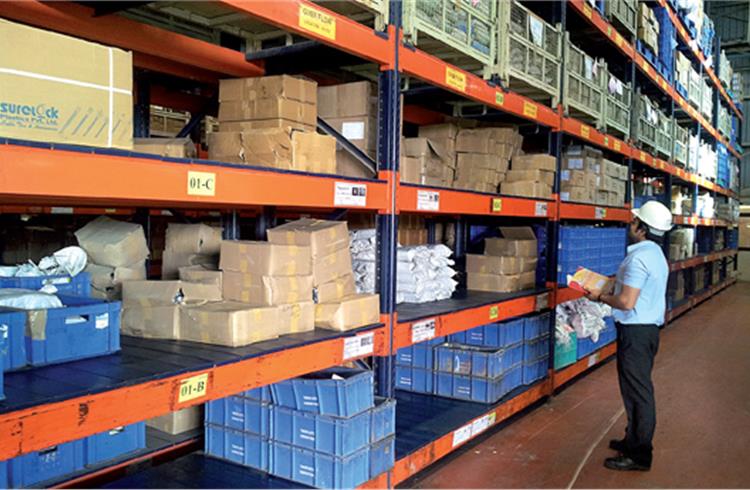 Mahindra Logistics Ltd (MLL) is in the process of developing two focus areas of considerable importance. The first is international freight forwarding and the second is integrated 3PL (third party logistics). The first assumes importance in terms of import of components to India, the export of finished goods and finally, supporting Mahindra's large customers' international freight requirements wherever in the world they manufacture.
The second focus area is integrated 3PL outbound transportation solutions. In India today, most outbound transportation of finished goods is still managed through transporters. The emerging change is the outsourcing of this activity to a 3PL in its entirety. The advantages that result from this are better optimisation, utilisation and availability of vehicles and finally, the ability to integrate best-in- class technology as well.
"The change we seek to bring about is a collaborative environment where a 3PL, like us, can enable efficiencies and value for both the OEM and the transport partner," said PirojshawSarkari, CEO, Mahindra Logistics, in an email response to Autocar Professional.
Established as a 100 percent arm of Mahindra & Mahindra (M&M), the current share of M&M business in the company's revenue mix is 70 percent. "However, the external business part is growing much faster. We expect this part of our business to increase significantly, " says Sarkari.
In fact, MLL is also looking at business from outside India and as Sarkari says, "China is one of our most active trade lanes, and we intend developing and growing this trade lane considerably." Asked whether the overseas presence will be in transportation or include warehousing as well, Sarkari says, "We are an integrated 3PL and so the very definition of our service portfolio is 'across the supply chain'. In terms of overseas presence, of course, it will be initially driven by and focused on transportation as we grow our international freight forwarding business. However, as we establish ourselves – especially in certain countries and regions – we will extend to warehousing, in-plant logistics and various other value adds as well. It all depends on the phase of focus and growth that we have in a particular geography. What we may want to achieve in say China may be very different from, say the USA."
The Rs 1,300 crore MLL expects to clock a turnover of Rs 1,700 crore in 2012-13. It is keen to double its revenue in four years and towards this end, the company has drawn up some plans that include an expanded service portfolio and geographic spread.
"There is a need for integrated solutions that span the global marketplace. Our customers need to have certain needs and expectations, so it is up to us to meet those needs and expectations with quality, focused solutions," says Sarkari.
Sarkari says there are two challenges logistics players face in India – infrastructure and awareness. "As far as infrastructure goes, this is a real constraint felt by most operators in India today. Yes, there are developments, investments, projects undertaken and completed. However, the challenge is the pace of change, which can sometimes be glacially slow. As we progress and grow, infrastructure is becoming a real bottleneck. So it's a challenge, but everyone faces it. The second challenge is creating awareness among large corporate about the difference that technology integration makes to supply chain solutions. The awareness and realisation is often present when it comes to multinationals, but in most other large organisations, it is a slow and long process. It is sometimes a challenge to make our customers realise the benefits of deploying and utilising technology in their supply chain. This comes back to the perspective of looking at the solutions we create from a total logistics cost standpoint."
---
INTERVIEW WITH PIROJSHAW SARKARI, CEO, MAHINDRA LOGISTICS
Of the non-Mahindra business, how much is contributed by automotive clients?
The mix of auto versus non-auto business is 60 percent to 40 percent. This mix has been stable in the recent past. We do not see the proportion changing significantly. Long focused on automotive logistics, we serve customers across industries and business verticals — from automobiles to components, consumer durables, fast moving consumer goods, hi-tech, retail and engineering goods.
Which is your biggest business vertical?
Automotive logistics is our largest. Creating and operating solutions across in-bound, in-plant and outbound logistics for the automotive industry is a large part of what we do. However, we have also leveraged our understanding and expertise in managing integrated supply chain solutions and expanded our scope of operations and solutions to go beyond the automotive industry such as retail and engineering goods.
What is the fleet size of Mahindra Logistics?
We are an asset-light 3PL, so we basically meet our transportation needs through business partners who are the actual fleet owners. A large part of our requirements — across inbound, inter-unit and outbound — is met through dedicated vehicles, or vehicles deployed for the sole use of Mahindra Logistics.
Has MLL identified any partner/s for overseas market/s?
As part of the larger Mahindra Group, we always keep a keen lookout for opportunities, whether they are alliances or acquisitions. Joint ventures, acquisitions or alliances are of considerable importance when our goal is to grow quite aggressively. So we are open to all possibilities.
At what rate do you see the logistics business growing in India?
We estimate India's logistics business to be in the region of about Rs 10 trillion with a non-bulk component of approximately Rs 2 trillion. The estimated forecast growth rate is 10 percent to 12 percent.
BRIAN DE SOUZA & SUMANTRA BAROOAH
RELATED ARTICLES