Two-wheeler OEMs fire on all cylinders at Auto Expo 2016
While manufacturers focused on showing value-for-money and innovative mobility solutions, they also unveiled multiple models for the booming midsized bike segment.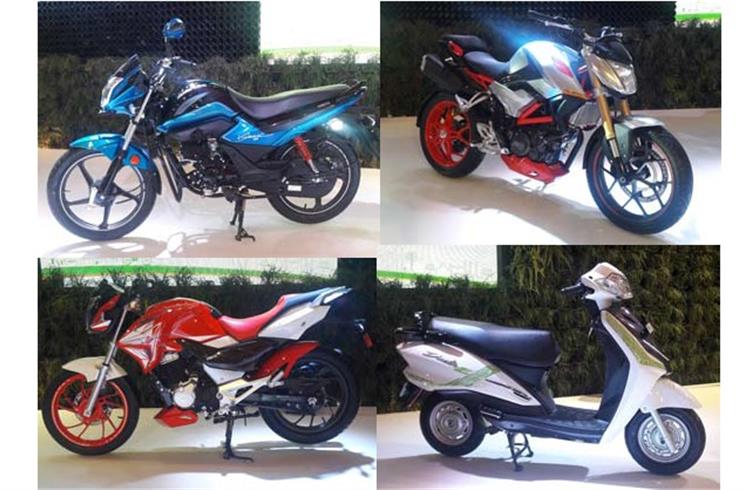 Along with the news-making passenger cars and SUVs, the two-wheeler sector also added a lot of oomph and pizzazz to the Auto Expo. A good number of manufacturers revealed stylish new products and concepts that got aficionados hugely interested and the industry talking. Here's looking at the best on two wheels.
HERO MOTOCORP TALKS TECH
Following a theme of green innovation and technology, Hero MotoCorp unveiled four products – SplendoriSmart 110, Xtreme 200S, XF3R and Duet-E scooter – which included two concepts and two production-ready motorcycles. These certainly hint at Hero's increased focus on technology and turnaround of concept models into production-ready state.
It is known that the company had showcased a large portfolio of concepts at Auto Expo 2014, of which many projects were delayed due to its partner's (Eric Buell Racing) bankruptcy in the US.
The all-new SplendoriSmart 110 and Xtreme 200S are set to go into production. The company, which has felt the pressure of the rural market slowdown in sales of its commuter bikes, is now looking to boost sales of its Splendor series by introducing i3S technology on a 110cc model (earlier i3S start-stop tech was introduced on the 100cc Splendor model) under the popular brand.
The company is known to sell an average of 30,000 units of the SplendoriSmart (100cc) commuter bike every month. With the second Splendor model joining the iSmart range, the company plans to ensure a stable average demand of at least 50,000 units per month.
The company claims that the SplendoriSmart 110 is the first motorcycle developed entirely in-house by Hero's own R&D team. It is powered by a single-cylinder, 110cc torque-on-demand engine. The SplendoriSmart 110 is expected to hit showrooms in the coming three months.
"After achieving a significant milestone in our solo journey last year with the successful launch of the first of our in-house developed scooters (Maestro Edge and Duet), we are now setting our sights on developing smarter products for global audience. We have also been ushering in a new era of green manufacturing and developing greener solutions for future mobility. At our global centre of innovation and technology in Jaipur, our R&D team is constantly engaged in not only extending the range of our current product offerings, but is also focused on developing newer performance-oriented products in keeping with global trends," said PawanMunjal, chairman, MD, and CEO, Hero MotoCorp.
Meanwhile, the Xtreme 200S hints at Hero's plans of taking on the premium commuter motorcycle segment in the near future. Powered by a single-cylinder, 200cc engine that can deliver a peak power output of close to 18bhp, this all-new model is equipped with performance features such as a rear mono suspension, front and rear disc brakes, LED lights and others. As announced by the senior officials, the Hero Xtreme 200S will be commercially launched next year.
Of the two concepts, the XF3R showcases Hero's abilities on the design front in developing a street naked motorcycle and also reveals that the company has a prototype of a 300cc powertrain for midsized motorcycles.
The Duet-E scooter, on the other hand, is an electric scooter concept. The R&D team at Hero MotoCorp used current electric vehicle technology and a production series scooter – Duet – to demonstrate its abilities of designing a future-proof mobility solution.
Alongside these, the company also displayed its existing portfolio of two-wheelers which included the HX250 (HX250R from Auto Expo 2014), which is an entry level quarter-litre sportsbike. Developed jointly with its erstwhile partner EBR, this project is still understood to be in its final validation stages. There has been no word from the company on the commercial timeline of this model though.
HMSI UNVEILS NAVI, CKD CRF1000L AFRICA TWIN IS INDIA-BOUND
Honda Motorcycle & Scooter India (HMSI) rolled out its NAVI range of two-wheelers, which are powered by its proven 110cc scooter engine. Launched with a price-tag of Rs 39,500 (ex-showroom, Delhi), the NAVI range kick-starts an all-new category in the market. The NAVI, a cross between a motorcycle and a scooter, will be manufactured at HMSI's Tapukara plant.
Explaining the same, Yadvinder Singh Guleria, senior vice-president – sales & marketing, HMSI, said: "With India having the world's youngest population, it is imperative for brand Honda to connect with the youth. NAVI will take forward Honda's Fun DNA in India. From a business point of view, almost 70 percent of the two-wheelers sold in the country today have an engine displacement upto 110cc. However, most of the models here, irrespective of their segment – motorcycle or scooter – are lookalikes without much differentiation in specs or features. Considering the potential and moving away from the syndrome of sameness, Honda R&D India challenged to create 'New additional Value for India' or NAVI."
The NAVI range is said to be Honda R&D India's first fully designed and developed model. The company also showcased a couple of concepts – adventure, street and off-road – on the NAVI platform, along with a number of accessories that can go with the models.
HMSI also announced that it will locally assemble its globally popular off-road, adventure-tourer CRF1000L Africa Twin motorcycle in the coming months. The model will mark HMSI's second global model that will be brought into India as a completely knocked down (CKD) unit and assembled at its facility. The company currently assembles its midsized sportsbike CBR650F at the Manesar plant.
HMSI also unveiled the 2016 editions of the CB Unicorn 160, Dream Neo, CD 110 Dream Deluxe (self-start) and Dio scooter, which now comes with matt grey colour scheme and a premium 3D logo.
Another interesting display was the CX-02 or concept cross 02, which is also a 100 percent design and developed motorcycle by the Honda R&D India team. While this remains a concept, it marks its interest in receiving visitors' feedback on Honda's take on an urban adventure-tourer in the midsized motorcycle category.
"This is an expensive project build after considering a mobility solution for city and long-distance riding. The engineers have been considering a 500cc, twin-cylinder, liquid-cooled engine for this motorcycle. However, this remains a concept and much depends on the feedback from the visitors here," revealed a source associated with the project, who wishes not to be named.
Keita Muramatsu, president and CEO, HMSI, said, "2016 will be a historic year for Honda. Led by increased capacity with our fourth plant, we will cross the threshold of 5 million two-wheeler sales in India for the first time. More importantly, we are confident that Honda's six new models led by the NAVI will reinvent two-wheeler mobility in India."
"Honda met a total of 17.1 million two-wheeler customers across the globe last year. India, with its fast growing economy, is the largest two-wheeler market in the world and our Indian operation became the largest volume contributor to Honda's global production in 2015. I would like to reiterate here that India is one of our priority markets, where we have strong intention to grow further. Honda's fourth two-wheeler plant in Gujarat will be ready to commence operations soon," added Takahiro Hachigo, president, CEO and representative director, Honda Motor Co., Japan.
Honda's management present at the unveiling of the NAVI range at the mega event also included its erstwhile India chief Shinji Aoyama, who is known for pushing Honda's scale of operations in order to achieve the position of the largest two-wheeler company in India.
TVS MOTOR UNVEILS THREE CONCEPTS
TVS Motor Co showcased three new concepts including the one based on the BMW G 310 R – the TVS Akula 310. The company says that it has developed this concept with design cues borrowed from sharks (Akula in Russian means shark). TVS says that it has extensively used carbon-fibre on the concept bike, along with other lightweight materials like aluminium.
On the styling front, the shark-like cues are evident in areas such as underneath the seat that resembles a dorsal fin to improve aerodynamics, the gill-inspired thermal management system, and the flat, sharp nose. Details about the engine have not been revealed, except that the powertrain is a race-spec LC four-valve DOHC. The motorcycle also has a full-function speedometer, on-board gyro cameras and a steering damper to improve stability. Company officials said the concept model will translate into a production model by the end of 2016.
The company also displayed the X21 – a concept racing interpretation of the company's recently launched TVS Apache RTR 200 – and the ENTORQ210, a premium touring scooter concept powered by an all-aluminium, fuel-injected, single-cylinder, 212.5cc engine mated with an advanced variomatic transmission gearbox.
INDIA YAMAHA LAUNCHES CYGNUS RAY-ZR AND MT-09
India Yamaha Motor unveiled yet another variant of its existing Ray scooter line-up – the Cygnus Ray-ZR. The scooter, which is powered by a single-cylinder, 113cc engine that is used in the current line of Ray siblings, the Alfa and the best-selling Fascino model, looks sporty and comes equipped with a continuously variable transmission (CVT). The scooter, which is targeted at young male riders, is available with front disc brake and drum brake variants.
Speaking at the reveal of the Cygnus Ray-ZR, Masaki Asano, managing director, Yamaha Motor India Sales, said: "As we unveil our Cygnus Ray-ZR, we want people to notice our new unique styling which is designed for young Indian men. The Indian scooter market is going through a great phase, constituting almost 30 percent of the two-wheeler market, and Yamaha is committed towards offering its customers a perfect mix of style and technology. India is a very important market for Yamaha and we will continue to invest in innovation and expansion."
Roy Kurian, vice-president (sales & marketing), Yamaha Motor India Sales, added, "India is one of the world's largest two-wheeler markets, and the scooter segment has managed to contribute strongly over the last few years. The unveiling of the new Cygnus Ray-ZR is a very significant step in our efforts to consolidate our position in the fastgrowing Indian scooter market."
Adding another model to its CBU line-up in India, the company also launched its MT-09 global model at the Auto Expo. Priced at Rs 10.2 lakh (ex-showroom, Delhi), this middleweight street motorcycle, which is powered by a three-cylinder, liquid-cooled, four-stroke, 847cc engine that develops peak power output of 83bhp, marks the entry of Yamaha's globally renowned MT series of bikes in India. It is to be understood that the company, which follows a top-down strategy, will certainly, in the near future, bring the smaller siblings from its MT series for India.
SUZUKI MOTORCYCLE SHOWS NEW ACCESS 125 AND UPDATED GIXXERS
Suzuki Motorcycle India (SMIL) launched an all-new Access 125 scooter and revamped Gixxer motorcycles. The new Access 125 will be available in the Indian market from April 2016 onwards.
Suzuki has opted for a full model change of the Access 125 with features like the long seat, largest underseat storage in the segment, larger floorboard, an Easy Start system, the first of its kind in the Suzuki range of scooters, and many others. The all-new scooter has also received design changes and will be available with an optional front disc brake and alloy wheels.
The Japanese company also presented new fuel injection variants of the existing Gixxer models. Masayoshi Ito, managing director, SMIL, said: "We have given our best-selling scooter a complete model change to meet the evolving needs and requirements of Indian customers. We have also made noteworthy additions to our popular Gixxer and Gixxer SF motorcycles. Our engineers have worked very hard to further enhance these exceptional products and we are sure that end-users will be amazed to see the difference. This is a clear reflection of Suzuki's approach towards India as a key market and how we strive to provide our latest and best products."
PIAGGIO UNVEILS the APRILIA SR 150 FOR INDIA
Piaggio Vehicles India (PVPL) displayed the Aprilia SR 150, Aprilia's first scooter for the India market. The premium scooter, which will share its 150cc engine, CVT transmission and other parts with its Vespa siblings, will be locally produced at the company's plant in Baramati, Maharashtra. The company plans to launch this model by August 2016.
The sporty and sleek-looking scooter, which will have premium features like large 14-inch wheels, 220mm front disc brake and 140mm rear drum brake, will target young male riders between 18-28 years old. Talking to Autocar Professional on the sidelines of the event, Stefano Pelle, MD, PVPL, said: "Although Aprilia could be perceived as a more premium brand than Vespa by many, the pricing of the SR 150 could be competitive."
For the complete review, read Autocar Professional's February 15, 2016 – Auto Expo Review issue
RELATED ARTICLES