​​​​​​​India beats Japan in the global car race
A strong bounce back in the demand for personal mobility and last-mile deliveries after the pandemic have helped India overtake Japan in car sales for the first time ever. India is now the third largest auto market in the world. 
India has overtaken Japan as the third largest light vehicle market in the world in 2022, led by a strong recovery in demand for personal mobility and last-mile deliveries after Covid-19.
According to global forecasting agency S&P Global Mobility, Indian light vehicle sales for 2022 are set to grow by over 22% to 4.4 million units, whereas Japanese market sales are expected to slip to 4.2 million units. Light vehicle sales include all passenger vehicles, small commercial vehicles and vans up to six tonnes.


Data Source: S&P Global Mobility
While the final sales numbers are yet to be announced, India is ahead of Japan in terms of domestic passenger vehicle sales as well for the first time ever.
Autocar Professional learns that while India closed with annual sales of 3.8 million units, growing over 25%, the South Asian neighbour is understood to have posted a decline in sales by almost 200,000 units from the previous year's volumes of 3.7 million units in 2021.
Retains No. 4 position in light vehicle production
In terms of output, India has retained its position as the fourth largest light vehicle producer with an output crossing a milestone of over five million units for the first time ever — the actual numbers are likely to be officially published within a fortnight's time.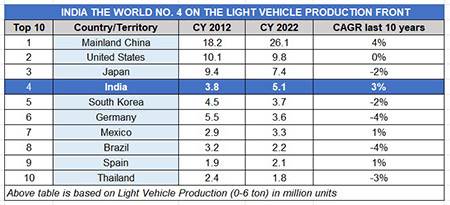 Data Source: S&P Global Mobility
Gaurav Vangaal, Associate Director, S&P Global Mobility told Autocar Professional that in 2021, India became the fourth largest manufacturing country and it has retained this position in 2022. The Indian LVP closed at 5.1 million units with over 22 percent year on year growth.
"Despite multiple hiccups in the last decade, demonetisation, NBFC crisis, regulation jump from BS4 to BS6, implementation of stricter safety norms, Covid-19, Semiconductor chip shortage and Ukraine-Russia conflict India is amongst the only three markets in top 10 markets, which has posted a growth in the last one decade," added Vangaal.
Strong double-digit growth for second straight year
Asia's third biggest economy was the fastest-growing market in 2022 and no other country posted consecutive strong double-digit (over 20%) growth in the world.
S&P Global Mobility, in its earlier press note on November 1, had already stated that India overtook Japan to become the third largest car market in Q2 and Q3 of 2022. Therefore, it was almost a given that with a record festive season, even on a full year basis, India would be ahead.
Calling it a bronze medal position, the note stated that the race for third place was on, with India overtaking Germany for the fourth place in 2021.
In spite of major disruptions, the Indian light vehicle market has swelled at a compounded annual growth rate of 3% in the last decade while most of the matured markets have registered flat growth or negative growth.
Data Source: S&P Global Mobility
India is already the largest market for Suzuki outside of Japan. It also figures in the top three markets for Hyundai and Kia and Skoda Auto and it was in the top five markets for Renault global in 2021. And for the others, it is set to play a bigger role in the future.
Carlos Tavares, the CEO of Stellantis, told Indian media last month that while there are many who are predicting that the global economy is slowing down in 2023, he expects India to continue to grow by 5 to 7 percent. "Even if there are concerns globally, India will still be ahead of the curve on the GDP growth rate," he said.
Tavares claims there is a slowdown bubble looming over the US, Europe and China. When queried if one is going to see a bubble over India he said, "Maybe but it may not be that bad. India has so much potential to grow . . . I don't think it will even slow down to 6 or 7 percent. Apart from serving the domestic market, Stellantis will try to leverage on the quality and competitiveness of India for exports (if the market slows down)."
The stakes for India have especially gone up after the Russia-Ukraine crisis. The likes of Hyundai, Kia, Renault, Nissan and Skoda-Volkswagen have all exited the country. But the future growth potential lies in a few select markets like India. As budgets get redefined after the Russia crisis, India may end up gaining from it.
The leap of confidence
Skoda Auto globally CEO, Klaus Zellmer, told Autocar India that a big contribution to fulfilling the brands global ambitions is coming from India. "We are well on track to more than double our sales in 2022. Our success gives us tremendous confidence for a long-term, sustainable journey in India, which is an integral part of all future strategy planning," Zellmer said.
The Indian subsidiary of Europe's largest automaker has committed a billion euros in the coming years as part of its 2.0 plans. Zellmer says Skoda's current India line-up caters to only about 20% of the market, but also that he "aims to more than double that" in the mid-term.
Skoda Auto Volkswagen India's European rival Renault, along with its global alliance partner Nissan, is almost on the final legs of announcing fresh investment in India. Honda Cars India will enter the mainstream SUV segment in 2023. M G Motor too is keen on expanding its portfolio and is looking at a way to expand its footprint. This will ensure a sustained investment and a variety of product introductions to satiate the rising aspirations of the Indian middle class.
The top five carmakers have already lined up significant capex for the coming decade in capacities as well as new products.
The market leader Maruti Suzuki, along with its parent, has already announced over $2.5 billion in the Indian market. Rahul Bharti, Executive Officer, Corporate Affairs, Maruti Suzuki recently said that the company has confidence in the long-term growth story of the Indian passenger vehicle market. "We believe the market can grow significantly from the current levels in the medium to long term. Most importantly, Maruti Suzuki remains committed to the Indian market and along with its parent company is investing in products, technologies, production capacity and other enablers of growth and customer service with an aim to have 50 percent market share," added Bharti.
The geopolitical juggling act
While the shortage of chips and supplies from China did disrupt production and supplies in the first half of 2022, the way India managed the Russia-Ukraine crisis helped the country to manage inflationary challenges well.
India imports over 80% of its crude annually to meet its mobility needs. During CY2022, India started sourcing more crude from Russia than ever before. From importing about 1% of the total crude requirement, almost 25% of fuel was imported from Russia by September 22. This helped India to counter inflation and provided a stable economy compared to other major economies of the world, said Vangaal.
"It is a credit to the local ecosystem, right from the government, to line managers at the factory to the dealers, which ensured that revival was quick and India bounced back relatively better than many markets," added the S&P analyst.
While the move to source crude from Russia paid off in 2022, the decision to continue to buy despite the G7 price cap on the Russian Urals and its implications will decide the future stability of the economy, experts feel.
S&P Global Mobility forecasts the momentum to moderate and it expects India light vehicle production to grow by just 5 to 8% in 2023, with the pent-up demand getting saturated and inventory at the dealership returning to normalcy.
Apart from the economic headwinds of inflation, there are structural challenges the country continues to face. The rising congestion and increased pollution in Indian cities are one of the major challenges in front of the government and policymakers. Even as the penetration is low, the vehicle density in India is on the rise. It has increased from 15 cars per thousand in 2010 to 36 cars per thousand in 2022, as per S&P's latest findings.
To control pollution, the government can impose an increased level of electrification in the market in terms of percent sales or may strictly follow the scrappage policy, believed Vangaal.
"Other states can also follow similar standards as initiated by Delhi Government like GRAP (Graded Response Action Plan) based on AQI levels while banning even the BS4 diesel vehicles which were even sold in 2020. This can pose a serious risk for ICE vehicles, while acting as an opportunity for EV makers," said Vangaal on the potential risk for the future.
This feature was first published in Autocar Professional's January 1, 2023 issue.
RELATED ARTICLES