Revealed: The 15 carmakers in Top 100 Global Brands of 2022
Though technology brands continue to dominate the ranking, the automotive industry with 15 brands and US$ 347 billion of combined brand value delivers a strong performance. Thirteen of these 15 carmakers retail their cars in India.
In today's world of business that calls for dealing with VUCA(Volatility, Uncertainty, Complexity and Ambiguity) on a daily basis, it helps to be a brand with top-of-mind recall and market dominance. However, that calls for a lot of sustained effort, across multiple fronts, for companies and their management to keep the flag of success continually flying high on the global front.
The latest Interbrand study of the 'Best Global Brands 2022' which ranks the world's Top 100 brands is out. In a world that's speedily walking the tech talk whilst dealing with climate change, depleting fossil fuel resources and making the shift to electric mobility as the mantra for eco-friendly motoring, 15 automakers, purely on the power and panache of their products and aspirational connect with consumers, retain their strong showing on the branding front. And in sync with today's changing business environment and requirements, quantitative Environmental, Societal and Governance (ESG) data has been incorporated into the Best Global Brands methodology for the first time.
Thirteen of top 15 automotive brands in India
From India's perspective, 13 of these 15 carmakers – other than Tesla and Ford – currently retail their models in the Indian market. The Tata Motors-owned Land Rover, which is part of Jaguar Land Rover, is part of the automotive firmament this year.
For the first time, the 100 most valuable global brands exceed an aggregate value of three trillion dollars (Rs 24,870,000 crore). To be precise, the overall value of the Top 100 brands is $3,088,930 million ($3,099 billion or Rs 25,449,694 crore), a 16% rise from 2021 ($2,667,524m). The combined value of the 15 automotive brands is $347,435 million ($347 billion / Rs 2,862,516 crore) and constitutes 11% of the total value of the Top 100 global brands put together.
In terms of YoY brand value increase, Tesla (32%) and Ferrari (31%) are the toppers albeit the best jump in rankings has come from Porsche which moves up five ranks to No. 53 from No. 58 in 2021.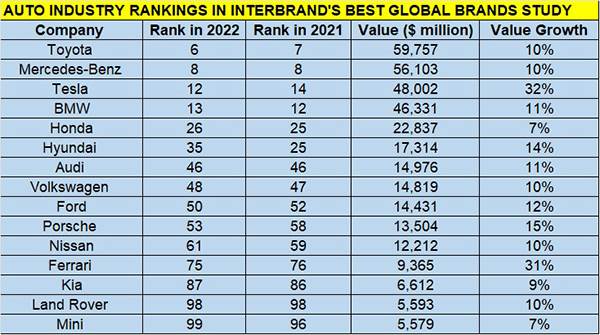 Given the global shift to vehicle electrification, it is not surprising that all these 15 carmakers are actively engaged in the shift to electric mobility. Tesla is the second fastest growing brand (after Microsoft) in the 2022 ranking, with 32% growth YoY and a value of $48,002m.
Elon Musk's company has had an incredible year in spite of a semiconductor crisis, with $47.2 billion in revenues and 87% growth in number of vehicles delivered. It has also increased its footprint in China with the opening of a R&D facility and the addition of a data centre to its Gigafactory in Shanghai. The continued market strength of Tesla's offerings and strong interest in upcoming launches indicate that the Tesla brand and its products enjoy a differentiated view in the consumers' minds. With no production yet, there are 1.2 million Cybertruck reservations worth $80 billion. Tesla is forecasting that it will make 1.5 million vehicles in 2022, up from 930,000 in 2021.
From the country-of-origin perspective, Germany with 5 brands (Mercedes-Benz, BMW, Audi, Volkswagen Porsche) tops the list, followed by Japan with three (Toyota, Honda, Nissan), Korea (Hyundai and Kia), USA (Tesla and Ford) and the UK (Land Rover and Mini) with two each and Italy with one (Ferrari). Mercedes‑Benz, for the seventh consecutive year, retains its position as the only European brand and the only luxury brand in the automotive sector in the top 10 of the 100 Best Global Brands.
Tech tops the brand connect and value
Technology, though, continues to steer ahead of Automotive Inc, thanks to the surging demand for new-age tools in terms of connectivity, artificial intelligence, IoT and the humungous demand for digitalisation. Tech brands continue to dominate the ranking, making up the top five brands in the table.
This year, the cumulative value of the top #10 brands (1,649 $m) is greater than the combined value of the next #90 (1,440 $m).
With an 18% increase in brand value, Apple (US$482,215m) has remained at the top of the table. It is followed by Microsoft (US$278,288m), which has leapfrogged Amazon (US$274,819m) to be No. 2 two in the rankings. Google (US$251,751m) has held onto its No. 4 spot.
The remainder of the top 10 companies are: Samsung #5 (US$87,689m), Toyota #6 (US$59,757m), Coca-Cola #7 (US$57,535m), Mercedes-Benz #8 (US$56,103m), Disney #9 (US$50,325m) and Nike #10 (US$50,289m) for the first time.
Apple holds onto the number one position for its 10th consecutive year, while Microsoft has moved up into second place, overtaking Amazon. Microsoft, Tesla and Chanel have seen the greatest YoY percentage growth, all increasing brand value by 32%. However, despite Tesla's continued growth, it could not replicate the 184% increase in brand value it saw in 2021.
Airbnb, Red Bull and Chinese tech brand, Xiaomi, are new entrants for 2022, with Uber, Zoom and agricultural machinery manufacturer, John Deere, all falling out of the top 100.
Interbrand study methodology
The research for this year's study covers the period between June 1, 2021 to 30 May 2022, and analysis was undertaken between June and September 2022.
There are three key pieces of analysis that form the basis of Interbrand's valuation methodology:
- The financial performance of the branded products or services
- The role the brand plays in purchase decisions
- The brand's competitive strength and its ability to create loyalty and, therefore, sustainable demand and profit into the future
According to Interbrand, "In this decade of possibility, brands that aspire to true leadership must not only deliver exceptional experiences for their customers, but are increasingly expected to act with integrity, doing the right thing by people and planet. This is why Interbrand has further integrated the role and impact of a brand's environmental, societal and governance activities into its methodology for the measurement of the strength and value of a brand."
Key learnings
The fastest risers in 2022 (in terms of brand value % change, YoY) significantly outperformed the fastest falling brands on three Brand Strength factors – Direction, Agility and Participation.
Direction – these brands set a clear direction, ensuring that the entire organisation knows where they are going, and are working towards the same ambition.
Agility – having done this, they move fast, bringing new products and services to market and, where necessary, pivoting to address changing customer needs.
Participation – ultimately, bringing people on a journey with them and making them part of the movement to create an engaging brand world.
Gonzalo Brujo, Global CEO of Interbrand said: "As we journey through this period of economic uncertainty, the most successful brands will continue to make ever stronger connections with consumers. It is no longer enough to have a static business and brand offering. Successful brands know how to harness new technology to create improved experiences for consumers and become a truly integrated part of their lives.
"Our 100 Best Global Brands have burst through the $3 trillion mark for the first time, but there is still room for further growth from both the top 10 and new entrants alike.
"These top 10 brands defy the rules. They build exceptionally strong relationships with their customers, which allows them to extend the equity of their brand beyond traditional products, sectors or silos. They stand out in terms of leadership, empowerment and change—and with that comes value."
Why brand matters in a time of economic uncertainty
Are the world's most valuable brands impervious to risk? No. Gonzalo Brujó Global Chief Executive Officer, Interbrand, says: "The average age of the top 5 brands in our ranking is just 39.6 years versus an average of 110 years across all 100 brands. Competition is fierce, and the speed at which the world's most relevant businesses can scale is unprecedented. So too is the risk. In the two decades since we launched Best Global Brands, only 36 companies have remained in our Top 100 Table. More than 140 have dropped off in the intervening years, including staple brands such as Nokia, AOL, Yahoo! and MTV (once such a significant presence in so many of our lives)."
This year sees the fastest rate of brand value growth ever recorded, demonstrating the growing contribution a company's brand has in driving its economic success. While financial markets have shown significant swings over the last few years, the value of the world's strongest brands have steadily increased driving customer choice, loyalty and margins.
This year, against a backdrop of increased economic uncertainty and one which is likely to continue into 2023, the cumulative value of the world's 100 Best Global Brands has gone past $3 trillion for the first time—up 16% year on year, ample proof that strong brands have greater resilience in tough times. And what goods for tech, fashion or finance, is also good for automotive.
All data courtesy Interbrand
RELATED ARTICLES