New Honda City to ride Tier 2, 3 wave
With the latest fourth-generation City now available in diesel and petrol, Honda Cars India is aggressively targeting buyers in the 20-40 age segment.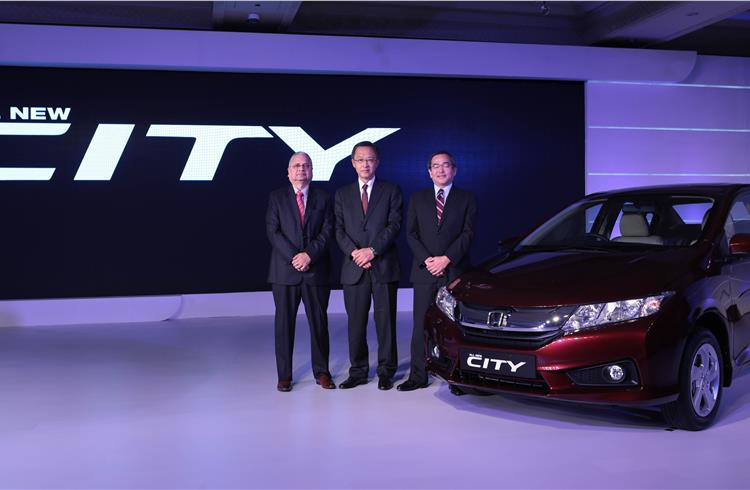 Honda Cars India Ltd (HCIL) brought in the New Year with a bang launching its fourth-generation City saloon, the brand which has sold 430,000 units since its 1998 launch, and which will now be available in diesel as well.
Its diesel line-up will be powered by the same 1.5-litre i-DTEC diesel engine which is under the hood of the Amaze and is based on Honda's Earth Dreams Technology. The carmaker says it has already got 9,400 pre-launch bookings with the diesel variant accounting for 70 percent.
At hand to do the honours was Yoshiyuki Matsumoto, managing officer, Honda Motor Company and representative of development, purchasing and production in Asia & Oceania region, who exuded confidence saying, "With the fourth-generation City, Honda Cars is shifting gears to significantly expand its operating universe in the Indian market."
TARGETING NEW BUYERS IN INDIA
Honda Cars India is targeting Tier 2 and 3 cities in India for the new City and Hironori Kanayama, president and CEO, said that 58 percent of the customers for the new saloon are expected to come from these areas. The new City has 90 percent localisation, in line with Honda's strategy to localise as much as possible to make the products more cost effective.
The company discontinued the old version of the City in October 2013 and used capacity at the Greater Noida plant, which has a flexi-assembly line, to churn out over 9,000 Amaze saloons and 1,800 Brios out of the total 13,200 units produced from two shifts per month.
"While diesel deliveries will start right away, the petrol version will be available starting mid-February," said Kanayama at the car's launch in New Delhi on January 7. Honda expects the City to give a fillip to its annual sales which totalled 107,661 units in calendar year 2013.
With two new models to be launched in two new segments this year – the Mobilio MPV and the new Jazz – Kanayama is bullish about stepping up annual sales further. The start of third shift operations at the Greater Noida plant last November has increased daily production capacity to 616 units from the 440 units in two shifts. This gives room for juggling production of various models, depending on market demand.
At the same time, Honda is also strengthening its dealer outlets to expand its reach to customers in smaller towns. By March 2014, the target is 170 touchpoints in 107 cities from 159 outlets in 100 cities.
The Amaze has sold 55,000 units so far with a third of its sales coming from each of the Tier 1, 2 and 3 cities. As per SIAM figures, 40 percent of the Amaze's November sales were petrol as against 13 percent five months earlier. Spare part availability and servicing at outlets are also being strengthened. About 30 items will be on offer in the accessories segment for the City with a high level of localisation.
"Of the 11 new outlets proposed till end-March, six will come up in Satara, Hissar, Dinapur, Amravati, Bhiwani and Jamnagar. The balance will be in existing Tier 1 and 2 towns that will strengthen Honda's position there," said Jnaneswar Sen, senior VP (marketing and sales).
"For the last seven years, we are growing our business incrementally in Tier 2 and 3 towns and today our distribution network is three times as big as it was then," added Sen.
To target buyers in both urban and rural India, Honda is using communication in eight languages and hiring local salesmen who speak the local dialect. Regional TV channels are also being harnessed to woo customers. For example, the Pune dealership, which opened a decade ago, has nearly all its staff speaking Marathi.
According to Sen, the new City will not cannibalise sales of the Amaze. "The price gap between the Amaze and the City is substantial and despite the presence of the earlier City, the Amaze had a waiting period of 4-5 months, indicating it had its own set of customers. This trend is expected to continue even after the new City hits the market."
TAPUKARA FIRMS UP
Meanwhile, work at the Tapukara plant in Rajasthan is on the fast track. The plant will be ready during the first half of 2014 and, like the Greater Noida facility, will have a flexi-assembly line to produce various models. At present, while the City's sales focus is on domestic customers, exports are also being explored. Last year, Honda Cars kicked off shipments of the Brio and Amaze to South Africa and Nepal. The export target for 2013-14 is 6,000 units. With the high-selling Amaze and now the new City, Honda will move closer to achieving its target of a 50 percent share in the midsize passenger car market in India over the next few years.
RELATED ARTICLES