Uptick in LCVs helps M&M grow CV market share in April-July 2017
With 47 percent of the LCV goods carrier market, Mahindra & Mahindra expands its overall CV share. However, its slow growth in M&HCV goods carriers prevents it from taking up cudgels with Tata Motors and Ashok Leyland.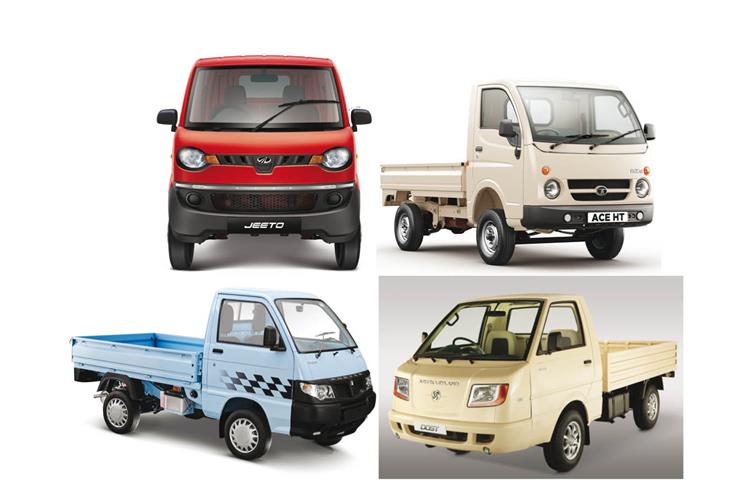 Mahindra & Mahindra, the largest UV maker in India, has seen its market share decline in recent times due to intensifying competition in the fast-growing SUV segment. However, the scenario is very different in the commercial vehicle (CV) segment, where the company has gained new market share due to greater traction in the LCV business.
The LCV impact is so much that in the overall CV market, for the April-July 2017 period, M&M is the sole player to have increased market share. The company sold a total of 61,486 units for a market share of 29.16% in the overall CV segment, up by nearly 5%. (April-July 2016: 52,764 units / 24.11%).
Market leader Tata Motors sold 86,428 units during the same period for a market share of 40.99%, down 2.55%. (April-July 2016: 95,287 units). Ashok Leyland, which is largely a M&HCV player, registered total sales of 35,745 units for a market share of 16.95%, down half a percentage point (April-July 2016: 38,208 units). However, Ashok Leyland is now revving up its LCV product portfolio by expanding its offerings to garner higher market share in the overall CV business. VE Commercial Vehicles, which sold 13,627 units during April-July 2017, has a market share of 6.46%, down 1.43% (April-July 2016: 17,266 units).
Other manufacturers including SML Isuzu, Force Motors and Piaggio, which offer products in fewer categories, have seen their market share decline. JBM Auto and Maruti Suzuki are the two new entrants. While JBM has started selling its low-floor city buses, Maruti Suzuki has entered the LCV segment with its Super Carry.
Strong presence in LCV goods segment
M&M has gained markets share across categories including the Medium & Heavy Commercial Vehicles (M&HCV) passenger and goods carrier segments. However, its growing overall CV share is attributed to its strong presence in the LCV goods carriers segment with its extremely popular range of pick-ups including the Bolero Maxi Truck, Bolero Single Cab and Bolero Camper.
In the total LCV goods carriers segment, the company has a 47 percent market share and in the 2-3.5T pick-up segment, a humungous 62 percent share as its average monthly sales of 9,000-10,000 units is way ahead of the competition.
Tata Motors, with its Xenon pick-up and more recently with the Yodha, has been trying to break M&M's strong run in the segment with little success, yet the company is banking on its newly launch Tata Yodha. Meanwhile, a new entrant like Isuzu Motors India too with its locally manufactured D-Max range of pickups is trying to carve a niche in the category which has seen brisk growth. Maruti Suzuki, which sells the Super Carry LCV in a few cities, sold 1,748 units in the April-July period.
The big battle is underway in the 2T mini-truck segment, which was created and dominated by Tata Motors with its widely popular Ace range for over a decade now. M&M, with its focused approach and tailor-made products like the Jeeto, has been able to snatch market share from Tata Motors in this category. Although Tata Motors remains leader in the category, M&M, riding on the popularity of the Jeeto, has been able to consistently gain markets share in the category. In the April-July 2017 period, Tata Motors with total sales of 25,661 units has cornered a dominant market share of 63 percent, while M&M with 12,599 units has got 31% market share, leaving virtually nothing for other manufacturers.
M&M eyes traction in M&HCVs
While the numbers reveal M&M's strong presence in the LCV segments and thereby the No. 2 in the overall CV segment, the company is a long way from becoming a formidable force to reckon with in the highly competitive and profitable M&HCV segment where it has been consistently incurring losses.
Tata Motors and Ashok Leyland have been dominating this segment for decades now with very little legroom for other OEMs to dent their supremacy. In April-July 2017, both the OEMs combine command over 82% market share in the M&HCV segments (passenger and goods). M&M with total sales of 2,648 units has a minuscule 3.7% market share here.
Now, the company is looking to foray into the intermediate commercial vehicle segment. The company has launched the new BS VI range of HCVs.
M&M is capatilising its focus approach in the LCV business with higher market share, the company has its work cut-out when it comes to the most profitable and highly competitive M&HCV business.
RELATED ARTICLES