Top 10 Scooters in September 2020 | Honda in Activa mode, TVS Jupiter races ahead of Suzuki Access 125
With urban India still to begin ticking, the impact on scooter sales is still being felt. But OEMs ensured September was a month to be ready for the festive season with their popular models.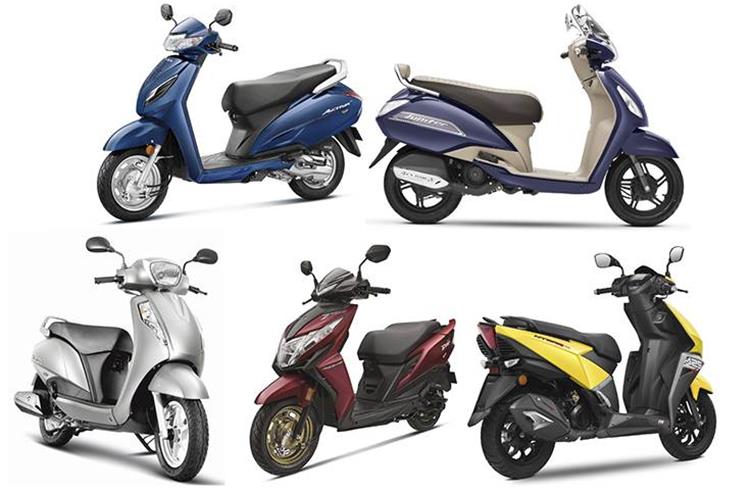 September 2020 for the scooter segment was a month which could be described as present tense and future sense. That's because while the overall two-wheeler segment recorded smart 11.64% year-on-year growth at 1,849,546 units and the motorcycle segment notched 17.30% YoY growth (1,224,117 units), growth for scooter OEMs was flat at 0.08% (556,205 units). This was a month where OEMs were busy stocking up dealer inventory in anticipation of festive Navratri and Diwali sales mid-October onwards.
However, the month-on-month growth is commendable considering August 2020 scooter numbers were 456,848 units (-12.30%). Here's looking at the Top 10 scooters for September, which account for 92% of total scooter sales. The top six maintain their rankings from September 2019, indicative of the demand they command in the market but also the fact that from No. 2 to No. 6, they have been unable to make a leap upwards.
No. 1 Honda Activa: 257,900 units



There is no denying the fact that demand from urban India, which is the driver for scooter sales, is down right now. But Honda Motorcycle & Scooter India is doing all to ensure that the mood turns good again.
In September, HMSI despatched all of 257,900 Activas, the country's most popular scooter by a huge margin. This number is 64,293 units more than August 2020's 193,607 units.
With consumer and market sentiment improving, expect the Activa, which has proven to be a very reliable machine over the last 20 years, to post stronger number albeit the return to its former halcyon days is some time away.
The new BS VI-compliant Activa 6G is definitely a better scooter than its predecessor. Not only is it 'greener', but it is also a lot better equipped and has a lot more going for it as an overall product. However, these updates come at a price – Rs 63,912 (Standard) and Rs 65,412 (Deluxe). It costs around Rs 7,500 more than the 5G, which is about okay when you consider all the work that has gone into it. It's also only slightly more expensive than its direct rival, the TVS Jupiter (Rs 61,449-67,911).
No. 2 TVS Jupiter: 56,085 units



Last month, the flagship scooter from TVS Motor Co sold a total of 56,085 units, bettering August's 52,378 units but considerably down on the year-ago number of 68,971 units. Despite the price hike, the base variant of the Jupiter still holds a competitive price tag. In BS VI form, the scooter develops 7.4hp, which is 0.5hp less while peak torque remains the same at 8.4Nm. TVS also claims that the BS VI Jupiter now delivers 15 percent better fuel efficiency.
On August 24, TVS launched the new Jupiter ZX variant that also gets TVS' new 'i-Touch Start' silent-start system. Besides a disc brake and the silent-start technology, this ZX variant also gets a new all-in-one lock system. It integrates the ignition system, seat, and fuel-cap lock release into a single keyhole, allowing the rider to access these functions easily.
Mechanically, the new TVS Jupiter ZX Disc is identical to the rest of the BS VI Jupiter line-up. It is powered by a 109.7cc, single-cylinder, air-cooled fuel-injected engine that develops 7.5hp at 7,000rpm and 8.4Nm of torque at 5,500rpm. Other standard features include an LED headlamp, a telescopic fork, and a 21-litre boot.
Interestingly, the new Jupiter ZX Disc variant is priced slightly below the range-topping Jupiter Classic (Rs 69,602), which does not get the silent-start system and is only available with a drum brake setup.
No. 3 Suzuki Access 125: 53,031 units



Just 3,054 units behind the TVS Jupiter is the Suzuki Access with 53,031 units, a much-improved performance over August 2020 (41,484 units) where it was in fourth rank, behind the Honda Dio which is now relegated to fourth place in September 2020.
The Suzuki Access, whose fuel-injected, single-cylinder engine produces 8.7hp at 6,750rpm and 10Nm at 5,500rpm, remains a popular buy for those seeking a 125cc scooter.
In June 2020, Suzuki, for the second time since the BS VI model was introduced in January 2020, hiked the Access 125's price to Rs 64,800. Between the BS IV and BS VI model, the price of the current Access 125 has risen by nearly Rs 10,000, possibly a hike difficult for buyers to stomach in the ongoing difficult times.
However, with the price hike to meet BS VI norms, Suzuki also introduced new features to sweeten the deal. The BS VI Suzuki Access 125, for instance, features a silent start system, revised instrument cluster, LED headlamp and an external fuel filler cap.
No. 4 Honda Dio: 33,639 units



Over 20,000 units down on the Access 125, the Honda Dio's sales dropped 22%, month on month, from 42,957 units in August 2020 to 33,639 units in September. It is a surprising drop albeit it could be a strategic decision on HMSI's part to rejig inventory levels.
The Dio was completely reworked when the company made the switch to BS VI. Almost everything is new, including the 7.8hp/8.8Nm, 110cc engine borrowed from the Activa 6G. The scooter also has a new frame that runs a telescopic fork and a larger 12-inch front wheel. Honda has also redone the styling and added many new features like a fully-digital instrument cluster, silent-start system and an external fuel filler cap.
No. 5 TVS NTorq: 26,150 units



The NTorq, the second TVS scooter in the Top 10 chart, had a decent September outing with sales of 26,150 units, a 31% month-on-month increase (August 2020: 19,918 units).
Targeted at millennials, the NTorq, which is TVS' first 125cc scooter, comes powered by a CVTi-REVV 124.79cc, single-cylinder, 4-stroke, 3-valve, air-cooled SOHC engine that develops 9.4hp at 7500rpm and 10.5 Nm at 5500rpm.
The NTorq has several segment-first features including the TVS SmartXonnect, which offers Bluetooth connectivity with the rider's mobile phone (via a mobile app), thus providing navigation assist, location assist, call / sms alerts, rider stats and several other features. The TVS NTorq became the only scooter in its segment offering a fully digital console with over 50 features.
Once the talk of the town which has clocked over 500,000 sales in the domestic market, can the NTorq walk the consumer talk again?
No. 6 Hero Pleasure: 20,068 units



With 20,068 units to its name, the Hero Pleasure is very marginally down on its year-ago performance but improves on its August 2020's sales of 16,935 units. The Hero Pleasure is now dubbed the Hero Pleasure Plus.
Last year, the Hero Pleasure received a much-needed overhaul after 14 years. The update was quite thorough and included everything from its design to its mechanicals. The BS VI upgrade did not impact the 110.9cc engine's power and the scooter continues to produce 8.1hp and 8.7Nm. The Hero Pleasure Plus is the most affordable 110cc scooter in India.
No. 7 Hero Destini 125: 19,644 units



With every passing month, the Hero Destini seems to be improving its destiny. September 2020's 19,644 units are a marked improvement over August's 13,609 units and with demand growing for 125cc scooters, the months ahead should see this Hero scooter record improved traction in the market.
The competitively priced 125cc scooter is even more affordable than Honda's 110cc Activa 6G, which is quite impressive. The BS VI Destini develops 0.2hp and 0.2Nm more than the BS4 version, taking total output to 9hp and 10.4Nm of torque.
No. 8 Yamaha Ray: 19,540 units



Missing out on the seventh rank by a mere 104 units, the Yamaha Ray sold a total of 19,504 units, again like most scooters bettering its August 2020's 15,620 units.
The Ray turned BS VI-compliant in early February, with the rollout of the Ray ZR 125 and Ray ZR 125 Street Rally scooters. The Ray ZR 125 is available in two variants – drum (Rs 66,730) and disc (Rs 69,730), while the Ray ZR 125 Street Rally is only available with a disc brake at Rs 70,730.
The updated model's output figures are 8.2hp/9.7Nm which results in a noticeable improvement in performance. Yamaha also claims that the new engine is 16 percent more fuel efficient (at 58kpl) in its tests as per the WMTC (World Motorcycle Test Cycle) which includes start-up, acceleration and deceleration.
The Ray ZR 125 has also been equipped with a quiet engine-start system and a stop/start system. The Street Rally also includes other features like a new digital instrument cluster, and a wider 110-section rear tyre. The new Ray ZR125s feature a beefier design and the Street Rally variant also comes with a host of accessories including a front and rear crash guard.
No. 9 Hero Maestro: 14,029 units



This is the third Hero scooter in the Top 10 chart. The Maestro sold all of 14,028 units which is below its potential as a product. In February this year, in a bid to re-charge sales and also move into BS VI territory, Hero MotoCorp launched the BS VI-compliant Maestro Edge 125 in three variants – Rs 67,950 (alloy wheel with drum brake), Rs 70,150 (alloy wheel with disc brake) and Rs. 70,650 (alloy wheel with disc brake and a unique colour option). This is an increase of around Rs 8,000 over the carburetted models.
The Maestro Edge 125 shares its engine with Hero's only other 125cc scooter, the Destini 125. The new BS VI-compliant version makes 9hp at 7,000rpm and 10.4Nm at 5,500rpm from the 125cc, fuel-injected engine, identical to the figures of the BS6-compliant Destini 125.
In terms of styling, not much has changed from when the Maestro Edge was first unveiled at Auto Expo 2018 in Delhi. The scooter features sharp and sporty styling, and is targeted at younger audiences. However, it does get a unique new iridescent colour option as an option.
Like the BS IV Maestro Edge 125, the BS6 model features an external fuel-filler cap and a digi-analogue instrumentation cluster, as well as side-stand and service indicators. Other features include the addition of Hero's start-stop technology (Hero i3S) and an underseat USB
With a starting price of Rs 67,950, the new Maestro Edge 125 is more expensive than the BS VI-compliant base versions of the TVS NTorq 125 (Rs 65,975), Suzuki Access 125 (Rs 64,800), Yamaha Ray ZR 125 (66,730) and the Honda Activa 125 (Rs 67,490).
No. 10 Yamaha Fascino: 13,640 units

Dropping down from August 2020's seventh position, the Yamaha Fascino closes the ranks at 10th place with 13,640 units, marginally higher than the 13,124 in September 2019. The Yamaha Fascino is powered by a new 125cc, fuel-injected, air-cooled engine that produces 8.2hp at 6,500rpm and 9.7Nm of torque at 5,000rpm. These figures are pretty much in the same ballpark as the Activa 125 BS6 but are considerably lower than the 125cc scooters from TVS, Suzuki and Aprilia.
Scooter market growth outlook
Will the Indian two-wheeler buyer give the scooter segment reason to be happy in the upcoming festive season? Will urban India, typically the bigger market for this product, click its digital decision in favour of scooters? Lots of questions at this stage but few answers. The OEMs have done their job by ensuring their dealers across the country are well stocked and ready to make a deal. Over to the consumer now.
RELATED ARTICLES