Tata Motors and Mahindra make smart gains as demand grows for LCV goods carriers
Within the LCV segment, the goods carrier segment effortlessly takes the lion's share – 241,795 units out of 268,292 units, accounting for 90.12 percent of total sales.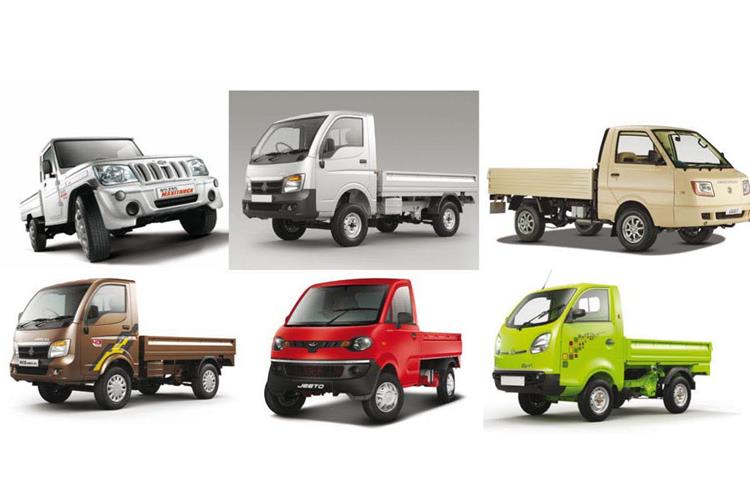 The light commercial vehicle (LCV) segment is back in the news. While M&HCV sales have been under pressure in October 2017 (26,158 / 0.86%) and also in April-October 2017 ((154,843 / -5.38%), the LCV sector is saving the blushes for the overall commercial vehicle industry.
Having posted growth for nine straight months since February 2017, the LCV industry has been seeing a consistent uptick in demand. With sales of 43,635 units in October (+10.09%) and 268,292 units in April-October (+13.97%), this segment seems well placed to notch better growth in the coming year.
Within the LCV segment, the goods carrier segment effortlessly takes the lion's share – 241,795 units out of 268,292 units, accounting for 90.12 percent of total LCV sales. Overall CV numbers (M&HCV + LCV) sales for the April-October 2017 period were 423,135 units, a year-on-year growth of 6.04 percent.
Taking a close look at the LCV segment's sales in the first 10 months of the year till now, the rise in demand for goods carriers is transparently clear. In contrast, demand for LCV passenger carriers is slowing and from a high of 7,282 units in March 2017, numbers have hit a low of 2,871 units in October 2017.
SCV market expands, M&M stays strong, Tata sees a resurgence of demand
It's said that when rural India shines, the polish rubs off on the LCV segment, particularly the small commercial vehicles (SCVs). That seemingly innocuous mantra seems to ring true as the return of good times to the rural economy, following a bountiful rainfall across most parts of the country, has seen much-improved harvests and the resultant demand for last-mile transportation of produce. What's more, the boom in e-retailing means that white goods majors are increasingly transporting goods to the farthest corners of the country, to both town and country.
The 2-tonne mini-truck and 2- to 3.5-tonne pick-up categories account for the bulk of the LCV goods carrier segment with a nearly 90 percent share. This critical, volume-driven segment is mostly dominated by homegrown OEMs.
Mahindra & Mahindra, with its popular range of Bolero pickups, is the undisputed leader. In the first six months of FY2018 (April-September 2017), the company has sold a total of 70,864 units, hitting a high of 14,732 in September 2017. This is more than twice the sales of the No. 2 seller, the Tata Ace with 32,890 units. The Ashok Leyland Dost and Tata Mega Ace jostle for third and fourth place respectively, while the Mahindra Jeeto is fifth with 14,297 units.
As per Autocar Professional's CV market statistics, and given that virtually all players from M&M to Tata, and Ashok Leyland to Maruti Suzuki are recording improved sales month on month, the buzz is back in the SCV market. Given the burgeoning demand for speedy last-mile deliveries across the country, it's likely that four-wheeled SCVs are eating into the three-wheeler market which in the April-October 2017 period is down 6.27 percent at 321,116 units.
However, the talk of the CV town of late is the resurgence of demand for the Tata Ace family. On July 11 this year, the company launched the BS IV Ace XL, Ace Mega XL and Ace Zip XL, thereby expanding its SCV stable to seven Ace variants. Till end-September, all these three Ace variants had reported substantially increased sales. The Ace, which sold 4,087 units in April, has nearly doubled the number to 7,784 (+89%). The Ace Mega XL, which was averaging 2,200-odd units till May, did 3,495 units in September. And the Ace Zip XL has nearly doubled its monthly sales, hitting a new high of 2,306 units in September.
Girish Wagh, head – Commercial Vehicle Business Unit, Tata Motors, is not surprised. Speaking to Autocar Professional, he said, "The SCV and pick-up market a few years ago was probably a 3-4 product market. Over the years, there has been a lot of sub-segmentation which has happened. New products have come and have carved a niche for themselves, garnering away some amount of market share. Till April 1, we were in the catch-up game. With the launch of the Ace XL series – Ace, Zip and Mega – as well as the launch of the Yodha, I think we have a strong product in each of the sub-segment, which is what is helping us improve our market share this year. The focus is, therefore, now to anticipate what further changes are going to happen and how do we remain ahead of the curve and try to bring in products which will actually change the inter-segment shift."

The newly launched Tata Xenon Yodha also seems to be a clear winner. In 2016, its average monthly sales were between 400-600 units. In a fresh attempt to win market share from M&M in pick-ups, Tata Motor launched the Yodha in January 2017 with an aggressive price, plenty of features and extended customer support. This move seems to be paying off because sales grew to 864 in May, rose to 1,038 in July and hit 1,466 in September. Clearly, the company is doing something right as it goes about aggressively driving its turnaround strategy to regain 5 percent market share.
Ashok Leyland, which has only the Dost as a small CV in its stable, is also registering smart gains in the marketplace. From 2,404 units in April, the company has seen the Dost's numbers grow gradually to hit 3,353 units in September. Likewise, Maruti Suzuki India is seeing an uptick in sales of its first CV – the Super Carry, helping the country's largest carmaker take baby steps in the SCV market.
Going forward, expect the SCV segment to continue to notch double-digit growth albeit demand for LCV passenger carriers could be slow.
In its latest report on the LCV segment, ratings agency ICRA says, "The LCV (Trucks) segment, given the high proportion of First Time Buyers (FTBs), Small Fleet Operators (SFOs) and dependence on rural markets, too is on a structural uptrend and has witnessed swift recovery with improvement in liquidity situation. In the near-term, replacement-led demand (following almost three years of declining sales) and expectation of stronger demand from consumption-driven sectors and e-commerce-focused logistic companies would remain key growth drivers. Over the medium-term, LCVs would also benefit from the roll-out of GST and its impact on the logistics sector and preference for the hub-and-spoke model. Accordingly, ICRA expects this segment to grow 14-16 percent in FY2018."
RELATED ARTICLES